Activate Boost to Keep Your Calendar Filled
Booksy Boost
Booksy Education
Business Tips
Businesses/Owners
Success Stories
Whether you're a hairstylist, a barber, a wellness professional, or a nail technician—you deserve to keep your calendar filled with both new and returning clients. And Boost can help! Boost is our premium marketing tool designed for Booksy users, who are ready to reach more clients.
Any professional with a Booksy account is eligible to start using Boost, which means that all you need is an active profile. Once a business owner makes the decision to activate Boost, their Booksy profile will get more profile views to make sure that business gets more exposure.
Specifically, we adjust your Booksy business profile to make sure it ranks higher in our online search engine. That way, whenever a customer in your area turns to Booksy for services that you perform, more people will see your profile and learn more about your business.
It only takes a few clicks to activate Boost and you can discontinue using it at any time. Though Boost users say it's a tool they want to keep using, because of the foot traffic it brings.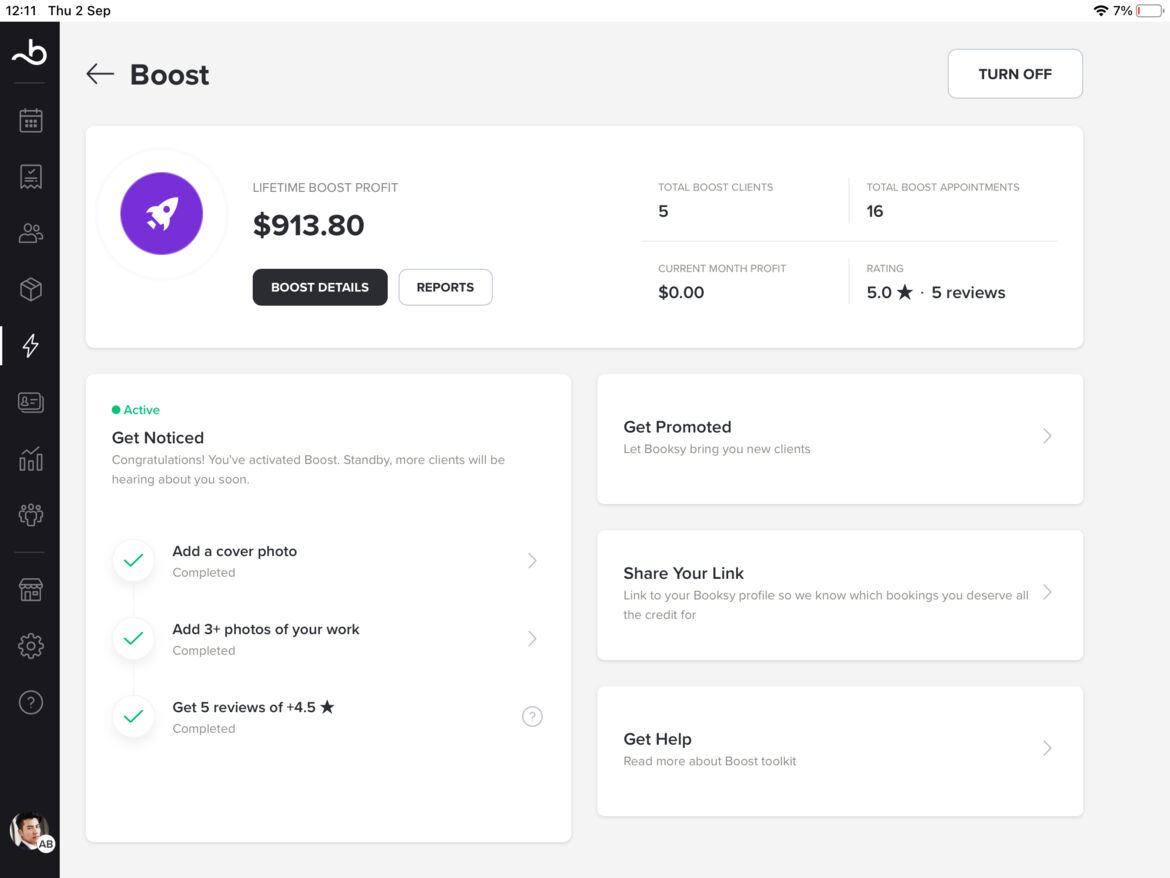 What People are Saying About Boost
Although specific results with this tool will vary, Boost performers have attracted 160 new clients within 6 months of making the decision to activate Boost. And on average, new Boost users earned a 60% increase in bookings after 6 months of taking advantage of this service.
If you're thinking about activating Boost, take this opportunity to learn from three Booksy business owners, who have used this resource to bring in more customers. Each one of them was able to use the additional customers that Boost brought their way to earn additional income.
Mr. Gcuts
Gary Peters is a Booksy Ambassador and an independent contractor who runs his own business. He specializes in providing fresh cuts and detailed grooming services. And people throughout the Central Florida area affectionately know him as Mr. G.
His business is called Mr. Gcuts at Style So Savvy Hair Studio in the West Oaks Mall. Although Mr. G always had a steady stream of regulars, activating Boost attracted an additional 32 new clients in 8 months, which meant an additional $2,000 his first year with Boost.
Most importantly, every new client that Mr. G earned from Boost became a loyal customer. "Boost, it allows me to reach people that I've never reached before," he said. "I cannot even imagine over the course of years how much more money that's going to bring into my pocket."
Rashaan Holman
Another Booksy user who can't say enough good things about Boost is Rashaan Holman. This experienced beautician lives and breathes all things hair at Rashaan @ Cultivating Beauty Bar. And she loves working with the steady stream of new clients that Boost brings her way.
Rashaan said Boost helps her meet new clientele, and her skills with the tools of her trade keep them coming back for more. Boost enhanced her already successful business by spreading to spread the word about this dedicated industry expert throughout the Orlando, Florida area.
"Since I've been using Boost, I've actually booked 38 clients. Any business that you're in, if you're going to have clients, you should have a revolving door—new clients all the time. Boost actually sends them to me. But it's up to me to get them to come back. Boost helps to enhance your business," Rashaan said.
Kenio Valley
To keep learning more about using Boost, read a short article that features Keino Valley, a Booksy Ambassador and a JRL brand educator. His nickname is humblythegreatest, and he modestly described Boost as an investment that pays off in the short and long term.
Kenio made $575 in revenue from Boost. Boost brought him 10 new clients, who visited his chair a total of 18 times. All of this happened during the pandemic, while business was at its lowest. But he was still able to welcome new clients to schedule appointments at his businiess, which is called Keino Valley at Blurry Fades.
"It's done wonders for me. But don't get me wrong, we have to still do the basics. We still have to pound the pavement. But if you have the tools, why not use them? If your profile can be Boosted, go for it. Then you're receiving clients simply off of that. Why not take advantage?" Keino said.
How Much Does Boost Cost?
The best part about making the decision to activate Boost is that there are no monthly fees, no start-up fees, and definitely never any hidden fees. Here's how it works: for every brand-new client who books you on Booksy, we take some commission of your fee for their first appointment only.
Remember that we never charge a fee for future appointments that a client schedules. And we never charge a fee for your existing clients. It's also important to know that the maximum amount we take is $150 for standard services and $10 for consultations for complementary services.
The Takeaway
Think of Boost as the marketing department for your business. It's our job to help you show off your talents to new customers. To make sure that happens, more people will see your business profile. Boost is here to give you a promotional push, so you can connect with more clients.
Keep devoting time to updating your social media pages, adding images to your Booksy profile, and providing top notch customer service skills. But signup with Boost to let us bring you more clients, while you focus on doing what you love—and enjoy the bookings that come as a result.
Boost helps you achieve a higher ranking within the Booksy search engine. The greater your exposure the more potential for new bookings. So, get ready to rank higher, get more attention, increase visibility, and watch the clients roll in! To turn Boost on go to the Booksy app and select More. Then select the Boost tab or simply click the button below.