An Apprenticeship Program that Helps Industry Professionals Succeed
Many people begin their careers with debt from college loans that can take years to repay. But one barber is changing that narrative. Zach Ramsey teaches the tools of the trade in his own shop, through a unique apprenticeship program that's designed to make sure industry newcomers begin their careers debt-free while earning as they learn.
Zach started working professionally as a barber about 10 years ago. At this stage in his career, people all over the globe know him as a Booksy Ambassador, Wahl Creative Team member, social media influencer, platform artist, and educator with roughly 40,000 Instagram followers.
In addition to being an industry juggernaut, Zach owns and operates Fraktel NY, a trend-setting barbershop with a reputation for giving off a chic, urban vibe. Inside his shop, Zach creates fresh fades featuring detailed graphics, layered cuts with a textured look, and perfectly blended tapers with the prowess of an absolute expert who has mastered his passion.
Even though Zach has a host of business demands and professional responsibilities—he finds the time to give back to the world of barbering by running his own apprenticeship program, where he focuses on making absolutely sure that industry newcomers get a fresh start.
Take a moment to find out the ins and outs of his program that one of his apprentices described as "the best way to really learn how to cut hair." Learn how his apprenticeship program is helping three newcomers win awards, gain recognition, and internalize valuable insight from the years of experience that Zach selflessly shares to help them succeed.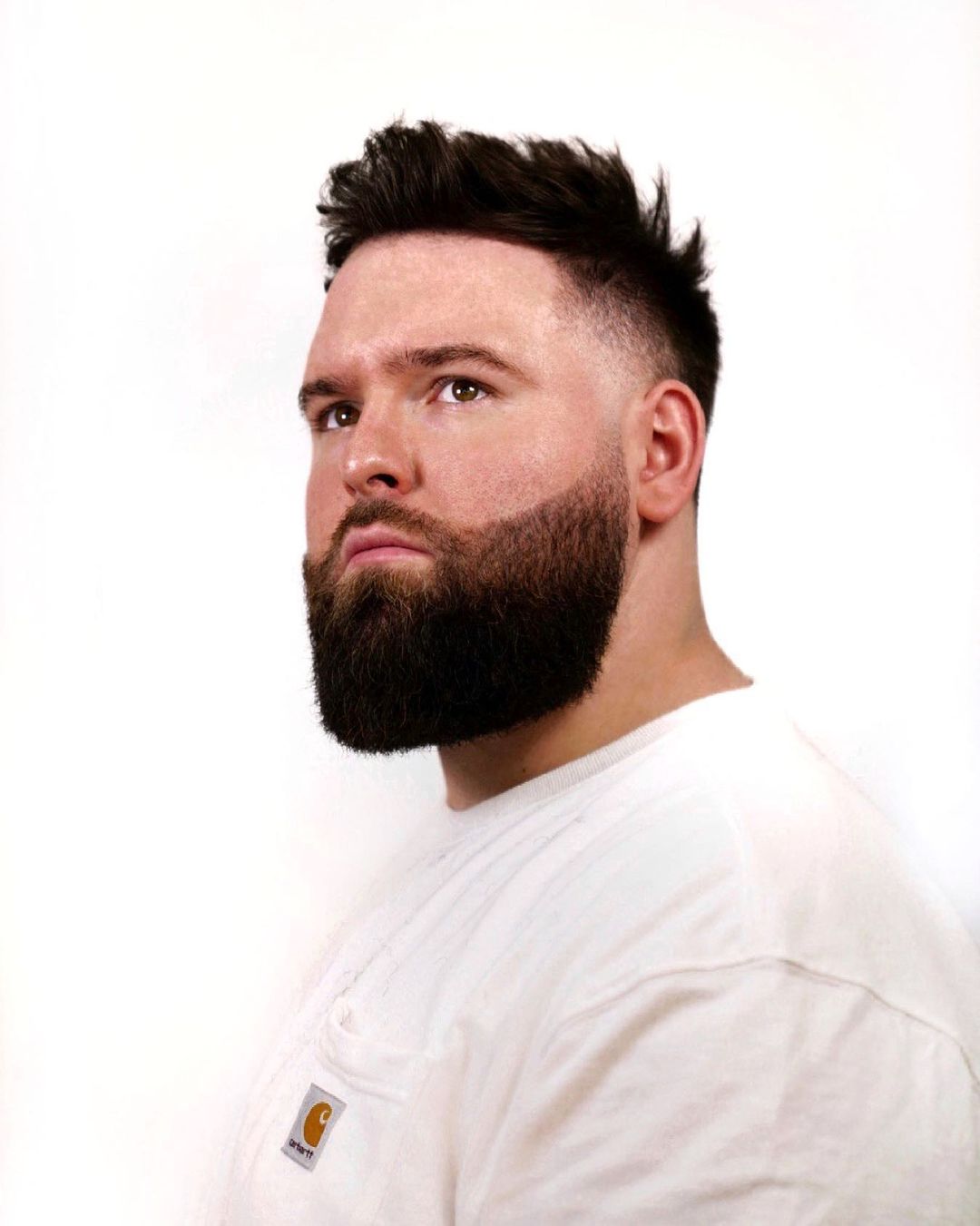 Building an Apprenticeship Program
It was roughly two and a half years ago when Zach took on his first apprentice. Cameron Mahar was just 14 years old at the time. But he'd been coming into Fraktel NY for years to soak in the space, which means that Cam earned his spot as a protege in a totally organic way.
Cam already had a strong background in cutting hair. At the time, he had a part-time job working as a barber in a shop owned by his family, where he offered cuts to his friends. Now that Cam has graduated high school, he works at Fraktel full-time. That hard work has paid off, as Cam recently won the SharpFade Freshman Class of 2020 competition. And Barber Evo recently published an article featuring Cam.
About one year ago, Zach accepted a second apprentice named Ben Kellis, who also started the program while attending high school. Zach said that in the course of two years, Ben has really been able to spread his wings both as a barber and as a more confident young man.
The final apprentice that Zach hired is Danica Harris. After spending a year or two behind the chair working as a stylist in different hair salons, she made the decision to become an apprentice and learn the intricacies of barbering, because it highlights the experience that she learned while earning her cosmetology license and styling hair.
"Because of my popularity through Instagram, a lot of local barbers would contact me for an apprentice program. So, I'd been thinking about the idea for a while. And I realized that the best thing that I could do is hire organically and grow people from the start so they could learn all the right techniques and their skill set could grow from there," Zach said.
Making a World of a Difference
Zach undoubtedly feels warm emotions whenever his apprentices blossom. But the goal of the program has been and will always be to help rising stars by opening all the right doors, he said.
The apprenticeship program prepares each aspiring barber for the New York State in-person examination to earn a license. After spending time learning directly from Zach, each apprentice should have the skills they need to perform a haircut in front of a proctor. And that formal exam also includes a shave, shampoo service, a full blown cleanup, and sanitation procedures.
To help make sure the program runs smoothly, Zach also encourages his full-time staffer Alex Barrow to help give the apprentices feedback on their cuts. Alex also is a licensed New York state master level barber, which is part of the reason that the shop can take on three different apprentices, since technically each master level barber can only have two apprentices.
During the program, each apprentice earns money while learning. And they gain clientele at the same time. The idea is to make sure that each apprentice is ready to step out on their own. With regards to a timeline, the program should take less than two years. Zach wants them all to be able to start working as independent barbers the moment they finish the program.
But Zach also wants his apprentices to be able to open up their own shops in the future. So, he gives them money management tips, shares operational advice, and freely provides marketing techniques. In the end, each one of his apprentices should eventually be ready to open their own franchise. And Zach has offered to invest in each one of those businesses.
"The long-term goal is to get them licensed and ready to run their own shop. And what we're going to do is branch out from our barbershop with the Fraktel name. And they become part-owner of that location. Then they can get their own set of apprentices and hire talented people to come work with them. Over time, we can exponentially increase our reach together," he said.
Opening All the Right Doors
While Zach freely talks about the business side of the program and the many things he wants his apprentices to accomplish, at the end of the day the barbers at Fraktel act more like a family than a small business with budding entrepreneurs led by a man with a CEO mindset.
Just before closing the doors to the shop, Zach plans impromptu social events, so the team can continue to bond. During that time they watch boxing matches, listen to music, and talk more about their career trajectories and long-term goals.
"I can show these younger kids the things I went though and put them ahead of the game. I want to get these guys self-sustainable and totally independent to the point where they don't have to rely on anybody or anything in their life. If they control their money and they have good spending habits then there's nothing really that can stop them," said Zach.
To make sure his apprentices can succeed, Zach encourages them to set up retirement funds and savings accounts. Already, this strategy is paying off. Two of the apprentices have learned to curb their spending and invest their earnings before they can even legally vote.
Cam recently performed a haircut on Zach and shared the image on his Instagram account, where he wrote: "Specifically blasting out the curve and lineup on this cut due to lack of dark shade on the curvature on his hairline and to give a few more days of cleanliness on his cut. Shoutout to the man for all of the amazing education being taught to me and always looking out for the kid and giving me more opportunities I could ever ask for."
Becoming Part of a Family
Even though Danica just earned her spot on the team about six months ago, she had a host of great things to say about the apprenticeship program. She earned her cosmetology license in November 2019. And after meeting Zach socially, she knew that her talents could really shine under his toolage.
After spending hours behind Zach, learning every tip he has to offer, Danica has also been learning his marketing strategies. More specifically, Danica loves learning how to take high quality pictures of her haircuts to eventually market them on Instagram.
"We're a big family. Me and all the guys. And they're definitely like my brothers. Maybe because I was adopted when I was little. I think that's why I felt pulled ino such a family-like environment like this one," she said.
Danica added that finding a workspace that takes on a familial style approach helps her find confidence in her abilities. And that in turn helps her learn. Her fellow apprentices offer their help. And there's another master level barber in the shop named Alex, who also freely shares valuable advice.
"We created an environment where we all lift each other up. In running a business, you can only do so much on your own. You can only get so big on your own. So, when you put a team together and you can grow as a team, it's a lot more gratifying when you get to the top and look around and see your close friends and family there right alongside you," said Zach.