Barbers
10 Barbershop Design Examples To Inspire You To Take Your Shop To The Next Level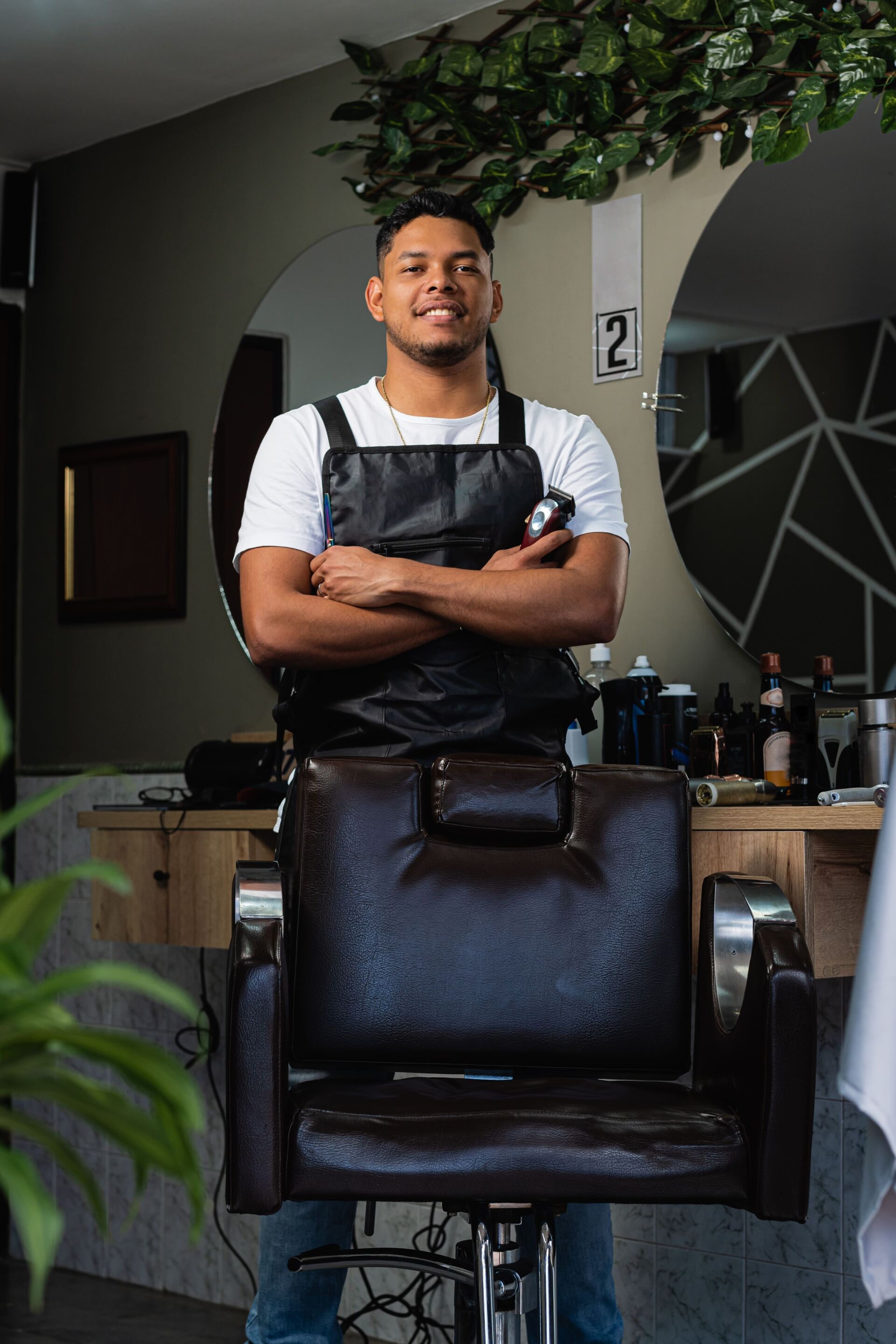 Question for you: When was the last time you changed the appearance of your barbershop?
If you answered "not lately" or if you're struggling to even remember the last time you updated your shop's look, it's time to switch things up.
Why?
Two words: client experience.
Your barbershop's design can set the mood and influence the feelings and perceptions that people have about your brand.
When implemented properly, the right aesthetic will make your clients feel welcomed and comfortable. But if your barbershop misses the mark, you might end up creating a less-than-stellar experience.
From sprucing up your barbershop's interior design to updating your signage and fixtures, you should continuously take steps to improve your location. Whether you're an experienced business owner or you're starting a barbershop for the first time, investing in your location's appearance is a must.
Need inspiration on how to do that? These 10 barbershop design examples will point you in the right direction!
1. Have a Barber's Pole
Do you have a classic pole light in your location?
You know the one.
It's that fixture that has rotating blue and red stripes and it's often mounted at the entrance of a barbershop.
While some may consider a barber's pole light as old fashioned, it's still a great thing to have no matter how modern your business is.
A pole light instantly communicates "barbershop" to guests and it's an excellent way to tell people (passers-by in particular) what your business is all about without having to say a word. As such, having a barber's pole outside your shop can attract foot traffic and new visitors.
2. Select a Striking Color Palette
If your business has a loud personality, then you want your shop's appearance to match it.
One way to do this is to incorporate bold colors in your interior design. Just make sure to balance it out with some subdued hues so it doesn't get too overwhelming for your guests.
Want to see an example?
Check out the barbershop below, and notice how they used a bright color (red) to accentuate parts of the walls and create a striking appearance. But they also balanced out the bright red with neutral colors — black for the chairs and white for the floors.
3. Go for the Old Fashioned and Rustic Look
Do you cater to an older clientele or have customers who like the classics?
Try adopting a rustic look in your location.
Consider the shop below. In this example, they created a rustic ambiance by using reddish-brown hardwood floors and matching leather seats. The hanging fluorescent lights also contribute to that old fashioned look and feel.
4. …or Choose a Sleek and Modern Barbershop Design
If you're not a fan of the rustic theme, you could go to the other end of the spectrum and set up a sleek and modern barbershop. The following photo shows you how to do it.
The designers of the shop incorporated straight and clean lines to create a sleek-looking space. There's a brick wall on one end and a black wall on the other, and this also gave the location a modern appearance.
5. Have a Well-Lit Sign
Make your barbershop more noticeable using lighted signage. This is a must if you're open at night.
Consider installing a backlight for your main sign (i.e., the one that displays your logo). If that's not an option then a simple "OPEN" sign — like the one below from Razorfade Barbershop — will do wonders.
6. Don't Forget About Your Waiting Area
The waiting area of your barbershop can make or break the first impression of your customers.
Think about it.
It's usually the first part of your barbershop that people see. How clients perceive the waiting area can influence the rest of their experience in your location.
That's why you want this space to be attractive and comfortable.
Let's look at Fade Factory Barber Shop. They have a large sectional couch near the entrance, where people can wait and hang out. The seating looks comfortable, attractive, and it matches
Fade Factory's color scheme perfectly.
7. Make Sure Your Floors Make a Statement
You can't go wrong with hardwood floors, but if you want your shop to be more memorable, try using flooring that has personality.
Black and white tiles, for instance, can grab people's attention the moment they step foot in your shop.
Here's an example of how you could pull it off.
8. Upgrade Your Lights
Aside from allowing your staff to actually see what they're doing, having great lighting can contribute to the ambience and experience that you want to create.
So put a lot of thought into the types of lights you install in your barbershop.
There's no one size fits all answer here.
The best lighting will depend on the theme of your location. If you're going for a classic or warm look, then yellow light bulbs (pictured below) are an excellent choice. On the other hand, if you want a simple and modern space, then flat ceiling lights are a good way to go.
No matter what you decide, make sure your lighting flatters your customers. Look in the mirror and take photos of people in your store under different lights. You want clients to look amazing, so don't skip this step!
9. Create Attractive Product Displays
Do you sell merch in your barbershop?
If so, pay attention to how those products are displayed.
The products you sell in your barbershop also contribute to the look and feel of your space. Spend time merchandising your shop and create attractive displays that complement the overall appearance of your location.
Hair Republic, a barber, and salon in Texas does this well. In the photo below, you'll see that the Hair Republic staff put a lot of thought into the display. The items are stacked neatly and they're color-coordinated so that each shelf looks clean and attractive.
10. Use Witty Signage
Show off your business' personality by displaying witty signs and framed art in your barbershop.
Do you have a motto that you live by? What about a catchy slogan? Frame it and use it as a design piece to spruce up your location.
Check out this example from The Rich Barber in California. The framed piece displays "The Rich Commandments," which appears to be a set of rules that the barbers live by.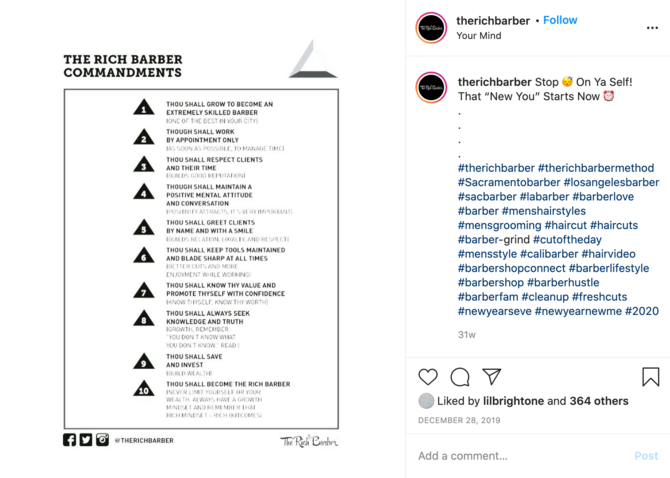 Time to Spruce up Your Barbershop?
Remember that your barbershop's environment can influence your client experience, so it's important to keep your location in top shape. We hope the examples above stirred up your creative juices and inspired you to take your barbershop's appearance to the next level!