As a barbershop, the importance of your price list can't be understated.
More than just an information sheet, your barbershop price list can be a powerful tool for communicating your offerings and showcasing your brand.
As such a prominent piece of brand collateral, creating a strong price list is about more than just your pricing strategy and service offerings; you also need to choose a design that reflects your core values and personality as a business.
In this post, we're going to discuss how you can create a compelling barbershop price list, including top tips and design templates to get you started.
How to create a barbershop price list from scratch: the essentials
Just like starting your barbershop, there are steps that you need to take when coming up with your barbershop price list.
Decide on your business goals
When crafting your barbershop menu, you need a central business goal that helps you to pinpoint the right asking price for your services.
For example, are you a brand-new barbershop trying to build a customer base from scratch? If so, your priority is probably to get as many new customers through your door as possible, so consider setting your prices slightly lower than your competitors to help achieve market penetration. Once you've built up your reputation and credibility, you can look at increasing your prices.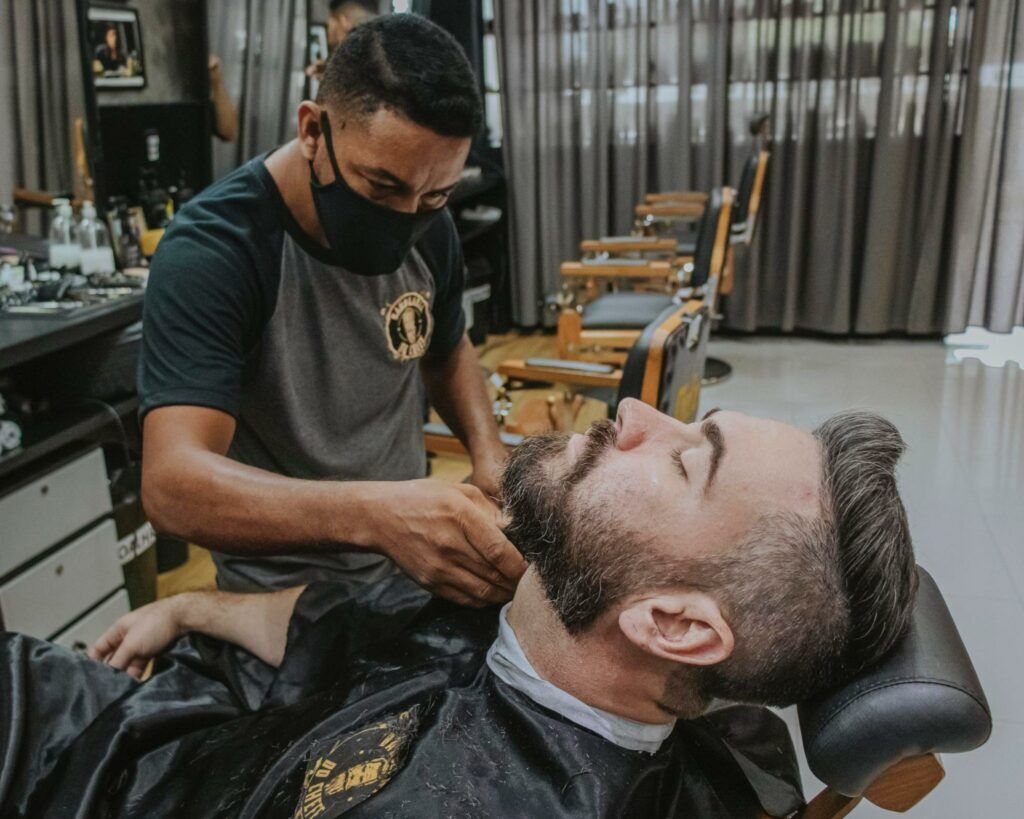 On the other hand, if you're already an established barber and want to position yourself on the higher end of the market, then your price list — as well as its design — should reflect this.
Know the actual cost of performing each service
This is critical to avoid undercharging and offering services at a loss to your business. When you're calculating prices, you need to consider the full picture involved with performing that service.
This includes:
Each of these points can be broken down even further. For example, what you pay to employ stylists will depend on their level of experience. This is why some barbershops and salons use tiered pricing, depending on whether the client is seeing a master or junior stylist.
Once you've calculated the breakeven point for a service, you also need to add on a mark-up to ensure you are making a profit. Ultimately, this comes down to how much you value your services and expertise; so don't sell yourself short!
Determine your barbershop's positioning in the market
When you're creating a barbershop price list, remember there's a lot more to it than just assessing the underlying costs. Your barbershop price list is one of the biggest indicators to prospective customers of what kind of service provider you are.
When someone is browsing for a hairstylist, pricing is one of the first things they're going to look for. Not just because everyone has a budget, but because it's a shorthand for accessing a business' brand positioning.
So think whether your barbershop is high-end or middle tier?
If you set your pricing at the lower end, it could signify to a potential client that you're less skilled than a more expensive competitor. By charging a higher price, you can position itself as a more premium option — but you still need in-house experience to back it up.
Get clear on your target customers
Here's the ultimate question: Who are your services intended for?
While it's easy to say "everyone," this isn't reflective of how consumers behave. This is because "cost" and "value" are two very different concepts. Everyone has a unique perception of what price point is considered acceptable.
Note that not every client is looking for the cheapest price possible. For some customers, a higher price point can represent better value. For others, the situation will be reversed. By finding a careful balance between your value proposition and your pricing, you can make sure that you're attracting customers who are happy to pay your rates.
Look into market rates
Before you commit to charging a certain price, it's important to know what the market rate is for the services you're thinking of offering.
Remember that the cost of performing a service isn't always reflected in the final price. For example, when a certain style is in fashion, barbershops and salons can often charge a bit more than they would for a standard service.
Market rates also provide a baseline for what consumers expect to pay. Unless you know what the industry standard is, you could end up dramatically under or overcharging your clients. If your price is much higher than average, consumers are likely to go elsewhere. But if you set the bar too low, you'll miss out on a lot of revenue.
Check out competitor menus
Regardless of whether you're a brand-new establishment or have been around for a while, it's important to keep an eye on other barbershop price lists or even spa and salon menus elsewhere.
You don't necessarily have to match whatever services your competitors are providing, but having the knowledge of what's on their menus can help inspire your own offerings.
It can even help you identify gaps in the market. For example, if there's a popular service that's missing from their menus, it could be a great opportunity to add it to your own.
Think about menu language
When you're designing your barbershop price list, the words you're using to describe your offerings matter a great deal. So, it's important to think about what impression you want to give prospective customers.
Generally speaking, you want to stay away from jargon-filled explanations that could make your price list crowded and difficult to read. Instead, try to use descriptive names for your services, such as "buzz cut" or "straight razor shave."
How you label your price list and offerings can also influence how your barbershop is perceived. For example, simply calling it a barbershop "price list" is pretty utilitarian and can appeal to a no-frills audience. Terms such as "menu" or "price guide" have a more premium feel and could be better suited if that's the character that you want to project.
Factor in the services you offer
Most barbershop menus should contain standard services such as:
Shaves (hot towel and cut throat)
Beard trims and styling
Fades
Haircuts (dry, clipper, styled, executive)
Age-related services (kids, students)
Eyebrow trimming/styling
Don't stop there, though. You also need to keep an eye on popular hair trends that could give you an edge over the competition. For example, the much-derided mullet hairstyle is making a serious comeback after being worn by the likes of Zac Efron. Adding this to your menu won't appeal to everyone, but it might bring in some new clients who wouldn't have considered your establishment otherwise.
Another consideration would be hair, grooming, and product trends. For instance, organic ingredients have been making waves in the grooming industry as of late, so if you find that your target market is gravitating towards such trends, consider incorporating them into your menu.
The bottom line? Your barbershop price list should be a mix of regular services and new service offerings that you can roster in on a seasonal basis to keep it fresh and interesting. This will help you to attract a broader segment of clients, and in turn, book more appointments.
Design inspiration for your barbershop price list templates
Now that we've covered the fundamentals of crafting your barbershop price list, it's time to dive into the look and feel of your menu. Here are few tips and price list templates for barbershops to inspire you.
Don't forget about branding
Your barbershop price list is one of the first pieces of brand collateral that prospective clients will see, so it must lay the foundations for awareness and familiarity with your brand. If you don't make the effort to customize a generic design, it offers your establishment zero marketing potential.
A good place to start is by implementing your brand colors and themes into the design. Check out this example from Barbon's Barbershop. Barbon's uses a mustard color for its main brand color and its menu perfectly reflects this.
Aside from being consistent with the brand, Barbon's unique menu design helps it stand out from those that use plain colors and text.
Add sub-menus for clarity
If you offer a wide range of services, grouping these into select categories on your barbershop price list helps to highlight the breadth of your offerings. It's also pleasing from a design standpoint because it's organized and easy for your customers to navigate, as shown by the barbershop price list template below.
Think about the vibe you want to create
Design elements such as font and formatting have a huge impact on the overall mood of your price list. For your branding to feel cohesive and put together, it's important that you consider what you want your barbershop price list to tell customers about your establishment.
Do you pride yourself in having a modern look and feel or are you all about that classic barber experience? Do you cater to hipsters or prefer to serve an older crowd? Whatever the case, your menu should have the same vibe.
For instance, the following classic barbershop menu template gives off an old fashioned vibe that's sure to attract clients who want a traditional experience.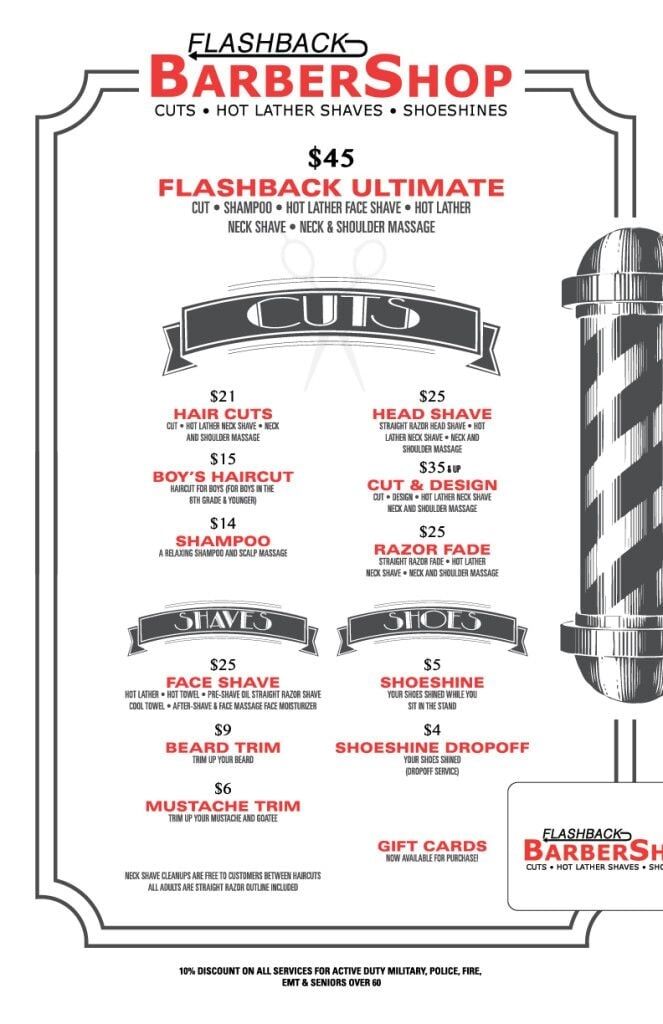 Create designs for multiple formats
Once you know what you'll include in your menu, think about how you'll bring it to life across multiple formats and channels. In addition to having a physical barbershop price list, make sure you have a version for other platforms including your website and social media. You also need to consider that prospective clients may come across you via their smartphone or tablet, so keep your design mobile-friendly.
While the appearance of your price list will vary depending on the platform, there should still be a sense of consistency.
Have a look at the following price list images from Church Barber & Apothecary.
The first one is a photo on Instagram, which shows Church's framed price list in its physical location:
Church also has an online version of its quarantine menu on its website.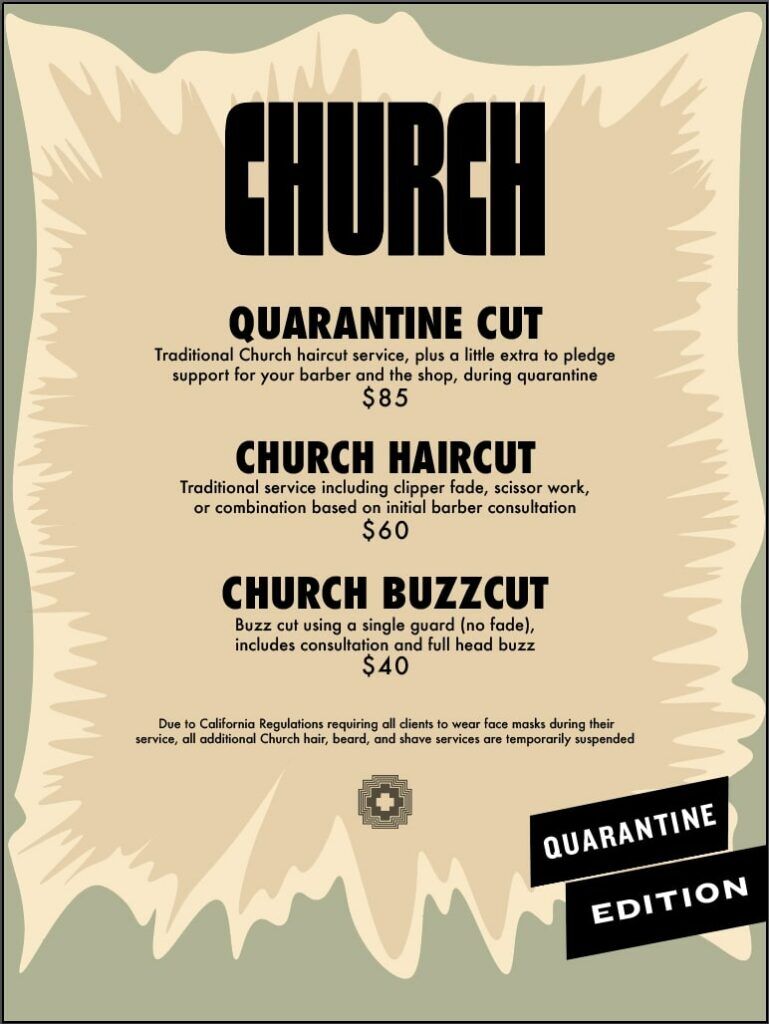 While the two images are clearly different and were created for separate platforms, they share noticeable similarities, contain the same barbershop logo, and follow a consistent branded look.
Have a clear call to action
While the main purpose of your barbershop price list is to, well… list your prices, don't forget that one of its key objectives is to drive sales. This is particularly true for price lists that are displayed online or if you're giving out flyers containing your offerings.
In these instances, your menu must have a clear call to action (CTA) that tells people what to do next. Offline, the CTA could be to give you a call or to check out your website.
Online, your price list's CTA should encourage people to book an appointment. Take a look at this example from Nataniel the Barber's online menu. Each service has a clear "Select" button, which when clicked, lets people book it online.
Uplevel your barbershop price list
In this post, we've given you a thorough walkthrough on how to create a barbershop price list that attracts clients and acts as a strong advertisement for your business. Men's grooming is an immensely competitive industry, which makes this piece of marketing collateral essential to carving out your own niche as a service provider. By following the tips and templates we've provided, you'll be well on your way to creating a barbershop price list that strengthens your bottom line.