Booksy Biz Pro and Booksy Biz Lite: Introducing the All New Booksy
There are some big changes on the horizon for industry professionals who use Booksy. We've listened carefully to your feedback, suggestions, and requests to truly meet your needs. And now, we're releasing brand new features to help our business owners succeed. But instead of only creating one option, we're offering two—Booksy Biz Lite and Booksy Biz Pro.
For the most part, we included different versions of the same features in Booksy Biz Lite and Booksy Biz Pro. But take this time to learn about the specific functionalities of the tools within the two platforms. With thousands of different service providers using our app, we understand that everyone's business needs are very unique.
So, we designed Booksy Biz Pro and Booksy Biz Lite to make sure you can find the features that work best for you. Booksy Biz Pro offers tools to help busy teams create a rhythm. It's our full-featured solution that helps managers oversee every aspect of their business. For the independent contractors who run their own show, we created Booksy Biz Lite.
Simply put, our continued goal is to give professionals the tools they need to take things to the next level. Now, all you have to do is decide which of the two new apps is right for your business. Then hit the ground running and provide services better than ever.
Get ready to learn more about the core features and their functionalities, which you can access immediately to better run your business. We created Booksy Biz Lite and Boosky Biz Pro, so that you can spend more time focusing on the clients who support your work and the skills that you've mastered.
Booksy Biz Lite
Booksy Biz Lite is only available via mobile devices. It's perfect for businesses on the go, independent contractors who operate out of multiple locations, or artists who need a simpler solution for the core business functions. This platform has all of the core business functions you'll need, along with some fresh new updates.
Although Booksy Biz Lite is designed with independent business owners in mind, it also works well for teams who prefer a simple mobile solution.
We say "simple" but Booksy Biz Lite is still packed with features to help you do you, better. Here are just a few of our favorites, that we're sure will soon be your favorites:
1. Calendar
Bouncing between appointments has never been this easy. Now you can switch from calendar view to Appointment List to check your schedule. From Appointment List you can also see your planned revenue for the day, the total number of appointments, and even how many new clients you have scheduled. Click on the specific appointment to find details about the appointment and the client.
2. Simple Checkout
Processing payments will take no time at all. The new simplified Checkout feature lets you quickly pull up a sale, accepts multiple payment options, allows you to redeem Gift Cards, add a tip, and send receipts to your clients. Get paid with no fuss.
3. Improved Marketing Suite
All of the tools you need to engage your customers and attract new ones are built right in.
a. Promotions
You can now access Promotions without enabling Boost. Access featured promotions like Last Minute Discounts, Happy Hours, and Flash Sales to give clients an extra incentive to book their next appointment with you.
b. Automated Message Blasts
You'll have access to new automated message templates that have been designed to help you increase client engagement as well as holiday and special occasion templates. And if none of those are the right fit, you can create your own custom messages.
c. Boost Dashboard
Now, when you turn on Boost you can track your performance from the Dashboard. This gives you the power to decide how you want to manage your business growth. And, as always, you can turn Boost on and off as frequently as you'd like. Yes, even for just an hour or two.
4. Client Tags
Add custom Client Tags to each client profile and make it easy for you to group clients for discovery and targeted Message Blasts. Now you can create a custom Message Blast and send it to a specific group of your clients. One more tool in your hand to keep your clients engaged.
5. Business Profile
The tools you need to make your Business Profile stand out are all in one place. Upload cover photos, profile pictures, and portfolio pictures to show potential clients what you're all about. Share your unique Booksy Profile Link with customers from there too. You can even view and respond to reviews. If you're on the go and short on time, a quick glance at your Business Profile will get you up to speed.
6. Profile Completeness
We know that getting acquainted with new software can be frustrating. Just follow the Profile Completeness guide to set yourself up for success. We'll take you through all the steps for setting up your profile, engaging with your community, and making your time count. It's like a game, and you're always the winner.
7. In-app Hints
Yes, we're still available via text, email and phone to help you. But we've compiled hints from the experts, the Booksy Ambassadors, and your feedback and made them available to help you in real time, in the app. They'll pop up in the app wherever they're relevant so keep an eye out for them. There may even be multiple hints for one page, so be sure to click Next to see them all.
Remember, we designed Booksy Biz Lite for the fast paced solo professionals who utilize the core Booksy features to schedule appointments and manage their day to day business. But this isn't about us. It's about you. Pick the solution that fits your business needs.
Naturally, your fan-favorite features that Booksy previously offered will also be available in Lite, such as the Marketing tools and No-Show Protection. Download Booksy Biz Lite from the Apple App Store or Google Play.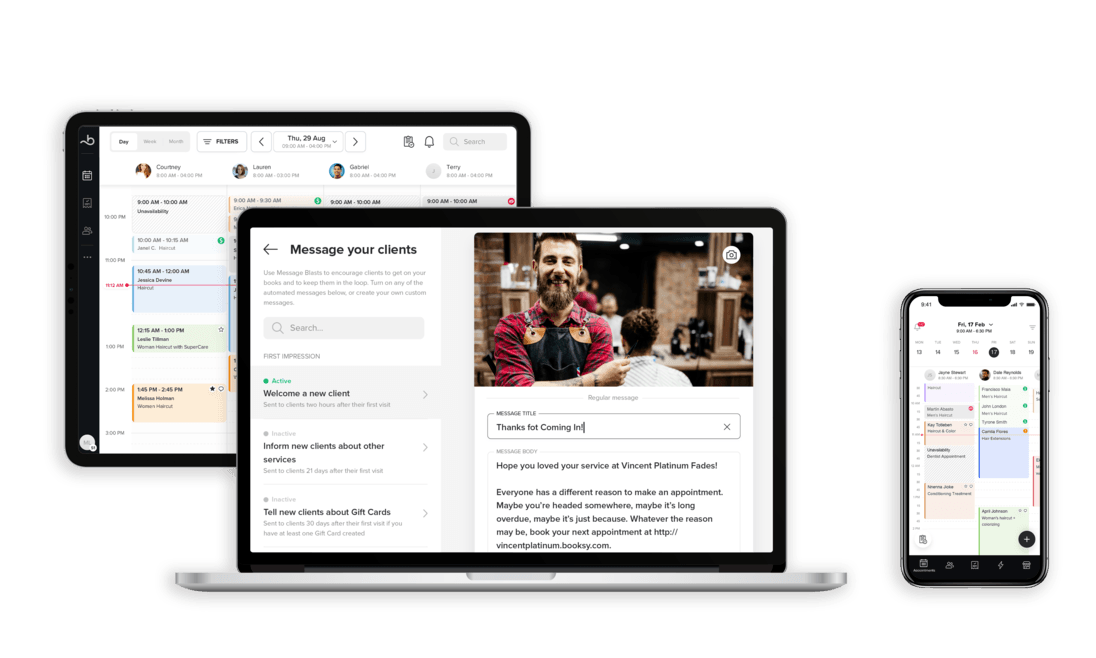 Booksy Biz Pro
Booksy Biz Pro is available via mobile, tablet, and on the web. It's perfect for businesses with a front desk, multiple staff members, or even multiple locations. Keep in mind that some Pro features are only accessible from a tablet or via the web. But don't worry, you and your staff members can still access most of the Booksy Biz Pro features from a mobile device.
Booksy Biz Pro will have all the functionality that Booksy Biz Lite has, plus so much more. If any of the following features are a must-have for your business, you're going to want Booksy Biz Pro:
1. Complete Checkout
With the new Quick Sale feature, the most popular items will appear on the Checkout screen. No more maneuvering through a menu to find the right service. Plus, it helps staffers by reminding them of easy add-on sale items related to the clients service.
2. Stats & Reports
Access over 20 new reports to learn valuable insights on productivity. Identify VIP clients, keep track of product sales, take note of the services that bring in the most revenue, acknowledge your busiest days and times, and so much more. Access to these reports is easier now too. View reports on your dashboard or download them at any time. Staffers can also have access to certain reports based on their permissions.
3. Advanced Staff Management
Everyone on your team can have a dedicated profile that tracks their services, commissions, and schedule. Just invite them to use Booksy Biz on their mobile device and set their permissions level to control what information they can access. Don't worry though. You'll be able to manage everything from one central location.
4. Shifts
Booksy's new Shift feature makes it easier than ever to manage your schedule. In a single view, you can create, modify and replicate your weekly schedules. Make sure you're covered from open to close, and during breaks. You can even use Shifts to schedule your resources. No more overbooking pedicure chairs or massage rooms.
5. Inventory
Offer your customers the products they need to supplement the services they love. Easily track inventory for business use as well as for retail sale. For example, if a customer decides later that they want to buy a product that was used for one of their services, you'll have a record of it. Another way to make money without a ton of heavy lifting.
Booksy Biz Pro is the tool that's designed for busy teams, but ambitious independent contractors may also want to take advantage of the full features that Booksy Biz Pro offers.
Either way, this full featured solution is for professionals who want to access more advanced features to help manage a business and ensure continued growth.Check out our new mobile app and our new tablet app, each available on the Apple App Store or Google Play, or log in from your computer.
Keep Learning More
Whether you start using Booksy Biz Pro or Booksy Biz Lite, you'll notice a fresh new look and feel. Once you make your choice, download the app and start exploring the brand new capabilities that can and will help your work shine.
Take advantage of the exciting time and learn about all the different features available to each and every Booksy provider. These tools are quite literally at your fingertips.
To learn more about the upgrades and new features, attend an upcoming webinar or browse through our FAQs online. Click on this Booksy website, for a summary of all these core features. Read another short article featuring feedback from three industry experts, who have already activated Booksy Biz Pro.
But don't forget about the In-app Hints! These guides will appear throughout the set up process. In-app Hints were specifically designed to answer the most commonly asked questions from our providers.
Check out our side by side comparison of Booksy Biz Pro and Booksy Biz Lite. This short and simple chart shows a comprehensive list of the core features within Booksy Biz Pro and Booksy Biz Lite.