Booksy Card Reader: What It Can Do for Your Business
Choosing the right card reader for your business may seem like a no-brainer. Although the decision may seem pretty straightforward, remember that customers these days expect business owners to make things convenient. And that means accepting a variety of different electronic payments, which have simply become the norm over the past few years.
Some clients will use an EMV chip, the small, square computer chip that appears on some credit and debit cards. Others use the swipe or magnetic stripe. And then there's clients who prefer contact-free tap payments via mobile wallets, such as Apple Pay or Google Pay.
Your clients value flexible payment options, however you as a business owner don't need to spend more time chasing payments. Instead, spend that time focusing on providing creative services and working with clients who love your work. To make sure that's always the case, Booksy Card Reader offers a few different card readers to give businesses the ability to process a variety of payment methods.
The Stripe Reader M2 is for businesses who want to accept payments on the go. The BBPOS WisePOSTM E was created to process transactions from a mobile device and from a front desk. Take a moment to learn about the differences between the two options to find out which card reader is right for your business. But first, let's start by answering any questions that you may have about Booksy Card Reader.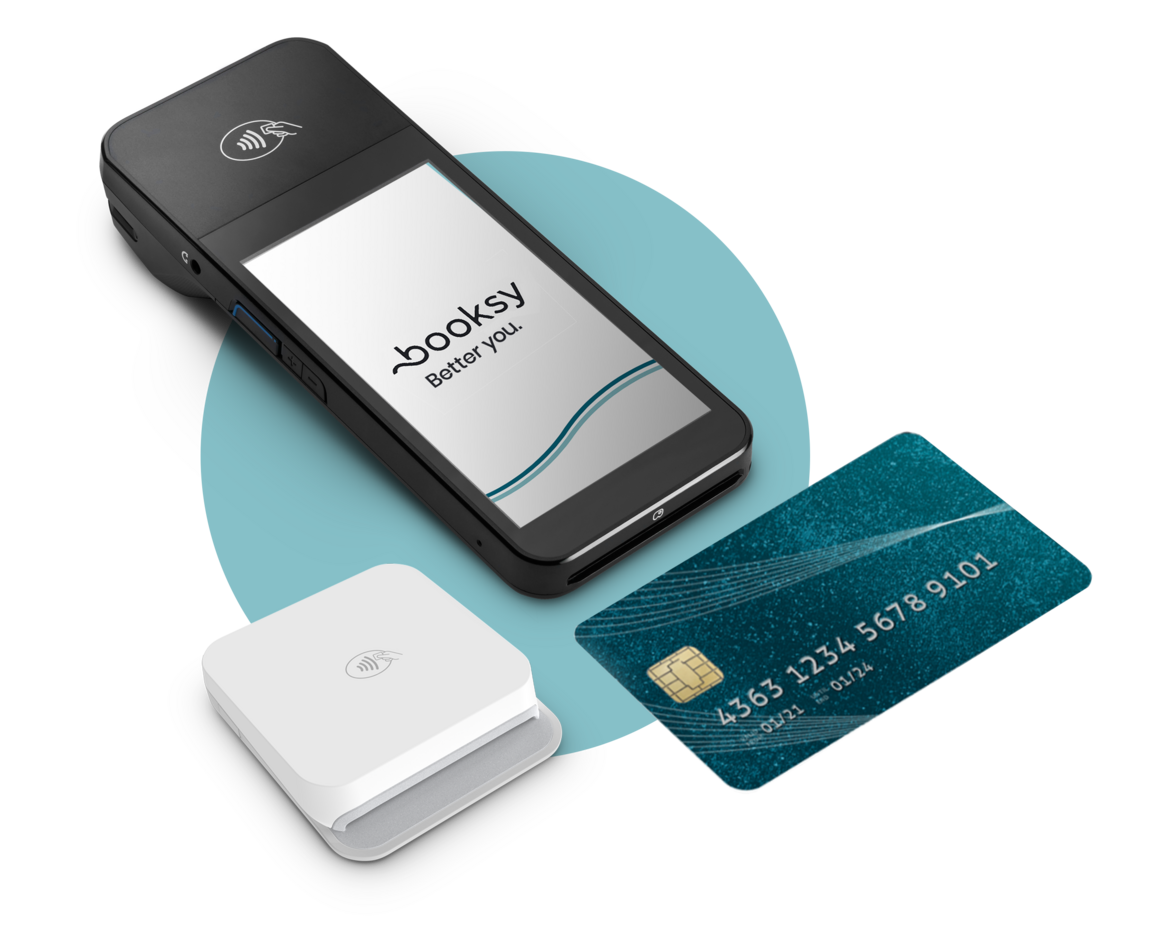 Booksy Card Reader
Booksy Card Reader is designed to collect onsite payments whenever a payment card is present, including all common credit cards like Visa, MasterCard, American Express, Diners, and Discover. Naturally, Booksy Card Reader also accepts transactions via Apple Pay or Google Pay.
Just as importantly, Booksy Card Reader is integrated with your Booksy experience. Use Booksy Card Reader to manage all of your payments in one place.
Booksy Card Reader also offers the following incentives:
Integrated Experience:

Booksy Card Reader is integrated with the rest of your Booksy experience. That means client information and checkout features are both integrated for all Booksy providers. Stats & Reports are integrated for Booksy Biz Pro users. So you won't ever need to leave the app to process payments or review your performance.

Secure and Reliable:

Your hard earned dollars will always arrive safely into your account. In fact, we go the extra mile to verify the accounts of our providers and their customers.

Customer Satisfaction:

Your customers can also get peace of mind. Anytime a client wants a receipt, it's easy to send one using our software. Each receipt for a successful payment can be sent through the app to the email address on file for that customer.

Safe:

More businesses and consumers than ever before are looking for contact-free payment solutions to stay safe. Booksy Card Reader lets you process transactions without exchanging cards, cash, or checks.
The Set Up Process
Getting started with Booksy Card Reader only takes a few steps. Follow this simple and easy process to order your card reader and start getting paid:
Head to Business Settings and then click on Payments & Checkout.
From there, select Booksy Card Reader.
Next you will need to verify your account with our Payment Processor,

Stripe

. You'll need to use a cell phone number where you are able to receive text messages, and an email address where you can receive emails.

To complete the verification process, it should take 10-15 minutes. Make sure you have the following information ready: company name (or personal details for individuals), official mailing address, tax ID and/or Social Security number, bank account number, and routing number.

All the data you provide is safe and used only by our Payments Provider for verification purposes, so we can legally process your transactions. Booksy does not store this information.

When your verification is processed, you'll receive a notification that you can log into the app and order your Booksy Card Reader.

As soon as you receive your card reader in the mail, all you need to do is follow the steps in the app to connect it to your account. Then you're ready to start processing onsite payments.
Which Booksy Card Reader is Right for Your Business?
Although Booksy Card Reader offers a host of benefits, take a moment to find out which card reader works best for your business. Remember that there are a few options: the Stripe Reader M2 and the BBPOS WisePOSTM E
*price does not include shipping
Stripe Reader M2
The Stripe Reader M2 is a pocket-sized reader that's designed for quick and easy, on-the-go transactions. The Stripe Reader M2 is ideal for accepting payments on your mobile device, especially if your business doesn't operate using a front desk. It offers the flexibility to process transactions while you're bouncing between appointments, traveling to clients, or at an event.
BBPOS WisePOSTM E
This full-featured terminal offers an interactive display screen with customer-facing tip options, giving the client an engaging checkout experience. It also allows clients to review specific details of their transaction in real time.
This card reader works best at a dedicated workspace, like a reception desk, but can complete a transaction from a mobile phone, tablet, or computer. This card reader connects to one device at a time, so if you have two computers at your reception desk, we recommend getting two card readers.
Pricing for the Stripe Reader M2 and the BBPOS WisePOSTME
With regards to pricing for the Stripe Reader M2 and the BBPOS WisePOSTM E, remember there's no monthly fees or charges to setup. Basically, once you have a card reader, you only pay when customers are purchasing your services or products.
The processing fee per transaction with a Booksy Card Reader is 2.49% + $0.10 US. Also know that there's a $15 fee for any chargebacks to offset processing fees. And that $15 fee only applies when a client contests a charge, and you refund their money. Naturally, you will always be in charge of verifying charbacks.
The Takeaway
Because payments have been such an important topic to our providers, we know you'll be excited to get started. Booksy listened to you when you asked for more integrated payment options, and Booksy Card Reader is the latest addition. Now, you can offer customers the option of mobile payment or physical card payment, all completely integrated with the Booksy system. No navigating to another software program. No hassle.
Choosing the right card reader for your business may seem like a no-brainer. Its sole function is simply to read data from different electronic transactions to make sure clients can pay for their services or products and your shop or salon receives those payments in a timely manner.
But by taking the time to activate and order the right Booksy Card Reader for your business, it's possible to make absolutely sure that everything stays organized when it comes to accepting the wide variety of different payment options that today's customers will want to use while paying for your services.
So, get ready to choose a card reader that's fully integrated with your Booksy experience. And that includes client information, checkout features, and Stats & Reports for Booksy Biz Pro users. With Booksy Card Reader, there's never a need to leave the app to process payments or keep tabs on your performance.