Booksy Partners with Wahl and Kicks off the Doll Head Tour
Barbers
Beauty
Booksy Community
Events
Hair
Booksy Partners with Wahl and Kicks off the Doll Head Tour
After months of working closely together to create an agreement that would best suit industry professionals across the country, Booksy announced a year-long partnership with Wahl. Wahl is widely recognized as the leading manufacturer of grooming tools that industry experts have relied upon for over a century. And the Booksy software is a cutting edge resource used by barbers and stylists all over the globe.
This partnership was created to combine these two worlds and help industry professionals better run their businesses behind the chair and beyond. For Booksy professionals this partnership means major savings, free educational content, community projects, and exclusive merchandise.
Expect to hear more details about events, giveaways, and content—exactly what you might expect from a unique partnership between two major brands. But know that the Booksy partnership with Wahl will only last until the end of 2021.
To announce the Booksy partnership with Wahl, six Booksy Ambassadors, who also serve as Wahl educators, helped spread the word about the campaign through social media content that appeared on both the Booksy and the Wahl social media web pages.
Those six Booksy Ambassadors who have been promoting the Booksy partnership with Wahl include Christy Clips, Byrd Mena, Barber Nas, Taylor Leven, Jamie Digrazia, and Rick Morin. And the theme chosen for this campaign is Eat. Sleep. Fade. Repeat.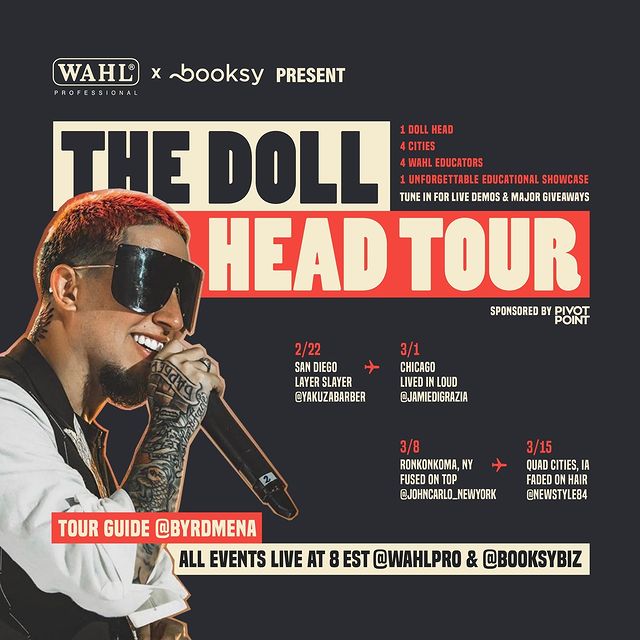 The Doll Head Tour
The Doll Head Tour is the first piece of free educational content that will be available on the Booksy and the Wahl Instagram pages. The content will be streaming live @booksybiz and @wahlpro. For one full month, four Wahl educators will showcase their skills, while giving detailed styling tips to everyone who decides to watch and learn.
Each one of these Wahl educators will provide detailed information on how to perform specific techniques and styles. Instead of using a living, breathing person for a model—each Whal educator will create the instructional video while performing their work on a Pivot Point doll head.
On February 22, the doll head will begin its journey in San Diego, California. The next week it will make its way to Chicago, Illinois. It's third stop will be at Ronkonkoma, New York. And it's final stop will be at Quad Cities, Iowa. Another goal of this event is to provide support for barbers and hairstylists, who may find it difficult to find educational resources during the remainder of the pandemic.
In particular, hair stylists have already expressed interest in learning more about men's barbering and grooming techniques. And experienced barbers can expect to learn the latest trends. During each stop on the Doll Head Tour, each one of the four Wahl educators will perform a one-hour demo that lets them share knowledge while keeping members of the beauty community engaged with one another.
The tour guide and master of ceremonies will be Byrd Mena. Each week of the Doll Head Tour, there's a chance to win one the following: a Wahl Cordless Magic Clip Wahl Detailer LI, one free year of Booksy, one free hoodie, one free t-shirt, and one Cole Pivot Point mannequin head. Keep reading for more details on each stop:
Stop 1: Kevin Nguyen a.k.a. The Yakuza Barber in San Diego, California
Date: February 22 at 7 p.m. CST The first stop on the Doll Head Tour has been named the "Layer Slayer." And the overall goal of this stop is to show haircut and styling techniques on a client with longer hair. During this stop, the hair will be the longest on the doll head. And the styling video will feature a barber working with Wahl clippers while layering. This is a great opportunity to learn to properly layer men's hair. But expect to pick up other helpful grooming tips along the way.
Stop 2:
Jamie DiGrazia
in Chicago, Illinois 
Date: March 1 at 7 p.m. CST
For industry professionals who have trouble with mid-length haircuts—then this video is just for you. Aptly titled "Lived in Loud," online viewers will learn how to retain the length of a haircut on the top of the head, while still cutting it shorter on the sides. Gain valuable tips on finishing and styling mid-length haircuts and expect to learn some additional details on blow drying a mid-length men's cut.
Stop 3:
John Carlo
in Ronkonkoma, New York
Date: March 8 at 7 p.m. CST
Get ready to learn how to gain more technical skills with a pair of clippers. For those who tune in, expect detailed advice on how to fade with unmatched precision. "Fusion" is the name of this stop on the Doll Head Tour. Expect to also learn valuable information on gradation, along with details on levels of darkness and lightness. Find out more information on devoting the right amount of time to create a fresh cut. And this video is great for anyone who wants to learn about how to master using their pair of clippers over a comb.
Stop 4: Miquel R. a.k.a.
Newstyle84
in Quad Cities, Iowa
Date: March 15 at 7 p.m. CST
Always wanted to learn how to create graphics? Well, this is your moment. "Faded on Hair" is the name of this final stop on the Doll Head Tour. And this educational video will focus on how to create a skin fade with detailed graphics. Learn how to effortlessly create flair by adding intricate graphic design work. Find out how to cut swirls and hard parts. Add some fun to a short cut and learn from a professional, who has mastered the art of cutting a fade.