Continuing Education that Inspires Beauty Professionals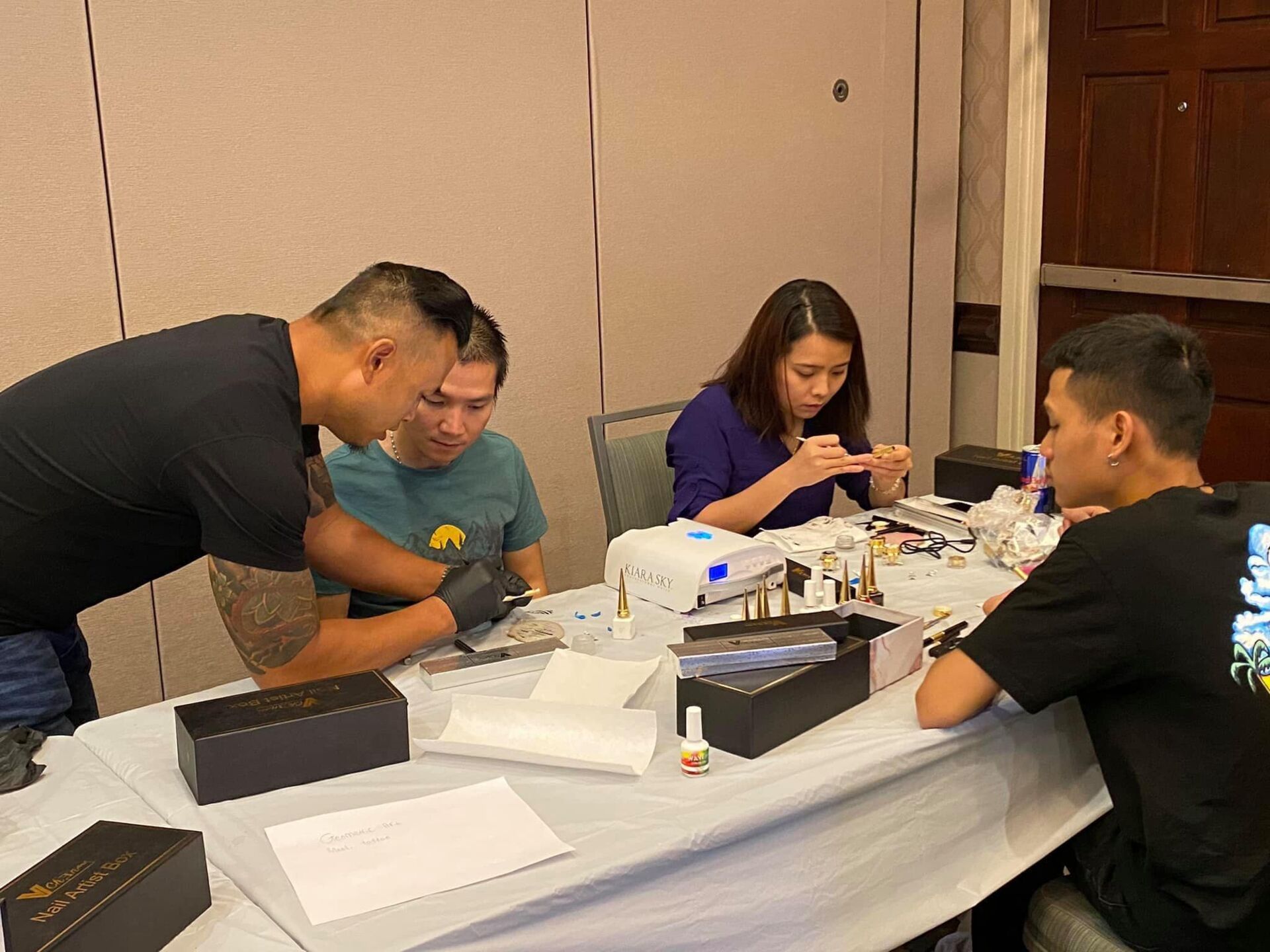 Some professionals believe that teaching continuing education courses to help service providers pursue their dreams is the best way to give back to the beauty community. And fortunately for nail technicians in the Central Florida area, Rikki Siskaet lives by that motto.
For those who don't know Rikki, he's a successful business owner who runs a nail salon with a reputation for providing high fashion inspired nail designs that resemble works of art. Despite his demanding schedule, Rikki spends his time helping others learn the tools of his trade by teaching small-sized, continuing education courses designed to help nail techs truly succeed.
SoDo Nails & Lash Bar is the name of the chic boutique that Rikki built from the ground up. It's the home of almost two dozen nail techs who all have the opportunity to learn from the managerial skills and creativity that Rikki brings to every appointment. And it's also where Rikki hosts continuing education courses for students who want to learn from a master level nail tech.
Although most people would agree that Rikki leads a five-star life, he didn't always have things figured out. In fact, his background is a far cry from perfect. But Rikki was able to use his hard work ethic and dedication to turn his life around. And he attributes a large part of his success to continuing education courses, trade school resources, and help from his family.
To best honor the people who believed in him when others gave up hope, Rikki gives back by teaching and hosting classes for nail techs. And he uses his checkered past to inspire people from all walks of life who simply need a little guidance. Take a few moments to learn more about Rikki and his commitment to helping people add art to the world—one finger nail at a time.
Stepping into the World of Nails by Chance
Rikki was born in Laos but made his way to the United States through a Thailand refugee camp. His family moved to escape the Laotian Civil War, which is often associated with the conflict in Vietnam. But according to historians, Laos was bombed more than two million times during the late 1960s and early 1970s, making it the most heavily bombed country in history.
Despite the fact that his father was a school principal in Laos, upon abruptly moving to America Rikki's dad had to work a number of jobs including janitorial work to support their family. Although Rikki remembers his older siblings working tirelessly to help raise him, Rikki fell victim to distractions.
When he was just a teenager, Rikki was headed down a dark path that involved gang activity and brushes with the law. Without hesitation, he admits that he'd "fallen in with the wrong crowd." And the influence from misguided youths were leading him in the wrong direction.
Almost by chance, Rikki was introduced to the world of nails when he was 21 years old. His mother and father in-law were both passionate about the nail industry. And slowly but surely, Rikki began working in a salon owned by his in-laws, which is where his interest in nails started.
Becoming a business owner took hours of dedication and resolve. And today, Rikki shares stories of his past with his students, who look to him for motivation. Part of the reason that Rikki succeeds as an educator is that he uses his wide range of experiences to inspire others.
Continuing Education Takeaways
When Rikki was learning the art of creating nail designs, he remembers working alone for hours from 10 p.m until 3 a.m. He was still working full-time, while taking care of his family. So, he only had the wee hours of the night to himself. But those long hours are what helped him truly master his trade. And that time gave him the confidence to open his own business in Orlando, Florida.
Even as a successful business owner, Rikki firmly believes that every single nail tech should spend time mastering their technique by taking continuing education classes. And in his mind, the nail techs who have learned all they can should become educators. During his courses, Rikki reviews these and other valuable tools to make sure his students are a cut above:
1. Stay in Touch with Trends
According to Rikki, it's important for nail techs to keep up with design trends. And that's because a lot of clients come into salons with nail designs saved on their phones that they've seen on social media, he said. To make sure his students stay ahead of the competition, his continuing education courses covers designs featured on Pinterest, Instagram, and Facebook.
"If a nail tech can't do a design because they don't know it or they don't know the proper techniques they're losing that clientele to the next nail tech who can. So, my courses help nail techs stay relevant while giving them the ability to compete against other techs. Because if other people can do a design and you can't—that's one client you've lost for good," he said.
2. Master Social Media Marketing
Rikki first opened his business about two years ago, during COVID-19. So, he truly understands the importance of online marketing. In addition to helping his students learn how to create beautifully intricate designs, Rikki also helps them learn how to market themselves via social media.
"We teach them how to utilize Instagram and Facebook, to pick up followers. I show them how to tag the right people. We talk about using the right hashtags, so they can get more followers. I teach them how to take advantage of social media, because most clients will come from Instagram," he said.
3. Develop Business Skills
Rikki also believes in helping industry newcomers and experienced nail professionals learn to master the ins and outs of running a business. It requires a lot of technical skill to work in any salon. But success for beauty professionals still means making a profit. And that takes mastering the business side as well as the creative side of being a nail tech.
"That's exactly why people like taking my courses. I'm actually in business for myself. And a lot of my students are business-minded people. But they're still working as independent contractors. So, they want to know the back end of the nail industry. They want to learn how to work more independently and to make more money," he said.
Continuing Education that Inspires
A final piece of advice that Rikki gives to his students is to stay true to oneself. He said that it's important to have a knowledge of self, especially when trying to connect with people. Whenever possible, Rikki practices that same mindset in his shop and encourages staffers to do the same.
"The number one thing that I always say is to stay grounded. I grew up in a housing project in North Minneapolis. I came from a really, really poor family who arrived here from a refugee camp in Thailand. So, I've always been grounded. And I know that's what a lot of my customers love about me—because I don't let things go to my head," he said.
A huge benefit of being a grounded person is that it helps with focus, he added. And to keep paying homage to a strong wife who "no matter what, never gave up on him and family members that taught him the nail industry," Rikki said that helping people stay grounded and focused by offering continuing education courses is the right path for him.
Despite the fact that Rikki spends so much of his time running an award-winning business that was recently voted the number one place for spa services in the city by Orlando Weekly, he plans to continue sharing the tools he used to succeed to inspire others.
"I say to those who have a checkered past or to the ones who are in a slump and think that they can't do something, don't give up. Like I tell my students when I teach them, find a passion. Pursue that passion, and be determined to achieve it. Because no one can tell you that you can't do it—only you can," said Rikki.