Creating and Implementing New Business Strategies During COVID-19
Creating and Implementing New Business Strategies During COVID-19
Throughout the country, beauty and wellness professionals are creating new business strategies to make sure their shops and salons remain afloat throughout the remainder of the COVID-19 pandemic.
While we usually only publish content featuring Booksy professionals, we took the time to speak with the owners of Salon Vaso. This Miami, Florida based beauty salon is one of many businesses that was hit particularly hard, due to the pandemic.
Despite the fact that this salon boutique specializes in providing hair, nail, brow, and eyelash services—Salon Vaso experienced a lack of business over the past year, especially because this boutique depends on the tourists who usually frequent the South Beach area of Miami.
Salon Vaso is owned and operated by Michael Hilty and Sandra Burget. And the two salon owners had to implement a number of unique business strategies to keep staffers engaged, while also making sure to stay connected with their loyal client base.
These business owners moved to the United States about a year and a half ago, after living in Switzerland. In pursuit of the American dream, they purchased Salon Vaso from its previous owners and began making renovations almost immediately to focus their business on providing higher-end services.
By modernizing the space, Michael and Sandra quickly built a reputation for owning a trend-setting salon that catered to South Beach area residents and visitors, who wanted to look and feel their absolute best. But to stay in business, Michael and Sandra made some changes to their business strategy to survive the COVID-19 pandemic.
Take a few minutes to learn about the business strategies that have kept this upscale boutique operating over the past year. And learn a few tips that can be applied in barbershops, salons, or wellness centers across the country.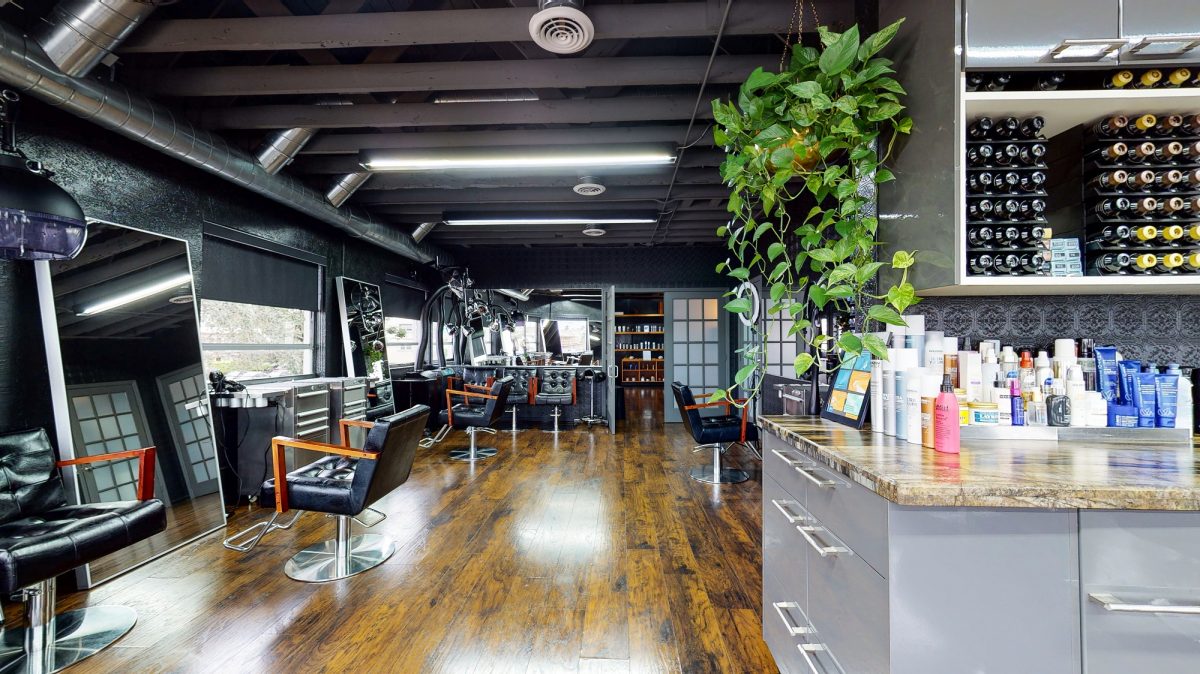 Implementing Online Business Strategies
According to Michael and Sandra, they had to remain in close communication with their staffers throughout the pandemic. And that was the case even when they had to close the doors to their business to remain in compliance with health and safety regulations.
While the business was closed, Michael and Sandra regularly communicated via Zoom calls with their four hair stylists, two nail techs, and one lash artist to keep the communal feel that the shop had established before the pandemic.
Another business strategy that Michael and Sandra implemented was to create and publish additional social media posts to make sure that clients also felt engaged and a part of the Salon Vaso community, which their loyal customers had come to know and love.
Using Instagram, they were also able to entice clients to visit the shop, once their doors reopened. More specifically, Michael and Sandra implemented a cross selling strategy.
Cross selling or cross booking is a sales technique. It lets a business owner entice clients to buy high priced items to generate more revenue. Although cross selling usually involves marketing more profitable products, it can also mean exposing clients to additional services.
For example, Salon Vaso advertises a 10% off sale for clients who book two services together. According to Michael and Sandra, this strategy is great for business. It provides a much more seamless experience for customers, who can get more than one service during each visit. But cross selling also helps Michael and Sandra generate more profits, since customers book multiple services.
Promoting Other Business Strategies
While making the effort to stay in touch with clients via Instagram, Michael and Sandra noticed a demand for coloring. The Salon Vaso owners said that some of their customers were asking for advice on how to color their hair at home.
Instead of attempting to train their customers on how to perform at-home coloring, Michael and Sandra came up with the idea of creating at-home coloring kits. Salon Vaso colorists created the kits for their loyal clients. And those loyal customers used these coloring kits inside their homes.
Preparing and delivering those coloring kits helped generate additional profits. And those profits helped the Salon Vaso owners keep their business alive. Naturally, it was important for them to earn extra income, especially when their doors were closed.
Michael and Sandra said it's important to provide same-day delivery on coloring kits. Customers feel more valued when their kits are delivered in a timely fashion. This seemingly small step translated into loyal clients returning back to the salon, once the Salon Vaso doors reopened.
Establishing and Following Strict Safety Procedures
To help make sure customers felt safe, Michael and Sandra enforced strict safety procedures inside the salon. But the two decided to take another step by advertising their list of safety and health procedures on their website. According to the Salon Vaso owners, keeping customers informed about their safety and health protocols helped customers feel safe during visits to the salon. A few of the Salon Vaso safety procedures include:
Daily temperature checks on all staff when entering the salon
Hand sanitizer is available at the entrance, bathroom, and at every station
Guests and staffers must wear a face mask at all times
Face shields are available upon request
Facial specialists must wear a face mask, a face shield, and gloves
Face mask and gloves are available for clients, upon request
Touchless payments are available
There is a six feet distance between all chairs
Staffers must clean and disinfect their workstation after every appointment
Frequent cleaning and disinfection of all areas of the salon
All staffers must store used towels and capes in a closed basket
Only one client per stylist at a time and no additional guests
Schedule appointments in advance (no walk-ins)
Every stylists is Barbicide Certified
No paper magazines will be available during this phase
When a customer checks-in, we will check their temperature with a touchless thermometer and ask a few health related questions
Guests with a temperature higher than 100.4 degrees must reschedule
Using the Booksy Software During COVID-19
At Booksy, we want to make sure that our professionals are able to continue generating business throughout the remainder of the pandemic. And to make sure that's the case, there are a number of helpful tools within our software.
To stay in touch with clients and update loyal customers on any changes within your shop or salon, we recommended using the Social Posts Creator feature. Use these posts to advertise your availability, promote offers, and encourage clients to book via the app.
Another valuable tool is the Message Blast feature, which lets Booksy professionals better communicate with clients. Send mass messages via text or email to keep customers engaged throughout the remainder of the pandemic.
The Mobile Payments feature is another useful tool. It can help reduce last minute cancellations and no-shows. Set up your own Cancellation Policy and charge clients a percentage for your styling or grooming service, upfront.
By charging an upfront cost for booking, if a client cancels at the last minute, you keep the down payment. Some Booksy professionals have used the Mobile Payments feature to almost completely eliminate no shows and last minute cancellations.
Some of the COVID-19 features designed specifically for business owners during the pandemic include the I'm Ready button, which lets you tell customers exactly when you're ready for them to come inside the shop or salon. Use the I'm Ready button while properly disinfecting and sanitizing your workspace after each appointment.
Use the Health and Safety Rules tool to keep clients updated on the safety rules that you've established inside your shop or salon. And use COVID-19 Disclaimer Forms help you easily ask your clients if they present any possible symptoms of COVID-19 or if their visit may bring any risks to you and your staffers.