Business Tips
The Essentials Of Spa Website Design: How To Create One That Accelerates Your Business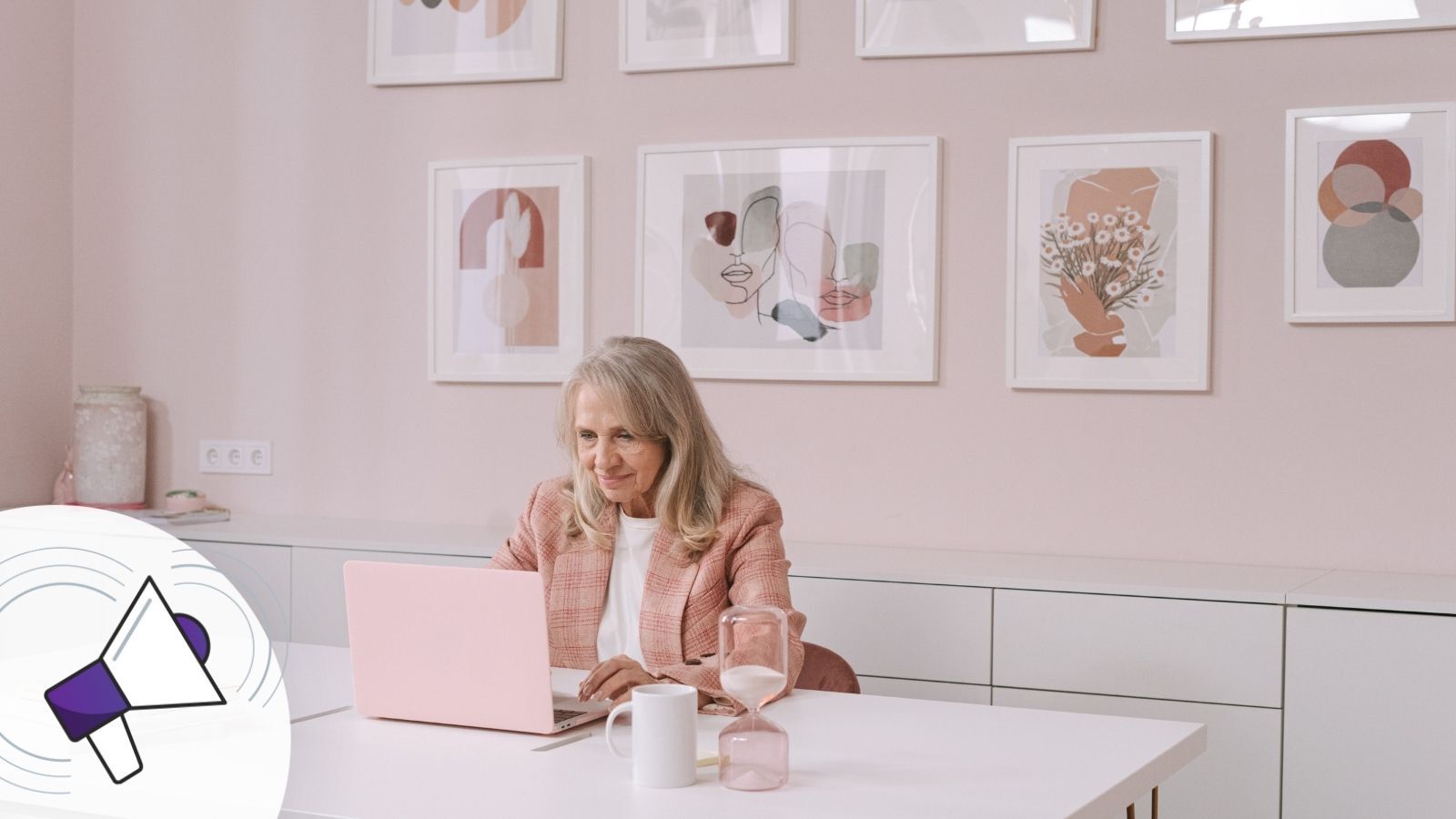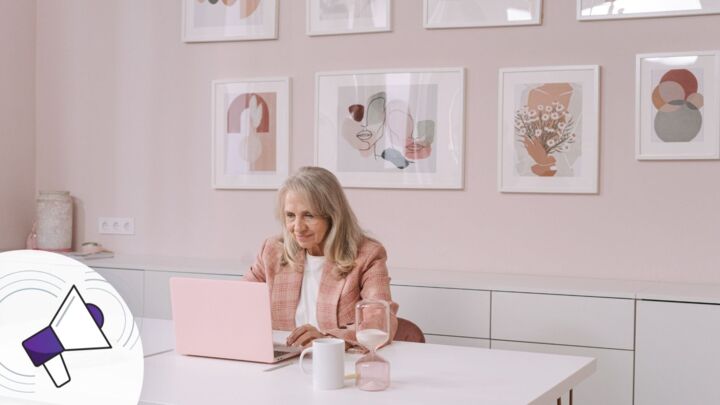 In today's day and time, you need a catchy, enriching, and interactive website to attract more clients to your spa business.
It's a no-brainer!
Your business website is an important marketing channel that allows you to share information about your business and the services you offer while providing routine business updates, special offers, and more to your clients.
Brand awareness, customer loyalty, appointment bookings—you name it and an optimized website will ensure that it accelerates your spa business. Not to forget that online presence is a key driver in attracting new clients to a business as found in a new Booksy report.
Furthermore, research by Chat Meter states that "near me" or "close by" type searches have grown by more than 900% over two years.
What does it mean for your spa business?
Simply put, if your website does not pop up during this search you are leaving money on the table.
If you don't have a website for your spa business just yet or you are looking to revamp a dated one and build a new website, make it your priority.
And if you're hounded by questions like "how do I create a spa website design", fret not as we've got you covered!
In this post, I will discuss spa website design extensively. I'll cover everything that you should know as a business owner when coming up with and designing your website. I'll also discuss one of the most important decisions you'll need to make – should you design the website by yourself or hire a web agency to do it for you.
Read along!
How to Build Your Spa Website -What's best?
When it comes to creating a spa website design, there are two options. You can go the "do it yourself" way or you can outsource the whole thing to a website design agency. In the following paragraphs, I'll walk you through the pros and cons of each option.
DIY web design
Creating a website is straightforward, though there is a slight learning curve in terms of nailing the landing pages, SEO, and call to action.
So one of the first choices you'll need to make is deciding what type of platform you want to use.
Broadly speaking, there are two types of platforms. On one hand, you have website builders like Wix, Shopify, and others that come with in-built functionality that's also beginner-friendly.
You generally pick a website template and then use the drag and drop editor to customize your theme. These templates are optimized for user experience and in line with web design trends.
Here's an example of a spa website template from WIX.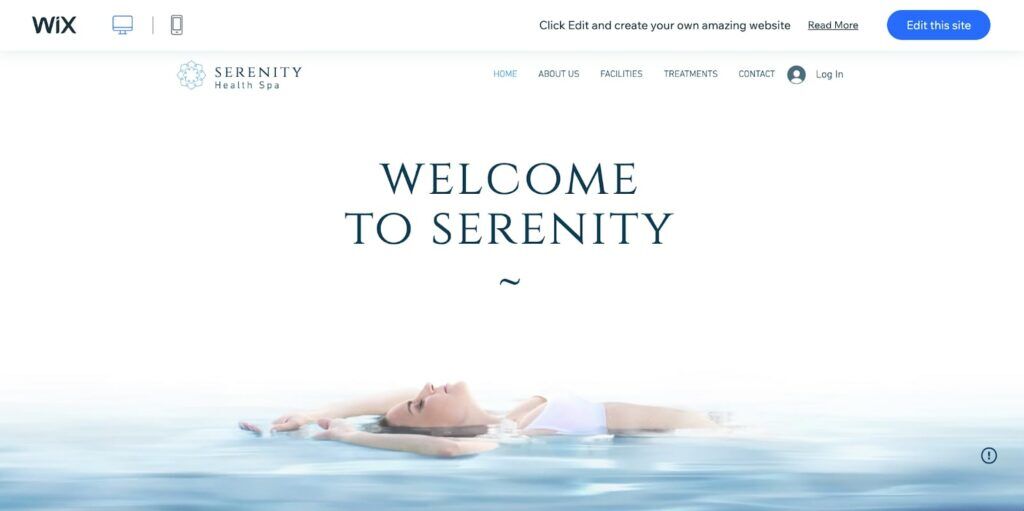 If you look closely, you'll find that the designers have spent a lot of time creating a visually appealing design. The website theme has all of the pages you might want for your spa website and you don't have to spend hours trying to figure out the right web pages.
With a DIY focus, all you need to do is edit the images, replace the text, and you'll have a visually attractive website up in no time. Here is a link to the template in case you want to check it out.
Alongside sites like WIX, you have platforms like Shopify, BigCommerce, and Shift4Shop. These are website builders designed for eCommerce. They have much the same functionality as a platform like WIX and more suited if your business also sells products online.
The alternative to a website builder is a popular Content Management System (CMS in professional parlance). The most popular CMS is WordPress.
WordPress is a platform for managing your website. If you want to use WordPress, you have to install the platform and then purchase a theme – most themes cost somewhere between $20-$100.
There are hundreds of WordPress themes to choose from. Once you've chosen your theme, you need to install and customize the design.
The great thing about WordPress is that there are a lot of options for customization. You can do almost anything with your website. It's also cheaper than a website builder like WIX, as you can choose your web hosting service. You can learn how to pick the best hosting provider on Hosting Foundry.
Hosting speeds for WordPress can be a lot faster than website builders. The trade-off is that there's more of a learning curve with a CMS like WordPress. While the general User Interface of WordPress is standardized, every theme creator has a unique layout for managing their theme.
Outsource web design
The alternative to creating your spa website is to commission a freelancer or web design agency to manage the project. The big advantage of outsourcing your project to a web design agency or a freelancer is that the finished product will reflect expertise in web design.
A knowledgeable web design agency will understand how to design a website with good user flow. They will also understand the nuances of the features you need and how to prioritize them. Such websites often do very well on search engines and are discovered fast!
If you want to outsource your website design, start by asking for recommendations from friends and colleagues. Go with a company that is referred to by a person that you trust. If you don't have any recommendations, you'll need to make inquiries independently.
When contacting agencies, it's a good idea to:
Ask for examples of their previous work
Discuss their experience working with businesses in your niche
Set out the exact specifications for your site before agreeing on a budget
Ask what CMS the company builds on
That last point is important. I recommend you avoid companies that have developed a custom CMS. The reason for this is that you might find yourself locked in with the company for years to come.
The main trade-off with outsourcing is the cost. The cost of a website can range from $1000 to $100,000. You might also have to deal with delays.
There are pros and cons to creating a spa website independently or working with an agency. There is no right or wrong answer. Assess your situation and then decide on the right course of action for your business.
How to optimize your spa website design and attract clients
A website is one of the most potent marketing tools for your spa business. Your website needs to be visually appealing to draw the attention of new customers. It should also be optimized to allow for conversions. Here are some factors to consider.
1. Include a detailed services menu
Your website should be user-friendly and easy to navigate. No one likes to spend hours looking for information. One of the most important elements of your spa website is the services menu which should be detailed.
Take the time to describe what your spa services or offerings are. So if you're offering massage services, list down if they're a Swedish massage, a hot stone massage, or a deep tissue massage. Adding pricing information is also key here. You can see how Oasis Day Spa in New York has taken this approach.
2. Highlight customer reviews
Satisfied and happy clients can help you expand the business. When they leave positive reviews, they're telling others to go to your business and avail of your services. Since those other people see them as consumers without a plan, they listen and take action. That's the essence of social proof.
As a spa business owner, all you need to do is get these reviews and highlight those on your website. To get that feedback, you can survey your clients on-site right after they've received your services. If you're running email marketing campaigns, you can even send the surveys there. If you want to go a step further, ask them to leave those reviews on your website.
Again this is very convenient and is an automated process if you use Booksy as your preferred spa management or day spa software.
Once you have your reviews, place them in strategic places on your website. A homepage is a great place, so visitors will be enticed to look at your offerings:
Place them on your online booking page, too. You never know. Those customer testimonials may just be the nudge your visitors need to book an appointment.
3. Have an online booking system
To maximize your website traffic it is critical that your spa website is optimized for online bookings. Make sure your appointment scheduling software is easy to use and allows your clients to book, cancel or reschedule an appointment without breaking down.
A tool like Booksy can help solve this problem.
Your online booking partner should therefore be easy to use, without which your visitors will leave without taking the desired action.
Take this example from Columbine Day Spa.
The spa in Colorado has a straightforward online booking interface. All visitors have to do is choose their preferred options.
Even then, the spa considers that not everyone will know how to make a booking then and there. That's why it offers visitors an option to "see an example" of a booking. There's even a small FAQ section on the page.
On the right-hand side of the monitor, visitors can also see the packages the spa is offering, so they don't have to go back and look for just that.
4. Ensure the site is mobile-friendly
Don't just focus on the spa website design. Make sure your website works beautifully, too, not just on a desktop but also on mobile devices. I can't stress how important that is. Just look at the statistics.
According to Sweor, 57% of Internet users say they won't recommend a brand with a poorly designed website on mobile. Add to that the fact that a site's "mobile-friendliness" is a Google ranking factor.
That said, here are some tips to make your website mobile-friendly:
Remove ads and pop-ups.
Don't use Flash.
Use big font sizes.
Employ large button sizes.
Focus on website speed
You can use Google's mobile-friendly test to check if your website makes the cut.
5. Use professionally produced media
Enriching media upgrade the overall visual appeal of your spa website design. High-quality and HD spa photos can be a great addition to your website.
With photos, you can highlight the best services and facilities offered by your spa – ambiance, interior design, space, cleanliness, and client-centric approach.
The best pictures of your spa are always of the facilities and environment. You could also include photos of satisfied customers or friendly staff. An engaging video is a great way to transmit that ambiance, too.
Here's an example of it from Endota Spa
6. Link to social media channels
It's difficult ignoring social media and that's why it is essential to include links to your social media channels on your site. However, in doing so, choose the social media channels where you are most active.
To keep your clients updated about your website do ensure that you do display links to your website channels on your social media platform too. Elm Boutique Spa in New York does just that: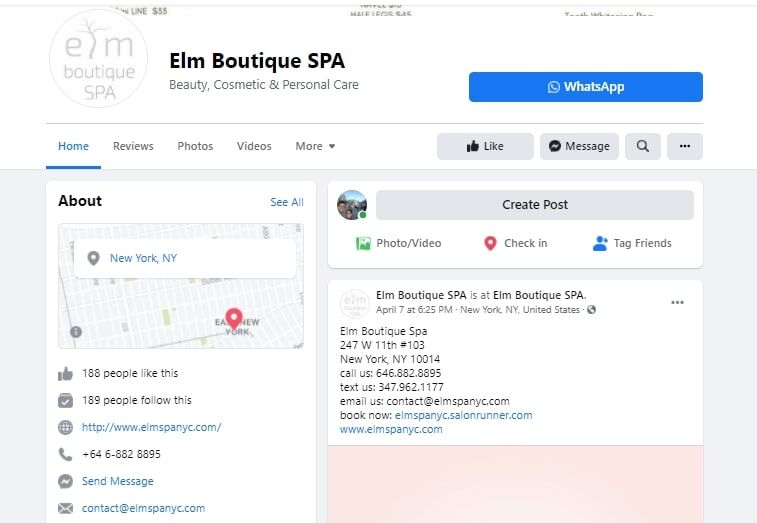 Source: Elm Boutique Spa Facebook
In Closing
A website represents your spa business. Therefore, it should look and function at its best.
Whether you're building the website yourself or outsourcing it, make sure your website has the following:
detailed services menu,
integration with an online booking system
customer reviews and testimonials for social proof
a mobile-friendly user experience
professionally produced media.
A visually appealing and user-friendly website helps you impress your clients and convinces them to opt for your services.
And if you want to jump in to give Booksy a try, start your free trial today and see for yourself why thousands of spa business owners use Booksy to manage their time and convert more clients!
Editor's Note: This post has been contributed by Jayson David who is the lead writer, editor, and researcher at Hosting Foundry, which helps businesses find the best web hosts for their needs.