Business Tips
How The Right Barbershop Software Can Increase Client Bookings And Increase Productivity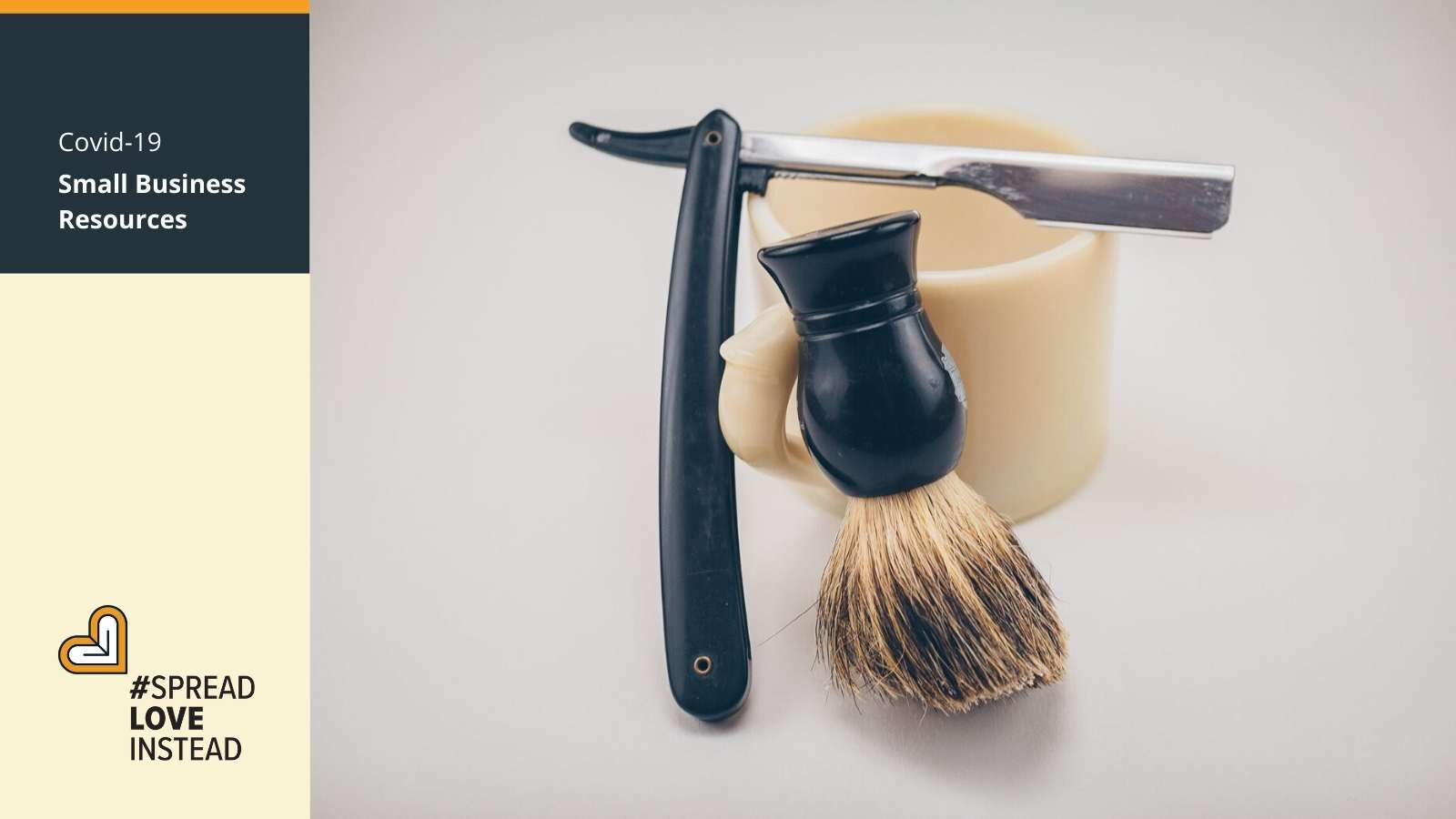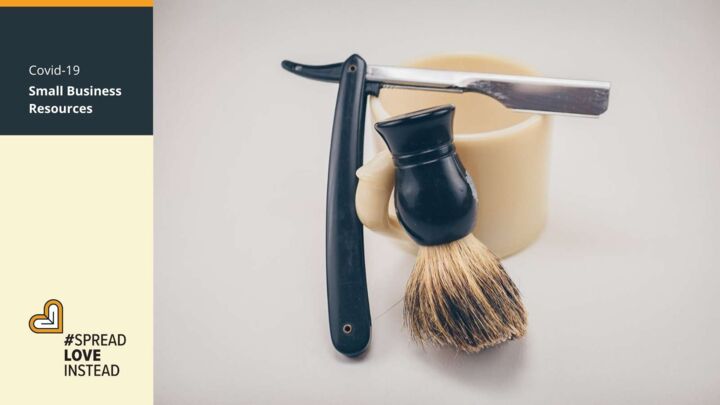 Running a barbershop is like preserving a classic slice of the times.
The iconic red and white barber pole, rustic interior décor, and sturdy customer chairs create that distinctive ambiance that has welcomed thousands of customers over the generations.
It's understandable that staying financially afloat, and cutting additional costs is a top priority at the moment. And there are many who are pivoting their strategy to suit.
The good news? Things are bound to change. And when your clients come swarming back (and they will!!), it would be hard to operate your shop with old-fashioned methods—it will only make it harder to grow your business. Booksy surveyed millions of clients last year and they all prefer online… now even more so!
You have the power to change, evolve and adapt to the current climate — switching from pen and paper to powerful barbershop salon software with ease. In this post we shed light on how the right solution can boost your productivity, client bookings and revenue as well as streamline your operations during COVID-19, so you can enjoy spending time with your customers when this crisis gets over!
Let's dive in.
Streamlined Appointment Scheduling and Fewer No-Shows
The traditional method of taking barbershop appointments typically involves the client calling in to book a service, and — assuming someone's there to pick up the phone — the barbershop's staff will schedule their appointment.
But between phone availability issues and miscommunication, manual appointment scheduling opens up a host of issues. Not only is it time-consuming, but it's also prone to human error.
For example, clients can often play "phone tag" with barbershops when the staff can't get to the phone or when customers call during non-business hours. In some instances, honest mistakes — such as taking down the wrong date and time — can cause confusion and wreak havoc on your calendar.
But you can prevent all that by using a barbershop appointment software that lets you implement online booking 24/7. Customers can book appointments using your web portal when it's convenient for them – even if that's the middle of the night. So, there is no need to waste time playing phone tag.
Modern appointment scheduling also minimizes human error because your customers can enter their details themselves, and your software can automate appointment confirmations to ensure that your clients' information is correct and they can make it to their scheduled booking. This then leads to fewer no-shows and more people sitting on your chairs.
Happier Clients
Developing personal relationships with your clients helps to build customer loyalty. When you greet your customers by name and remember their service preferences, they'll appreciate that personal connection and feel more loyal to your business.
And loyal clients are the best types of customers to have, because not only do they spend more, they're also highly likely to tell their friends and family about your services, giving you a steady stream of referrals.
So, how do you ensure that your customers stay happy? Start by arming yourself with tools that can help you get to know your clients better.
If you're still relying on a box of index cards or a pile of sticky notes, it's time to replace those labor-intensive manual practices. These methods make retrieving customer details more difficult, not to mention the fact that tracking visits and notes are much more labor-intensive when done manually.
Instead, switch to a well-designed barbershop software solution that can easily store your customer preferences and personal notes, so you can track their service history and stay updated with their habits, likes, and dislikes.
Convenient Ways to Get Paid
As a barber doing business in today's modern consumer environment, having the ability to accept multiple payment types is essential. In addition to accepting payments at the point of sale, you may also need to take deposits or capture credit card details online.
Doing all that simply isn't possible with a traditional cash register or a "pen and paper" barbershop system. Instead, equip your business with a barbershop software that allows you to process various forms of payments both online and in your shop.
In doing so, you can simplify the process of getting paid and ensure that money is smoothly flowing into your business.
Higher Staff Productivity
When you use barbershop software (a good one, that is) to manage your business, your entire team will benefit from not having to manually schedule appointments or manage their calendars.
A modern barbershop management solution boosts your productivity because you and your team can spend less time on cumbersome tasks, and get higher-level jobs done much more efficiently.
A Better Understanding of Your Business and Customers
If your barbershop software has data and analytics capabilities, you'll have deeper insights into your business and clients.
Having access to sales and client data enables you to identify trends (both up and down), and take action based on your predetermined business goals.
With quality barbershop management software, you can run targeted sales reports to pinpoint things you're doing right. You'll also find areas that need improvement, so you can keep growing and thriving.
Manly & Sons—a successful Los Angeles based barbershop uses Booksy for online booking and scheduling. Tony Pin, its owner talks about their experience of using Booksy in this video below:
What to Look for in a Barbershop Solution
Now that we've looked at the benefits of having great software for barbershops, let's explore the features that you should look for when you're shopping around for a solution.
Do note that every barbershop is different, so go through the following items with your business needs in mind.
Online Booking Website
The first thing you should look for in your barbershop solution is the ability to schedule appointments online. With consumers increasingly wanting to book services over the web, online scheduling isn't a "nice to have" feature — it's an absolute must.
Booksy recently conducted a research and found that the website ranks as a top booking channel for clients visiting a barbershop.
You want a system that allows you to set up an online booking website on which people can schedule and manage their appointments.
Ideally, your booking portal should be:
Customizable - If you've taken time to build your barbershop's brand, it makes sense to incorporate those branding elements into your barbershop booking software. Specifically, you can customize your webpage so customers can easily link the brand to your shop. As an added bonus, this brand connection helps to enhance your marketing and will stimulate sales.
As an example, take a look at the booking portal of Peace Valley Dry Goods & Barbershop, which has the company logo at the top page.
Flexible to your barbershop's needs - See to it that your booking portal enables you to list all your services, packages, available time slots, and staff.
Going back to Peace Valley's example, you'll see that their booking lets clients easily find the right categories, services, and staff so clients can book according to their needs and preferences.
Sharable - Your barbershop booking software should make it easy for you to share your booking page. Get yourself a solution that comes with booking buttons and links that you can quickly copy and paste.
Secure - When customers schedule appointments through your website, their personal data should be secure. Make sure your site has built-in SSL data security layers that can safeguard client data.
Social Media Scheduling
With people spending inordinate amounts of time on websites and apps like Facebook and Instagram, it's a good idea to allow clients to book via social media. Both Facebook and Instagram offer booking buttons that allow customers to schedule appointments without leaving their platforms.
You can see this capability in action on Antione Dunn's Instagram page (@dunnthebarber). Dunn enabled the "Book" button on his account; when clients tap it, they're automatically directed to his booking portal and they can schedule an appointment without leaving the Instagram app.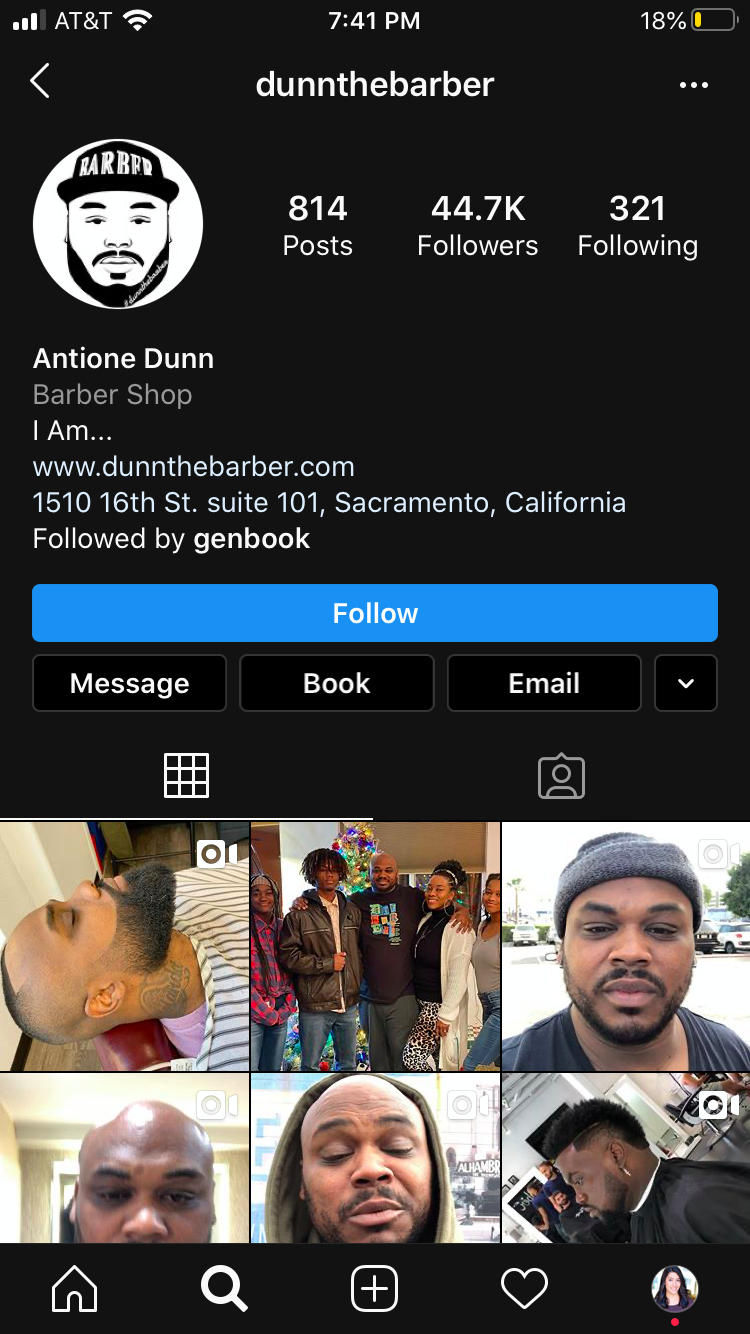 Follow the lead of Dunn the Barber. When you're looking for the best barbershop software for your biz, set your sights on a solution that integrates with social media booking platforms.
Automated Confirmations and Reminders
Our research at Booksy found that 28% of consumers fail to show up to their appointments because they forgot about them. For this reason, it's essential that you confirm, remind, and follow-up with customers who have booked a service. Doing so ensures that they show up at the designated time.
To that end, your barbershop scheduling software should streamline this process by having the ability to send appointment confirmations and reminders automatically. That way, you can keep up with client communications without having to manually manage the process.
Customer Relationship Management (CRM)
Why stop at booking features? If you're going to level up your barbershop management software, you might as well get a solution that lets you streamline other parts of your business — such as customer service and loyalty.
Arm yourself with a solution that has built-in customer relationship management (CRM) features. Such capabilities include client database management, customer notes and history tracking, text and email communications, and more.
These tools make it easier to communicate and engage with customers, and this ultimately leads to an elevated business experience.
Booksy Client Experience reports lays down
Brand-Building Reviews
Getting positive reviews (or testimonials) about your services often drives new customers to your barbershop's chairs. This increased demand for services means your barbers are more productive, and will generate more sales for your business.
But in order to reap those rewards, you have to ask and remind clients to leave reviews. And while you can totally do these things yourself — for example, by requesting for feedback as you finish up an appointment — it wouldn't hurt to get some assistance.
This is where a good barbershop salon software comes in handy. Choose a solution that can collect reviews for you automatically. Booksy, for example, sends review requests to your clients after they complete their appointment, and even lets you feature the best feedback on your booking page.
Check out this example from The Well Kept Barbershop, which displays reviews proudly on their booking page.
Secure and Integrated Payments
Whether you're taking fees for your services and retail products or collecting deposits to confirm appointments, your barbershop management software should make it easy for you to receive payments in-store and online.
To that end, the solution should be integrated with a reliable payment processor (like Stripe or Square), so you can ensure that your customers' credit card information is secure and you're protected from data breaches.
Seamless Business Integrations
Speaking of which, integrating multiple aspects of your business allows you to streamline your workflows and operations. That's why you should select a barbershop management system that can plug into the tools you're already using.
For example, Booksy can connect with various operational tools like iCal, Google Calendar, and Constant Contact. The software also integrates with site builders such as Wordpress and Squarespace, and you can connect Booksy to social media platforms like Instagram, Facebook, and more.
When choosing software for your barbershop, don't forget to check the apps that the platform integrates with, and make sure it works with the solutions you're using or are planning to use.
Business Insights and Analysis
Gaining insights from your business operations enables you to deliver better customer experiences. To accomplish that goal, pick a barbershop management platform that lets you analyze your barbershop bookings, sales revenues, and staffing levels. By identifying opportunities for improvement, you'll position your barbershop business for continued growth.
How to Find the Best Barbershop Software
Finding the best barbershop software will take some research and maybe a bit of detective work, but your business will 100% benefit from your efforts. Here are three easy search tactics that should lead to some promising barbershop management software candidates.
Tap into the American Barber Association
When you place a call to the American Barber Association (or ABA), you'll tap into a wealth of information and resources compiled for barbers and barbershop owners across the country. The ABA's Business Development Center offers expert advice on varied business operations issues. So, they'll likely have some insights, recommendations, and member feedback on the best barbershop management software.
Check Out Objective Online Reviews
When you browse for barbershop software online, you'll encounter numerous software company websites, each of which showcases that firm's products. For a more objective look at your options, view independent online product reviews that profile barbershop and salon software packages.
Examples of these resources include:
After viewing a snapshot of each barbershop software package, viewers can filter for multiple services and pricing options. Remember, you want to find a barbershop management software package that covers most (if not all) aspects of your business. Have a list of the capabilities you need, and reference it when you're evaluating various solutions.
Touch Base with Non-Competing Barbershops
Get in touch with non-competing barbershops. Ask the owners for their first-hand impressions of their barbershop software, and whether it meets their current and projected future needs. If not, ask them to suggest other options.
Check Adaptability for Crisis—COVID-19 & Beyond
There's another important consideration when looking for a barbershop software that often gets missed and that's ability to navigate during a crisis.
Coronavirus or COVID-19 has opened our eyes on how a pandemic can stop us in our tracks. One day you're booking clients and the next day you have to temporarily close your barbershop.
It's more important than ever that you look for barbershop softwares that can help you navigate during a crisis— COVID-19 or otherwise.
Let's have a look at how barbers are using Booksy features during coronavirus pandemic.
Whether your barbershop is under complete lock-down or functioning temporarily at the moment, it is important that you communicate your changed business hours and availability to your customers and a barbershop software should have functionality that allows you to do it.
Chris Santiago for example used Booksy's platform to keep his clients updated during COVID-19.
Products are another way of generating revenge for your barbershop. But if you're aren't business as usual, chances are that your sales are hit too.
But is there a way you can still when the laws expect you to maintain social distancing?
Booksy, fortunately, allows barbers to add 15-minute appointments to pick up products as well as shows the inventory in the Booksy App.
Do you sell products at your barbershop too? If you do, this is one feature that you should look for when picking a barbershop software.
So a crisis has forced your business to go mobile. What happens then? Will your preferred barbershop software adapt?
Many barbers are using Booksy to book 'housecalls' during this time. By activating upfront payments, they don't have to worry about anything. Housecalls are a great way to add money to the account, however, a little caution is required here.
The Gift certificates feature on Booksy has come in handy during this crisis for a lot of barbers who've decided to temporarily shut down during this time. It allows clients to buy gift certificates from the barbershop now and savor the services later. It's a win-win for everyone.
https://www.instagram.com/p/B-anNJtnE77/
That being said, gift certificates are an ongoing revenue-generating channel and should be something that your barbershop software offers as a feature.
Next Steps
After gathering your barbershop software information, list the pros and cons of different service packages and pricing structures. Choose the option that provides the best value for your current business stage, and is also configured to enable the continued growth of your barbershop.
And before you go, check out Booksy, a barbershop appointment scheduler, and management software with a ton of features for staying on top of your bookings, increasing your visibility, and boosting your reputation.
It's a tricky time, but our team is working hard to help those affected by this pandemic. As always our motto is to set you for success not just now, but for the future too.