Business Tips
What's In A Logo? A Lot: How To Design A Barbershop Logo That Matches Your Business Personality
The importance of a good barbershop logo can't be understated. The right logo can put your business top of mind and drive sales, while a less-than-stellar logo can confuse your clients or send the wrong message about what your barbershop is all about.
That's why it's important to devise a logo that accurately reflects your brand, enhances your barbershop design, and appeals to your audience.
To help you do that, we've come up with a detailed guide on how to design barber logos. Dive in below and see how you can apply these pointers and insights into your own designs.
Benefits of a well-designed barber logo
Before getting into the specifics of barbershop logo designs, let's quickly run through why you should invest in a good logo.
It solidifies your business identity. A logo is a major component of your small business branding efforts. It allows you to tell your brand story, which positively impacts how your brand is perceived — both internally and externally.
It sets you apart from the competition. A well-designed barbershop logo helps you stand out and be more recognizable in a crowded marketplace. Data cited by Renderforest indicates that 75% of people recognize a brand by its logo.
It can help you gain more clients. You'll increase the chances of winning your clients' business if you have a good logo. In a survey of 2,000 Americans commissioned by Vistaprint, 50% of respondents said they're more likely to use a company with a logo they recgnize. Meanwhile, 60% said they wouldn't engage with businesses that have unattractive logos.
How to Design a Barber Logo
Now that we've covered the benefits of having a great-looking barbershop logo, let's look at the factors and steps you should consider when creating or commissioning a barber logo design for your business.
Consider the type of logo to use
There are seven main types of logos. They include:
Lettermark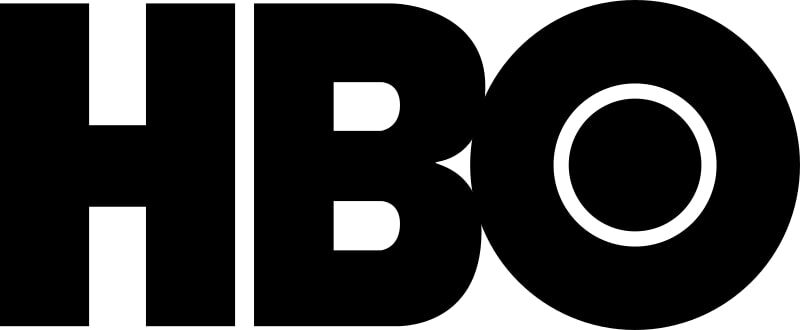 A lettermark logo consists of your brand initials. For example, IBM, HBO, and BBC. This is commonly used by businesses with company names that contain multiple words. If you find yourself having to use an acronym for your barbershop name, this may be a good logo type for your biz.
If your business name consists of a single word that's easy to remember, then a wordmark logo may be a good option for you. Examples of businesses that use a wordmark logo are Google, eBay, and Prada.
Emblem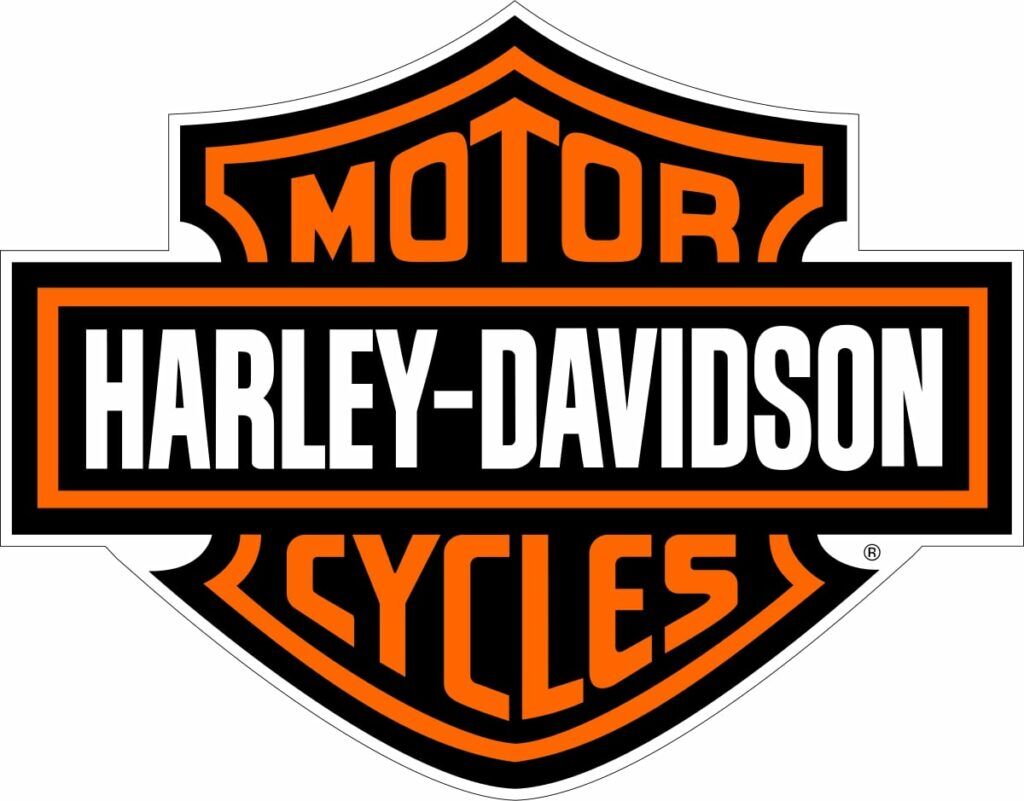 Emblem logos usually consist of two components: text and images. These logos usually spell out the company name and then use abstract symbols or imagery to represent the brand. Emblem logos typically have a traditional or classic feel to them. Examples include Ford, Harley Davidson, and the Hogwarts seal.
Mascot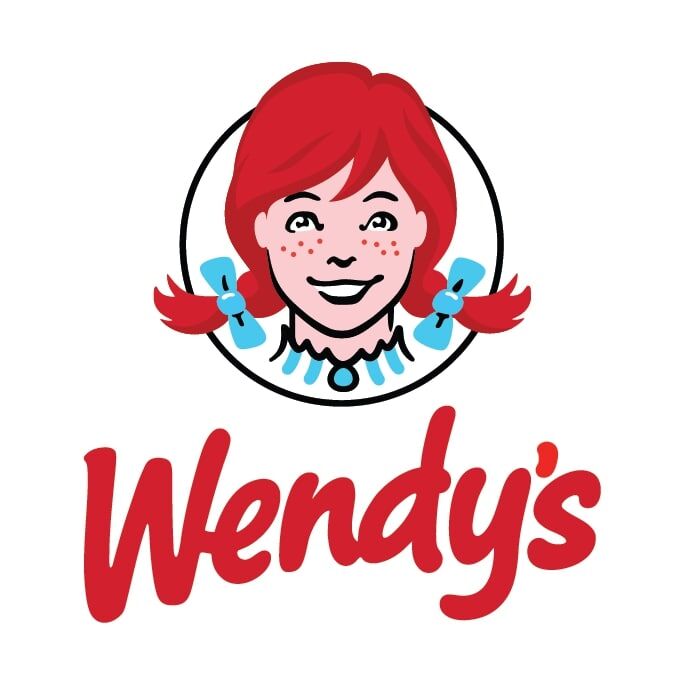 These logos use a mascot — i.e., a character, animal, or object — to represent the company. Examples include Pringles, Michelin, and Wendy's. If you have a mascot for your business, this may be a solid logo type for your company.
Pictorial
Pictorial logos use an image that accurately describes the company. Pictorial logos are standalone images and work best for established brands with instant company recognition. Famous examples of companies using pictorial logos include Apple, Puma, and Twitter.
Abstract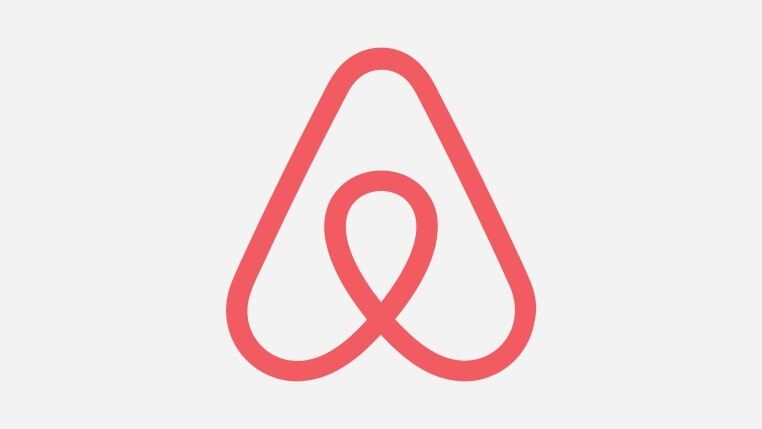 Like pictorial logos, abstract logos are image-based. Unlike pictorials, though, they are symbolic and non-figurative. So rather than a literal image of a mascot or object, abstract logos are typically made up of geometric shapes or abstract marks. Examples include Pepsi, NBC, and Airbnb.
Combination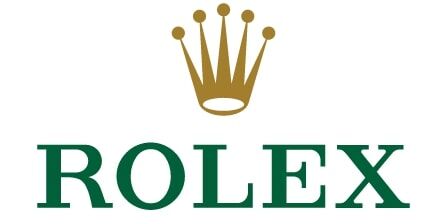 Like emblems, combination logos comprise of images and text. But while emblems have images surrounding the text, combination logos typically make the text part of the logo distinct from the icon or image. Examples include Rolex, Slack, and Chanel.
Iron out the components of your logo
A good logo isn't just about coming up with fancy text and images. You need to remember that your barber logo is going to serve as the face of your business. As such, you should take some time figuring out:
Who you want to reach
The story you want to tell
How you want your business to be seen in the marketplace
Knowing these things requires introspection. You need to gain clarity on your business values and story, as these factors will heavily influence the look and feel of your logo. You also need to do market research to figure out what visual components would appeal most to your target market.
Once you've established these things, you can then determine the components of your logo. This step usually involves:
Deciding on the text to include. If you're choosing a logo type that includes text, decide on the letters or words that you'll incorporate into your logo. Are you using your company's full name or just an acronym? Are there any taglines that you'd like to include? These are just some of the questions to ask at this stage.
Choose a font. If you're going with a text-based logo, don't forget about the font. Some barbers may choose a serif or script typeface if they want to project a more classic or sophisticated brand identity. Modern barbershops tend to use sans-serif or cleaner type fonts for a sleeker look.
Set the color palette. What colors should your logo use? That depends on your brand identity and preferences.
In the barbershop realm, the most common logo colors are black, white, blue, and red, since these are the colors found in the classic barbershop pole. On the one hand, it's beneficial to incorporate these shades because they're instantly recognizable as barbershop colors. However, they're very common in the market, so if you decide to use these colors, make sure to include other elements to get your logo to stand out.
Images. If you're planning to incorporate imagery into your logo, now is the time to figure out what those images are. You have the option of creating a character to represent your brand, if that appeals to your target audience. Or, you can be more subtle with your imagery and go with figurative illustrations or abstract shapes. The right answer depends on who your clients are and the story that you want to project.
Barbershop logo examples to inspire you
Need some inspiration for your barber logo design? Here are some examples of barbershops with interesting logos.
The LAB Studio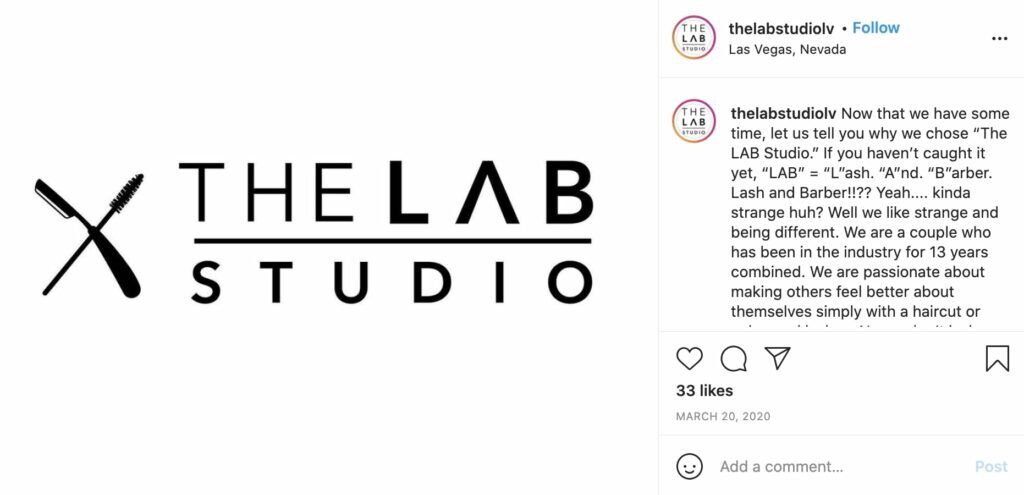 The LAB Studio is an establishment that offers lash and barber services hence the name "LAB". The LAB Studio is a modern business, and its logo reflects that using a sans-serif font, along with an illustration of a blade and eyelash brush.
Illume Barber Shop
Illume Barber Shop uses a text-based logo combined with some abstract graphics. The design projects a sophisticated look that's memorable and attention-grabbing. It's a good balance between classic and modern, which is exactly what the company is going for.
Empyre Barbers
Empyre Barbers' logo combines text and images to form a cohesive and strong look and feel. It incorporates the classic barber pole, but the company added a special touch by having a crown on top. The logo combines serif and sans-serif fonts, so it has both a timeless yet contemporary feel to it.
Top Tier Barber Shop
Top Tier Barber Shop is all about that timeless look. From having the iconic barber pole to using script and serif fonts, Top Tier's logo immediately communicates that it's a classic barbershop you can rely on.
Cut Pros Barbershop
Cut Pros Barbershop is a great example of a mascot-type logo. It features an illustration of a bearded man with a nice haircut, along with the company name at the bottom. It's an excellent logo choice that's relatable to the business' target audience.
Set your barber logo budget
How much should you spend on your barbershop logo? The answer depends entirely on you. There are a number of logo generators available on the web that can produce a design for you free of charge, though these types of logos tend to be generic.
If you want a more personalized logo design experience, you can work with freelance designers, agencies, or even design the logo yourself. The price points here can range anywhere from the low hundreds to thousands of dollars per project, depending on how much time it takes.
To give you some benchmarks on logo expenses, FinancesOnline found that 65% of small businesses would pay up to $500 for a new logo. Meanwhile, 20% said they would budget $1,000, while 15% would shell out over $1,000 for a new logo.
All this to say that there are no hard and fast rules when it comes budgeting for a barbershop logo. Everything depends on how much you're able and willing to pay.
Choose a logo design method
Ready to move forward with actually designing your barbershop logo? Here are the different options to consider, depending on your budget, preferences, and timeline.
Do it yourself
If you have a unique vision that only you can bring to life AND you have a flair for art and design, then it may be worth going the DIY route and create a logo yourself. You can use software like Adobe Illustrator, Adobe Photoshop, or even Canva to illustrate a logo for your business.
Here's a quick video on how to create a barbershop logo, the DIY way!
One downside to this method is that may take up quite a bit of time, depending on how fast you work. If you anticipate that the design and iteration process would take days or weeks, you may be better off spending that time finding and serving clients. If this is the case, consider other logo design methods.
Use an online logo generator
There are a number of logo generators on the web. If you're looking for a fast, easy, and affordable (i.e., mostly free) option for logo design, then this may be the best route for you. Consider the following sites:
Free Logo Design is an online tool that lets you create a logo in less than a minute. You start off by entering your company name and category, and the site will instantly generate logo options for you. From there, click the selection you like, and you'll be taken to an image editor tool to further customize the logo.
Once you're happy with the design, you can download a PNG file for free or purchase a complete logo pack for $39
Created by Shopify, Hatchful is another online logo generator that makes it fast and easy to create logos. Start off by choosing your industry, sharing your visual style, and entering your company name. Hatchful will then generate some initial designs, which you can further tweak using an online image editor. When you're done customizing, you can download a logo pack for free.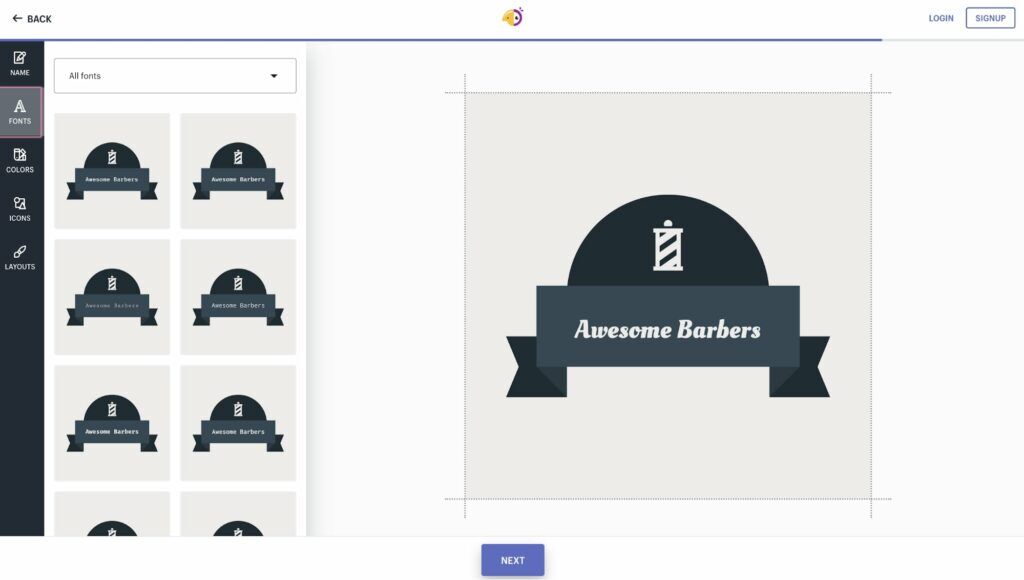 Hire a freelance designer
If you prefer a one-on-one experience, then working with a freelance designer could be your best bet. Since you're working with a real person instead of an algorithm or computer, you'll have the ability to fully communicate your vision and (if you hire the right person) get a fully personalized logo that fits with your brand identity.
You can find freelancers through platforms like Upwork, Fiverr, and 99Designs.
Another option is to Google logo designers in your area. If you want to meet with someone in person, then searching "graphic designer near me" could yield good results.
If you know of other non-competing barbershops or small businesses, consider asking them how they came up with their logo. And if they hired a designer, see if they can refer you.
Your barbershop logo is a key part of your brand identity
There are plenty of options and factors to consider when designing a logo for your barbershop. It can feel overwhelming, but it's well worth the effort.
Whether you've just started a barbershop or you're an established business that wants a brand refresh, it's important that you invest the time and resources to getting your logo right.