How To Get More Clients In A Barbershop Through Reviews: The Ultimate Guide With Expert Tips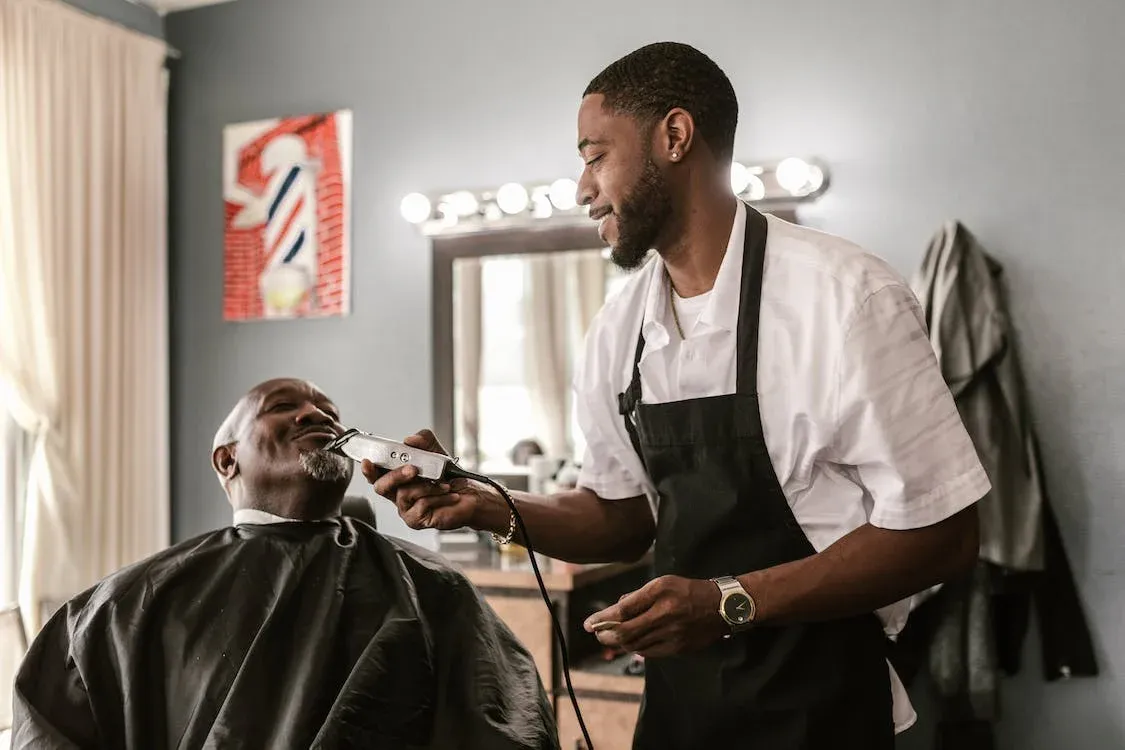 There are plenty of ways to get new faces walking through your barbershop's door, but few are as effective as online business reviews.
Don't just take our word for it! Multiple studies show that reviews are considered the most valuable purchase driver for consumers, so you can't afford to ignore them. For barbershops and hair salons in particular, reviews are necessary to acquire new clientele. There's no doubt the grooming and wellness industry is becoming increasingly competitive, and in order to stand out, prospective clients need to resonate with your brand.
What better way to do that than to show them words and feedback from people just like them?
In this post, we're going to explain how you can attract more clients to your shop or salon by harnessing the power of client reviews! This includes diving into why client reviews are so valuable, how to collect customer reviews and creative ways you can use reviews to win over new clients.
What are barbershop reviews?
Exactly what it sounds like! A barbershop review is a testimonial that clients can leave about their experience with a hair salon or barbering business. You can ask clients to leave reviews as they're leaving your chair, or they can find your business online and leave it themselves.
A review can often cover any part of your client's experience, such as:
The quality of the service performed and overall service experience
Interactions with the hairstylist and salon staff
Cleanliness and hygiene
The ambiance of the salon environment
Value-added experiences, such as refreshments, reading materials, etc.
Client reviews can be found pretty much everywhere your business exists online! Google, social media, local business directories, and platforms like Booksy.
Positive reviews can be immensely valuable to barbers and salon businesses by giving potential clients the reassurance that they're choosing an experienced and trustworthy service provider. This is why service providers should collect and publicize as many client reviews as they can as part of their barbershop and salon marketing efforts.
Why do barbershop reviews matter?
Barbershop reviews can have a material impact on your bottom line through the following.

Reviews enhance your reputation
As a business, your reputation will almost always precede you. This is particularly true in today's landscape, where clients are extra-savvy when they're researching service providers.
You can bet that by the time they make it to your booking portal or doorstep, they already know a thing or two about your business.
Having good reviews can fuel a positive business reputation, which can ultimately help you grow your barbershop clientele.
They can put your brand in front of more web users

Search engines like Google love unique, relevant content, and client reviews are exactly that.
Industry data backs this up. According to Moz, "Review Signals" (review quantity, review volume, review diversity, etc.) are the third most important ranking factor on Google's "Local Pack" — i.e., the widget that appears at the top of results for queries with local intent. (See screenshot below.)
Moz's study found that local businesses with strong review signals have a greater likelihood of appearing at the top of local search results.
As such, obtaining a steady flow of client reviews (ideally positive ones) is a fantastic way to gain more authority and jump higher in the search rankings.
They can foster client loyalty
Making the effort to solicit feedback is a way of showing clients that you care about their experience at your salon or barbershop. When clients feel like their opinions are valued and recognized, they're going to feel much stronger loyalty toward your business. Loyalty means trust, and trust means more bookings (and not to mention, referrals!) This is crucial when 80% of your future profits will come from just 20% of your existing clients.
Reviews help build brand awareness
Having plenty of reviews also improves your presence in online business directories. This, in turn, leads to more eyeballs on your business and brand.
The more visibility you have, the higher your brand awareness, and the more opportunities to book new clients.
They're a good source of constructive feedback from clients
The biggest flipside of client reviews is that they aren't always going to be positive. But even a negative review can still be of tremendous value to your business.
Testimonials are a great way for hairstylists and salon owners to identify areas of friction within the client experience that they may not otherwise be aware of. For example, if people are having issues with your online booking system or aren't receiving appointment reminders, this is something you want to know about as it could be preventing you from booking new clients.
Clients may also have great suggestions for how your business could be improved, such as providing a new service or adding amenities to the barbershop experience.
5 ways to get more barbershop reviews
Before you can start posting client reviews, you need to be proactive about collecting them. Remember that while some clients will choose to leave a review on their own, the majority will need a bit of prompting.
Here are some of the ways you can encourage your clients to leave a testimonial after their visit:
Start with your most loyal clients
If it's your first time trying to get more barbershop reviews, it's a good idea to start with long-term clients that you have an established relationship with. Not only will it feel less awkward to ask, you're also more likely to get glowing reviews!
Make it easy to leave a review
If leaving a review involves navigating multiple steps, clients are likely to check out before they've finished. Instead, make sure that you give customers a direct link to an online form to complete the review. A great way to do this is by setting up a QR code inside your salon or barbershop. All your client needs to do is point their smartphone camera at the code, and they're taken straight to your review form.
Automate the asking process
You can take a lot of work off your plate by setting up an email or text message that triggers automatically following a client's appointment.
Pro tip: A good appointment scheduling platform like Booksy makes this easy.
Booksy streamlines the process of collecting and publishing client reviews and is meant to be intuitive for clients to leave a review without guesswork or multiple steps.
Offer an incentive
Sometimes, clients need a little extra push to see leaving a review as worth their while. There are a variety of rewards you can offer your customers to say thanks for writing a testimonial, such as discounts on services, loyalty program points, or complimentary treatments.
Here's an example of a text from a service provider asking a client to leave a review in exchange for a discount:
Promote existing reviews
Sometimes, the best way to encourage clients to leave a review is to show them that others are doing it too. Promoting your existing testimonials can also serve as a reminder to clients to leave feedback about your business. More on this is below.
How to attract more barbershop clientele through reviews
Once you have a steady supply of positive reviews, you want to make sure that your business is getting full mileage out of them. Believe it or not, you can do far more with client testimonials than just posting them to your website or leaving them on review websites.
Let's take a look at other ways that reviews can be used effectively to attract new clients:
Share them on social media
It's easy for salons and barbershops to fall into a rut of posting headshot after headshot to their social media channels. But even the best hairstyle content or "before and after" shots can become boring and repetitive for your followers.

So, spruce up your Facebook page or Instagram grid by weaving in posts featuring client testimonials.
Incorporate reviews into your online ads
Credibility is one of the most important criteria for any potential service provider. Adding reviews to your online ads is a brilliant way to catch new clients' eyes and sway them toward your business.
So if you're running ads on social media and other websites, consider incorporating reviews into your ad copy. Authentic testimonials are often far more effective in grabbing people's attention than clever promotional taglines.
Promote them on your booking portal
Just because someone lands on your booking portal doesn't always mean that they'll end up as a paying client. However, you can increase your chances by displaying lots of social proof right on your appointment page.
Doing so will give prospective clients more confidence in your business, which then boosts the likelihood that they'll make an appointment.
Pro tip: Speaking of online scheduling, Booksy has a free Online Booking Guide that can help you increase your bookings, streamline your processes, and make better use of your time. Best of all, the guide is tailored to your goals. So whether you're looking to boost productivity, grow your online presence, or increase your revenue, you'll be able to gain valuable knowledge simply by downloading the guide. Check it out!
Use reviews in your email marketing
Email marketing is a highly effective but often under-utilized tool for small businesses aiming to grow their client base. It's affordable, gives you complete autonomy, and allows you to segment clients as you see fit.
Emails are also a fantastic place to feature all those glowing reviews that you've been collecting. When you're running out of marketing ideas, featuring in a positive review is a great way to create compelling content.
Use them in your offline marketing materials
Marketing has become synonymous with digital, but print marketing is still a fantastic way to boost your business profile. Promotional flyers and brochures are a tactile and interactive way for potential clients to engage with your barbershop business offerings, especially if you're aiming at more high-end clientele.
Adding a client review or two to these marketing assets is far more likely to get a person's undivided attention than a review on your website's home page, where multiple tabs and alerts are often clamoring for their attention.
Are you maximizing your client reviews?
Remember, getting client reviews is one of the keys when it comes to how to get more clients in a barbershop.
When there's more service providers out there than ever before, client reviews are one of the most effective ways to spark the interest of potential clients and manage your barbershop's reputation. By making the effort to collect and publicize online reviews, you can encourage further word-of-mouth marketing efforts and gain a competitive edge in your market.
Need more tools to give you an advantage over your competitors? Booksy's powerful platform offers solutions to help you attract clients, drive bookings, and increase repeat business. Take a free trial today!