How To Send Message Blasts To Your Clients
How To Send Message Blasts To Your Clients
Message Blasts are one of the most popular and powerful features you get with Booksy. If manually messaging all of your clients takes you forever, then that's a great problem to have. Thankfully, with Booksy's Message Blast feature, you can get any kind of message to all of your clients with just one click. Communicating with your clients has never been easier. https://www.youtube.com/watch?v=q3jaeTDMLVI
What Are Message Blasts?
Booksy's Message Blasts let you notify your clients about anything you want them to know. Taking a vacation soon? Give them a heads up. Haven't seen a client in a while? Tell them you miss them. We told you it was easy!
How to Use Message Blasts
The option to send a Message Blast is conveniently located inside the Booksy Biz app under the
More
tab. Then, select
Marketing
and click
Message Blast
. There, you'll be able to browse all messaging options: email, SMS, or even a push notification from their Booksy Client App. Booksy gives you access to tons of templates that are already written and ready to send (of course, you can also customize any of them). These templates range from birthday reminders, alerting clients to last-minute calendar openings, letting them know about referral benefits, with many more options to choose from. 
Client Filtering For the Win
The Message Blast feature allows you to reach all of your clients at once—but it also gives you the option to send messages to specific groups of clients. For example, you may only want to send a message to clients that have visited you in the last 30 days. Or, you want to send a 'Happy Birthday' message only to clients who are celebrating this week. Using the
Client Filter
option, Booksy automatically separates your clients into the appropriate groups. 
How do you do this? Head to the Clients tab, and select the filter icon in the top left corner of the screen. Here, you'll see a list of all the groups. Select the ones you want to reach, hit Apply, and you're done!
What Does a Message Blast Look Like to Your Clients?
Depending on which platform you used to send the message (email, SMS, or push notification) it will appear on a client's phone the same way any other notification would. Remember that the message isn't meant to be replied to, and therefore if the client does try to message you back you won't receive it. The text will come from an automated number, and you have the option to end the message with either your name or your shop/salon name so your client knows who's sending the message. Additionally, a link to your Booksy profile will automatically be added at the bottom of the message for the client's booking convenience.

More Blasts = More Clients
Last but not least, you can use Booksy's Message Blasts to invite clients to book with you on Booksy. Find this option directly above the
Message Blast
option called
Invite Clients
. Within that tab, you can invite clients individually via email or phone number, select one or all of your clients from your phone contacts, or even via Facebook Messenger.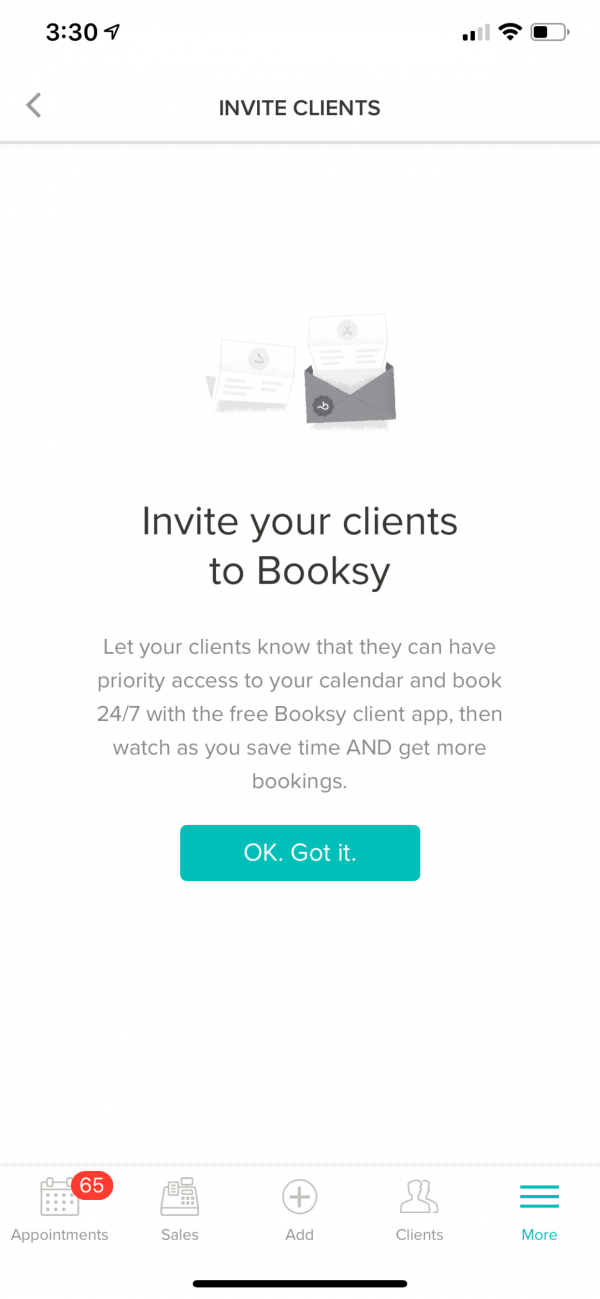 The Gift of Time
Message Blasts in Booksy are guaranteed to save you time. Grab coffee with a friend or spend some time with family—however you want to use that extra time is up to you. Just enjoy the peace of mind you'll get when keeping in touch with your entire book doesn't add hours to your workday. 
What's the first message you'll send?