Nail Art Entrepreneur: How Erica Figueroa Used Social Media to Launch Her Career
Business Categories
Businesses/Owners
Nails
Nail Art Entrepreneur: How Erica Figueroa Used Social Media to Launch Her Career
Erica Figueroa isn't just an internationally-known nail art influencer (@shes_erica on Instagram). She's also a self-made entrepreneur who turned her passion for nails into a wildly successful career. Today, she's the owner of Lavish Nail Bar and Beauty Lounge in Sanford, Florida. Erica built one of the most gorgeous and trend-setting nail salons in the Orlando area by committing herself to delivering exceptional quality and a luxurious customer experience. Learn how Erica Figueroa started from the bottom and worked her way to the top (and how Booksy has helped her along her journey).
How did you get into the nail business?
I was working at home as a customer service and sales rep. While I was on the phone, I would do my nails between calls. When I started posting pictures of them on social media and little by little, people started writing to me, wanting me to do their nails. I got inspired, went to school and started my career renting a booth. Eventually opened up my own salon.
What role did social media play in your career when you first got started?
When I first started my Instagram page about five years ago, it changed everything for me. Because I was one of the very first people doing nail art before it started booming in the industry, and I started it at exactly the right time, my social media following went up very quickly. When I got a big enough following, I was able to set my prices differently than the other girls in the salon. By the time I went from renting a booth to owning my business, I had over 100,000 followers. So really it helped me grow from being self-employed to being a salon owner.
How important is it for you to maintain your reputation for quality nail art in your salon?
It's everything. When people look at my nail art, that's what they expect when they come in. But if you can't get in with me, or afford my set of nails, you can still come in and get about the same quality from the girls who work here. That's because I personally train all the girls here to do nails how we do nail art—how I do nail art. What's most important for me is for somebody to have a beautiful set of nails. Quality is what we stand for.
How much of your business is walk-ins versus scheduling?
Because we're a smaller salon and our girls get booked up pretty quick, our business is essentially appointment-based as opposed to walk-ins. The main advantage to scheduling is that I always have a good idea of how much money we'll be making that week. If clients want nails this dramatic, they can book an appointment at Lavish Nail Bar and Beauty Lounge.
Why did you start using Booksy to manage your business?
I switched to Booksy because my previous scheduling site was very basic. It was just scheduling and that's it. It didn't have deposits, it didn't have the statistics, the reports...I love Booksy because there are so many features and for a salon it's essential—it's what you need. It's the online booking, it's 24/7, there are multiple profiles for your staff members, there's the statistics, there's the marketing, emails blasts, texts messages...I mean, it's wonderful.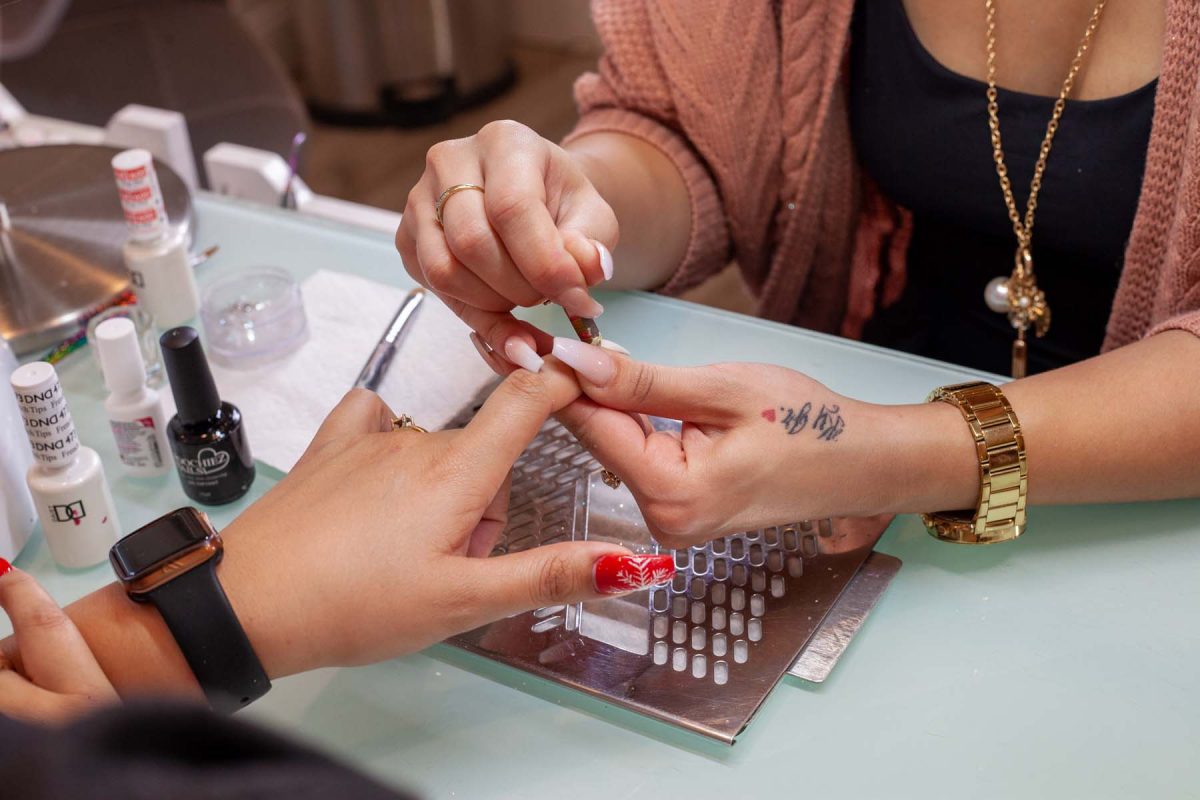 How does Booksy help you market your business?
The marketing tools that let you send out email blasts and text message blasts are absolutely amazing. When I see a slow day on our schedule, we'll go ahead and send out email or text blasts with a special offer and it definitely helps us fill up our empty time slots.
What I also really like about Booksy is that it helps us get more good reviews. Without even telling my clients, it automatically sends them a text or an email to leave a review based on their service. Those reviews are even visible on Google, which is big for us.
How has it helped you manage your business?
The scheduling tools in Booksy help me manage both my business and my life. Time management is essential to owning the salon, and I don't have a lot of time to waste at all. A business is like a child. It's 24/7, non-stop. If I want to incorporate my life into running a business, I pretty much have to schedule it.
How do you deal with cancellations?
As a business owner, when a client cancels at the last minute, it is a little upsetting. Not only do I lose making the commission off the service, but it also hurts my nail techs when they're not working. I want them to make money as well. So, my cancellation policy requires a 24-hour notice, which I use Booksy to enforce. When clients book with Booksy, they give their credit card information and pay a $20 deposit when agreeing to my cancellation policy. When clients make a deposit, they're much less likely to cancel or no-show.
What's the most rewarding thing about a being a business owner?
It's honestly getting all of the feedback from supporters and clients. They're just amazing and everybody loves what we stand for: the quality, the professionalism, and just the experience they get coming in and enjoying their time here at Lavish.