Any established business owner will tell you that dissatisfied customers are part of the territory. No matter how hard you try to wow every single client, things don't always go according to plan. Mistakes happen. Miscommunication can arise. And in some cases, it is not necessarily your fault that the customer isn't satisfied. Whatever the reason, it is essential to know the best practices for how to respond to negative reviews. This is particularly true when it comes to online comments.

In a recent survey we found that when considering a new service provider, 93.9% of respondents would check out Google or Yelp reviews and 85.2% reviews on social media. Clearly, these ratings and comments are important to the vast majority of consumers, which is you should make sure that your online reputation is in top shape.
Part of doing that requires addressing the less-than-stellar feedback that your business receives. Left unchecked, negative reviews can hurt your reputation and cost you business. Research from BrightLocal found that poor reviews can drive away as much as 40% of your potential customers.
On the flip side, well-constructed responses to negative feedback not only show potential customers how responsive you are, but they might even convert a negative experience into a positive one. In fact, a study detailed in the Harvard Business Review shows that business ratings can actually go up if a company replies to customers' comments online.
Clearly, negative reviews need to be dealt with. But if you're not quite sure how to do it, this post can help. These 6 tips and examples will shed light on the best ways how to respond to negative reviews.
1. Respond quickly
Today, consumers expect speedy responses from brands. A survey from the ratings and reviews company Clutch found that 83% of people expect companies to respond to social media comments within a day or sooner.
But this isn't just about satisfying customer expectations. Responding to negative reviews quickly helps you stay on top of the situation sooner rather than later. This means that:
Fewer people will see negatives review without your response — i.e., your side of the story
You stand a good chance of containing (or even reversing) the negative situation before it gets worse
So, make it a point to reply to negative reviews within 24 to 48 hours — or even quicker, if you can. Consider turning on push or email notifications whenever someone reviews your business.
Here's how:
On Yelp
Head to the Language & Notification section of your business account
Select the boxes for which you'd like to receive an email notification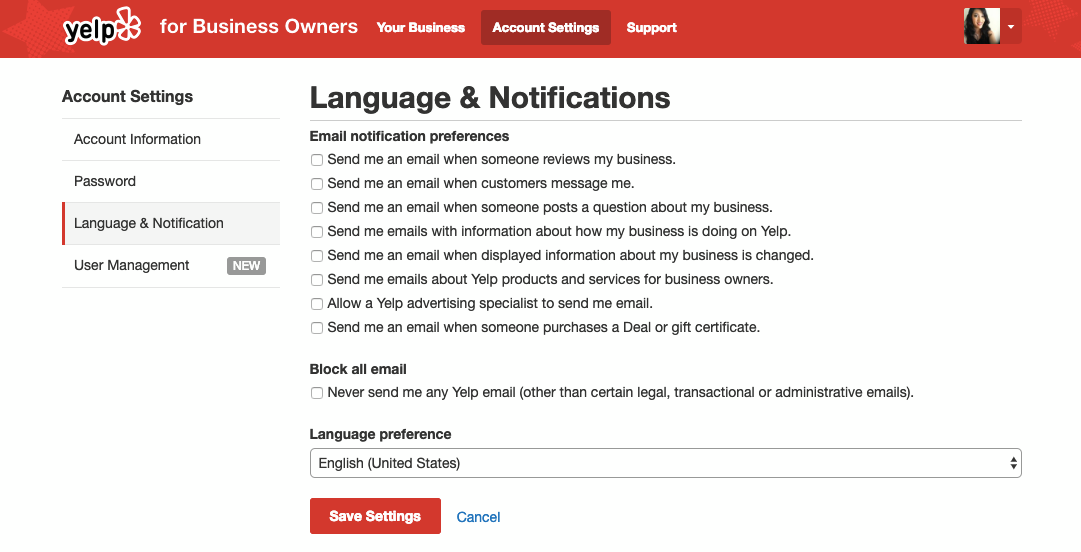 On Google
Go to the Settings page on your Google My Business account
Select the boxes for which you'd like to receive email notifications
On Facebook
Head to the Settings tab on your business's Facebook page.
Click the Notifications link on the left sidebar
Turn on the notifications for each page activity for which you want to be alerted.
2. Try to fix the issue first
The cliche "actions speak louder words" rings true when addressing negative reviews. According to Trustpilot, 88% of customers who leave negative reviews want the business to fix the issue first before contacting them.
So, if you receive poor feedback you can immediately take action on, take the necessary steps to alleviate the situation, or the very least, figure out how you can rectify the issue. Once you have a plan for how to make it up to the customer, respond accordingly.
Check out this example from Ziba Beauty Eyebrow Threading in Cerritos, CA. When a customer complained about the poor lighting in the location, the company president responded quickly, saying that they will get the store's lights fixed. He also offered a complimentary service on the customer's next visit.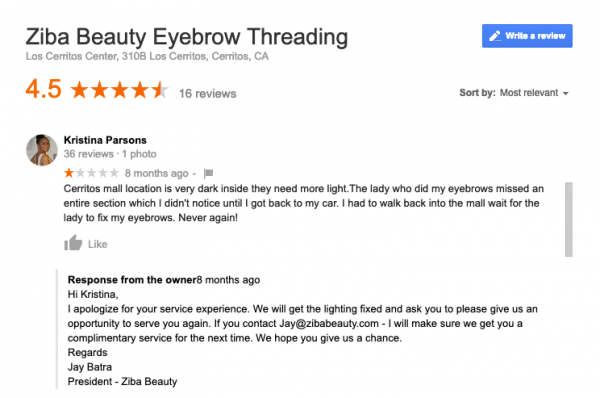 Of course, not all negative issues can be resolved quickly. In these cases, follow the best practices below when responding.
3. Apologize and acknowledge the issue
Research by the digital agency Corra found that a good chunk of consumers — 38.9% to be exact — want companies to apologize when they leave negative reviews.
If you're looking to get off on the right foot when responding to negative feedback, you'll want to kick off your message with an apology. It may not be the easiest thing to do, especially if you feel that the review was unwarranted, but a little sympathy and empathy will go a long way in alleviating negative emotions.
Here are some suggestions of what you could say:

"We apologize for the error."

Mistakes happen. When a customer leaves a review due to a lapse or slip-up from your team, you need to take responsibility for it. Start your response with a sincere apology, followed by an explanation for what happened. If possible, end your reply by offering to make it up to the client.
Done right, your response could lead to a positive outcome. Consider this example from Hiatus Spa + Retreat in Austin, TX.
On August 2018, a client wrote a 1-star review on Yelp because of communication and customer service issues on the spa's side. The business owner responded the next day by apologizing and owning up the team's mistake. She then requested the customer to get in touch with her directly so she can make amends.
A few months later, that same customer updated her review, changing the rating from 1 star to 5. She commended the Haitus team for providing an exceptional experience and said that they did an excellent job making it up to her.
"We're sorry you had a negative experience."

Sometimes, people leave negative comments, not because of something you or your staff did, but because they didn't agree with your policies or had different expectations. And in some instances, a negative experience could be even due to something outside your control.
In any case, though, it's still worth sending an apology. What happened may not be "your fault" but that doesn't change the fact that customers felt they had a less-than-stellar time at your establishment.
When addressing these types of reviews, thank the customer for their feedback and say something along the lines of "We're sorry you feel that way" or "We're sorry that you had a negative experience."
You could explain why and how your policies or services are carried out, and invite them to get in touch directly if they want to discuss the issue further.
The manager at Milk + Honey day spa did just that after getting a negative review because of the business' policies on having kids on the premises.
In her response, the manager explained that their policies are meant to ensure the safety of kids who visit milk + honey. She also apologized that the business' guidelines made the guest feel less than welcome, and acknowledged that the team should have been more emphatic.
4. Don't use templates
Never use canned responses when responding to reviews. Templated messages will make people feel that they're not being valued, and can further diminish their already negative customer experience.
Strive to add a personal touch by addressing the reviewer by name and by bringing up details about their visit. Take some to investigate the claims of the customer by checking your records. This will you help you address their specific concerns.
That being said, be careful not to share any personal details about the client. Personalizing your response does NOT mean "getting personal." You want to remain professional, and doing that entails respecting the customer's privacy.
You should also sign off using your name or initials. Doing so makes the reviewer feel that they're talking to a real person instead of a faceless organization.
The general manager at Meridian Day Spa did all of that after getting a negative review from a customer who had an unpleasant jacuzzi experience. The manager addressed the reviewer by name, apologized for the specific issue, and then added his name at the bottom.
5. Don't ramble
It's important to address the specific issues of your clients, but don't overdo your explanations. Keep things brief and to the point. Going overboard with your reply not only makes it longer and difficult to read, but it could also make you look overly defensive.
Here's an example from Family Cutz, a kids salon in California. After receiving a negative review, the business owner, Patty Morena, sent a quick but civil response. In it, she apologized for the customer's experienced and invited the client to come back if they're interested in a do-over. She didn't go overboard, though, and kept her reply brief but respectful.
Follow suit by keeping your response short and sweet. Don't get emotional and don't ask questions. If you do need to verify or follow-up on certain details, move the conversation to a private channel immediately.
And that brings us to our next point…
6. Take things private
You're not doing your business any favors by having a debate with an unhappy customer or trying to resolve an issue on a public forum. Again, long-winded discussions in public make you look overly defensive and can turn off potential customers.
When you receive negative feedback online, fire off one response to apologize to the customer and provide a brief explanation. Then, sign off with an invitation to get in touch with your business directly by leaving a contact number or email address.
Here's an example from SmartStyle Hair Salon in Florida. The owner sent a quick response apologizing for the customer's experience and then left an email address so they can discuss the matter privately.
On top of that, you should make every attempt to get in touch with the client directly. Google, Yelp, and Facebook all have built-in tools that let you contact your customers privately. On Yelp, you can respond to a review in private by clicking the "Send Direct Message" link on the review.
Facebook has the Messenger app, while Google has a messaging feature in the Google My Business app. Do note that with both these solutions, you can only message customers if they initiate the conversation. If you're looking to get in touch with a Facebook or Google reviewer, be sure to invite them to message your business directly.
See negative reviews as opportunities
Reading a negative review about your company is never fun, but these things are part of your journey as a business owner. The best thing to do is to respond with tact and grace. More importantly, you should view negative feedback as opportunities to learn, grow, and improve.