Hair & Beauty
How To Craft Salon Policies: 12 Templates and Examples That Will Help You Run Your Salon Smoothly
Owning a salon can be an amazing experience — especially if you're passionate about the beauty industry.
Think about it.
You get to work with a variety of people and you're helping your clients transform their looks and feel better about themselves.
Of course, running a beauty or hair salon also has its challenges. Client management as a salon owner is tricky. Issues like no-shows, cancellations, and refunds can be a huge headache if you don't handle them properly.

Enter your salon policies.

When implemented correctly your policies are your salon's best friend. The right policies protect your salon business from liability, keep you and your clients on the same page, and help keep your salon running smoothly.
That's why it's critical that you set the right ones. Not sure how to do that?
This post is packed with tips on how to craft effective salon policies and their benefits along with examples and templates you can use in your business.
What are Salon Policies?
Salon policies are a set of rules and principles that guide how you carry out various actions in your business. Your policies also shape the processes and decisions you make in your salon and can serve as a handy reference for your clients and employees.
There are various types of salon policies that you could implement. In this post, we'll be tackling:
Cancellation Policies
Latecomer Policies
No Show Policies
Kid Policies
Refund Policies
Privacy Policies
Right to refuse policy
Health and Safety Policy
Product and Tools Refund Policy
Salon Policies for Employees
Pricing Policy
Payment Policy
Why Salon Policies Are Important
While it's not the most glamorous part of the job, creating salon policies and procedures allows you to safeguard against unwanted or unexpected scenarios that can impact you as a business owner. Part of owning a service-based business—hair or beauty salon— means dealing with the ups and downs of managing staff and dealing with clients.
Cancelations throwing your days out and messing up your earnings? Create a cancelation policy.
Staff getting distracted on their phones while they're meant to be servicing clients? Create a policy around phone use while at work.
You can't know what the day is going to throw at you, but you can prepare policies for how you will handle tricky situations.
Policies can and should be established for clients as well as staff. Implemented well, they create clarity, organization, safety, and empowerment — a place where everyone knows what is expected and which rules apply to them.
This transparency encourages everyone — clients and staff alike — to behave respectfully. And it tends to deter those who may not like to follow the rules, which is actually a big win for you!
In some cases, the mere fact that you have solid policies in place minimizes the chance of encountering these frustrating situations, to begin with.

Types of Salon Policies
There are many beauty salon policies and procedures out there. Many of them will apply to everyone, while some are relevant only to certain businesses.
Which policies should you enforce in your business? Below, we'll share primary and secondary policies that you need to know and should consider implementing in your salon.
Cancellation Policy
Things come up last minute, and it's important to be understanding, but if you're too lenient, other people's messy lives can impact the profitability of your business. That's why salon cancellation policies should be reasonable but strict.
Consider setting a policy that enforces that cancelations must be made within a certain time frame before the scheduled appointment, or the client will be charged a late cancellation fee.
The thresholds that you set here will be completely up to you. The "right" cancellation window depends on your business and services.
For some salons, it makes sense to have a 72- or 48-hour cancellation window. Others can do 24 or even 12 hours. The same thing goes for your cancellation fees.
While some salons need to charge a 100% cancellation charge, others would rather go with 50%. Some would even collect a deposit before booking the appointment.
Do what makes the most sense for your business.
As for the cancellation policy wording, you want to keep things simple and to the point. The specific style you use will depend on your business and preferences; but no matter what you do, make sure the policy is easy to understand and is respectful.
Here's a quick sample:
"We understand that things can come up. We value your time, and we hope you value ours, too. In the event you need to cancel your appointment, please be sure to notify us no later than 24 hours before your scheduled appointment. Failure to notify us in time will incur a cancelation fee."
Need more inspiration for how to word your policy? Here's a cancellation policy inaction from Brows by Brooklyn.
Latecomer Policy
Missed appointments and latecomers can completely throw off your day. There are a couple of ways you could handle them. If the service can be reduced to a lesser time, your policy could simply be:
"If you are delayed in your arrival, please remember that your service will end at its original time."
If, however, you are doing nails, hair, or any other service that requires a particular amount of time, your latecomer policy template could be something like this:

"Please be sure to arrive on time. Any late arrivals, more than 10 minutes, will need rescheduling and will incur a late cancelation fee."
No Show Policy
Much like the cancellation policy, this one is designed to make sure people notify you if they don't intend to come in. Your no-show policy template may read like this:
"Please be advised that our salon has a no-show policy whereby any no-shows will be charged a late cancelation fee."
Kid policy
Unless you cater to kids specifically, it can be tough to provide a relaxing service to all of your clients when kids are in the salon. It's advised that you have a policy on this, reading as follows:

"To guarantee the comfort of all of our clients, we do not allow children in the salon. Failure to follow this policy will result in the appointment needing to be rescheduled and may incur a late cancelation fee."
Refund policy
You can't please everyone.
That's just a fact of life, and it certainly applies to No matter how hard you try to offer perfect services, you will encounter clients who aren't 100% happy with their experience. And in some cases, they may ask for their money back.

The kind of policy you implement around refunds is entirely up to you, but here are some options:
Some salons will offer a re-do or set up a meeting to discuss the client's issue. You may even want to set a time frame for re-dos and meetings.
As for how to word your refund policy, consider saying something along the lines of…
"If you are unhappy with your service, we will gladly work with you to fix it, but due to the nature of the service, we do not offer refunds."
There are exceptions to this, though.
One example is if you or your team made a mistake. If this happens, own up to it and do your best to make it up to the client.

Privacy policy
With the prevalence of online systems, salons are capturing a lot of information on their clients. That's why you must set policies to make your clients feel comfortable about how this information is used.
Here's an example of what your policy could look like:
"Customer information in our files is used to improve your service and send important messages as well as marketing communications. We do not, under any circumstances, share this information with third parties."
No matter how you decide to word your privacy policy, make sure that it communicates:
The types of information you collect
How customer data is used
Right to Refuse Policy

Imagine a client who is heavily intoxicated, or misbehaves with your staff. Would you like to entertain them? It's rare, but sometimes you can come across clients who do not adhere to the rules of your business, create situations that are distasteful, or worst pose a threat to your business, employees, as well other clients.
Such clients aren't the right fit for your business and as a business owner, you should be able to deny services to them.
Here's the template to use:
"Our establishment has the right to refuse service to anyone who is under the influence of alcohol or drugs, behaves inappropriately with our staff, or can pose a threat to our business."
Health and Safety Policy
If your salon does not have a health or safety policy, you should get one immediately. There's a lot that the recent pandemic has taught us and it's important that you not only maintain the highest hygiene and sanitary standards but also let your clients know that they need to abide by these policies when enforced.
This is true in the case of COVID or any other infectious disease.
This is the template that can come in handy:
"The safety of our staff and clients is our utmost priority. If you are suffering from any contagious infection, we recommend that you reschedule your appointment until you feel better. You may be asked to wear masks or get your temperature tested."
Product and Tool Refund Policy
Every once in a while you'll come across a client who would want to return a product or a tool bought from your salon. There can be many reasons for the same, but without a policy in place, you may bear the losses.
That is where a salon-centric product return policy can benefit you.
Your product and tool refund policy should make it clear that you wouldn't accept opened or used products (in case of creams, lotions, shampoos, potions, etc.), and that you aren't liable for any damages in case if the client experiences an allergic reaction.
In the case of tools (hairdryers, straightening rods, etc.) bought from your salon, do specify the timelines and always state the details around return charges and credit notes.
However, bear in mind that you need to honor the client if the product is faulty or expired.
Here's a salon policy template for use:
"We do not provide refunds of any kind however if a product is faulty then we will exchange it. This does not apply to electricals such as [insert productname] in the salon due to concerns with forfeiting."

Pricing Policy
While it's normal for salons to raise their prices with an increase in business costs, it's often frowned upon. If you want to grow your business and continue to make a profit, it's the ideal thing to do.
That being said, it's important that you communicate it clearly in your pricing policy too.
Here's what you can say:
"Our salon pricing may occasionally vary. For accurate pricing please request a complimentary in-salon consultation."
Payment Policy
When it comes to payments, no one wants to witness disgruntled clients creating a hassle.
That's why it is advised that salon owners implement a payment policy from the very beginning. This is especially required for new clients as it provides them with complete clarity on what's expected when it comes to payment at your small business.
A payment policy should highlight the following:
Details around deposits — which services require them (for example styling, hair extension, or long wellness appointments, etc.)

Type of payment—which type of payment is expected (for example there's a growing demand for Venmo and other P2P apps, but does your salon accept these?)

Surcharges— specify surcharges if any when clients use a credit card or a P2P app

Gift certificates—state the ins and outs of gift certificates clearly to your clients
Here's a salon policy template for you to copy:
"Deposits must be paid to book the following services: [service name], [service name], [service name], or any other lengthy service. New clients that have [service name] may also be requested to pay deposits. Existing clients with a no-show or cancellation history will also be required to pay deposits for any booking.
Payment for all services can be made by cash, EFTPOS, Visa, and MasterCard will incur a [insert value] surcharge. AMEX will incur a [insert value] % surcharge. P2P app will incur [insert value] % surcharge."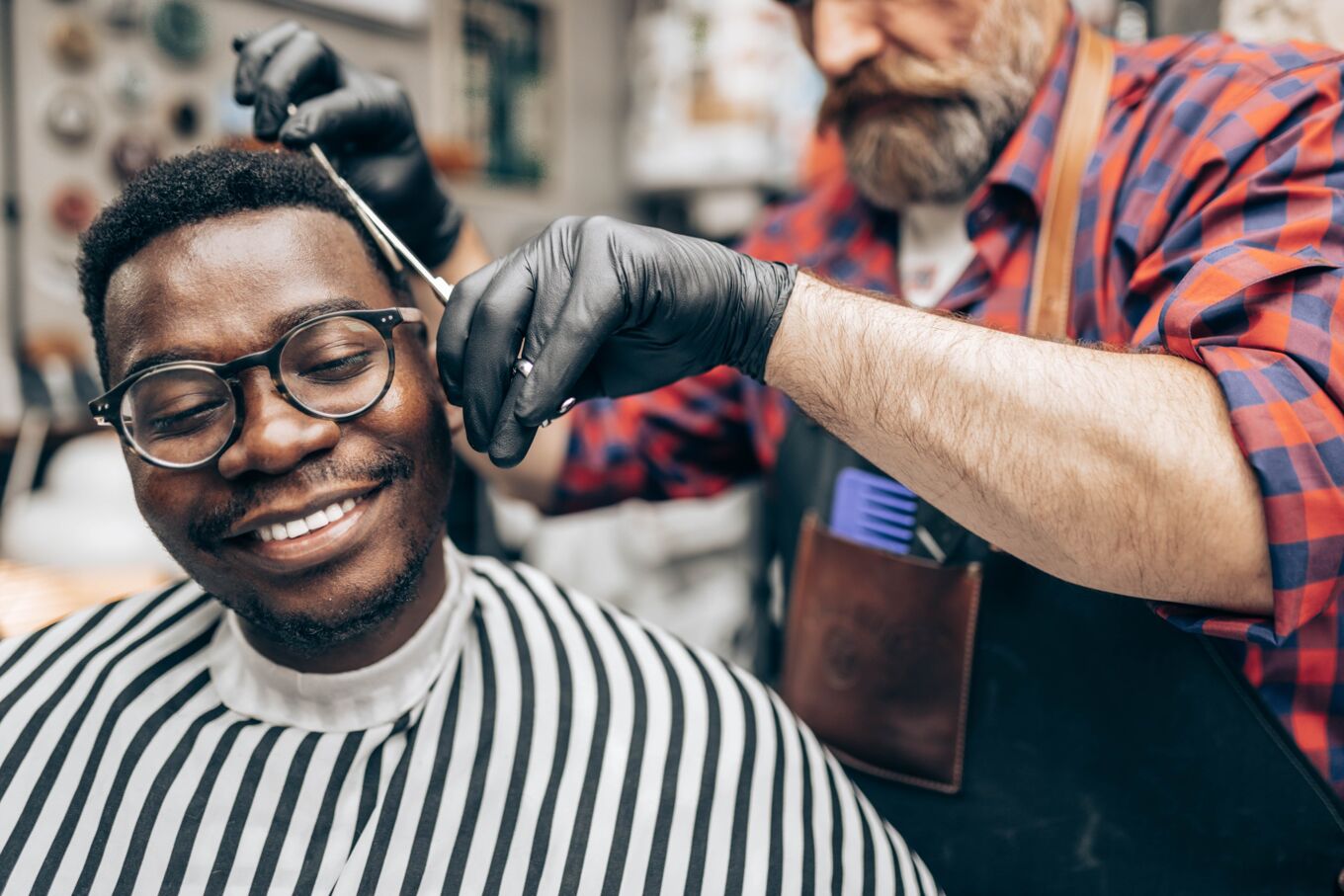 Salon Policies for Employees
Policies for staff are a little easier to get across and can simply be added to any onboarding documentation when staff is hired and listed in the break room so that it is clear what is expected of staff when they are at the salon.

There are many rules and policies that you can enforce on your staff. Below is a nice long list of suggestions:
Staff is expected to arrive on time, ready to start work. Multiple late arrivals could result in dismissal.
Workspaces and common areas are to be kept tidy. All staff are expected to clean up after themselves.
No drama in the salon.
The use of drugs or alcohol at work will result in dismissal.
When calling in sick, management must be notified with ample time to find a replacement.
Staff is expected to keep appearance tidy and professional at all times.
Professionalism is expected, always. Staff is never to argue with customers.
Staff is expected to treat one another with respect and professionalism at all times.
Cell phone use is only permitted on breaks.
If you are sick, stay home.
Theft is not tolerated. Removing anything that is not yours from the premises without permission will result in termination.
Customers are to be greeted as soon as they walk into the salon.
Staff is to always be polite, friendly, and upbeat with customers.
Staff is expected to participate in all team meetings and training sessions.
Staff is expected to recommend products and upsell where possible.
Don't Overlook the Importance of Salon Policies!
Policies and procedures may not be all that fun to implement, but they're necessary for any business.
With complete transparency and the comfort that you are safeguarded against many usually stressful situations, you can invest more energy in pleasing your clients and enjoy the satisfaction that comes from watching them walk out with that extra pep.
When in doubt, ask a professional. Consumer and employment laws vary from one state or country to the next, so when crafting your policies, it's a good idea to have a legal professional go over your documents. This ensures that you're operating on the right side of the law and you minimize the chances of landing in legal hot water.
Choose a System That Lets You Communicate Your Policies with Ease
Already have your salon policies in place? Great! Make sure your booking system lets you communicate those policies efficiently.
Booksy, for example, makes it simple to add your salon policies to your booking page as well as in your confirmation emails. We help you make sure that you and your clients stay on the same page and have a smooth experience.

Learn more about the capabilities of Booksy by starting your free trial today!