Business Tips
Spa And Salon Renovation: The Ultimate Before And After Guide For Service-Based Entrepreneurs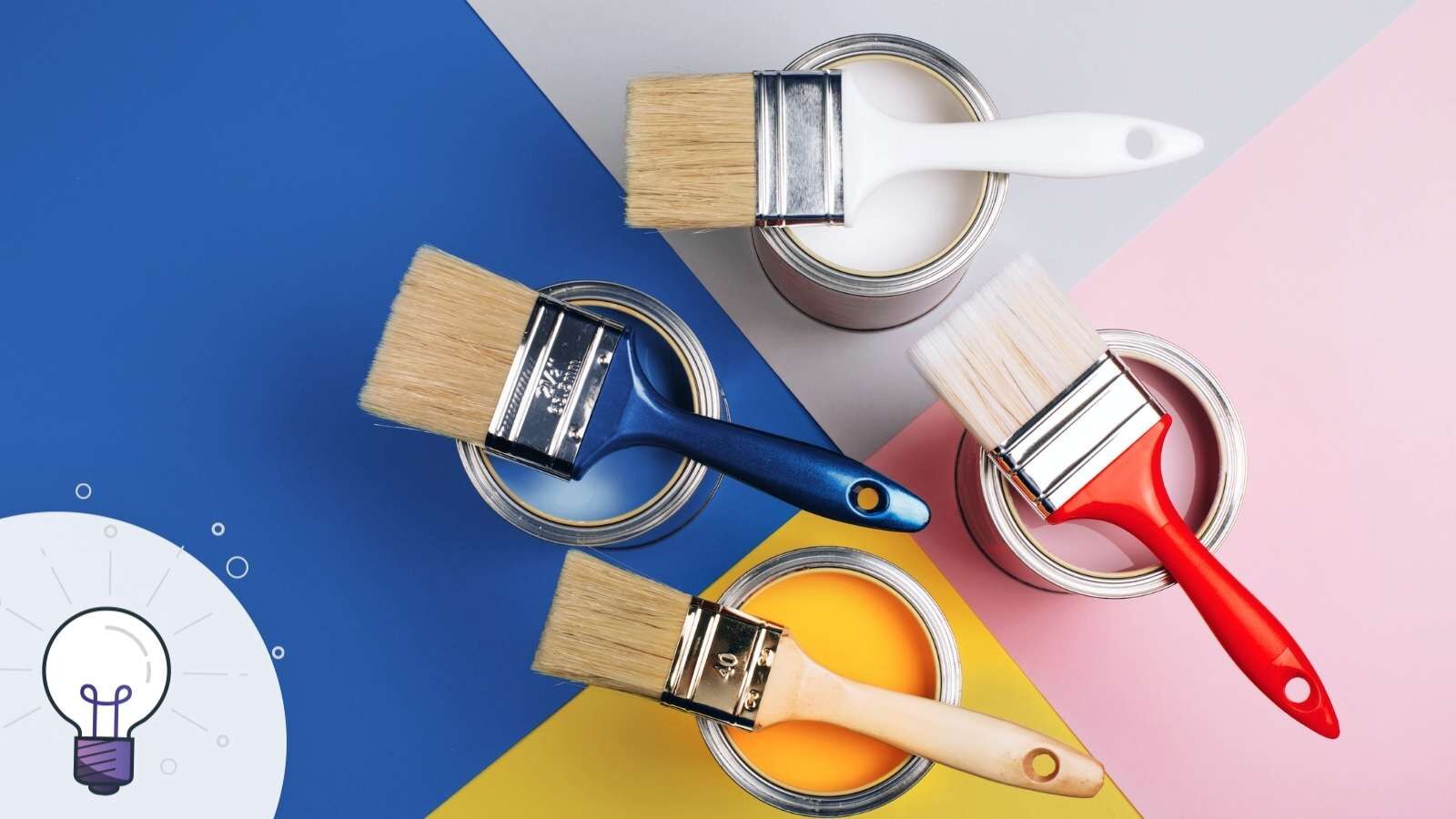 Are you thinking of remodeling your spa or salon? Whether it is something that you've wanted to do for a while or an idea that's still taking shape —you deserve a thumbs up! That's because it's likely one of the best decisions you'll make regarding your business.
One of the primary reasons people go to salons and spas is because they want a comfortable place to unwind, relieve stress, and freshen up. Your spa or salon spa is at the heart of it all.
That's why most popular salons are warm, inviting, and cozy.
If you need to remodel and add a few improvements to your business, take it. That way, you'll have a consistent stream of clients, and they are likely to recommend your services to others.
From the exterior to interior design, you should design your salon with your existing and prospective clients in mind.
In this post, you'll find a comprehensive guide on how to renovate your spa or salon. We will also share a few handy tips on making clients fall in love with your space. Here's what we'll cover.
Ready to take a plunge? Let's delve right in.
When Should You Renovate Your Spa or Salon
Renovating your spa or salon is a big decision. A renovation will cost a lot of money, take up a lot of your time, and probably force you to close the business for some time.
Before you start your renovation, you need to determine the kind of renovation you will do. Will you renovate some parts of your spa or salon, or are you doing a total makeover?
Let's walk through some important things to consider when deciding to renovate.
When Your Space is Too Small
Clients are always on the lookout for great customer experiences. If you are excellent at what you do, it won't be long before people start trooping to your spa or salon. As your client base grows, you might notice that your space is too small.
You have three main choices if this happens:
Do nothing. You're happy running a successful small business.
Increase the price of your service and boost profits from your existing client base.
Expand the business. That might involve renting more space in your building or expanding into unused space.
Every interior space design can hold a certain number of clients. Your remodel should optimize the space you have so you can provide the best experience for your clients. That might involve adding features like suites, showers, workstations, or something else entirely.
When It Looks Like You Belong to a Different Decade
Design trends change over time. As a modern spa or salon, you need to keep up with the trends. Unless you are looking to create a vintage feel about your salon, you'll need some remodeling or tweaking to keep in step with the day's trends.
Generally, your clients will expect a clean, modern, and sophisticated look. From your walls, paintings, to equipment, give your spa a new look and feel by updating them or replacing them.
Indigo Salon in Cardiff for example renovated their space to match with the modern times.
When Gadgets are Giving Up The Ghost
The same manicure or pedicure chair for ten years won't cut it. Periodically check your massage beds, electric facial beds, facial steamers, brushes, microdermabrasion machines, oxygen machines, and any other resources to ensure they are in good condition.
You should replace your spa or salon equipment every 3 – 5 years. The problem with replacing equipment as they wear out is that you might end up with a mix of gadgets. During a renovation, if you can afford it, replace all your equipment at once. That will give you a fresh start.
Factors to Consider When Renovating Your Spa or Salon
There are many factors to consider when renovating your spa or salon. I'll run through some of the most important things for you to consider below.
Timeline
The timing of your renovation can affect your business. If you do your remodeling at the wrong time, you could end up losing clients. You must plan your remodeling in advance. Let your clients know about your plans well ahead of time so that they can also make adjustments.
Use social media and emails to keep clients in the loop. For example, you can send recurring emails in Gmail to your clients as you count down to the renovation and then celebrate your grand opening. If you are a Booksy user, you can use the Smart Marketing feature to create your own emails and notify your clients.
Additionally, try to schedule your renovation during a low peak business season so that you won't leave several clients in limbo. For instance, plan your spa or salon renovation just after the holidays if that's your peak season.
Work with your contractor to ensure you have a timeline for your renovation and hit all your deadlines. The faster they finish the renovation, the better for your business. If the upgrade doesn't require a total shutdown of your business, try and schedule client appointments such that it doesn't coincide with when your contractors work.
Budget
Renovations are expensive. A spa or salon renovation can cost several thousand or even tens of thousands of dollars. Before going ahead with the project, make sure you set a budget.
How much will your renovation cost? Are there other factors that can increase the price? Are you going to take a construction loan, or do you have funds? Build these costs into your spa or salon business plan.
Remember to set aside a budget for unexpected costs. You never know what is hiding behind your walls.
Do your due diligence and take quotes from several retail construction vendors before choosing your partner for the project. That way, you can compare services and prices before making a decision.
Take a look at this renovation budget for a salon in NYC, for example.
Although this is an example of a relatively high-end salon renovation, it is a good guide for small business owners. Find creative ways to save costs. If you don't have the funds to do everything at once, phase your project.
Start with the most critical upgrades and do the other updates when you have the funds.
You don't always need to outsource your spa or salon renovation work. For example, you could paint the walls yourself. Or you could get colleagues, friends, or family to help.
Branding and Marketing
A renovation project is a chance to reinvent your brand. If you are thinking of changing your company name, logo, color scheme, culture, or services, then a renovation project is a perfect opportunity. You can launch your new facility and name together.
Most people don't realize that salon or spa improvements are a perfect opportunity to market your business. Of course, you won't be able to book appointments until a specific date, but it's a great chance to give clients something to anticipate.
If you want to use your spa or salon renovation as a business opportunity, involve clients, particularly loyal ones. You can ask for design inspiration or share different ideas you're considering.
Ask your clients what changes they'd like to see. Getting input from your clients can help you revamp and redesign your space in a way that will attract more guests. During the construction, share pictures with clients to give them an idea of what's going on. Take a look at this example from The Hair Haven.
https://www.instagram.com/p/CAUJ4z3jpNv/
Any client who sees this post will know the progress of work and will be eager to see how the place will look like when it's done. What's more, they add an inspirational message that's sure to inspire clients to make them like, comment, or share the post.
Ginger Sparks takes the marketing game even further. They invite their Instagram followers to check out their youtube channel for videos of progress on the renovation. They also have a planned video tour of the salon when it's finished. Way to go!
Your marketing plan should include how you want to launch and open the business. You can create a special ceremony to celebrate the launch. Also, run promos and discounts to attract new clients and reward your most loyal clients. For instance, offer a special discount to guests during your first week of reopening.
5 Ideas for Remodeling Your Spa or Salon
Coming up with a vision for your spa or salon can be one of the hardest things about any remodeling project. Below are five spa and salon design tips to consider that should be a source of inspiration.
Choose a Color Scheme
Take a long hard look at this picture. What stands out?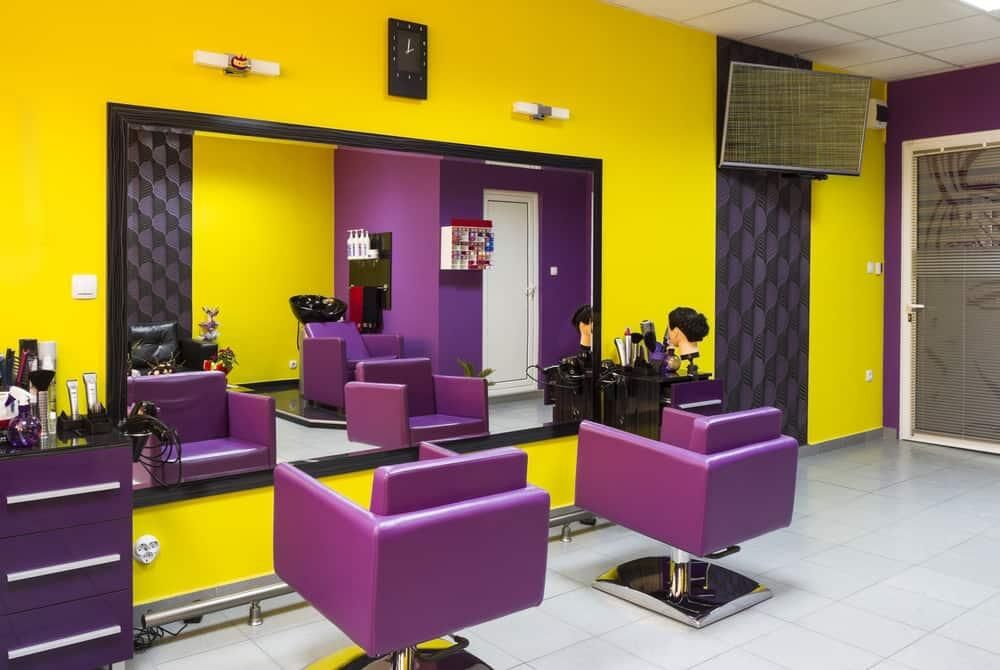 The colors, of course!
Nothing tells your brand story like the color scheme you choose for your business. Your choice of colors is a reflection of your personality and your brand vision. Yellow is a vibrant, exciting color that is full of energy and positivity. Purple, the other core color in the picture, speaks of royalty, luxury, ambition, and creativity.
How about the example below?
The neutral tones combined with the furnishings give this salon a sleek and stylish appearance. With large mirrors and fluorescent lights, the black and white theme is perfect for achieving a polished look.
Fortunately, several sites will help you settle on a color scheme for your brand. The best ones include Coolers, Adobe Color Wheel, and Design Seeds. Tools like the ones I just mentioned are simple to use. Each time you press the spacebar, you'll get a different color scheme.
Invest in Lightning
Lights in salons are for two primary purposes. First, light helps workers see clearly and perform their tasks. Secondly, light fixtures, particularly accent, ambient, and vanity lights, make a salon look beautiful and attractive. They set a mood and create an ambiance that helps clients relax and enjoy the atmosphere.
Whether it's your reception area, waiting room, treatment rooms, or nail room, ensure every space in your salon is well-lit. Lights make a world of difference. Look at how lights make this salon look extra special.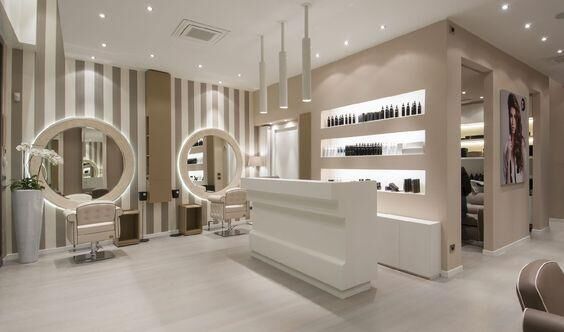 Notice how a combination of ceiling lights, accent lights, ambient lights, and task lights make the space look comfortable and enticing for guests. Achieving this kind of effect should be your goal.
Purchase New Equipment and Supplies
New equipment and furniture can transform an ordinary salon or spa into a dream salon or spa. Whether it's a stylish chair or a new massage bed, your spa or salon will look and function much better with new equipment. You won't have to worry about gadgets breaking down or not working.
With better equipment, you can serve more clients. In the long run, that affects your profits and bottom line. The type of equipment you'll need to purchase will depend on the services you offer. Generally, they can be broken down into the following three categories; administrative equipment, furniture, and supplies.
Create An Accent Wall
Look at this beautiful wall from Raw and Beauty Salon and Spa.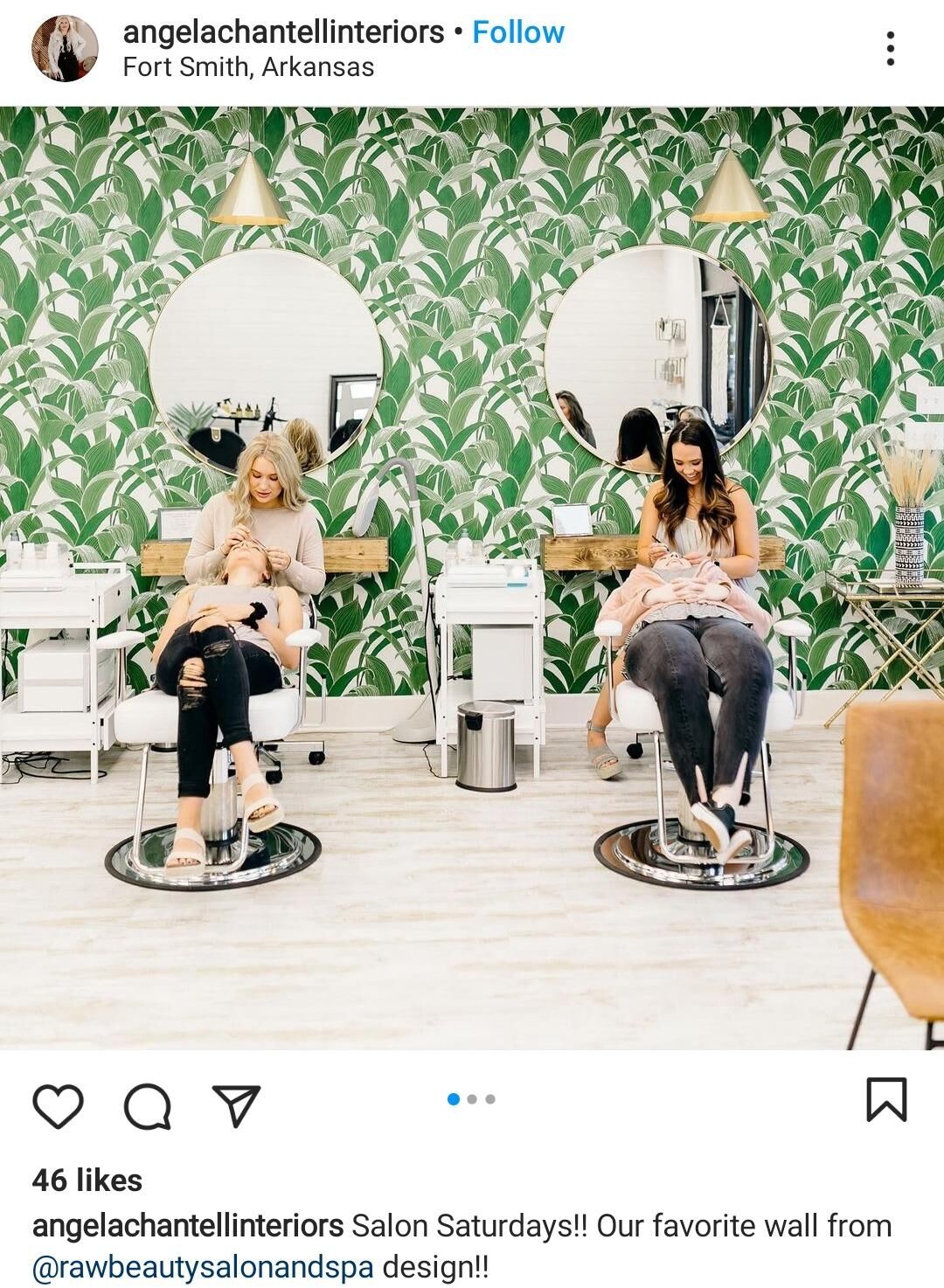 This leafy design is the perfect background to bring life into a salon or spa. It helps to create an exciting and uplifting mood. It can even become a great backdrop for selfies and pictures. An accent wall brings depth and dimension to a room, and they make a room seem larger.
An accent wall lined with paintings can give clients something to look at and think about in a waiting or reception area. It can also serve as a conversation starter.
Go Green
Using organic and fair-trade products is only the first step to becoming conscious of the environment. Your building and rooms should also be environment-friendly. When undertaking your spa or salon renovation, hire a retail construction company that excels at using green materials for construction.
In your operations, prioritize being eco-friendly. Try to use appliances that are nature-friendly and conserve energy. Keep these three watchwords in mind: reuse, reduce, and recycle.
Small Space Renovation Ideas
If you are a small business and you don't have the luxury of a large property, you'll need some creativity to get the best out of your remodeling.
https://www.instagram.com/p/CL1xvAKFZyy/
Let's walk through some ideas to maximize your resort, salon, or spa improvements.
First, only stock the necessary items. For instance, two large sofas might cram the space. Instead, use sleek furniture that does not take up much space.
Also, use interior design hacks to make sure a facility feels large —case-in-point large mirrors. When placed carefully, mirrors give your room an expansive feel. Other features that make a small space look large include accent walls, mounted TVs, and painted ceilings.
How to Promote Your Renovation
Do your spa or salon renovation with class and style. Inform your clients of your renovation schedule so they can quickly adjust. That way, clients understand what is happening and can become engaged in your plans.
When the retail construction is done and your perfect salon expansions, launch with a bang. Organize an event or ceremony to launch. Run a promotion and offer discounts to the first set of clients who visit your spa or salon.
Conclusion
There you have it! The complete framework to renovate your spa or salon without breaking into a sweat. Renovating a small business comes with its own pros and cons and we understand that it may be overwhelming. But trust us, this guide will help you every step of the way.
In addition to online booking features, our platform offers several useful features like Waitlist, Announcements, and Smart Marketing that can help you communicate with your clients effectively. while you upgrade or remodel your spa or salon.
Editor's Note: This post is written by David Campbell — a digital marketing specialist at Ramp Ventures. He helps manage the content marketing team at Right Inbox. When he's not working, he enjoys traveling and trying to learn Spanish.