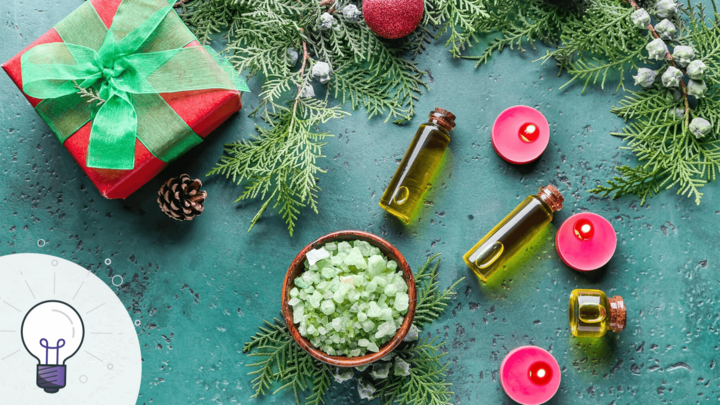 We may have less than two months before 2019 ends, but there's still time to improve your spa's annual bottom line. The key is to design well-coordinated holiday season spa marketing strategies.
The goal? To attract a steady flow of new clients while providing superb value that keeps your existing customers coming back.
If you want to get ahead in your business this holiday season and increase your sales, you need a solid plan in place.
With more than $93.6 billion in revenues, the spa industry is huge and growing YoY. Currently, there are approximately 149,000 spas in the US; the only way to thrive and succeed is to stand out with result-driven marketing strategies.
As a beauty professional, you need to deliver the best experience to your customers at these special moments. That way, you'll be able to create brand loyalty that will benefit your business for years to come.
This post will look at some of the spa marketing strategies you can implement.
1. Start with a Powerful Theme
Select a theme that reflects your spa's mission (and brand) while aligning with current market trends.
One thing to keep in mind is that in 2019, nature's influences are everywhere.
Chances are, your spa carries some plant-based body care and/or skincare products, and your massage therapists likely use essential oils. Your retail displays could incorporate natural-finish wooden shelving and perhaps dried grasses and flowers.
So, include those natural elements in a wide-ranging theme with a similar focus.
Need more theme ideas?
Consider themes such as authenticity, generosity, and giving back to the community. And yes, this theme can also include a "giving back to yourself" component. If one of these concepts instantly strikes a chord, but that one on your shortlist.
After you nail down your theme, start brainstorming ways to incorporate it throughout your spa.
2019's hot colors include midnight blue, cerulean blue, and aquamarine. Try blending those gorgeous tones with classic holiday colors such as red, green, and gold. Remember that warm, golden light adds a softer tone to any setting.
Once you choose the holiday season color scheme, incorporate those colors into your store displays, signs, and gift packaging. Where possible, add inexpensive embellishments such as ribbons, ornaments, and dyed raffia to your existing décor.
2. Leverage Text Messaging
One of the best strategies you can leverage this holiday season to push your sales to your ideal customers is text messaging.
SMS marketing has a lot of potentials, and this season is the perfect time to do it. It's intimate and can be useful for appointment reminders.
55% of consumers prefer SMS for appointment reminders while 35% of consumers prefer email notifications.
And that's just the beginning.
Research by Forbes shows that 95% of text messages are opened and read within 3 minutes. Another study by Emarsys shows that 29% of targeted buyers will read your text messages.
If you tap into text messaging, you'll be communicating directly to your customers wherever they are.
If you have your clients' phone numbers — and you totally should — whip up a few SMS messages inviting them to come to your spa this holiday season. (Just make sure you have their permission to text them!)
You can also take things a step further by using SMS as a client communication tool. To get started, find an appointment scheduling solution that offers text message confirmation and reminders. Booksy, for instance, lets you send both.
Here's an example text message reminder from Lotus Zen Spa:
3. Use the Front Desk
Don't underestimate the power of your front desk.
It's virtually the first point of contact a customer makes with your spa outlet. You can use it to generate sales before your customer leaves your spa.
Don't just use the front desk to check people in; your team at the reception area should be engaging with prospects and customers.
For instance, you could train your front desk staff to get to know your clients better.
Another option is encouraging them to bring up special occasions and events. With the holiday season coming up, your front desk team members are in a great position to upsell gift cards or talk about how your spa services would make for great presents.
Consider having them say something like:
Our gift cards [or INSERT POPULAR ITEM] are just flying off the shelves because of the holidays! They make for great presents, so if you're looking to gift them to your loved ones, I suggest buying them sooner rather than later.
4. Showcase Your Holiday Season Spa Services
Get creative with your holiday season spa services.
Keep your spa's signature services on the menu, and add enticing holiday-themed offerings to the mix.
Here's a cool example of this tip in action.
During the 2018 holiday season, for example, The Resort at Paws Up in Greenough, Montana whipped up a menu of holiday services that sounds absolutely delicious.
For starters, let's say you'd like a massage. Paws Up offered a Brown Butter Sugar Cookie Hot Stone Massage, followed by a Hot Chocolate and Peppermint Face Massage. If you need a pick-me-up, the scrumptious Candy Cane Body Scrub would engage all your senses and be an instant mood lifter.
And for the ultimate chocolate fix, the S'mores Indulgence featured a chocolatey body scrub and chocolate mint scalp massage. After rinsing off, you'd be bathed in chocolate body oil.
See if you do something similar in your business by creating your own special holiday spa services packages.
Consider a "Family Day" package that offers well-priced services for several family members, plus snacks or a light lunch. Mothers and daughters would love a "Mom & Me Package" for a mother and girl(s) aged 8-17, also with refreshments.
A "Girls' Day Out Package" offers a reason for coworkers, friends, or neighbors to get together for a relaxing day at the spa. Or, research favorite celebrities' favorite spa treatments, and design a "Celebrity Services Package" for celeb-happy customers.
Promote a "Giving Back to Yourself" half-day spa package to promote self-care during this stressful season. Naturally, pre-party manicures and pedicures will be a hot item, as everyone wants to shine during special occasions.
5. Start Building Buzz with a Holiday Open House
Kick-off your gala holiday season with a festive Holiday Open House.
Hold this event just before (or after) Thanksgiving Weekend, during the late afternoon/early evening hours. This well-coordinated event will set the tone and provide momentum for your entire holiday season.
Simply put, you want to attract current and potential customers to your spa, and entice them to do some holiday shopping while they're on site. And, of course, you want to show them how your spa can enrich their life.
Offer discounts on spa service packages booked at the event. Create special pricing on gift baskets and gift cards as well. Consider extending an extra discount for anyone who spends at least $150 on spa services and/or products.
To showcase your spa services (especially new or holiday season offerings), schedule mini-spa experience demos throughout the event. Invite a body or skincare specialist to share valuable tips, preferably using one of your spa's retail product lines.
Hold several door prize drawings, and use registrants' email addresses to build your email list. Serve tasty holiday-themed refreshments – attendees will expect them.
The Crystal Spa in Thompsonville, Michigan is taking this approach to new heights. The spa's 2019 open house, scheduled just prior to Thanksgiving, will feature several spa industry product reps and experts. A nationally recognized makeup artist will demonstrate holiday makeup techniques, and two local wineries will provide product samples to lucky attendees.
6. Reward Customers with a Freebie When They Share Photos of Their Visit
Little things matter when it comes to creating awareness for a spa outlet. A simple gesture of sharing photos on social media can inspire new customers to consider your spa.
But you can be strategic about it and reward customers who share photos of their visit on any social platform. You can create specific hashtags that they can use on Twitter, Instagram, and Pinterest.
Pink Lime Looks reward customers with a $500 hairstyle and makeup makeover for participating in a contest via photo sharing.
When they use the hashtag, they can tag your salon or anything you want them to build buzz around.
You'll be amazed by the results of this simple image-sharing strategy. It works because it encourages the actual customer to become brand advocates on social media and share their experiences with your spa.
When it comes to spa and beauty businesses, recommendations from a friend or family member can go a long way. Hardly do people trust ads that are screaming, "We are the best spa in town, come on in."
Ready to Ramp Up Your Spa Marketing Strategies?
There you have it, the spa marketing strategies that are bound to improve your sales, customer service, and revenue this holiday season.
The spa industry is highly competitive — so you need to adopt effective marketing strategies by leveraging both online and offline channels.
We hope the pointers above gave you a wealth of ideas to take your spa marketing to the next level!
Let Booksy Help!
In addition to streamlining appointment scheduling and calendar management, Booksy also enables you to market your spa. Our software integrates with Facebook, Instagram, and Google My Business to help get your spa in front of more people!