Business Tips
Tips to Overcome the Post-Back-to-School Slump
All
Barbers
Businesses/Owners
Using Booksy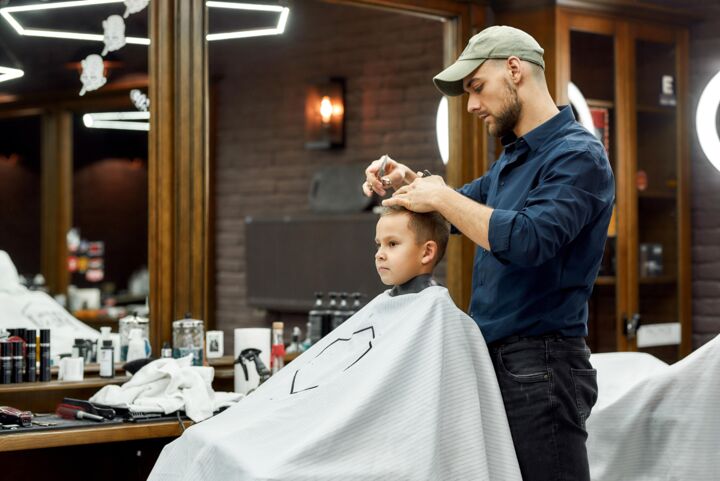 Slow days at the salon can haunt any barber or hairstylist, causing both frustration and financial strain. However, in the digital age, technology, and marketing strategies offer a whole host of solutions to turn no-bookings into booked solid. In fact, there is technology available that does both in a convenient app. Let's break down how to leverage your booking app and marketing features on the Booksy app.
Booking Tech with Marketing Built In

One of the biggest struggles for beauty business owners is the need to juggle multiple platforms, technology, and paper notes in order to keep their books full. It can be a source of overwhelm and even cause issues like double booking when there is more than one place where clients can book with you.
Train Your Clients on How to Book
Like anything new, you may need to teach or trian your clients in how to book with you. They might be used to calling in or sending you a DM, but this is going to keep you scattered and distracted. Instead, adopt a policy around booking and show your clients during their next appointment how simple it is to book through the Booksy app.
For more details on how to transition your clients over to the Booksy app, read this blog.

Increase your Audience Awareness through Social Media
Being top of mind is every business owner's goal and it can be difficult if you're not using resources like your social media platform. Booksy integrates with your Instagram in order to help you publish content and remain in the Feed, inspiring your clients and (maybe) even creating a little FOMO-triggered appointment setting.
Additionally, social media is often used as a primary or secondary portfolio. Since Instagram has always been a visual-first platform, this is the perfect placement for before and afters, finished looks, new techniques, and so much more. Barbering, braids, and hairstylists create some of the best content since their work is inherently visual.
If you plan to dial up your social media content and presence, make sure to add your unique Booksy booking link to your link in bio. This will create a seamless user experience for your clients. In just a few taps, you could have a brand new client or a reschedule.
Message Blasts and Promotions
Booksy also as an in-app marketing suite that allows you to send SMS text messages for whatever your heart desires. Many users send out last-minute opening alerts, schedule promotions, and communicate other need-to-know information to their client lists.
Think of the difference in your day this could make. Instead of you calling your list of clients to let them know about an opening, your vacation, or a product promotion, you can write one message, schedule it, and push it out. Your 5-hour task just became 5 minutes.
Streamlining all your communications can go a long way to increase client satisfaction and lead to repeat business.
Check out more information on how to use Booksy's SMS/texting to correspond with your clients.
Cross-Promotions
We spoke about this strategy in a recent blog, but it's worth mentioning again. Leveraging old-school cross-promotions can help to round out your schedule with a few extra appointments.
Cross-promotions and cross-selling are when you partner up with a complimentary business or specialist. For example, if you are a hairstylist, you can partner with a vivid colorist or esthetician and promote each other's services. Increase the urgency to book with a limited-time added service or discount.

Reduce Cancellations and No-Shows

Of course, one situation that can damage your bottom line is when you have clients no-show or cancel without enough notice. Try these two techniques to reduce the impact that has on your business.
Enable Booksy's No-Show Protection
Booksy empowers you to protect your money through Cancellation Fees and Appointment Prepayments. When your clients book, they will be prompted to supply a form of payment as a guarantee to the business owner. If they need to cancel too close to their appointment or no-show, you can recoup some or all of the appointment costs.
Read more about this essential business feature on this blog.
Send Reminders
It's best practice to keep in touch with your clients, especially when they have an upcoming appointment. Sending reminder texts through the Booksy app gives them a heads-up of their scheduled appointment and a convenient way to reschedule if they need to. This works out for you and your client because you don't have to find a new client for their open slot and they aren't surprised by an appointment they perhaps forgot about.
Check out more on Booksy's built-in marketing and messaging features.
Sending these messages takes just a few taps and protects your business's bottom line in the process. Beyond that, using this feature means consolidating a sizable portion of your communications because the app handles any SMS/text messaging marketing needs.
Conclusion
Slow days no longer have to spell disaster for barbers, braiders, or hairstylists. By embracing booking technology that is a one-stop-shop for marketing and messaging, you won't dread any more quiet days at the shop. If you haven't embraced Booksy yet and want to discover the ease for yourself, try Booksy for free. We think you'll be overjoyed with the app's simplicity and robust business operations capabilities