Unapologetically An Artist: The World of Spifster Sutton 
Booksy Community
Businesses/Owners
Nails
Success Stories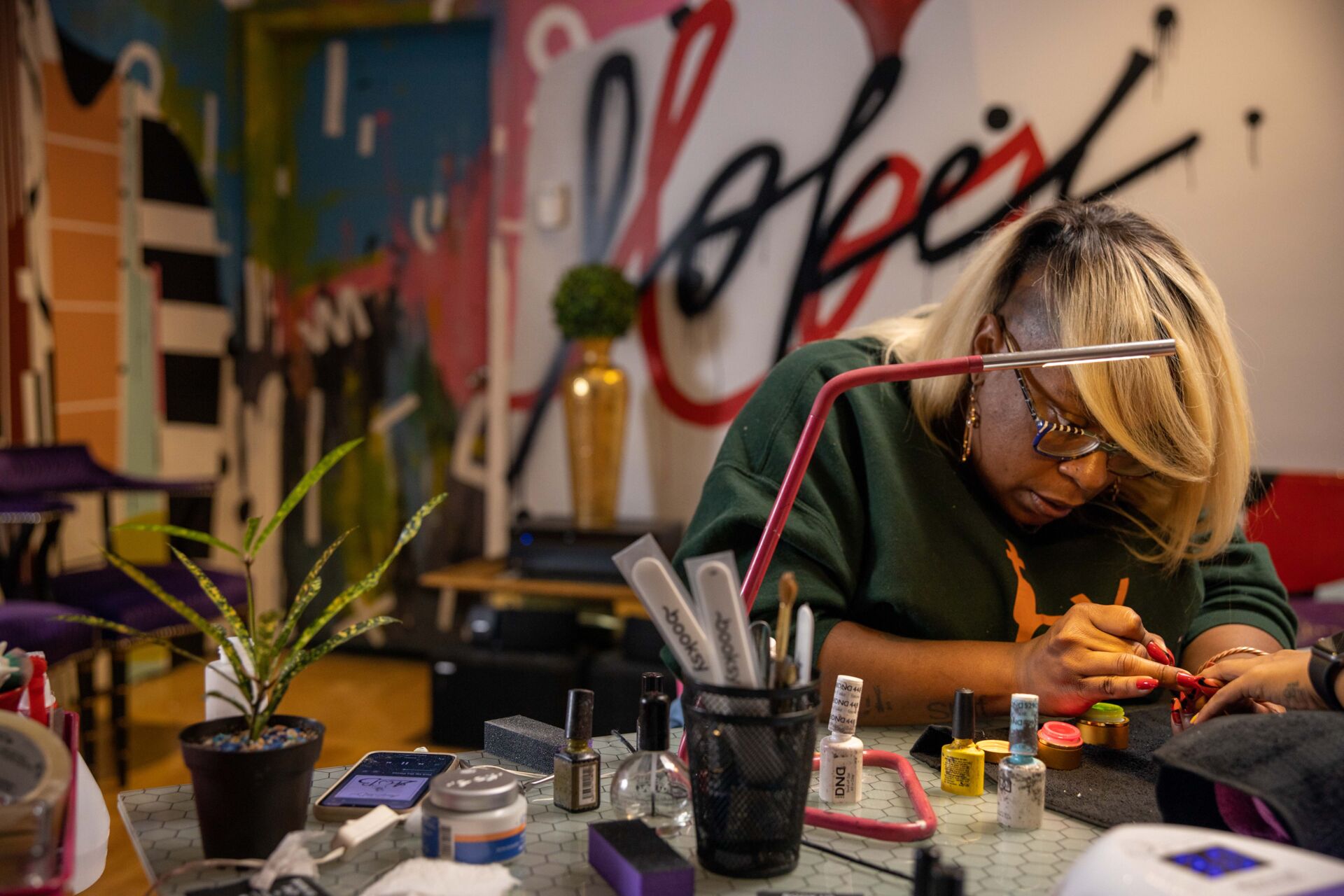 When it comes to being a true artist, Tacarra Sutton is exactly that and so much more. If her name doesn't immediately ring a bell, it's because she's better known as Spifster—a visual designer turned nail technician, who absolutely refuses to compromise her creativity.
One glance at her work is all it takes to recognize that she's absolutely mastered the art of creative nail designs. People in the beauty and wellness industry know her as an innovator with a penchant for crazy colors, even crazier lines, and gorgeous typography.
But her creativity doesn't stop there. Local artists praise her work in graphic design, home décor, and custom apparel. And after spending 12 years developing her trademark drip, the word on the street is that she's the next big thing.
At this point in her career, Spifster has more than 42,500 Instagram followers. And she also has a legion of friends and family, who she affectionately calls her "tribe." But these thousands of people do more than just spread the hype. They're another reminder of the fact that the world needs to get ready to fully embrace Spifster as an artist, because she's just getting started.
For these reasons and so many more, we featured Spifster in our Book Small guide. And we showcased her work in our Self-Made series. The goal of the Self-Made project was simple. We interviewed four of our top business owners and asked them to share their stories. Luckily for us, Spifster made some time to talk about her journey as a nail artist.
Becoming Spifster
In addition to creating intricate designs like no other, Spifster runs her own business that she proudly named Spifster Nails. As an independent contractor working at Salon Lokei, she performs gel overlays, press-ons, and complex nail art while engaging playfully with each client.
Spifster chose to work in the Pilsen neighborhood of Chicago, Illinois. Not surprisingly, she picked an area with a reputation for colorful street art. Graffiti and large murals tell the story of this community that was once home to a predominantly Hispanic population. Today, young creatives from all backgrounds thrive in this vibrant area.
Even though all of this seems like such a perfect fit for Spifster, as she walks confidently through her workspace, she says with a laugh that becoming a nail artist happened entirely by accident.
According to Spifster, she was a nail biter in high school. But all of that changed when she turned 18 years old and needed a career. She didn't want to show up to interviews with bitten nails. So, she used her creativity to decorate her own nails and hasn't looked back since.
"I literally just did it as a way to stop biting 'em. But being the creative doodler that I was, I just started doing little, little tidbits, like a little Sharpie mark on my nails and that turned into something. People were like, 'Oh, let me get my nails done, too!'"
Part of her appeal was that she could get her first customers to open up, while she was working on their nails for hours. She learned their likes, dislikes, family history, and the things that made them happy or sad. And those sincere connections helped Spifster earn a reputation for creating work that resonated with each client, since each design expressed a unique personality.
Embracing Creative Energy at an Early Age
Even though being a nail artist happened by chance, Spifster always remembers being creative. She grew up just a little further south from where she works today. Specifically, Spifster was raised in the Kenwood neighborhood of Chicago, which is a 15 minute drive from Salon Lokei.
Growing up in walking distance to Lake Michigan meant a memorable view of the lakefront. To Spifster, the way that nature would often collide with an urban landscape inspired the distinctive lines that have made her non-traditional style of nail art a household name.
As a child she remembers doodling profusely, painting on anything and everything, along with cutting shapes into walls. Despite any trouble that she had to face, at an early age she learned to unapologetically be an artist and to express herself at all costs.
"At the end of the day, I'm gonna do me—regardless. It may feel uncomfortable for me. But at the end of the day, I'm gonna do me," she said. "I've grown to be comfortable in just being completely me."
While living with her mother as a child, Spifster remembers a world full of color. Growing up, the family painted the walls of different rooms in their apartment completely different colors. Bright blue, gray, rosie-pink, pastel lilac, and ruby red are just a few of the colors she remembers. She recalls these colors with a warm smile, even though landloards penalized her family for painting their units.
The experience taught her to embrace her uniqueness. "Having that in me early in the game definitely helped. Especially now that I'm getting into the interior artworld and taking my nail art into a whole 'nother world," she said. "I just don't know normal when it comes to that type of stuff."
It Takes a Village to Inspire a Nail Artist
For Spifster, the next step is to continue to experiment with different art mediums. And she wants to work on as many collaborations as possible. In particular, she wants to open her own space that sells modern furniture. And she wants to do all of this while remaining close to her home base.
"My people, my village, my tribe, my friends. Those are the people who drive me," she said. "They make me happy—so happiness definitely puts me into an inspirational and driven moment of my life. But just to know that my friends are inspired by me just as much that drives me a whole lot too."
Regardless of what her next move may be, she doesn't plan on giving up on nails. "My favorite thing about being a nail artist, as opposed to a lot of art styles, you paint a canvas as if it's on a wall. But nails are with that person—all the time."
Spifter loves the fact that her clients wear her artwork while they sleep, shower, go on dates, get married, and bring life into this world. And for the two to three month period that people wear her nail art, it's in some of their most vulnerable and most joyous times.
"For these life moments—I'm kinda connected with you. So, that's always a dope thing. And it shapes the person's day," she said. "To be with them every day, it means literally people can look down at their nails, and it—it brings joy out of them than other stuff just doesn't do. So, I think that's always something cool that I give away by being a nail tech."
Achieving Self-Made Success
Spifster is without a doubt a self-made woman, who paved her own way. But she happily admits that Booksy helped her add the finishing touches to her already successful business. "I always describe Booksy as that, like—that relationship that comes after the rebound. Like that comes out of nowhere—just too good to be true," she said.
It helps her stay independent without compromising on her creativity, she said. And that's because Spifster doesn't need to hire additional personnel or waste time on administrative tasks like scheduling. Booksy does that for her.
"Booksy has been a life-changer for me. So, it's everything that I would need an assistant, but without the 'yang-yang-yang-yang-yah!' You just input what you need into the system. And it works on its own. The clients—they love it. It's been the easiest, breezy app that I've used. And I've been doing nails for twelve years."