Using Humor to Attract Customers and Create an Unforgettable Client Experience
Barbers
Business Tips
Businesses/Owners
Success Stories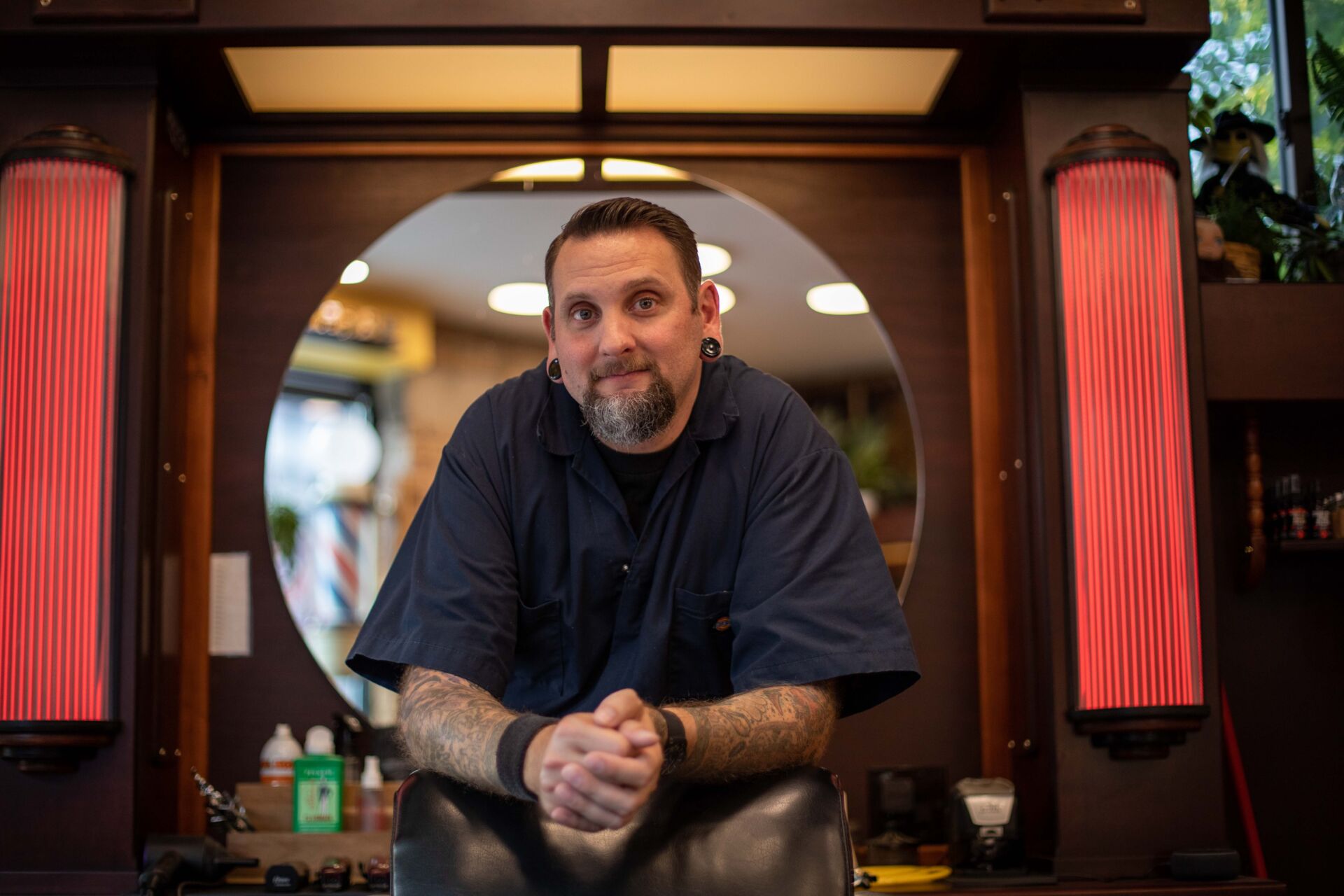 Using Humor to Attract Customers and Create an Unforgettable Client Experience
The beauty industry is full of colorful characters who have their own set of unique idiocracies and love to create their own rules. Those same business owners know exactly how to use their personalities to attract customers and make absolutely sure each client leaves with a smile.
Pete Huels is exactly that kind of barber. His business has been able to attract customers with ease and thrive over the years, because of the pleasant mix of comedy and satire that he encourages. These traits have become a part of his brand that people love. And business at Pete's Barbershop stays booming.
For Pete, doing great business doesn't just mean creating a fresh haircut that'll turn heads. It means maintaining happiness and camaraderie between himself, the customers, and the two other barbers who work at his old school inspired shop that has its own modern twist.
Inside his shop, there's a clock advertising Old Style, a Chicago staple beer. Over 100 bobble head dolls of Marvel characters, Teenage Mutant Ninja Turtles, and G.I. Joe figures stand on the shelves. An antique fridge houses 20 different canned and bottled beers. And an unopened, framed comic book titled Savage Tales helps set the mood that this place is just plain cool.
Take a moment to step inside Pete's Barbershop, which has enough collectibles to fill a museum exhibit featuring cult classics. Learn how Pete makes perfect use of his one of a kind personality. And find out why we chose this business owner to be a part of our Self-Made Series that's devoted to professionals who love doing things their way and succeed at doing just that.

An Unlikely Start in Barbering
Pete is known for running a popular barbershop in the Logan Square area of Chicago, Illinois. Before he started taking appointments, Pete would arrive at his shop every weekend and there would be a line of over 10 guys waiting for a cut and some much needed time to kick back.
His shop only has three chairs, so the wait could be quite long. And that speaks volumes in a city known for its 90 degree Fahrenheit summers and freezing winter temperatures. Despite his success, this wasn't the life Pete envisioned for himself, when he was finishing high school.
The most important thing on his mind was getting notoriety for his punk band. Pete did the vocals, and his best friend was a bass guitarist. And the two moved to Chicago in 1995 in search of getting more notoriety and respect within the underground music scene.
Despite rubbing elbows with a pretty hip circle, Pete still needed to earn some extra income. But even then, barbering wasn't part of the equation. Instead, Pete spent almost 11 of young adult years working in a union as a professional painter, which became the springboard for his one of a kind sense of blue collar humor that so many of his customers appreciate.
"If you told me 20 years ago in my punk rock days, 'Pete, you're gonna cut hair!' I would have said, 'Why would I cut hair? I paint.' That's what I did. And I thought that's what I was gonna do for the rest of my life. Why would I cut hair? You know? But, you evolve. It's as simple as that. You just evolve and you try to make yourself better than you were last year," he said.
Finding His Calling Behind the Chair
Spending long hours with wise-cracking, blue collar guys while making clever jokes to pass the time became a big part of Pete's personality. And it's an undeniable fact that Pete taps into the years that he spent alongside his fellow union workers whenever he's behind the chair.
"I think that's a big part of my humor and where my humor comes from. Just hanging out with dudes all the time. I never had a job where I needed to watch what I say, and this and that. I just always worked around guys my whole life. So, that's why I talk the way I do. I just kind of say whatever. And you know and a lot of other guys respond well to that," he said.
After spending over a decade working as a painter, Pete gave it up overnight to chase a dream. He'd always had a passion for films, especially horror movies. So, he decided that he wanted to work on movie sets crafting makeup designs and creating special effects for crazy looking villains and monstrous antagonists.
A good friend suggested that Pete should attend aesthetics school to learn makeup application skills. The idea was that Pete would learn how to apply eyeliner and lipstick to get involved in the movie business, as a makeup artist. And that led him to enroll in cosmetology school.
Pete quickly realized that blowouts and Keratin treatments weren't his thing. And he found himself creating pompadours and slick undercuts at a barbershop owned by a mentor-like figure named Papa Joe for four years.
Although the two butt heads, there was no denying that Pete loved mastering a straight razor and other classic grooming tools, while shooting the breeze with the guys—all skill sets that would help him attract customers, as a business owner.
Having the Skills to Attract Customers
It started with punk music and painting. Then it switched to big hairstyles and makeup. Pete definitely took the long road before standing behind his own chair and using his own brand of humor to attract customers. But that's exactly what he did, how he did it, and what he's been doing for the past nine years. And he doesn't plan to stop.
Sitting in his shop today, Pete cracks his trademark chester smile while making jokes that some would deem crass, a few would call inappropriate, and others would find loud out loud hilarious.
"I have a good sense of humor, and I think that's what I like best about myself. It's just that I try not to be ever in a bad mood. When I come to work, I'm in a good mood. It's very funny, because I'm wound so tight everywhere else," he said, while clenching his hand into a fist.
According to Pete, the people who come through the doors of his shop understand him the best. And that's true for the two young men who work for him, in addition to the customers who have been working with Pete, since he started cutting hair almost 15 years ago.
"My favorite thing about the shop is the customers—totally! Because they put up with my crap. I dish out a lot of it and they keep coming back. So, to me that's amazing. And my barbers too. Anybody who walks in this door, whether they be a barber or a customer, that's my favorite thing, just that people here get me. They understand where I'm coming from," Pete said.
Using Booksy to Help Focus on Clients
Although Pete sincerely loves owning and operating his own space, where he can say what he wants, how he wants, the weight of being a shop owner is something he knows all too well. He signed up with Booksy about a year ago, just before the pandemic started.
His goal was less about trying to attract customers. He was more focused on trying to get a little help running the business side of things, so that he could focus more on his already loyal clients.
"As most owners would know, your day never ends. You're on 24 hours a day. So, you're always working, and I think that's the thing that most people don't understand. When you're an owner, you're never off. Even when you're on vacation, there's still stuff in the back of your mind, you're like, 'Oh, I need to get this done, I need to do this, and this, and that,'" he said.
Booksy helps him take one thing off his list, as now Pete doesn't have to worry about appointments or losing any customers, because of long wait times. Today, all of his customers book online. And the convenience is something he wants to keep utilizing, since it appeals to a younger generation of customers who use apps and online software with ease, he said.
"Now with the Booksy app, it's just like—if there's availability, just open the app. If we have availability, book it and come by. So, you don't have to go through all that other rigmarole. It's definitely made things easier for me. I kind of know what my day's gonna be now. It's nice to know what time I'm going to get out of here, so I can go watch Law and Order or Shark Tank with my wife," he said with a chuckle.