For more information on how Booksy can support you through the current ongoing pandemic, please visit http://Booksy.info/BooksySupport
During the Coronavirus outbreak, everything seems a little uncertain. Make sure your business keeps ticking along and make it easy to manage your appointments in the safest way possible with Booksy.
At Booksy, people come first and we are committed to supporting our community and your business however we can. As the number of confirmed coronavirus (COVID-19) cases increase in the UK, the safety and well-being of all Booksy businesses and clients is extremely important to us. Read our guide below which highlights some of our features and how they can support you today.
Appointments
Are you currently operating as walk-in's only where people end up waiting in your shop with others? Due to the social distancing measures now in place, appointments are more important than ever. Booksy allows you to operate a 1 in 1 out system which can easily be set up with padding time in between for cleaning. Put your customers at ease when visiting your shop and show them how dedicated you are to providing a great service while also following the government guidelines.
Pay by App
No cash handling – payment in 2 simple steps!
Client Communication
Communicating to your clients has never been so easy! Booksy allows you to organise and store your client contact details so it's easy to send updates out to your entire client base.
Message Blasts
Help comfort and reassure your clients with our Marketing tools. Send out quick message blasts to your clients via email, text or app notification. We have fully customisable, already set Covid-19 templates in place for you to use. You can also check out our free message templates here.
Social Post Creator
Use our Social Post Creator to select from a variety of templates and customise to inform clients of any updates with the shop, bookings and opening hours.
Bogart Barbershop in Sheffield have highlighted the importance of keeping their waiting areas clear and ensuring people are booking in and 'queuing' from the safety of their own home – minimising any risk of viral transmission and keeping in line with government advice of social distancing. This is a reassuring message to send your clients.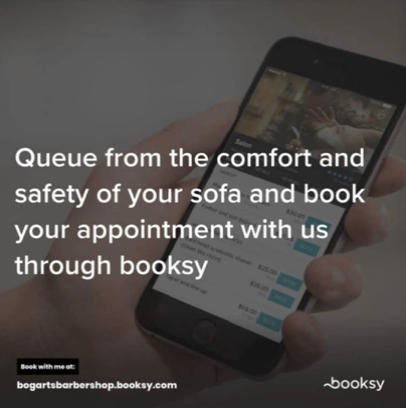 Tip Now, Book Now, Visit Later
Our new feature gives your customers a quick and simple way to tip or donate and encourages them to book future appointments for when normal service resumes.
If you choose to have this option available, your customers will be able to support you by donating a defined amount of either £5, £10 or £15 (and they can donate as many times as they like), then we forward that payment to you. We will then prompt your kind customer to book their future appointment with you, so you'll see your calendar filling back up again.
Check out booksy.info/tipnowbooknowuk for more info – you'll need to request an opt-in through the customer helpchat or give them a call!