There's no doubt about it, Valentine's Day this year will be a bit different. This time surrounding this special day is usually one of the most profitable times of the year for businesses in the beauty, grooming, and wellness industries because everyone wants to look their best – whether they're celebrating with loved ones or friends. So how do you reap the benefits when your business is closed?
Just because your store front is temporarily shut, doesn't mean you have to miss out! If you don't have a plan in place, don't worry, Booksy's here to help. Use this time to share the love amongst your client community, and they'll share it back.
1. Feel-Good Masterclasses
Around Valentine's day, potential clients are often on the hunt for new services that can help them look their best. And just because they're currently not able to visit you in the salon, doesn't mean you can't make them feel good. Offering Virtual Appointments in the run up to Valentine's is a great way to showcase your skills.
Why not offer sessions to show people how they can style their lockdown hair, offer 1-1 make-up tutorial for their big date-night in, or practice some self-love & meditation in the form of yoga. All of these can be done through Virtual Appointments, all whilst you're maintaining the important customer relationship.
2. Spread the love with eGift Cards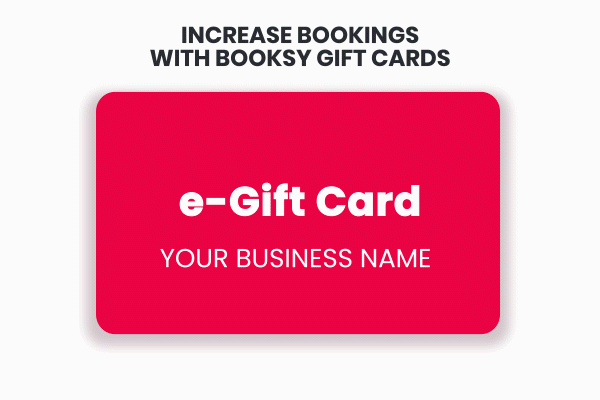 Gift Cards are always a great way to increase bookings and attract new clients, but they are especially effective around Valentine's Day. Everyone is on the hunt for the perfect gift, and pampering their loved one post-lockdown, with an eGift Card to your business could be just what they want. 
Set up a special Valentine's eGift card on Booksy so clients can spread their love for your business. Don't forget to promote your eGift Cards by putting mentioning it on social media, or sending a Message Blast out to your customer base.
3. Let clients know you're thinking of them
It's important, now more than ever, to stay in touch with your loyal client base. Use Booksy's Message Blast feature to promote your Gift Cards, your Virtual Appointments or just to say, 'Happy Valentine's Day!'.
With Message Blasts, you can send emails, texts, or push notifications to any of your existing clients. You can use a variety of ready-made templates, or you can customize the templates to create your own message.
4. Give a little love to your business
Spend a little quality time looking at how your business presents itself – is your portfolio up to date to encourage those gift card sales or digital masterclasses? Will potential clients be wowed by your portfolio that they'll have you as their 'first-to-book' appointment when you reopen?
Give your audience some inspiration by updating your Portfolio and social media!
Clients are 3x more likely to book with businesses that have portfolio pictures, so use this space to showcase your best work, the latest trends, or any Valentine's specific styles. Upload photos with Valentine's themed colors or feature styles that will help clients look and feel their best.