Three seasoned, industry experts hosted an all-female barbering demonstration that showcased their personal clipper cutting and short haircut styling techniques to help barbers and stylists around the world master the art of creating shorter length haircuts.
Booksy Ambassadors Taylor Leven and Tina Sapia teamed up with Wahl Pro Creative Director Jamie Digrazia. Taylor and Tina also regularly collaborate with Wahl—Taylor is a Wahl Professional Select Team Member, and Tina is a Wahl Pro Artist Team Member.
This collaboration was part of the Eat.Sleep.Fade.Repeat. partnership between Booksy and Wahl. The shared goal of this team effort is to provide free educational resources, exclusive promotions, product giveaways, and new merchandise throughout the calendar year. 
So, whether you're an industry newcomer or an experienced professional, take a few moments to read these ten insider tips. Get ready to find out more about fading, creating graphics, and pricing short haircuts from these three award-winning grooming professionals, who are at the very top of their game. 
How These Professionals Approach Fading 
When done correctly, fading can give haircut balance and style at the same time. Keep reading to learn how to start cutting a fade, where to find the fade line, and how to master a bald fade. 

Taylor Leven: Using Light To Help You Fade 
Taylor started her haircut by using a pair of shears to remove bulk. Then she picked up her clippers and used a number two guard with the lever open to start removing hair in the back before gradually closing the lever for a closer cut. 
To create a low fade on her model, Taylor started off with a line using the detailer before blending it out with the clippers without using a guard and with the blade open. Taylor said that a fade exists because of the way light hits the hair. And when fading, it's important to position the head outward to allow the light to flow through so you can see the fade clearer.
It's important to remind clients that short haircuts can require a lot of maintenance. If customers aren't willing to come into the shop every two weeks, steer them away from getting a skin fade or a line up. Talk to customers about how their hair will grow out to avoid awkward stages while retaining loyal clients.
Jamie Digrazia: Finding The Fade Line 
Keep in mind that each and every fade will need to be carefully tailored to the person sitting in your chair. Jamie recommends letting the client's head shape determine where the fade line is going to start. 
To do this, Jamie places a comb beside the client's head. Wherever the comb leaves the head is the high fade zone. She takes her hand and places a finger where the high fade should appear. And she places another finger where the mid-fade starts at the temple area that's even with the eye. Finally, she uses another finger to distinguish the low fade, along the side burn area. 
Another tip to remember when it comes to fading is to push the clippers straight up and let the client's head push the clippers away. Avoid turning the clippers into the hair, which will cut everything the same length.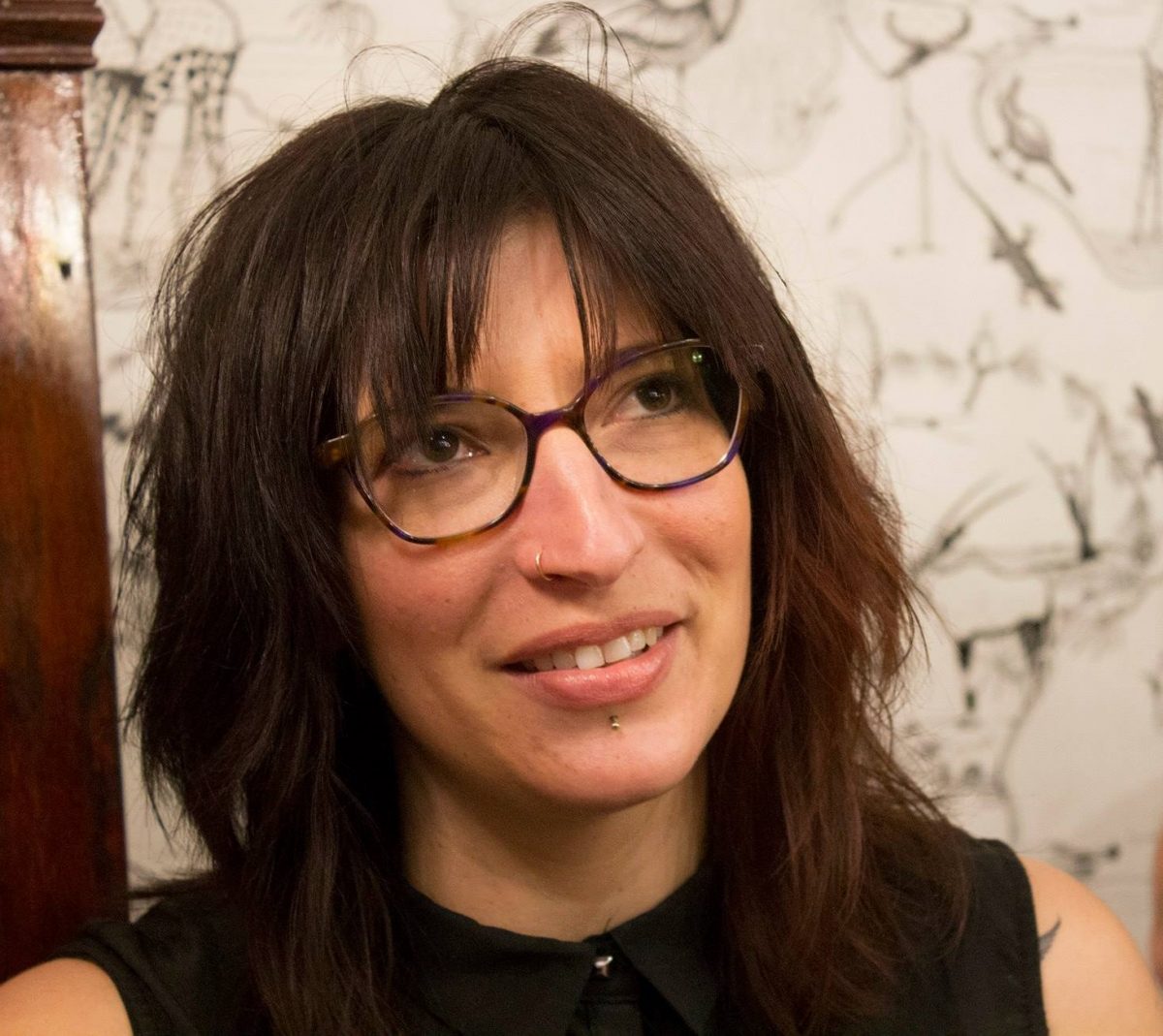 Tina Sapia: Mastering the Bald Fade 
Tina created a bald fade along the neck and sideburns of her model in two steps. First, she started with the blade closed all the way and brought it down to a certain length to create a line of demarcation. Then she opened the blade completely and faded the line out. 
To make things easier, she doesn't create a line before fading. Instead, Tina starts off her cut with a long clipper attachment before transitioning down to no guard so she can control where the fade is going to go. It might take longer than creating a line and fading it out, but it's an easy way for beginners to get accustomed to this technique. 
Keep in mind that you will have more control over the cut by moving the head around, instead of taking things in sections. Moving the client will also help you keep better track of where you are in the haircut.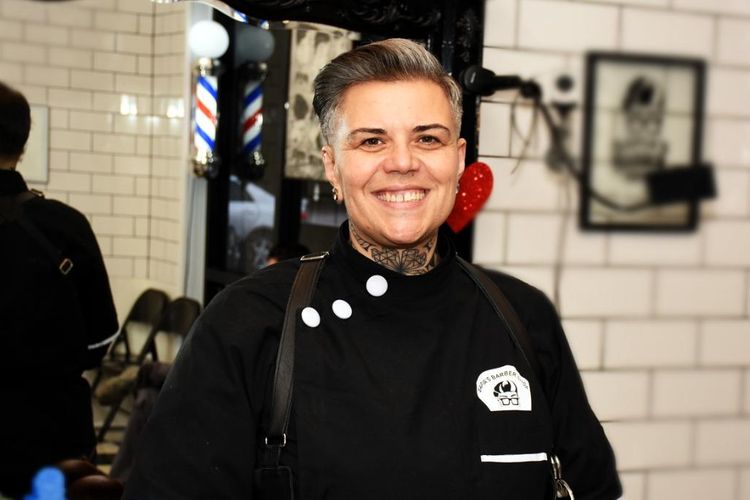 Creating Graphics
When it comes to creating fresh designs and creative graphics, Taylor recommends holding the clipper like a pencil with your fingers close to the edges of the blade for more control. 
To help barbers and stylists decide where to add the design, Jamie follows the grain of the client's hair and the head shape when she freehands her lines. The first shape starts off the foundation of the design and the shapes after add in more details. If you're not advanced enough to work freehand, use a white pencil or eyeliner to mark off where you want the lines to go. 
If you want sharp, crisp lines try flipping the detailer upside down. Tina uses the corners of the blade to create the first line and cut the top of the hair, before flipping the clipper upside down and going back over the line to cut the bottom for a more crisp look.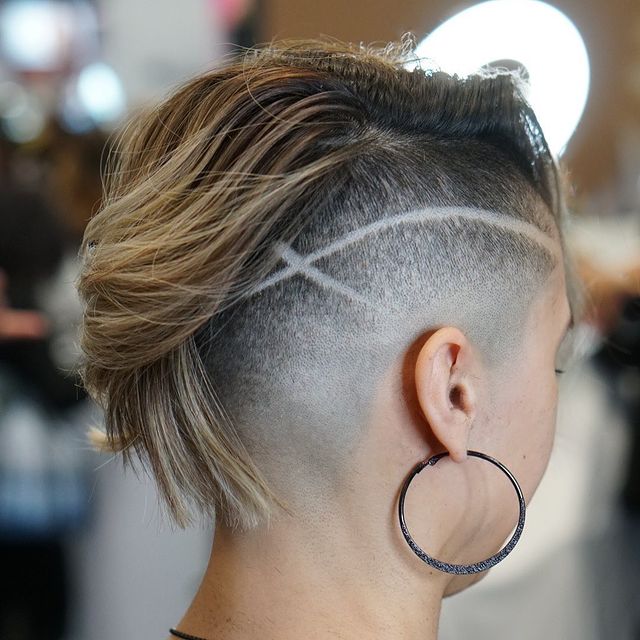 Booking, Scheduling, and Pricing Short Haircuts
Since more clients are requesting shorter hair lengths, it's important to stay prepared. Clipper cutting is a tried and true way to give a client create a clean, fresh feeling. And it almost guarantees follow-up visits, along with the opportunity to build lifelong relationships with clients. 
We continued talking with these three industry pros to learn more about how to schedule short haircuts, so keep scrolling for more tips. Taylor, Tina, and Jamie all shared their thoughts on how to book, schedule, and price short haircuts.

1. Scheduling Short Haircut Appointments
Deciding on the amount of time to set aside for a short haircut appointment will depend upon the style the client wants and the professional creating the cut. 
Tina likes to set aside 30 minutes for a short haircut appointment, when she's working with a new client.  Scheduling the appointment for 30 minutes gives Tina time for a consultation. But when she's working with a returning customer, who knows what they want, she only needs about 20 minutes. But keep in mind that Jamie sets aside 45 minute slots for clients with short hair.
2. Rescheduling Short Haircut Sessions
Rescheduling is another situation that depends mostly on the client. But one added appeal of creating short cuts is that each client can start over with a totally new look after four to six weeks. "When they come back, it's a blank canvas, and we can start over," Jamie said.
But if your client wants to make sure their cut always stays fresh, three to four weeks is probably the sweet spot. Some clients may want to come in sooner than that. Remember to discuss maintenance appointments with your client during the consultation session. 
Taylor always asks her clients how frequently they want to come in. "If you don't want to see me every two weeks, then I won't recommend a skin fade," she said. "Taking the time to explain that will get you a lifetime client."
3. Encouraging Clients to Book in Advance
Start by explaining to your client that booking in advance guarantees their haircut will be fresh for anything their life brings their way. Make sure to let them know you can't always guarantee them a last-minute spot in your chair, so booking in advance is the best way to make sure they have a consistent appointment. 
Despite explaining those facts, incentives can be a great way to encourage clients to book in advance. In the beginning of her career, Jamie would offer $5 off the next appointment for clients who booked in advance. Today, Jamie runs a salon called Logan Parlor located in Chicago, Illinois. Inside her space, she enters every client who booked in advance into a monthly raffle—and the winner gets a prize. 
She lets clients know about these incentives by using the marketing tools within the Booksy app. Specefically, she uses Message Blasts, which also helps her encourage appointment reminders. And she encourages Booksy professionals to use the phrase "this haircut expires in four weeks," to let clients know when they should schedule their next appointment.

4. Charging for Short Haircuts
When it comes to pricing short haircuts, it's a good idea to avoid refering to them "men's" cuts. "Short hair is for everyone. Let's not limit what we can create based on social norms of short hair or long hair," Jamie said. "If you are in charge of your pricing through Booksy, offer a gender-neutral or gender-free pricing structure so you aren't placing an identity on the people who come in with short hair." Try moving to a pricing structure based on time, length, or even clipper cuts versus scissor cuts.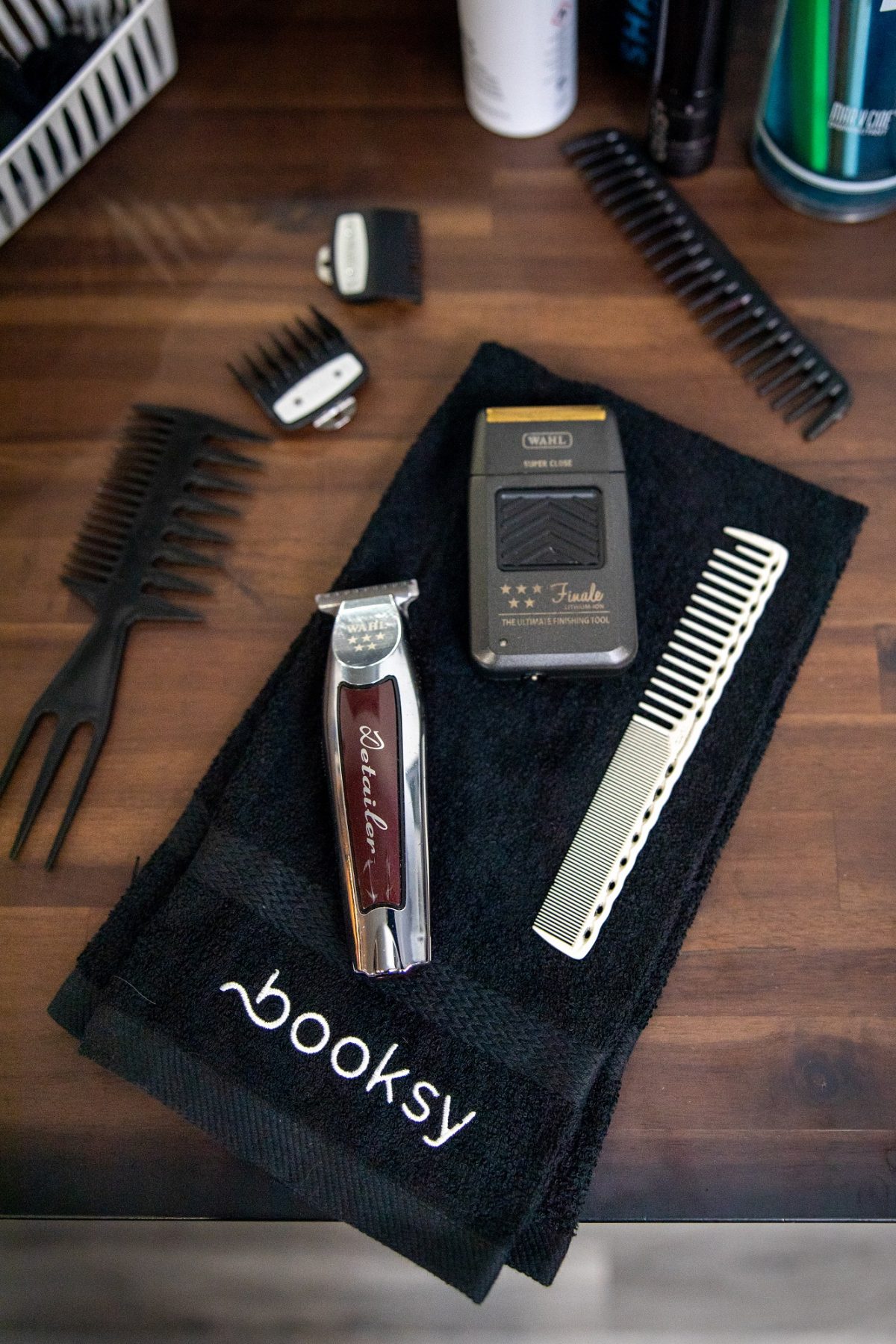 5. Upselling Short-Haired Clients
One way to upsell is to strengthen your retail game. Styling products are super important for clients sporting short haircuts, because they add to the cut's versatility. For example, send a client home with pomade to add shine or recommend a mattifying creams, which helps with texture. The client can style their hair with either of these products and get totally different results.
You can also start creating designs or graphics directly into the hair. Tina charges an extra $10 for a simple design, like a line, heart or star. As the design becomes more complex or takes more time, she increases the add-on charge.
6. Scheduling Short-Haired Clients
When asked for scheduling tips for barbers and stylists working with short-haired clients, Jaime offered a great piece of advice. In addition to being a short hair specialist, Jamie is also a colorist. And she likes to make sure that her color appointments are booked, before she schedules her short haircut appointments.
Then using her Booksy app, she opens up 45-minute slots in her day during the time she knows her color clients will be processing. That way, the holes in her day where she would normally be waiting for color to process are opened to paying clients!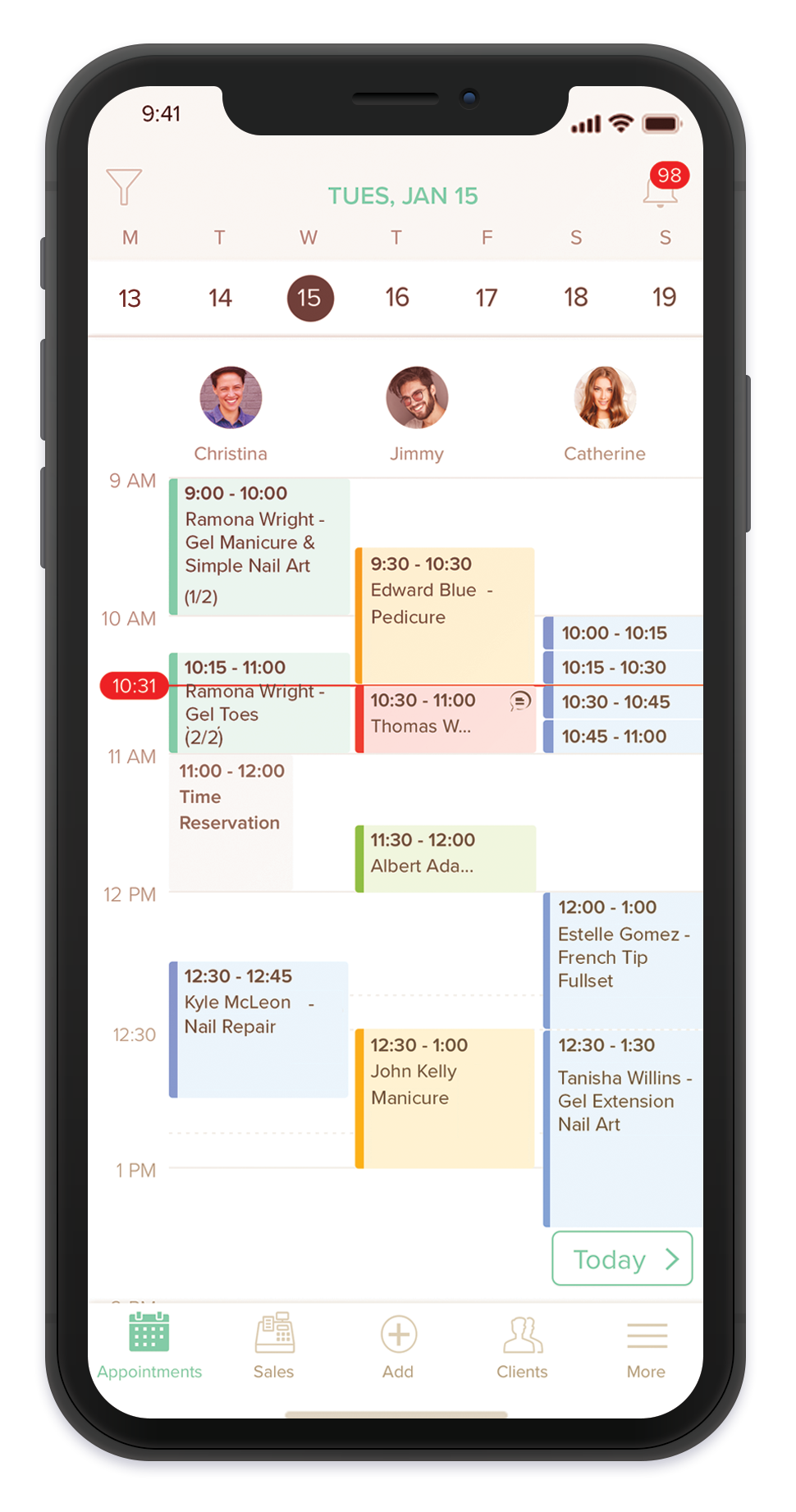 Information from this article was provided by behindthechair.com