Fashion trends come and go like the seasons, and it's no different when it comes to nails. After all, our nails are an accessory within themselves. So it's no wonder, then, that styling them is a form of self-expression. But it can be hard to stay on top of the latest trends in a world where what's currently in style is ever-changing. That's why we've made it simple, breaking down the top 2021 nail trends.
We have the hottest styles this season in the form of a go-to list that you can get inspired by and reference any time before you hit the salon for your next nail appointment! Ready to jump in?
Mismatched magic
Whoever said "consistency is the key" definitely doesn't know anything about nails. Different color nails are one of the top 2021 nail trends. We love this one because it allows you to use your creativity to create your very own gradient. Or, maybe an assortment of different colors are your style—this one caters to everyone!
One crowd favorite is a classic rainbow look, featuring a different color of nail polish on each nail. If your Instagram feeds are anything like ours, you can't get away from this trend. But if you're not a huge fan of rainbow, here'a great alternative: Stick with a particular color scheme and have your nail tech paint each nail accordingly.
For example, imagine using reds, oranges, and yellows—sunset nails, anyone? But if neither of these are up your alley, feel free to play around with any colors of your choice to achieve a perfectly mismatched look.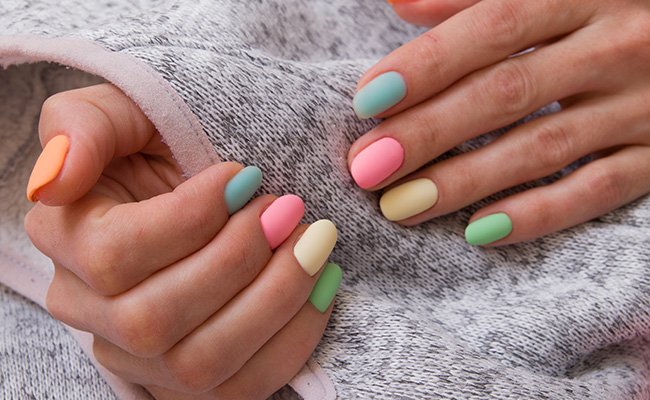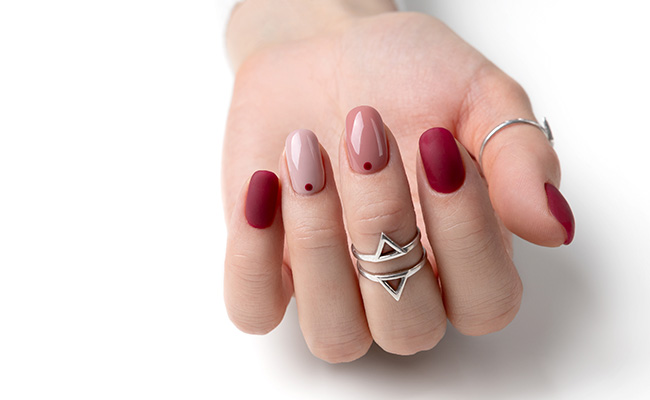 The more color, the better
When it comes to 2021 nail trends, gone are the days of minimalism. Likewise, we can say goodbye (for now) to traditional styles like the classic clear manicure. Instead, we can shift our focus to a trend that's more fresh and current; multi-color nails.
The beauty of multi-color nails is that they can be whatever you want them to be. Apart from incorporating a combination of different colors onto each nail, there are no rules! Dress them up by blending together some of your favorite shades for a tie dye-esque effect or include a range of bold colors through some trending nail art. Don't be afraid to get creative and pack on the color—because in this case, more is more.
Some nail techs even specialized in colorful, abstract nails. One of Booksy's ambassadors, Spifster, is one of these nail techs, only providing unique and colorful gel nail designs for her clients. Check out some of her tips for taking care of colorful nails and how to ask for them!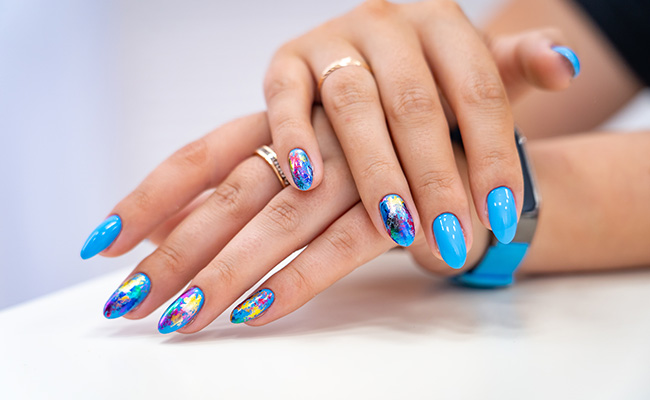 Soft and muted
So we've talked about different ways you can style your nails. But are you ever wondering what's hot in the world of trending nail colors? Previously, it was all about cool tones and nudes (think blue-gray and shades of beige and brown), but in 2021, it's all about the pastels.
Pastel nail colors aren't just suitable for the springtime—your favorite muted colors will definitely make a statement any time of the year. And if you've been looking for a sign to rock your desired hues of pale pink, baby blue, soft yellow, toned-down green, periwinkle, or lavender, this is it. Soft, muted colors are a great idea if you want to keep things classy and sophisticated, yet fresh and fun.
Playing peekaboo
Usually, the goal of getting our nails painted would be to cover the entire exterior of the natural nails with our choice of polish, right? However, when it comes to what's currently popular, we're going against the norms to present you with one of the newest nail designs. In other words, the concept of negative space nails.
Negative space nails work with loads of different design types. So whether you want to keep just the tips painted, or include some funky waves or geometric designs across the whole surface, negative space nails are going to make you stand out among the crowd. It's an especially fun style to try if you're into funky, angle-based patterns.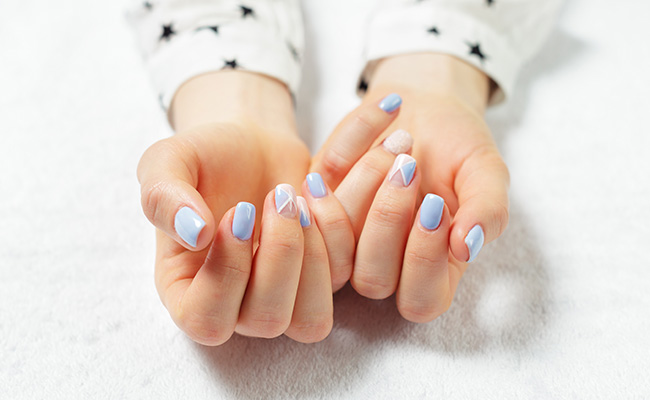 Two-toned contrast
Ombre nails have been on the rise during the last few years, so you might already be familiar with them…(or you may have even had an ombre manicure at some point). But more specifically, for 2021, we're diving into 2 color ombre nails—headfirst.
Two-toned ombre nails are ideal when it comes to achieving a simple, blurred color gradient. If you love cohesion, you can stick with two shades from the same color family. Alternatively, if you prefer a manicure that's a bit bolder, it's never a bad idea to select two vibrant hues that are completely different from each other.
Feeling inspired after discovering this year's most coveted nail trends? All that's left to do is book an appointment to a nail salon near you, which you can do completely online using Booksy!