It might not seem like it, but the landscape of men's grooming and self-care has seen a major shift over the past few years. Our most anticipated 2022 trends for men are a nod to the diverse ways men are choosing to express and care for themselves. 
Part of the reason for the shift is the pandemic, which has allowed men to experiment with self-care from the comfort of home. But the other part is the changing norms around masculinity and the increasing role of men as consumers in the personal care space. 
These changes signal a broader shift in redefining masculinity and the ways that men are transforming their approach to self-care. 
We're excited to see how this movement develops in 2022 and beyond. Read on for our most anticipated 2022 style and self-care trends for men.
Grooming Redefined
The lockdowns of the past couple years have given men an unexpected opportunity: the ability to try new things and experiment with their appearance, without the pressure of showing up in public. This has overlapped with an ongoing and profitable trend in the arena of men's self-care. Beauty and grooming marketed to men is expected to generate over $80 billion in global sales by 2024. 
Men have more products to choose from than ever before. In addition, our norms around masculinity have shifted to allow men more choice around how to practice personal care. Celebrities like Harry Styles and Machine Gun Kelly have been at the forefront of pushing the envelope and disrupting gender binaries. We expect to see a lot more of that in 2022.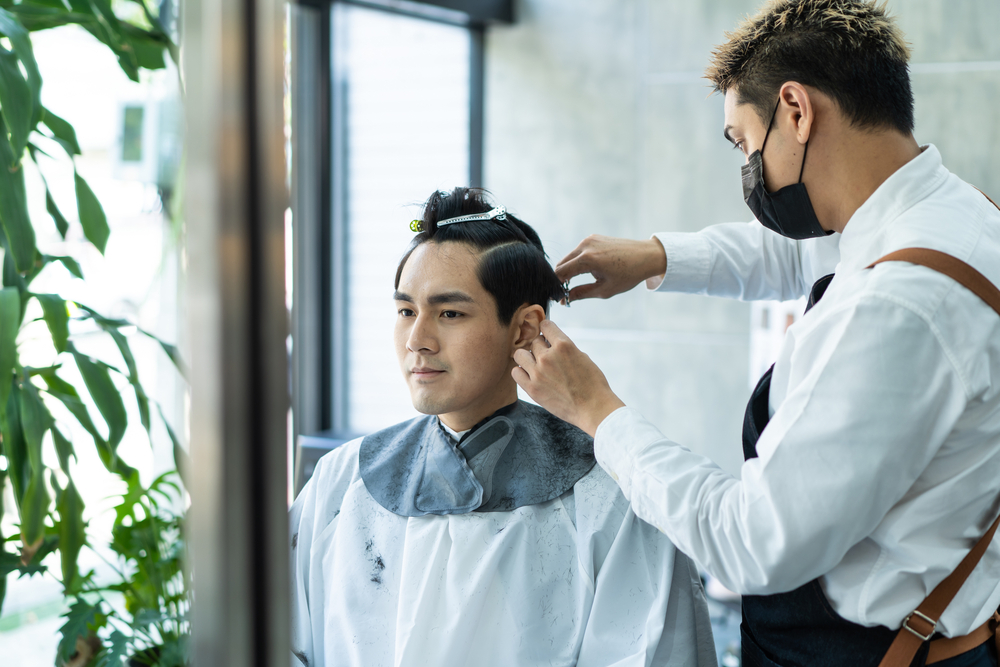 Take on 2022 looking and feeling your best. Book a barber appointment on Booksy.

Dramatic Dress-Up
Pinterest's annual Pinterest Predicts list calls "dopamine dressing" one of the major style trends to look out for in 2022. We could all use a dose of optimism, which is why this is one of our top 2022 trends for men.
It's no secret that the past couple of years have been tough on many people's mental health. So why not use your wardrobe to brighten things up a little? Don't be afraid to accent your look with vibrant colors, rainbow details, and unexpected pattern combos. Chances are, you'll fit right in this year.

Your Best Face Forward
2021 was the year of skinimalism: a more dressed-down approach to skincare that avoids complex routines and focuses on the basics. This shift has been the perfect entry point for men who are discouraged or intimidated by multi-step routines.
There has already been an increased interest in cosmetic procedures for men, including Botox, laser treatments, and fillers. We expect to see a stronger skincare marketing push directed at men, with a focus on age-defying procedures and simple, quality ingredients. 
Ready to take the plunge into skincare this year? Find top-rated estheticians on Booksy.

A Checkered Present
Checkers are back. But these aren't the checkered Vans slip-ons of your youth – although those have gotten some fun upgrades. According to Pinterest, this trend is primarily being driven by older generations of consumers. If you haven't already, expect to start seeing checkers everywhere and on everything.
Want to mix things up without going too crazy? Check yourself into 2022 by opting for a checkerboard suit, tie, or blouse for your next fancy engagement. 
More Ways to Move
We often associate masculinity with high-impact exercise like weight-lifting. But there are signs that this is slowly starting to change. Increasingly, men are varying their workouts by adding more ways to move. There is also a stronger emphasis on wellness in addition to, or instead of, getting swole.
Looking for ways to incorporate wellness into your everyday routine? Try balancing high-impact workouts with low-impact activities such as yoga, stretching, and walks. 
Time to transform your wellness routine? Find personal trainers, nutritionists, and more on Booksy.