Let's be honest, you've surely caught yourself daydreaming about flawless, glowy skin every once in a while. Then you scroll through Instagram and see that dewy complexion of Beyoncé or Hailey Bieber and dream about such skin even more. However, with the abundance of treatments out there, it may prove challenging to find the best one for your skin, especially during the summer. There are different treatments for acne-prone skin, those that have anti-aging properties, or simply for skin that needs extra hydration. 
As choosing the right treatment can be overwhelming, we've come here to help you out a little. We've rounded up a list of four facial treatments that can help you achieve that glowy face and skin. So read on to find the best facial treatment for you!

Glowy Skin Treatment 1: Anti-acne Facial
Most of us have battled acne at some point in our lives. Whether during our teen years, or in our twenties, we've had to deal with this issue. Over the years, the amount of methods that can help you fight acne has truly skyrocketed. However, sometimes the most effective way is the most classic one. 
A good option to try if you're tired of battling acne on your own is getting an anti-acne facial. This type of treatment targets your skin issues and works to resolve them. A typical treatment will usually consist of a few things, among them deep cleansing, steaming, and moisturizing, finished off with salicylic and glycolic acid. What it does is it rids your face of excess oil build-up and helps cleanse your pores out of accumulated dirt. The acids will then fight acne spots helping to prevent future breakouts as well. 
Treatment 2: Anti-aging Facial
The most important thing you should remember is there is absolutely no age limit to glowing skin. The only change with age is what types of products you'll want to use. It doesn't matter if you're twenty-five or sixty-five, your skin can always look amazing. If you're closer to the latter age group, you might want to consider getting an anti-aging facial treatment, and here is why.
Young skin has the capacity to cope with things such as sleepless nights or improper care. Unfortunately, the older the skin is, the less regenerative properties it has. The slow disappearance of collagen fibers and elastin causes skin to lose its elasticity. In effect, the skin becomes more and more saggy and wrinkles start to appear. Over the course of time, these changes become more visible and harder to fight. And that's why getting regular anti-aging facial treatments can be so important.
By using active ingredients and facial formulas, this type of treatment truly helps fight signs of aging. Thanks to antioxidants and inflammatory agents, your skin's tone and texture can improve as well.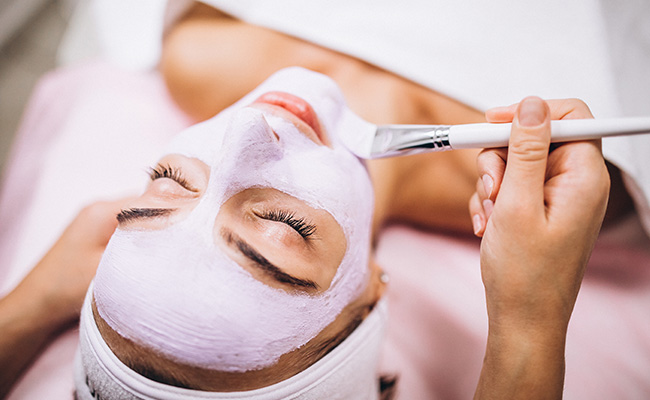 Glowy Skin Treatment 3: Diamond Facial
This facial treatment can help you achieve that glowy skin no matter your age. Some of the benefits and properties of the so-called diamond facial include:
Increased blood circulation

A brighter and evened-out skin tone

Fighting signs of aging

Reduced pores and some healthy moisturizing
During this facial a professional will use a dedicated diamond-tipped tool that is filled with aluminum oxide crystals. This tool will remove dead cells and toxins from your skin, providing you with that natural skin you crave. 
Treatment 4: Vitamin C Facial
We all know the great properties vitamin C has toward our immune system. But did you know it can also be great for your skin? 
A vitamin C facial has multiple properties that help you achieve flawless skin. One of them is evening out your skin tone and brightening your complexion. Next, thanks to anti-oxidants, it helps firm your skin. Finally, this facial deeply moisturizes your skin for a healthy and smooth look. In the end, thanks to a high concentration of oleic and linoleic acids, your face will become radiant and glowing. 
If one (or more, who knows!) of these facial treatments has caught your eye and you're ready to fight for that glowy skin, remember, Booksy has always got you! Just visit our website or open our app to book an appointment!