Lamination—when's the last time you heard that word? Although it may invoke memories of grade school, writing on plastic-coated sheets of paper with dry erase markers, in the world of beauty it's taken on a much different meaning. Enter: brow lamination, one of the best-kept secrets to achieving smooth, slick, and shiny eyebrows.

What's the treatment like?
Think of brow lamination as having permed eyebrows, in a way. Brow lamination works by using a chemical solution in order to lift and shape the eyebrow hairs into your desired form. The process starts by applying a lifting cream to your brows, the eyebrows are then brushed upwards to set the hairs vertically. Lastly, a neutralizing solution is applied in order to fully set the effect and the brows are topped with a nourishing serum to keep them hydrated. But is it worth the hype? We'd say, definitely—and here's why.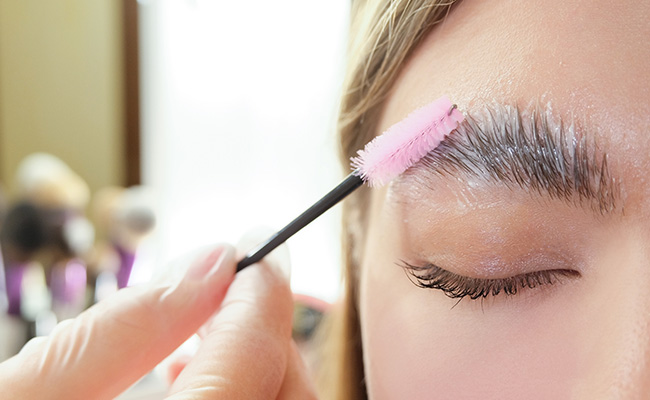 Fuller-looking brows
The number one benefit of getting laminated brows is, of course, getting a bigger and fuller eyebrow look. By straightening them and lifting them upwards, brow lamination can easily hide the look of sparse eyebrows, whether this is due to thinning hair with age or over-plucking, instantly transforming them into the perfect set of fluffy brows.

Shape correction
 Not only does a lamination treatment give you thicker-looking eyebrows, but it also corrects their natural shape. Eyebrow hairs are often unpredictable, growing whichever way they please. Brow lamination solves this problem and can help change the direction of the hair's growth. In the end, this results in a higher eyebrow arch and a more defined shape.
Pain-free procedure
Microblading may have taken the beauty industry by storm, but eyebrow lamination isn't trailing all too far behind. If you love the look of microbladed eyebrows, but aren't too keen on getting pricked by needles, then brow lamination makes a perfect non-invasive and painless alternative.
Quick treatment process
The procedure itself is rather simple and doesn't require more than a few simple steps to complete it, so you won't have to worry about sacrificing too much of your time for a brow lamination appointment. From start to finish, you can expect the treatment process to take under an hour.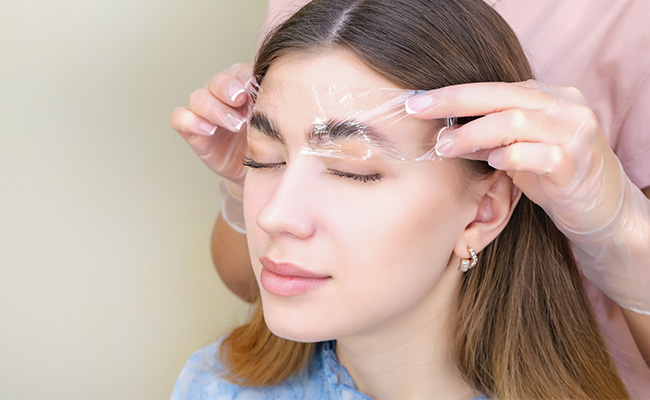 Lasts up to 8 weeks
Depending on the natural hair growth cycle of your eyebrows, lamination can last anywhere from between three to eight weeks. 

Is there anything else I should know?
Brow lamination is rather simple and thankfully, doesn't come with an extensive list of precautions to take or contraindications to consider—it's generally a safe procedure for anyone who wants to achieve beautiful brows with minimal effort.
However, take extra care if you have scars, scratches, or burns near the eyes. Existing conditions like dry skin or eczema surrounding the eye area could also cause irritation when getting a lamination. Be sure to consult with a doctor before scheduling your appointment.
Lamination near me
Are you ready to take the plunge to achieve the brows of your dreams? You can easily schedule a brow lamination service straight from your smartphone or computer through Booksy! Download our mobile application for iOS or Android to begin browsing professional eyebrow lamination businesses in your local area.