With the year winding down, many of us are already looking forward to next year. A chance to start fresh, make promising resolutions, forget about them by February, and, of course, keep up with all the hottest trends. If you're worried about falling behind, don't worry—we've got you. Let's talk about nail trends for 2022.
1. Swirl nails
In the early 2010s, marble nails were a unique, fun thing to try out at home with your DIY manicure. Remember swirling the nail polish in a plastic cup and watching the magic happen?
Now, the fun swirl look is coming back in a new way. They're more abstract, colorful, and individualistic. Your nail tech might have amazing suggestions for keeping up this style at home. (Because, let's face it. Those nails did not last when we tried them). 
2. French tip twist
This year was the year of fun french tips. You couldn't open Instagram or TikTok without seeing influencers or peers with green or yellow french tips. That nail trend is continuing into 2022, but the color code is changing. 
Instead of bright pastels or glossy primary colors, this year, jewel tones are going to be your best friend. But not rubies or turquoise—now, we're going classic. Gold and silver french tips are the new thing, and fit anyone wanting glow, but not too much. 
P.S.: Want to know which would look better on you? Here's a quick tip. If you have cool undertones, go with silver or white gold. For warm undertones, go straight for yellow gold. 
3. Glitter nails
If you're a lover of all things that sparkle (you're not alone), this nail trend is one you have to try. Especially if you go for sparkle and a little something extra. Try this modern spin on glittery nails by asking your nail tech for lines of glitter on each nail.
Maybe you want the glitter to stand out. In that case, go for a clear or pastel polish for your base. This will turn everyone's heads, and add a bit of modernity to your look. All with a simple remix of glitter, right?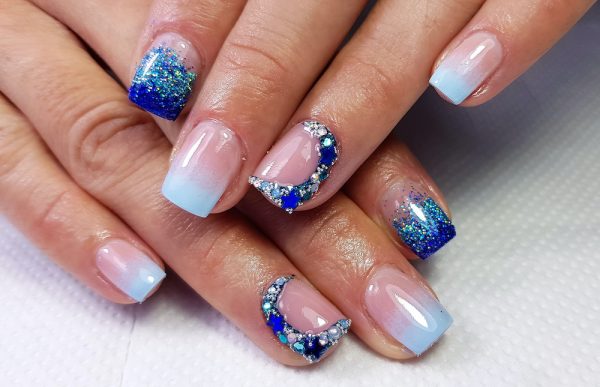 4. Stiletto acrylics
Ready for more out-of-the-box trends? 2022 is really your year. Mani trends regularly come straight off the runway. This year, a huge runway trend is an acrylic one. From the acrylic craze of last year, we knew it was going to stay. 
These acrylics are shaped differently. Rather than being round or square, these fake nails look like stilettos. They're spiky and come to a point. And while the runway doesn't always translate to every day, a subdued version is definitely going to be a staple.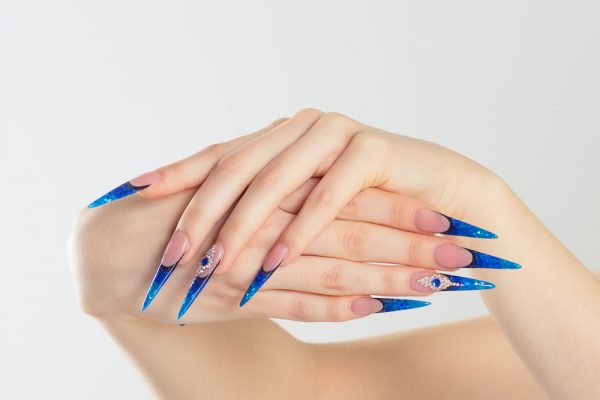 5. Press-on nails
Let's talk about press-ons. 
No, they're not new, just more popular than ever. Personally, I can never tell the difference between some press-on manicures and traditional ones. For those who don't know, press-on nails are exactly what they sound like: Manicures that press on your nail. 
They're easy, intricate, and the options are endless. All these factors make a perfect mix of why they're so popular. Plus, when you're ready to try something new, there's less logistics involved. Ask your nail tech if they have any recommendations or a set on hand if you're curious. 
6. Embellishments
On this year's runways, we've seen models rock embellished nails. Putting crystals, jewels, or other 3-D objects on top of acrylics adds an extra pop to an already stunning design. But if you're someone who wants a more subdued nail look, think about rocking a tiny little jewel on a couple of your natural nails.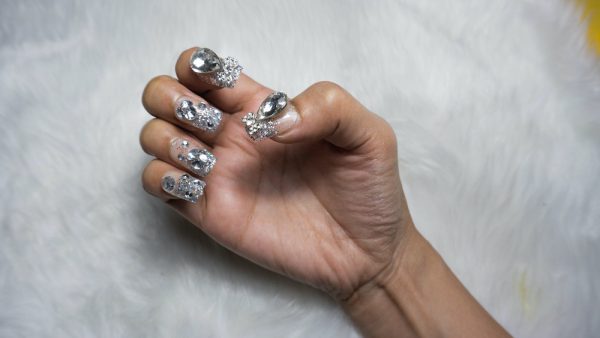 Which of these nail trends are you ready to rock? Let us know!