As COVID-19 continues to impact the beauty and wellness industry, it's important for business owners to stay in touch with their customers. And that's because keeping clients informed helps everyone stays safe.
One of the easiest ways for business owners to keep loyal clients in the know is to use the features that are already available in the Booksy app. Although your salon or barbershop may have been in business for weeks, remember that people still want to know as much information as possible. 
Keeping clients informed shows your loyal clientele that you have the customer service skills to run a successful business. And checking-in on your customer base is a great way to simply let them know that you care, which is especially important during this difficult period.
Read through this short article to make absolutely sure that you're using the Booksy tools that we created to help you relay valuable information to all of your clients at once, in just a few clicks. Health and safety is on everyone's mind right now—learn how to quickly and easily share information with your customers.

Send Message Blasts
Although the Message Blasts feature is mainly used as a powerful marketing tool, it's also a great resource for relaying information to a large group of clients. Let people know how to stay safe, when they plan to visit your shop or salon. Or simply stay in touch with loyal customers.
For example, it may be a good idea to remind clients to use the I'm Ready Button, when they arrive for an appointment but need to wait, before coming inside. And it's still important to make sure people know the policies you've implemented to properly sanitize and disinfect your work station.
Even though many salons and shops have been open for weeks, it's important to keep communication lines open. Sending mass emails and texts to clients is easy and only takes a few short minutes. And this tool lets you send messages instantly or periodically. 
Getting people in the habit of reading your messages and texts will also help you keep them informed about information down the line, especially if government officials decide to make changes to shutdown policies that directly effect the beauty and wellness industry.
Take Advantage of Health and Safety Forms
Don't ever forget that you're the expert who has sacrificed long hours to work behind the chair. You know how to make sure a workstation has been properly cleaned and disinfected. And this is the time to share some details about the work you're doing to keep people safe. 
Use the Safety and Health Rules tool to publicize the extra steps you're taking inside the shop to make sure your customers know that your business is still a safe place. Let clients know that you value customer safety by adding predefined rules to your profile that customers must follow. 
Keeping clients informed of the precautionary steps that you've been taking and will continue to take will help them feel more confident about booking appointments. And it shows you're up to date with recommended safety and health rules. 
Any Booksy user can easily access the Safety and Health Rules on your profile. But to truly encourage communication—setup Disclaimer Forms. This tool lets you ask clients if they present any COVID-19 symptoms or if their visit could expose you to any risks.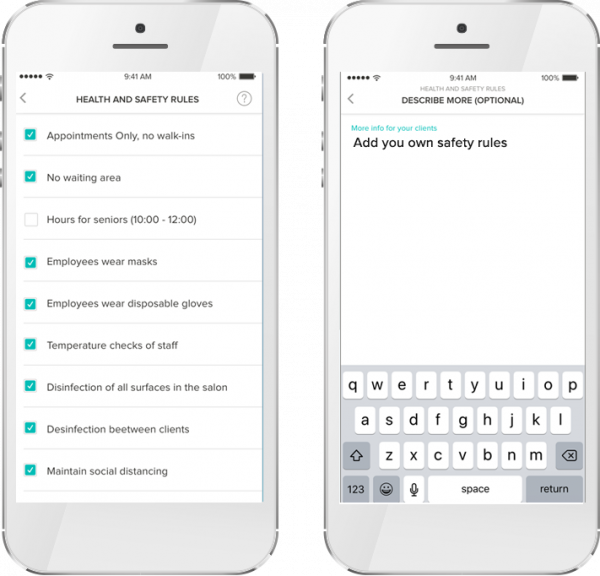 Optimize Your Booksy Profile
Another way to keep clients informed during COVID-19 is to make sure all of the information on your Booksy profile page is fully optimized and up to date. Share any changes to your work routine and provide additional details whenever possible, as people want to stay informed. 
The writing in the description field of your Booksy profile should always provide a clear, vivid picture that uses precise language. But feel free to add any additional information that you feel is necessary during this time—especially if it pertains to changes caused by COVID-19. 
Take a close look at the specific hours listed on your profile and make updates as necessary. Naturally, many business owners have had to change their hours, because of the pandemic. So, pay close attention to this detail, along with the pricing information on your profile. The amount a customer has to pay should always be accurate. 
Additionally, it's important to update your list of services and omit anything that you no longer perform. If you forget to make these updates, it will always leave people with a bad impression of your business. Instead, make it easy for customers to feel comfortable while scheduling appointments by keeping them informed.
Use the Social Post Creator
The Social Post Creator is another valuable tool that Booksy business owners can use to better communicate with clients. This feature lets Booksy business owners create their own uniquely customizable digital flyers that can grab the right kind of attention from social media followers. 
For anyone who hasn't taken advantage of this feature, now's the perfect time. Use this Booksy tool to separate your business from the competition with professional images and catchy texts that you can create on your own.
Booksy professionals have successfully used this tool prior to COVID-19 to increase their bookings. And that's because the Social Post Creator lets business owners advertise their availability in a unique way. Get ready to attract more attention from online users. Simply pick a template, choose an image, and write the text you want to publish. 
This easy to use marketing tool is designed to help you better communicate across all of your social media channels. Feel free to use one of our templates or upload your own picture. But make sure your clients know more details about your business during COVID-19.