Being able to deliver a memorable client experience is tough for any salon, barbershop, or wellness center. But the impact of COVID-19 has made this more of a challenge than ever. 
To help make sure her nail salon is able to keep attracting new clientele, while appealing to loyal customers, one nail salon owner took some very specific steps to make sure her business would be different from the long list of competitors in the industry.
Although this nail salon is not a part of the Booksy family, we sat down and spoke with this gifted business owner to learn from her successes and share them with our online readers.
Take a few moments to read about Jessyka Tong, the owner of The Nail Salon in Orlando, Florida. With the help of her team of five dedicated stylists, Jessyka provides a memorable client experience to make sure customers truly enjoy their salon time and keep coming back for more.

Earn Repeat Business by Offering Memorable Services
It's no secret amongst industry professionals that earning repeat business is necessary to run a successful salon or shop. A great way to make sure customers keep booking appointments is to give them an experience they won't forget.
The Nail Salon started specializing in providing memorable experiences the moment they first opened their doors in 2016 and started servicing clients from their easily accessible location within the Baldwin Park neighborhood of Orange County. 
Residents say that this area is known for having a healthy balance of urban shops and restaurants. But people also say that Baldwin Park still has somewhat of a suburban feel because of its rather quiet population of 6,200 people.
To Jessyka, running a nail salon in this kind of neighborhood meant creating a wide range of available services, while still making sure that each treatment would always make people want to come back for more. 
For example, their Deluxe Pedicure consists of an aroma-therapeutic foot bath, leg exfoliation, a rich clay mask, a cooling gel, a gentle massage, a refreshing heel cream, individual hot towels, a second massage, application of buttercream, and a polish, high buff shine, or a protein shield.
Offering such a long list of very specifically chosen treatments in one service is one the selling points at The Nail Salon. This space was created primarily to provide a great customer experience that's different from most other nail salons out there, said Jessyka. 
"We believe that every customer who visits us is trusting us to make them look and feel better and beautiful. This is a huge responsibility and comes with great ownership," said Jessyka. "We train our staffers to take pride in their roles and deliver an experience that is truly memorable.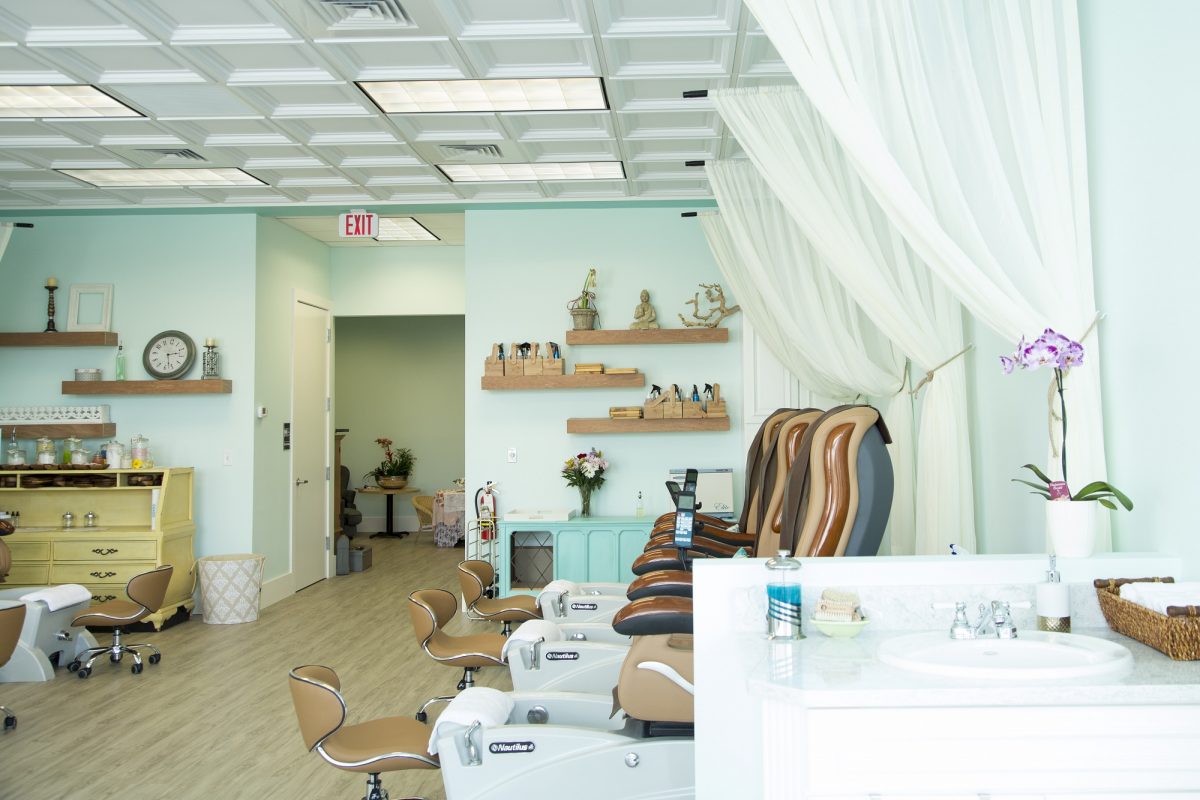 Make Every Visit Count from Top to Bottom
Focusing on specific services and treatments will most likely have the biggest impact on delivering a memorable experience. But it's also important to focus on the salon or shop itself. And that's because your space also has a huge impact on how clients will feel about their experience.
So, whether you're running your own shop like Jessyka, managing a salon suite, or working as an independent contractor the small touches you make in regards to your space are always important. One of the unique things that Jessyka took into consideration was using modern equipment to minimize nail product odors. 
Fumes are a big distraction in the nail salon industry. To minimize this issue, Jessyka had a custom designed ventilation system installed. It pulls dust and fumes into a vent that's embedded in the quartz countertop, where her staffers create designs and perform relaxing nail services.
A charcoal filter is also located in the countertop that draws in dust and fumes. And clients are able to see rows of small fans at every station. This reminds them of the commitment this business has in regards to customer service and delivering a memorable client experience. 
Jessyka said these are the kinds of things that customers remember. It translates to clients not only coming back but them telling their friends and family about your space. Those seemingly small touches create a spillover effect that means more positive reviews and better online ratings. And that will increase your customer base.
Keep Learning Business Tips from Booksy Webinars
To hear more of these kinds of business tips, check out our Booksy Webinars. During many of these sessions, salon and barbershop owners like Jessyka share business advice. Learn how to get ahead in the beauty and wellness industry from other accomplished professionals. 
Participating in an upcoming class is simple. And it lets you listen, learn, and ask questions in real time. The next webinar will take place on Monday, September 21 at 1 p.m. CST. Click here to register.
The topic for this upcoming webinar will be minimizing cancelations and reducing no-shows by using a Booksy in-app feature called Mobile Payments. So, bring your questions, learn from your peers, and leave with a new set of tools to help take your business to new heights.