As the temperature outside changes, nail design trends usually follow suit. What's been popping up on your newsfeed lately? We caught up with nail professional and graphic designer, Spifster, to get the inside scoop on the latest nail design trends. 
Tracarra "Spifster" Sutton has been doing nails for over 14 years and has built a strong reputation across social media for her unique, signature style. So, if you're looking for the hottest nail trends, there's no better person to go to. 
If you're ready to see what's trending this season, let's jump right in!

Trend 1: Swirl Nail Design
"Everything you'll see on Instagram is just swirl, swirl, swirl," Spif said. When I checked the nails hashtag on Instagram, I saw she was right. Most of the photos included nails with colorful, swirling lines. 
Swirl nails give a lot of room for creative interpretation—there's no right way to do them. For instance, they can appear as a finishing touch on nail tips. Or, multiple colors can become a swirling base coat, to be topped with eye-catching designs.
Swirl nails are usually intricate, so it's hard for beginners to create their desired design. That's why Spifster suggests seeing a professional. 
"My graphic design background helps me do nails, because certain things have to be precise," she said. These swirl designs require radical lines that twist and turn much like the imagery that Spifster creates for urban inspired graffiti projects and streetwear designs. 
Whether you're thinking of keeping things simple with your swirl mani or want to go all out with your design, you can find your next nail tech using Booksy's website or app. For example, this psychedelic nail design was done by nail tech Rikki Siskaet, who works at SODO Nails & Lash Bar in Orlando, Florida.
Trend 2: Chrome Nail Design
If you're in love with the early 2000's futuristic style, this is the nail trend for you. Chrome nails are exactly what they sound like, where the polish looks space-like. They can be simple with a muted color or bold with bright coloring. 
Like swirl nails, you can mix things up with chrome. If you scroll through social media, you'll find swirl polish with jewels, chrome acrylics, and even chrome with swirls! For instance, check out this chrome-jeweled look from a Velvet Nails in Chicago. 
"You wouldn't think chrome nails are as hard as they are to get right," Spif said. Because of how they're applied, the style can be difficult for beginners. There's two ways to apply chrome nails: With powder or with gel. 
Whether you go with powder or gel is up to preference. Both will give you the same result. The difference between the two is formula, not finish. 
"The difference between gel and polish is that gel lasts longer and requires more precision. If you mess up traditional polish, it's easy to start over," said Spisfter, who added that when gel polish dries the surface of the nail becomes solid. That makes it tougher to fix a mistake, whereas polish allows for more flexibility.
To apply chrome gel nails, Spif mixes chrome nail powder into regular gel polish. Then, she applies the mixture onto the nail and finishes with a top coat. If she were to use only the powder, she'd need to gently dust the powder on top of a base coat, wait for it to dry, and then finish with a top coat. 
If you're ready to book your chrome nail appointment, you can find awesome nail techs on Booksy. For example, nail tech and Booksy Ambassador, Bellabuttonz, is making these amazing sunset chrome designs for clients in Connecticut. 

Trend 3: Inspired French Tip Design
"One trend I actually think is highly underrated is French tips, and how diverse they've become," Spifster said. To her, there's nothing like a classic French tip, but the current trend of remixing the original is burning up social media feeds. 
French tips are so popular, in fact, that they're usually a basis for other trends we've talked about. For example, chrome tips are all over Instagram discover pages.
If you're new to French tips, don't worry, we've got you covered. You've probably seen them around before—they're considered a classic, go-to style. 
French tips are typically a type of fake nail that's applied to the edge, or tip, of the actual nail. Generally, a French tip is noted by it's signature finish: The fake part is usually a white color, giving the illusion of a rounded, half-white nail. 
Currently, the trend is to take the idea of a French tip and turn it up a few notches. For instance, instead of white, people are going for different colors, like this colorful example from Nails by Nicky in Florida.
In addition to different colors, it's also popular to go for a shorter edge. Instead of about half the nail being white, people opt for about a quarter. 
"French tips are actually way harder to get right than you'd think," Spif commented. This is because, customarily, the style is very uniform. All the edges have to be the same length. 
"You can definitely tell a good set from a bad one. Bad French tips aren't equal in length and can end up looking messy," she said. 
Because French tips are so popular, the typical DIY solution is to buy press-ons from a drugstore. Spifster suggests that to make them last, make sure you apply alcohol onto your nails first, then seal them with a base and top coat.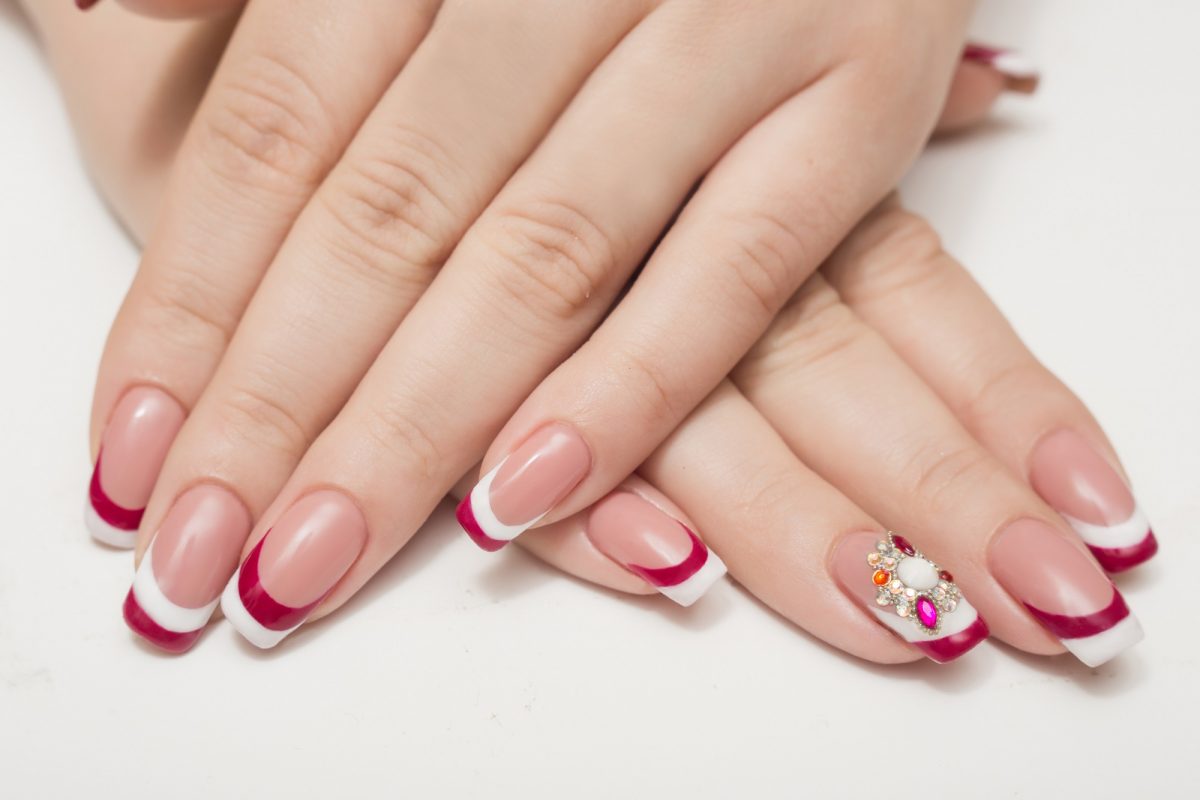 Trend 4: Individual Nail Design
Another nail trend we've seen pop up on our radar are nails that have little in sync with each other. Basically, there's no uniformity to how the nails are designed—every one is different. 
This unique style is Spifster's signature. It allows her to be creative and independent while producing her best work. 
"One of the best designs I've done on the fly started as a joke. My client was joking about the rapper Fetty Wap and asked if I could draw him. Well, I knew I could on paper! So, I did my best free hand on her nail and drew confetti on the rest. We called it "Con-Fetty Wap." 
Spif noted that the Con-Fetty Wap joke was super popular on social media, and it put her name out there. 
"My style is unconventional, so it tends to stand out on Instagram," she said about gaining more than 40,000 followers. 
If you scroll through Instagram, you're likely to see long fake nails on the trending pages, each boasting their own rhyme or reason. So if you're someone with a flair for showcasing your bright personality through nail design, consider switching it up by giving your nails their own spin. For example, varying press-on jewels are a popular choice on social media. 
The best thing about this trend is that there's so much room for creative freedom. It's hard to be off-trend because there are no rules. Whether you're thinking of playing around with shapes and graphics or colors and lines, the only rule is to make sure each nail looks entirely different.
For example, if you want every nail to follow the beat of its own drum, like this design from a Booksy business owner, you'll definitely be the trailblazer in your crew.