Close your eyes and imagine a barbershop. Checkerboard tile floors, the worn leather seats of the chairs, and the lingering scent of Barbicide all immediately come to mind. But there's an even more familiar scene we associate with the barbershop. It's the conversations. People sitting in chairs and talking about sports, current events, and every other issue we face in life are part of the indelible culture of the American barbershop. Chicago's O.A.S.I.S. Barbershop has taken this culture to the next level. 

Talking Shop
Simeon Dill, a 31-year-old barber from Chicago, has listened to these conversations for years. Inspired by this culture of dialog, Simeon opened the doors of his barbershop to the wider community, creating a forum for honest discussion in a place that's familiar to meaningful conversations. He calls these gatherings "Shop Talks," and they've transformed his O.A.S.I.S. Barbershop into something much more than a neighborhood clip joint. It's become an integral part of the community.
Serving a Multifaceted Community
O.A.S.I.S. Barbershop is located in Pilsen, a Lower West Side neighborhood in Chicago. Famous for its colorful street art and graffiti, this once predominantly Hispanic neighborhood has recently become popular with young creative-types moving in. The shop itself is a short distance from large murals that tell the story of this community, which has a rich history of social activism.
The idea behind Shop Talks came from Simeon Dill's love for this neighborhood, and his desire to bring it's people together. "We're trying to build culture. That's the underlying goal," says Dill. "We want to create a safe space for people to hang out and restore the idea of using the barbershop for the community."
Having hosted these gatherings for five years, Simeon Dill has succeeded in that goal. On a typical evening, anywhere from 15 to 25 people might show up for these gatherings. But on a busy night, the shop can draw crowds of up to 40 people.
According to Dill, diversity is essential for these talks. So, he invites a wide variety of guests to present different points of view. "All types of people attend the event, doctors, lawyers—we happen to attract some pretty cool 25-to-30 year olds. We have a vast network and have a solid conversation," he said. "We might have a drug dealer, a pastor, or a rapper with 5 million followers on IG. And they all come together in the barbershop."
How Bonds Are Built in the Barbershop
On Monday, August 12, 2019, the biweekly meeting kicked off when Simeon hopped out of a Lyft at the intersection of Halsted and 21st Street. While still holding a few stackable stools in one hand, he greeted a group of men waiting for his event. "What's good with you?" he asked with open arms.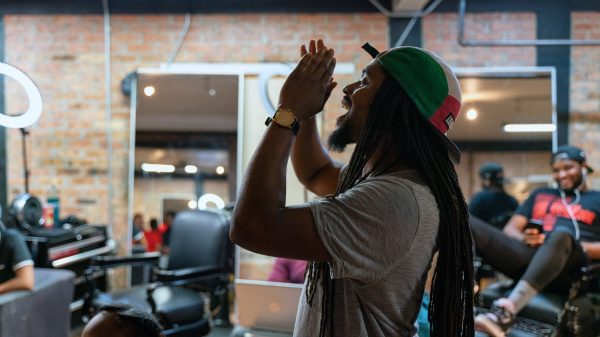 As the crowd began to gather inside, fresh pairs of retro Air Jordan's skidded along the wood panel floors, while participants pitched in to arrange seats into a circle so that people could face one another.
"Because conversation is something that brings people together, I welcome you into this space," Dill told the crowd. "A barbershop is one of the easiest places to come into and have a conversation. Because your barber or your beautician is just someone that's easy to talk to."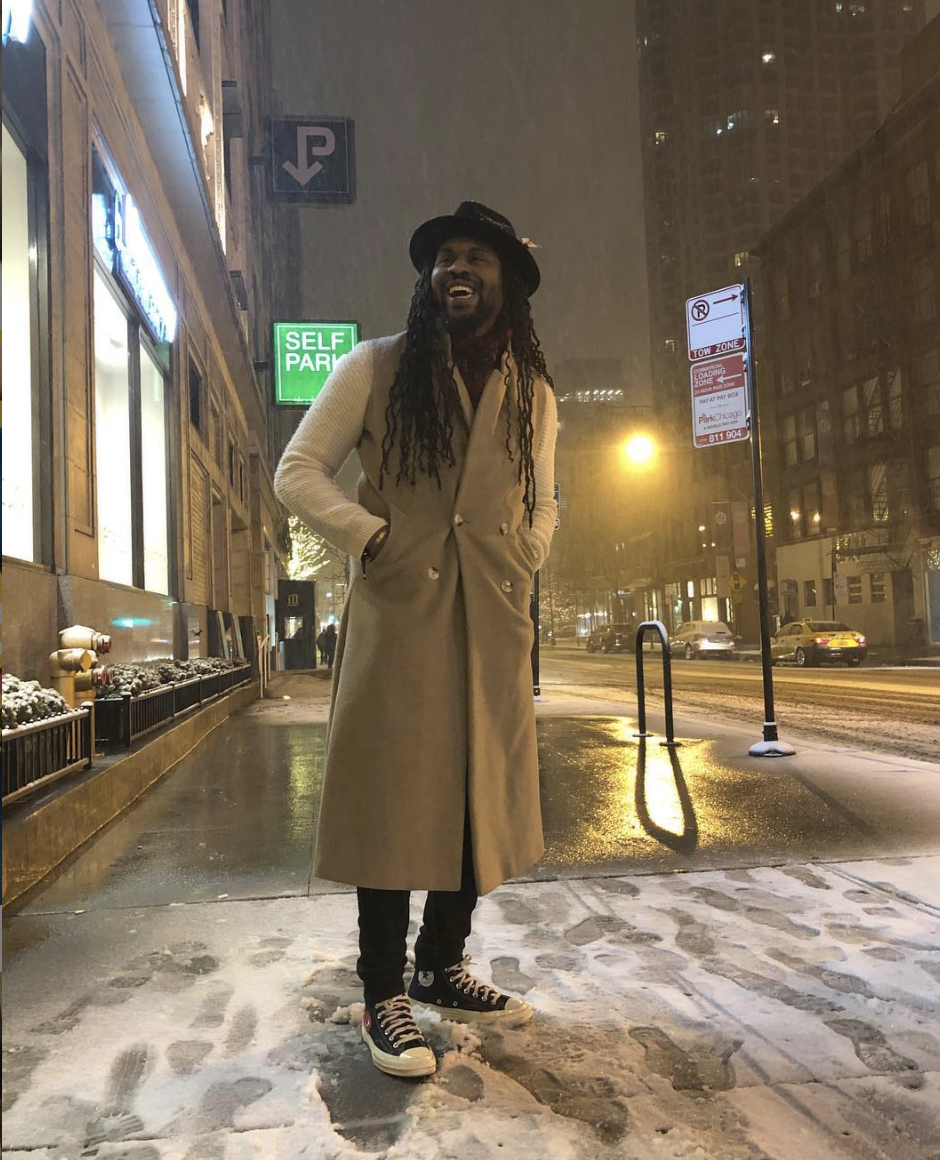 Addressing Complex Issues Honestly
Simeon prepares for the Shop Talks by coming up with topics to discuss in advance. But he also stays true to the spirit of barbershop conversation by allowing the discussion to go wherever it leads naturally. Complex issues related to race, underage sex, gender inequality, and pressures facing the black community have all been addressed in these gatherings.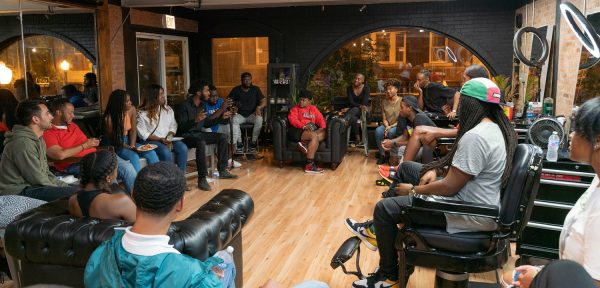 On this particular evening, Dill raised the issue of how young men feel pressured by society to repress their emotions. He began the conversation by saying, "In the past, there was no room for men to be emotional. But I think things are starting to change now with this generation." 
Jenny Andrews, a local teacher, shared her thoughts, "It's a thing that boys are not given that space to be emotional," she said. "Just truly being able to express your emotions. Even when it comes to tears. They hear things like just man up, or else you're a punk, and they hear those things so early."
Matthias Carter, a barber at O.A.S.I.S. Barbershop, shared his perspective. "In relationships, I've had real conversations, where I was really expressing myself," he said. "But in the moment, I feel like, man I feel like a punk right now. And it's weird because I really want to tell you how I feel, because I'm hurt by this situation."
Bringing the Night to a Close
Discussing controversial subjects in a public setting always has the potential to inflame emotions. But that hasn't been the case at Shop Talks. Despite the sensitive nature of the issues that surfaced during the evening, the audience remained focused on formulating their thoughts instead of venting their emotions. It was never an argument. It was a respectful dialog. 
As the evening drew to an end, Simeon Dill asked the audience, "Is there something you want to talk more about?" It was almost a rhetorical question. Because as a barber, Dill knows there's always more to talk about. At the O.A.S.I.S. Barbershop, sometimes these talks take place with 40 people in the room. Other times, they're just between a barber and a client. Either way, Simeon Dill is here for it. And he's always ready to talk. 
Supporting the O.A.S.I.S Barbershop
We'd like to thank Simeon Dill and his team at O.A.S.I.S. Barbershop in Chicago. We encourage you to support the shop and book an appointment with them here.