Most know Orlando, Florida as a major destination for theme parks including Disney World, Universal Studios, and The Wizarding World of Harry Potter. From its beautiful weather to abundant activities around the area it is a great place to live or vacation. So whether you are planning a visit to Orlando, new to the area, or looking for new services where you live, this guide will point you in the right direction for some of the best beauty and wellness services in the city.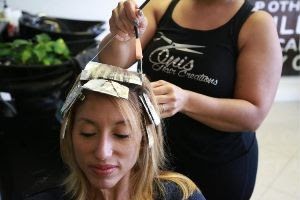 8421 South Orange Blossom Trail Suite 215, Orlando, 32809
This Dominican hair salon offers a wide range of services, from cuts and coloring services to extensions, blowouts, silk presses, and more. Clients praise Onis Hair Creations for its stylists' consistent good work, with one client who's been visiting the salon for over ten years write that she "never left … displeased or unhappy." Other clients praise the stylists' talent with natural hair, as well as their receptiveness to every customer's needs and their attention to detail.
3120 S. Kirkman Road, Suite 2B, Orlando, 32811
The Blonde Factory Salon provides advanced coloring to clients, focusing on organic treatments for all hair types, styles, colors, and designs. Customers appreciate Abud, the stylist, for his attentive work and friendly demeanor. He listens to clients and delivers what they're looking for. With clients who aren't quite sure what look they're after, he often helps come up with suggestions that are flattering and stylish.
5205 S Orange Ave, Orlando, FL, 32809
Maria Nicole has over 17 years of experience as a hairdresser, and her clients praise the comfortable, chic atmosphere she creates for everyone who comes into her salon. Known for its friendly environment and a community that "[keeps everyone] laughing," Maria Nicole LLC provides a range of services, from the standard cut and color to hair care treatments, extensions, silk presses, and braids. Maria is always taking continuing education classes to make sure she's up-to-date on the newest information, and that effort shines through in her professionalism, attentiveness, and skill.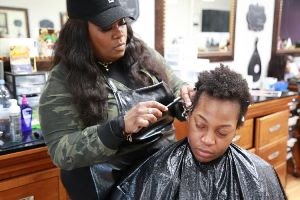 6634 Old Winter Garden Rd, Orlando, 32835
Located at the intersection of South Hiawassee and Old Winter Garden Road, Nay's hairstyling practice focuses on results-based hair care treatments. Nay writes that her "[her] stylish, self-expressive looks are available for various hair types," but that she's "an expert with African-American and natural styling. Loc maintenance, highlights, basic color, and extensions" are some of her more popular requests. Customers praise her dedication and knowledge, writing that Nay "always comes through with getting the style you want."
2121 S. Hiawassee Road, Ste 106, Orlando, 32835
Glam Girl Tami Hair is a salon run by local hair technician Tamitria, who's been based in Central Florida for years. Tami provides a range of services, including microlinks, glue in tracks, color bundles, highlights, root color, flat ironing, wand curling, sew-ins, quick weaves, and relaxers, to name a few. Clients praise her skill, promptness, and professionalism, as well as the fact that she takes her time with each customer's hair to make sure that it's perfect. One client wrote that, "Tammy is the total package when it comes to hair care and customer service. She doesn't just style my hair. She truly cares for it, and the proof is in the pudding. My hair is healthier than it has ever been!"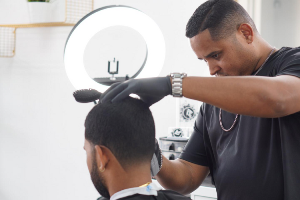 2132 Central Florida Pkwy, Suite C4, Orlando, FL 32837
Uncle J Lifestyle Barber is an Orlando-based barber shop with a perfect 5.0 rating, based on the reviews of over 160 customers. Because Jose treats each of his customers like family, loyal friends and customers call him "Uncle J." Reviews of Uncle J's shop praise his attention to detail, top-notch customer service, punctuality, and skill. Known in the community for his clean, detailed cuts, Jose is comfortable working with hair of all textures and styles.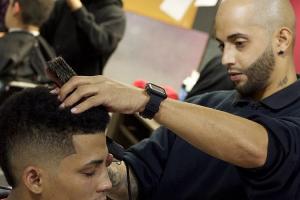 4418 Curryford Rd., Orlando, 32812
BlendImpressions provides high quality grooming services, including haircuts, tape ups, beard trims, and hot towel shaves. The barber studio was praised by clients for its great atmosphere and amazing service, with customers noting that the barbers were detailed and consistent. One customer who's been visiting BlendImpressions for two years wrote that, "You come out … feeling good and looking good."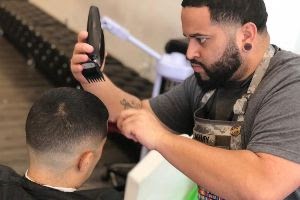 8121 Vineland Ave, Orlando, 32821
Gauged Barber, located on Vineland Avenue, is a barbershop that also offers waxing, hair relaxer, and eyebrow grooming services in addition to the typical cut and beard trimming services. Jesus, nicknamed Gauged, has a reputation for excellence, and his customers regularly comment on his personable demeanor, his attentive work, and his professionalism.
13212 E Colonial Dr., Orlando, 32826
Located off of East Colonial Drive, Olivo's Grooming is a full-service barbershop that provides haircuts and grooming services to kids and adults alike. Olivo has worked as both a barber and a salon stylist, so he has experience cutting hair of all lengths, styles, and textures. Olivo's clients praise his patience and clear communication, with one customer noting that it's obvious Olivo loves what he does, and another praising the "chill and welcoming atmosphere" of the shop.
9421 S Orange Blossom Trail, Orlando, 32837
Luisito is an Orlando-based barber who offers a variety of services, including a haircut-facial combination and a hot towel haircut. His barbershop has a friendly, relaxed atmosphere and even features a pool table where clients can enjoy a game or two after their cut. One client praised Luisito's instinctive style, writing, "He really understands what the customer's needs are. He is full of surprises when it comes to the execution of a hair style. I am super happy with his professionalism and performance." Other customers echoed their praise of Luisito's knowledge and skill, with some clients even mentioning that the haircut was better than they could have expected.
8106 S. Orange Blossom Trail, Orlando, 32809
Exquisite Kreations 82 is a nail salon located at the intersection of the 482 and the 441 freeways. In addition to the elaborate nail designs the technicians are famous for, Exquisite Kreations 82 is also a full-service salon that offers hair styling and waxing. Clients loved the detailed nail designs, including many jeweled and beaded looks that feature intricate drawings or patterns. One client wrote praised her skilled technician, writing, "She is so creative in her designs and pays so much attention to the details that you are going to be flaunting your nails and feeling yourself until your next fill-in."
4300 S Semoran Blvd, Suite 107 (Preguntar por Maria), Orlando, 32822
MR Nails by Maria offers a variety of professional nail services, including basic manicure and pedicure services, as well as acrylic and gel manicures, holiday-themed nails, and customized nail services for special occasions. Clients praise Maria's "amazing attention to detail," as well as her kindness and the reasonable prices she charges. One customer wrote, "I give her the color I have in mind and some ideas of what I want, and she always gives me more than what I expect."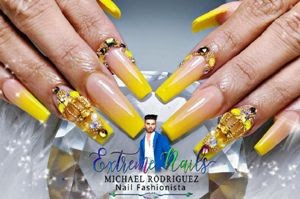 2180 Central Florida Pkwy Orlando Fl 32837, A6, Orlando, 32837
The aptly-named Extreme Nails by Michael Rodriguez is an Orlando-based nail salon that focuses on beautiful, over-the-top nail art by technician Michael Rodriguez. His creations feature jewels, crystals, glitter, and intricate designs, with clients praising his creations for their beauty and originality. Customers also enjoy the time they spend with Michael, who they describe as "funny and super sweet." His unique, eye-catching creations are perfect for customers looking to take their look up a notch.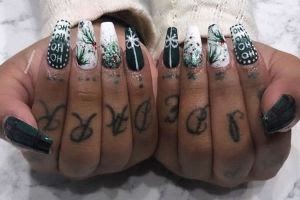 Istudio Salons, 6996 Piazza Grande Ave, 26, Orlando, 32835
Nailed It BooBoo! is a nail salon that also provides brow and lash services in a private studio. Customers praised Jenny, the technician, for her sweet, friendly personality and quality service. One customer wrote, "She is so sweet and humble. She is incredibly professional, and her workspace is clean, comfortable and peaceful. I'm so glad I found her." The studio offers add-ons like crystals and elaborate designs so you can leave with exactly the manicure you're after.
2151 Consulate Dr., Suite 7, Orlando, 32837
Divine Nailz by Maria is a nail studio that also provides lash extensions and permanent makeup services. Their nail options include acrylic sets, design or 3d nails, and rhinestones. They have options for youth manicures if you want to bring along a young sophisticate under the age of 13. Customers praise how precise Maria's work is, as well as her habit of double-checking her clients nails and making sure they're completely satisfied with her work.
5907 Turkey Lake Rd #112 Orlando FL 32819
Yessi Lash offers professional eyelash extensions, including faux mink and silk lash options. The studio also offers treatments for your natural lashes, including a keratin lash lift treatment and lash tinting, as well as teeth whitening services. One client described Yessi as "the most informative, knowledgeable and professional lash stylist in the central Florida."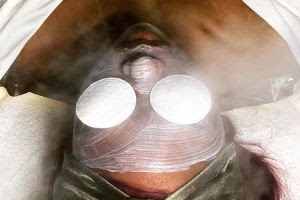 30 W Grant St, #103, Orlando, 32806
BodyBeautyBar is a medical spa that offers a variety of services, including cellulite treatments, laser body sculpting, and fillers. Customers praised the staff for their knowledge and experience, and many wrote about the amazing results of their treatments. One reviewer wrote, "Elizabeth is very informative and will focus on the areas you want to work on. She accommodated my schedule which was a great thing for me."
7350 Futures dr #11, #11, Orlando, 32819
STH Beauty & Spa is a medical spa in South Orlando that offers a range of services, including cellulite treatments, ear candling, laser liposuction, and laser hair removal. The spa received positive reviews from clients, including customers praising their laser hair removal for being quick and painless, and clients with health concerns remarking that their facial treatments had excellent results.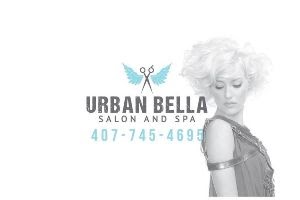 5054 S. Conway Road., Orlando, FL, 32812
Urban Bella Salon & Spa is a newer beauty destination in Conway, Florida. The salon-spa provides haircuts and coloring, as well as a variety of spa services including waxing, digital detox treatments, microdermabrasion, and facials. Customers praised Urban Bella's "great vibes" and comfortable atmosphere, with "awesome, caring, loving people." If you have a variety of beauty needs, it's the perfect spot to address them all in one welcoming location.
12250 Menta Street, 102, Orlando, 32837
Mink Studio and Spa offers a variety of services, including microblading, facials, and eyelash extensions, as well as teeth whitening and henna. Clients praise the quality of the services and the relaxing environment. The studio offers a plasma fibroblast treatment for clients seeking a non-invasive therapy to help skin look tighter and feel more rejuvenated.