Professionals across the country have been forced to find new ways to generate extra income, due the COVID-19 pandemic. And this is especially true for business owners in the beauty and wellness industry, who had to close the doors to their shops or salons.
But a few of our more creative Booksy professionals have found very unique ways to bring in additional revenue. These five industry experts have been able to think outside the box during a particularly stressful time, which is why they deserve your attention.
We've featured all of these professionals on the Booksy blog over the past few months. But in case you missed it, here's a quick recap. Learn some of the steps that successful business owners are taking to tap into at least one other source of income. 
Keep reading to hear more from these business experts. They've mastered the art of teaching online, providing virtual skincare, marketing coloring kits, developing a product line, and thinking outside of the box. Learn from their successes today and reap the benefits tomorrow. 
1. Offer Virtual Skincare Treatments
Stephanie Blakley is a master level colorist and hairstylist, who runs Salon1908 at Salon Lofts. From inside her private salon suite, she chiefly specializes in creating innovative hair styles, including manic panic coloring.
When the pandemic struck and her salon doors were closed, Stephanie took advantage of her experience as a skincare specialist. She decided to offer virtual skincare advice to her clients. Customers learned which natural oils and organic ingredients Stephanie uses in her own daily skincare routine. And she used Booksy to schedule those online sessions.
According to Stephanie, the first virtual skincare session sold out within 11 days. She was able to cover the costs of the online class by charging $10 a person. A total of 14 people participated in the session that took place on May 17th from 3 p.m. to 6 p.m. But she decided to up the cost of her next session to generate a profit without ever leaving home.
"As stylists, as service people, if the recommendation is to work from home—work from home. That's the best thing for you, until we can figure this thing out," Stephanie said. "To be able to make your business virtual as much as you can is what they were recommending. And I was able to use my Booksy subscription to do just that."
2. Sell Coloring Kits to Loyal Customers
People throughout Central Florida know Angel Cardona for his technical precision with a pair of sheers. His work is oftentimes described as "pixie perfect." But when COVID-19 struck, this seasoned stylist switched gears and focused on earning income by selling coloring kits. 
Angel sent calls and texts to roughly a 100 different loyal customers, who regularly book appointments at Angel Cardona Styling & Events. Keeping in touch with them gave Angel the idea to create at-home touch up kits that people could use to maintain their hair from home.
The at-home coloring kits were carefully crafted to meet the needs of each individual consumer. Angel sold color extender kits for $45 and complete coloring kits for $50. His other coloring kits were priced between $65 – $75.
To add a personal touch, Angle drove each coloring kit to each client. He drove to their homes and left them at their door, so long as each person lived within a 30-minute drive from his home. In total, he sold about 20 kits, which produced about $1,000 to $1,500 in total gross revenue.
The reality of not bringing as much income forced Angel to get creative and find another way to make money. "After two weeks you wonder, where is the income going to come from? So then, you get a little uneasy. But as long as you stay busy, you can stay positive about it," Angel said.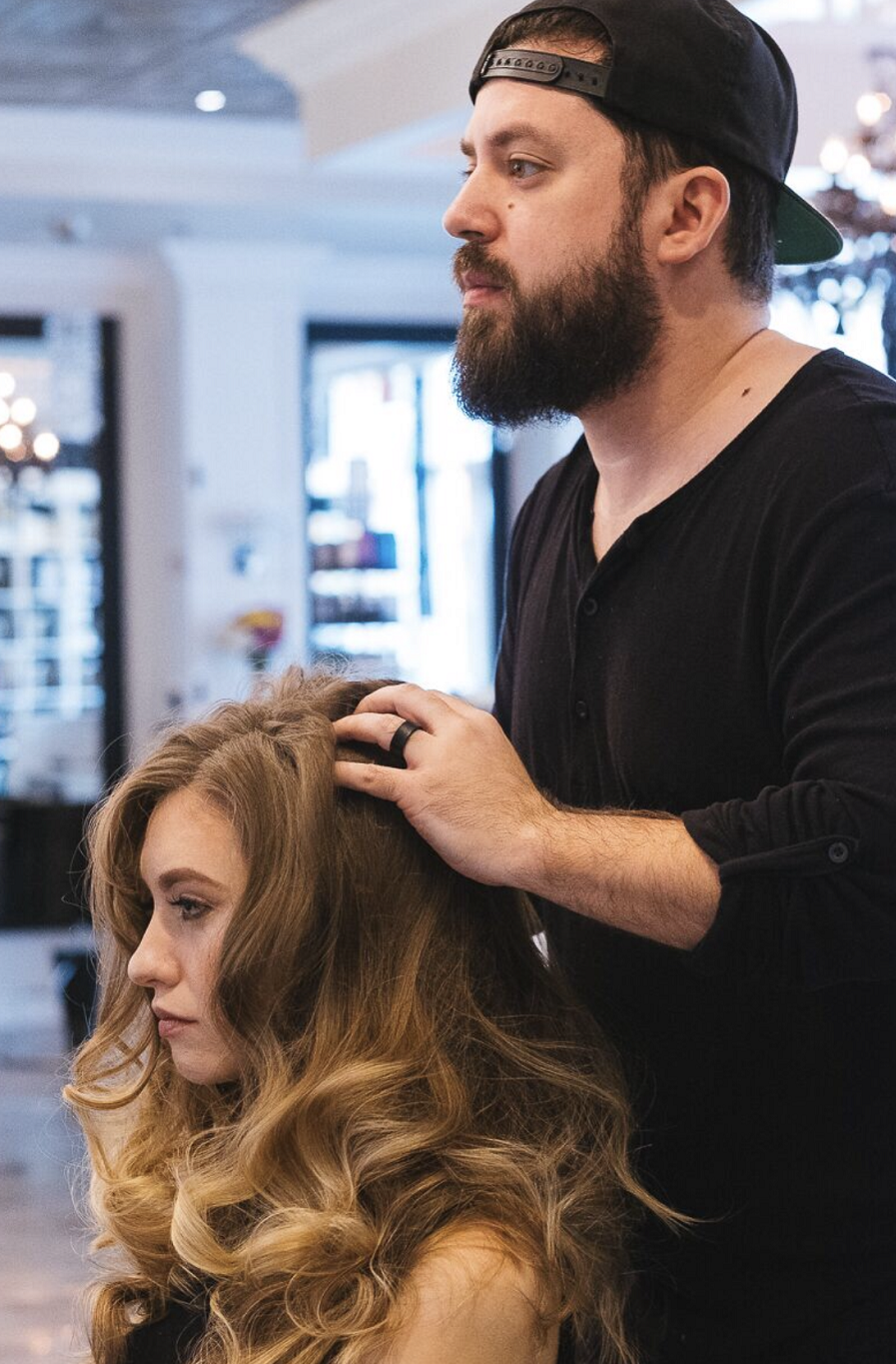 3. Teach Beauty and Wellness Students Online
During the pandemic, Alexandra Nanette started teaching courses online. And she made hundreds in profits. This 25-year-old nail tech, who's been featured in Nail Pro Magazine, took advantage of experience as a nail artist and as the business owner of Nails By Nanette. 
In her course titled "The Tools I've Used to Keep My Business Successful," Alexandra  spent 75 minutes teaching the ins-and-outs of the industry. Specifically, she taught online learners how to attract more clients and how to earn more revenue through social media marketing.
According to Alexandra, she made approximately $375 in profits. And she started preparing to teach the course two weeks in advance. To prepare, she had to create a landing page using an online tool that didn't require any coding. Additionally, she created a PowerPoint presentation.
Alexandra broadcasted her course via Zoom on Monday June 8th at 8 p.m EST. Since it was her first course, she only charged a $5 registration fee. But to help create a buzz and attract online learners, she advertised everything using Instagram posts, IG stories, and IGTV videos.
"We were in quarantine, and I wanted to show everyone how they could make money off of social media. And I wanted to share what I've done to gain multiple streams of income using Instagram, which helped people find me, since it's easy to get noticed there," said Alexandrda.
4. Develop and Market a Product Line 
One of our biggest and brightest stars on Booksy is without a doubt Kim Kimble. She's worked with Beyoncé, Kim Kardashian, Brandy, Nicki Minaj, Mary J. Blige, Halle Berry, and Shakira. Additionally, she runs an exclusive salon in Los Angeles called the Kim Kimble Hair Studio. 
But on September 11th, she achieved yet another accomplishment in her illustrious career. Kim launched a hair product line that's only available through Sally Beauty. And she created this new line of hair products to help women of color master at-home hair care during the shutdown.
Although her name and credentials helped to market her line of beauty products, Kim said that all a dedicated industry professional needs to start their own product line is between $20,000 – $100,000. She also added that anyone starting up their first product line should start off small. 
There isn't a special, magic number you need to spend to earn a profit. Instead, it's more about the steps you take, Kim said. First off, it's important to develop one or two solid products. Then look into manufacturing, advertising, and pricing. 
"There's a formula you need to use to be successful at selling products. And it has a lot to do with marketing. Unfortunately success doesn't always have to do with the product itself. It has a lot to do with how it's marketed," she said.
5. Get Creative and Start a Side Business 
At age 12, Jabre Dutton may not seem like someone to take advice from in regards to running a business. But that's hardly the case. This Booksy profesional started a cleaning business with the help of his mother, Sabrina Dutton. And they're taking Philadelphia, Pennsylvania by storm.
The two have been featured in news articles published by Fox, ABC, Yahoo Sports, and NBC. And each news segment tells a similar story of how this bright young man rolled up his sleeves to earn hundreds in profits and donations from his business venture.
Jabre began this whole journey to earn enough money for a new iPhone. But the experience has taught him a valuable lesson about entrepreneurship. And he hopes that others will learn from this experience and use it as motivation to accomplish their dreams. 
"So, this will be a pretty big deal. And I want people to get out of it that no matter how old you are, what race you are, you can own your own business and not have to worry about anybody depending on you. Now, Jabre's not solely depending on me. He's able to have his own money and spend his money on whatever he needs," Sabrina said.