Summer Styles my hair
74th Crenshaw Blvd, Los Angeles, CA, 90043
Summer Styles my hair
74th Crenshaw Blvd, Los Angeles, CA, 90043
---
Popular Services

The works!!!!!

Shampoo and conditioner with steam treatment, and ...

more

Weave full head min leave out (straight)

Ponytail straight back invisible style

---

Other Services

🛑Deposits required on all services

Last min services add on fee + service

If you add a service at the last minute additional...

more

---

Natural hair care

The works!!!!!

Shampoo and conditioner with steam treatment, and ...

more

Natural hair press-curl or flat iron

Senior press and curl 65 and over

Kids press curl under 11 yrs

Flat iron or press only (No shampoo)

Re curl within 24 hours on natural hair

Shampoo Deep condition only "natural hair "

Shampoo then deep condition under dryer

more

Quick shampoo / Conditioner only

---

Weave's and things

Weave Wednesday deal 👉🏽 new clients 🤷🏽‍♀️

BOOK this ON WEDNESDAY ONLY !!!!!! This is a Wedne...

more

Wash / blow dry and braid down only

Full head w/ closure no hair out.

Your hair braided up nothing left out ..a closure ...

more

Full head weave maintenance

With this service you will be shampooed condition ...

more

Shampoo weave and re style maintenance

I will Not confirm ❌ this service after 5pm Book...

more

Weave full head min leave out (straight)

Weave take down more than 3 months old

If your weave had been up 3 months or more book th...

more

Full head bob weave min leave out

Krimps or wand curls only

Curls or Crimps add on service

If your weave hair is 24 or more fee is $40

more

Full head quick weave /w braid down min hair out

This is a full head Quick weave braided base then...

more

Full head bond weave ( glue )

Change out old hair for New hair and flatiron only

Weave take down w/ service

Take down wash weave hair

Weave take down only and wash your hair

Booked this ONLY for take down weave and wash your...

more

Wash weave hair only

Book this service to have your bundles only washed...

more

Already washed weave style only

Bond track removal .. safe method

Last min wash weave hair

If you come to me with dirty weave /extension this...

more

3rd+ bundles extra $25.

This options means the 3 or more bundles will be ...

more

Add glue tracks by the track

Add braided tracks by the track each

---

WiG service

🛑Deposit required on all services

Closure wig making // NOT frontal 🚫

Book this service only to have a wig made. You wil...

more

Closure WIG install w/ styling

Bring your wig I will wash and style it ahead of t...

more

Wig styling only

Drop off your wig to be washed and styled I will s...

more

Braid down and attach wig

Does not include shampoo you will come in be braid...

more

---

Braids services

🛑 Deposits are required on all services

Braid down only w/ natural hair add $10 long hair

---

Ponytails

Ponytail with design

Book this service only if you're adding braids or ...

more

Need to add hair for swoop

Ponytail straight back invisible style

Invisible Ponytail w/swoop

Long Braid ponytail straight back

With this service your hair is pressed And pulled ...

more

Ponytail w/ bun you supply bun or hair

Half up bun half down weave

No Heat ponytail done w/ Gel still natural looking

With this service your hair will be shampooed and ...

more

Half up half down ponytale /weave

Half up take down

Book this service if you want to have your half up...

more

Wash re-do ponytail up/half down

Take down for ponytail add fee

---

Color service

🛑Deposits required on all services

Cellophane full head natural hair

This service is for color all over root to ends

more

Full head color on Natural hair add $20 for longer

Re- touch Color 1/2 inch to an inch only

Full head color wash condition & Go

Color weave Hair by bundle

This is permanent color service Book this service ...

more

High lights depend on length

This service is for natural hair

more

---

Extra things

Add steam treatment to service

Hot oil

This is a add on service

more

Deep condition

This is a add on service

more

Pin curls it's a service

$10 natural hair. weave extensions it's $20

more

Highlights on weave hair $ per bundle

Depends on how long weave hair is and how many bun...

more

Buy hair I make clip your in's

You bring me your hair and I will custom make clip...

more

Clip -ins added to service

Book this service as an add on to your service.

more

Clip - ins You bring No style

Book this service if you already have your hair do...

more

---

Hair cut

Trim

Just taking off dead ends

more

Trim Much needed all over

---

Chemical services

Virgin relaxer with style

Mini relaxer.. Edges only around

---
Reviews
Reviews are no joke! Booksy values authentic reviews and only verifies them if we know the reviewer has visited this business.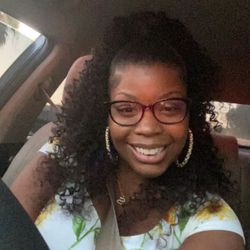 Love my Hair! She really is the best!!!!!...
Summer Styles my hair
I love your vibe thank you !
Summer was the best she has great communication....
Summer will be my new hairstyle from this point on she was friendly n funny n she gives great advice on what to do to my hair and the shop was overall neat n clean I'll be back soon...
The way she washed my hair 😭😭, she knows what she is doing! Is isn't just styling your hair to look good that day, Summer knows what she is doing! Def going to do a hair are blog with her so I can show off my hair transformation. I was already thin...
Summer is so professional! I love the shop, all of the hairstylists are professional, classy, and elegant. It's a great thing to find a shop where the ambiance is great! Summer cares about growing your hair not just in it to get your money. I can't w...
It was great, atmosphere was welcoming and everyone was very friendly. Summer was professional and I'll definitely will be coming back....
Best experience I've ever had with a hair dresser. It's a very calm and peaceful environment . Everyone is so friendly i loved it and I look forward to going back ❤️...
She a excellent hairstylist she knew what hairstyle I wanted no question ask....
I love my hair she is very nice and love her personality found my new hairstylist ❤️...
great service , very professional &' friendly.. think i've found my new stylist 🥰 absolutely love my hair...
No complaints at all Summer does a great job!! Ill be back forsure!!!!...
She was so welcoming and informed me about different products for my hair type looking forward to our next appointment 😊...
Put it like this: My daughter and I went for our hair appointments and before we could make it to our car we were complimented on how "pretty" our hair was! Everybody can't press natural hair but Summer can!!! She's efficient with time, knowledgeable...
Summer really did a great job. She's very fast and professional!...
Bomb and fast ! Only person to book with period !...
She was very friendly and polite and professional and made sure I was comfortable getting my service I recommend if you want professional and to be satisfied I recommend ladies to go to summer she very good at what she do I really loved her service t...