---
Consultation

Traveling service

---

Holistic Wash Options

Hemp Tea Tree

FREE ONLY WITH RETWIST SERVICES

Traveling service

Hemp Almond

FREE ONLY WITH RETWIST SERVICES

Traveling service

Hemp Rose

FREE ONLY WITH RETWIST SERVICES

Traveling service

Hemp Lavender

FREE ONLY WITH RETWIST SERVICES

Traveling service

Hemp Peppermint

FREE ONLY WITH RETWIST SERVICES

Traveling service

---

LocdByQueenMutha Basic Services

Holistic Wash Retwist & Basic Style

Traveling service

Inter Loc Tighten Up

Traveling service

ACV Cleanse, (DETOX)Wash, Retwist & Basic Style

Traveling service

Charge by length Pass Shoulders WILL BE CHARGED

20.00 extra past shoulders 40.00 mid Back 60.00 waist line above buttocks 80.00 PLUS beyond butttocks

Traveling service

Starter locs (coil or 2 strand twist)

Traveling service

---

Children's Holistic Loc Services

Children's Starter Locs

Traveling service

Children's Wash & Retwist ONLY (No Style)

Depending on the child's length of hair & age price May increase

Traveling service

Children's Holistic Wash & Retwist w/Style

Depending on child's length of hair & age increase in price.

Traveling service

---

CoLor Service

Color (whole head)

This service is for color to the root (scalp) or above the Root

Traveling service

Color (Bleach ends & add color)

This service is for (halfway) middle color start Price may vary depending on length of locs

Traveling service

Color tips

This service is for TIPS ONLY NO MORE THAN 3 inches from Tip of Loc

Traveling service

---

Loc Reattachment

Reattachment of locs (singles)

Traveling service

Combining Loc Crochet

Traveling service

Loc ReAttachment (shaved sides) Top of Head

Traveling service

Instant Locs (shaved sides n back)

Traveling service

Loc Extentions

Traveling service

---
Reviews
Reviews are no joke! Booksy values authentic reviews and only verifies them if we know the reviewer has visited this business.
I absolutely enjoyed the experience & I love my hair!! Thank you....
She's the best, literally!...
Always gives the best service I love my style Birthday Behavior!!!...
My experience with Queen was great she made me feel at home and was able to restore and redirect my locs I definitely recommend !...
Great service from start to finish makes you feel right at home & knows what she's doing... will only be going to her from now on🥳...
Locd By QueenMutha
💫💫 gratitude 🙏🏾 it was my pleasure
She was amazing 🤩 the service was excellent 💯 but it was the vibe for me💁🏾‍♀️✍🏾...
Locd By QueenMutha
💫💫💫 always Goddess
She was very welcoming , engaging and professional Did a very good job with my hair I think I'll continue to patronize her but maybe not as frequently as I would want because of the cost I think it's too expensive to afford on a monthly basis...
Locd By QueenMutha
Gratitude 🙏🏾.. it was a pleasure servicing you... see you 6-8 weeks or a special occasion 💫💫💫
I love love love her she cares about her clients & never stir me wrong. When she looks at you she don't see a dollar sign💯 She make it her duty to make sure u are satisfied before leaving her chair. She started my dreads back in September 2020 & she...
Locd By QueenMutha
💜💜💫💫💫.
Excellent experience. Will be back...
Locd By QueenMutha
💫💫 it the vibe fa me D, appreciate you brotha
Where do I begin! First let me say if I was a cat, I would have been purring the entire time! Especially when you scrubbed my scalp with the shampoo... best tingly feeling I've had in a long long time! I enjoyed this whole experience including the sm...
Locd By QueenMutha
🤣🤣🤣💫💫💫💫💜💜💜 your amazing don't forget that
She delivers and very professional with giving you a Holistic treatment!!!...
Locd By QueenMutha
💫 it's all about the experience for me
A...
Locd By QueenMutha
😢 what happened to your previous review
Me and sun sun absolutely love her. She's amazing with her hands and true Goddess.♥️✨💫 We been clients for about 7 months now. Never been disappointed! She is Magik!🙌🏾...
Locd By QueenMutha
💫💫💜💜 always love and my pleasure 💫💫💫
Always professional, love the energy she gives, when I leave I'm always satisfied!...
Locd By QueenMutha
Many blessings Goddess, Gratitude 💫💫
I love her she does my son and nephew hair and slays every time. She's neat, takes her time, and very professional. I couldn't ask for a better stylist...
Locd By QueenMutha
💫💫 thanks so much!!
So glad I came to her to get my locs done. Highly recommended!❤️🥰💯...
Locd By QueenMutha
❤️❤️ it was a pleasure to meet you! My heart is filled with joy due to the smile on your face. Thank you again for choosing LocdByQueenMutha
She is amazing. Really cares about her client's...
Locd By QueenMutha
Much gratitude and my pleasure. Hope to see you again
My wash was amazing I love the service very professional ❤️...
Locd By QueenMutha
Eye thank you so much the pleasure is always mines..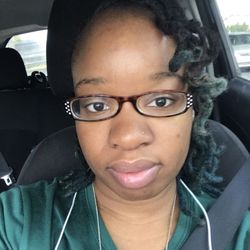 She has them ✨magical✨ hands 🙌🏾 Come get your Locs right with 👸🏾mutha💃🏾 I just new she was one aaaaay 🤸🏾‍♀️...
Locd By QueenMutha
Appreciate you love