I am The Glo Up
2471 South A.W. Grimes Blvd. Bldg. 300, Suite 330, Round Rock, 78664
I am The Glo Up
2471 South A.W. Grimes Blvd. Bldg. 300, Suite 330, Round Rock, 78664
---
Popular Services

LOC CONSULTANT

Short meeting to physically show your hair issues, have all your questions and concerns clarified, and go over...

show more

LOC Retwist W/ Style (Short Length)

Includes shampoo, oil treatment, and style. The price goes up to $20 an hour after duration time.

LOC Retwist W/ Style (Mid Length)

Includes shampoo, oil treatment, and style. The price goes up to $20 an hour after duration time.

---

Other Services

Custom Consultant

Consultation does not go towards the services

Color Consultation

Consultation does not go towards the services

Highlights Full ( Varies On Length Of Hair)

Includes shampoo,conditioning, style, and olaplex treatment.

Highlights Partial ( Varies On Length Of Hair)

Includes shampoo,conditioning, style, and olaplex treatment.

All Over Color

Includes shampoo,conditioning, style, and olaplex treatment.

Touch-Up Color

Includes shampoo,conditioning, and style

Virgin Relaxer

Includes shampoo,conditioning, and style

Relaxer Retouch

Includes shampoo,conditioning, and style

LOC CONSULTANT

Short meeting to physically show your hair issues, have all your questions and concerns clarified, and go over...

show more

Starter Loc's (Coils/Two Strand Twist)

Includes shampoo, deep conditioning, oil treatment, and hair trim. The price goes up to $20.00 an hour after 5...

show more

LOC STYLE (ONLY)

Does not include shampoo, retwist or oil treatment. Must select retwist/ maintenance separately. Do not includ...

show more

Loc Style W/ Wash

Includes shampoo and oil treatment. Do not include retwist, curls, updos, and two strand twist

Interlocking Loc's Maintenance

This method of maintenance is used to tightening your roots. It involves pulling the end of the loc through th...

show more

Interlocking Maintenance W/Style

This method of maintenance is used to tightening your roots. It involves pulling the end of the loc through th...

show more

Micro Loc's Interlocking

This method of maintenance is used to tightening your roots. It involves pulling the end of the loc through th...

show more

Micro Loc Retwist (ONLY)

Service includes two shampoos, stimulating scalp treatment, and clipless retwist

Micro Loc Retwist and Style

Service includes two shampoos, stimulating scalp treatment, retwist and style of choice.

Loc Extension (Book A Consultant Appt 1ST)

Starting Price $1,200. I do not provide hair

Loc Retwist W/O Wash (Short Length)

Does not includes style, shampoo, and oil treatment. Please wash your hair the day of the schedule appointment...

show more

Loc Retwist W/O Wash (Medium Length)

Does not includes style, shampoo, and oil treatment. Please wash your hair the day of the schedule appointment...

show more

Loc Retwist W/O Wash ( Long Length)

Does not includes style, shampoo, and oil treatment. Please wash your hair the day of the schedule appointment...

show more

Loc's Retwist (Short Length Hair)

Includes shampoo, oil treatment. The price goes up to $20.00 an hour after duration time.

Loc's Retwist (Mid Length Hair)

Includes shampoo, oil treatment. The price goes up to $20.00 an hour after duration time.

Loc's Retwist (Long Hair Length)

Includes shampoo, oil treatment. The price goes up to $20.00 an hour after duration time.

LOC Retwist W/ Style (Short Length)

Includes shampoo, oil treatment, and style. The price goes up to $20 an hour after duration time.

LOC Retwist W/ Style (Mid Length)

Includes shampoo, oil treatment, and style. The price goes up to $20 an hour after duration time.

LOC Retwist W/Style (Long)

Includes shampoo, oil treatment, and style. The price goes up to $20 an hour after duration time

Loc Retwist Without Wash & (1HR REPAIR)

Includes Full Retwist, 1 Hour of Loc Repair, Does not include style. Price will change depending on damage of ...

show more

Full Head Comb Retwist & 1 Hour LOC Repair

Includes shampoo, Full head comb retwist and 1 hour of Loc Repair

Full Head Retwist,1 Hour Loc Repair and Style

Includes shampoo, Full Retwist , 1 hour of Loc Repair, and Two Strand Twist Loc Style

LOC Color Touch Up

Includes shampoo,conditioning, oil treatment. Style is not included. If hair needs to been lightening then the...

show more

LOC Vibrant Colors

This service is for BRIGHT COLORS (Pink, Blonde, Red, Yellow, etc) that needs to be lightening. Includes shamp...

show more

Loc Tip Color

**CONSULTATION IS REQUIRED BEFORE STARTING THE SERVICE **. DO NOT INCLUDE STYLE OR RETWIST **Do not includes...

show more

LOC All Over Color W/O Bleach

**CONSULTATION IS REQUIRED BEFORE STARTING THE SERVICE ** DO NOT INCLUDE STYLE OR RETWIST

Loc Tips Bleach

**CONSULTATION IS REQUIRED BEFORE STARTING THE SERVICE ** DO NOT INCLUDE STYLE OR RETWIST

Loc 2 Color Options

**CONSULTATION IS REQUIRED BEFORE STARTING THE SERVICE ** DO NOT INCLUDE STYLE OR RETWIST **Do not includes l...

show more

**VIP SERVICE**

**SUNDAY OR MONDAY ONLY**

Silk Press (Shoulder Length)

Includes shampoo, conditioning, and style

Silk Press (Medium/Long Length)

Includes shampoo, conditioning, and style

Scalp Detox Treatment

This solution consists of Apple cider vinegar, baking soda, and lime juice. Does not include style

---
Reviews
Reviews are no joke! Booksy values authentic reviews and only verifies them if we know the reviewer has visited this business.
Glo is very informative and thorough. She made me feel comfortable and gave me specific details about my service and hair expectations. I'm so excited to have her as my stylist!...
I'm sorry for the wait but I totally feel like I got a new friend now 😆 the vibe was absolutely on 3,000. Very clean environment Glo was super knowledgeable about proper care of my hair. I haven't been in a salon since moving to Texas 3 years ago an...
I absolutely loved my time with Mrs. Gloria. She was extremely nice and welcoming, and I would highly recommend her to anyone who wants to start their locs....
I have never experienced what I experienced today! I booked my appointment and added that I needed color in the messages because the app didn't allow me to. I also texted that I added color. I get there and she flat out tells me she won't have enough...
Most g.o.a.t. hair of all time thanks to Ms. Glo Up...
Truly amazing stylist and the atmosphere was very chill which I loved. My locs needed her hands and expertise. Great attention to detail and my hair not only felt but looked amazing as well! I will definitely be returning in the near future!...
I've had my hair loc'd for over a year and this by far was the best experience I've had....
Very knowledgeable about the loc process and her customer service is A1!!!!...
My experience at the Glow Up was nothing less that first class. Gloria is amazing at what she does. She gives you nothing less than professionalism at it best. She handled my hair as if it were her own hair she was doing. Gloria made me feel absolute...
Fantastic! Great atmosphere and she's was super gentle with my locs. I love coming here!...
Always does great work!...
Hair Is Alive again, no product buildup & looks hella healthy 🤯...
Absolutely best experience!!! So efficient, professional and personable and my locs and style are 🔥🔥🔥...
Very knowledgeable and great services!...
A1 as usual. Will be back for my retwist. My permanent Loctician....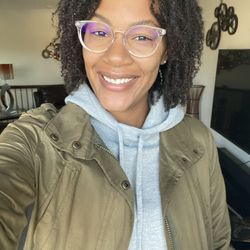 Literally worked magic on my head. Thank you for all that you do!...