Braids By Nic
56 & Shadeland, Indianapolis, 46219
Braids By Nic
56 & Shadeland, Indianapolis, 46219
---
Popular Services

Knotless Braids (Med/Large)

HAIR PACKAGES ARE LISTED IN PORTFOLIO!! THIS STYLE...

more

Knotless Braids (Small)

HAIR PACKAGES ARE LISTED IN PORTFOLIO!! THIS STYLE...

more

Tribal Braids 2/3 Layers

HAIR PACKAGES ARE LISTED IN PORTFOLIO!! THIS STYLE...

more

---

Other Services

Knotless Braids (Small)

HAIR PACKAGES ARE LISTED IN PORTFOLIO!! THIS STYLE...

more

Knotless Braids (Med/Large)

HAIR PACKAGES ARE LISTED IN PORTFOLIO!! THIS STYLE...

more

Extra Small Knotless Braids

HAIR PACKAGES ARE LISTED IN PORTFOLIO!! THIS STYLE...

more

Box Braids (Small)

HAIR PACKAGES ARE LISTED IN PORTFOLIO!! THIS STYLE...

more

Box Braids (Medium/Large)

HAIR PACKAGES ARE LISTED IN PORTFOLIO!! THIS STYLE...

more

Box Braids Bob

HAIR PACKAGES ARE LISTED IN PORTFOLIO!! THIS STYLE...

more

Box Braids (Top of head)

HAIR PACKAGES ARE LISTED IN PORTFOLIO!! THIS STYLE...

more

Tribal Braids 2/3 Layers

HAIR PACKAGES ARE LISTED IN PORTFOLIO!! THIS STYLE...

more

Tribal Braids Layers in Top w/Singles in back

HAIR PACKAGES ARE LISTED IN PORTFOLIO!! THIS STYLE...

more

Feeders (2)

HAIR PACKAGES ARE LISTED IN PORTFOLIO!! THIS STYLE...

more

Feeders (4)

HAIR PACKAGES ARE LISTED IN PORTFOLIO!! THIS STYLE...

more

Feeders (6)

HAIR PACKAGES ARE LISTED IN PORTFOLIO!! THIS STYLE...

more

Feeders (8 or more)

HAIR PACKAGES ARE LISTED IN PORTFOLIO!! THIS STYLE...

more

Lemonade Braids (braids to the side)

HAIR PACKAGES ARE LISTED IN PORTFOLIO!! THIS STYLE...

more

Edges Touchup (Box Braids)

HAIR PACKAGES ARE LISTED IN PORTFOLIO!! THIS STYLE...

more

Edges TouchUp (Knotless Braids)

HAIR PACKAGES ARE LISTED IN PORTFOLIO!! THIS STYLE...

more

Touch Up (Tribal Feeders Top Layer)

HAIR PACKAGES ARE LISTED IN PORTFOLIO!! THIS STYLE...

more

Braid Class One on One

Class Includes: •feed in techniques •parting tech...

more

---
Venue Health and Safety Rules
Reviews
Reviews are no joke! Booksy values authentic reviews and only verifies them if we know the reviewer has visited this business.
I showed Dominic exactly what I wanted and she DELIVERED.. She is quick and precise!...
Thank you, Nic! You do great work and accommodated my busy schedule. You worked fast & kept it professional. I appreciate your attention to detail and being committed to taking care of healthy hair....
Nic was professional by far the best braider I have been too . She was quick but yet proficient. She sanitized everything she used after she was done. The environment was clean and she had the best attitude. HIGLY RECOMMEND NIC . She's awesome...
So where to even start. Dominic is one of the best braiders in Indy; her professionalism is a statement all by itself. Although she is home-base currently the environment is relaxed, clean, and accommodating. She did my hairstyle (small knotless) und...
Service is always great and fast! Love my hair every time...
I absolutely love love love 💕 my braids, they are neat, the length is just wear I wanted them, and I'm already getting compliments which is expected. With Dominic growing hands my hair has taken off. If your looking for a braided that can grow your ...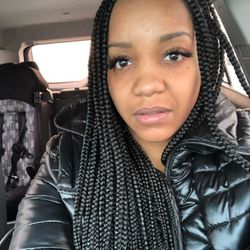 Very nice, professional and my braids were xtra neat. Takes the time to perfect my style, definitely will be back...
Hair looks really good, daughter loves it....
So nice and professional! Definitely will be booking again!...
Nic never disappoints me I always love my knotless braids 🥰 and so does everybody else...
She's very fast , I always love my braids. Always so nice and neat . Never disappoints me 😁😁...
If you have more than 4 inches of hair and you're hesitant, BOOK YOUR APPOINTMENT NOW!!!! Thank me later. She's neat. She's fast. She's lovable. She's professional....
I love my Braids, she is so nice and professional. She made it very comfortable. The braids are so neat and done just the way I like them. I would definitely be back and recommend for everybody to go to her if you like knotless braids....
She is so sweet and positive. Love her energy and professionalism!! Hair is gorgeous 😊...
It waS really good, nice customer service, and a clean place...
She was very professional, polite and fast would recommend to anyone 🥰...
She's was polite, professional and very informative. I would recommend her to ANYONE❣️❣️❣️...
My braids was Super crispy. I loved the environment and It wasnt awkward or anything. The braiding was super fast and also neat....
I love my large knotless braids!! Very neat, fast service and Nic slayed my edges! I'll always return thank you so much!...
I love love my braids ! They're neat and very light on my head which is a plus!!!! She was very sweet and I would definitely recommend booking her !!! Thank you !...