ARIF THE TONSOR
15031 Warren Ave, Rear Alley Entrance "White Door Only" Suite 1A, Dearborn, 48126
ARIF THE TONSOR
15031 Warren Ave, Rear Alley Entrance "White Door Only" Suite 1A, Dearborn, 48126
---
Popular Services

KID•TEEN TAPER/FADE HAIRCUT

•All Even •Taper •Mohawks •Afro Sculpting •All Fades •Hightops etc. 🚨Designs not included

ADULT TAPER/EVEN HAIRCUT + SUNNAH(ENTIRE FACE)

18yrs • Older(59yrs) •Regular Taper •All "Even Steven" (same length all around) •Includes Full Haircut w/ co...

show more

ADULT LINE-UP(Touch-up)

Trimming lightly your edges and lining them up but if I feel that your request does not fit this service you w...

show more

---

ADULT SERVICES :

ADULT FADE HAIRCUT + SUNNAH(ENTIRE FACE)

18yrs • Older(59yrs) •Mohawks •Afro sculpting •All fades •Hightops etc. •Razorline included •Full Haircut...

show more

ADULT FADE HAIRCUT

18yrs • Older(59yrs) •Mohawks •Afro Sculpting •All Fades •Hightops etc. •Razor line included upon client...

show more

ADULT TAPER/EVEN HAIRCUT + SUNNAH(ENTIRE FACE)

18yrs • Older(59yrs) •Regular Taper •All "Even Steven" (same length all around) •Includes Full Haircut w/ co...

show more

ADULT TAPER/ALL EVEN HAIRCUT

18yrs•Older(59yrs) •Regular Taper •All "Even Steven"(same length all around) •Wave length

CLERGY: CHAYKHOU/IMAMOU/PASTOR/BISHOP:

All styles included 🚨Except 3day-week hairline semi-permanent enhancement.

ADULT LINE-UP(Touch-up)

Trimming lightly your edges and lining them up but if I feel that your request does not fit this service you w...

show more

COUNTY/CITY/OFFICER/FIREMAN/POSTMAN:

All styles included 🚨Except 3day-week hairline semi-permanent enhancement.

QUEEN HAIRCUT

•All Even •Mohawks •Undercuts •Afro Sculpting •All Fades •Hightops etc. •Razorline included. 🚨Designs ...

show more

---

YOUTH SERVICES

KID/TEEN LINE-UP(TOUCH-UP)

KID•TEEN TAPER/FADE HAIRCUT

•All Even •Taper •Mohawks •Afro Sculpting •All Fades •Hightops etc. 🚨Designs not included

TEEN TAPER/FADE HAIRCUT + SUNNAH(ENTIRE FACE)

•All Even •Taper •Mohawks •Afro Sculpting •All Fades •Hightops etc. 🚨Designs not included

---

SUNNAH(Beard):

SUNNAH(ENTIRE FACE) TINT ENHANCEMENT

• 1 Week Liquid Semi-Tint $10 Understand that this service will guarantee you high def appearance in 5 differe...

show more

---

Air/Vehicle Travel Services:

HOUSECALL

House/Office Call service does not includes Air/Road Travel & Service Cost. Each additional person = $100 I...

show more

---
Venue Health and Safety Rules
Reviews
Reviews are no joke! Booksy values authentic reviews and only verifies them if we know the reviewer has visited this business.
I would definitely recommend!...
Arif put tender, love, and care when cutting your hair. He even gives you laugh! When you get out of his chair you feel like a million bucks! Best barber in the metro Detroit area. He won't disappoint....
Very professional! An incredible barber! I refuse to let anyone else cut me after meeting Arif! Period!...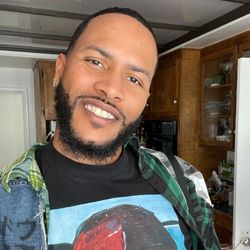 Great job...
Best haircut I've had in over 10 years. Professional, Thorough & detailed....
The was very quick, patient and efficient. This was my sons first professional cut and Arif made him feel very comfortable....
My experience was indeed great. And, the services my son received was above and beyond. Will book appointment again soon!!!...
First time there and it was great, good vibes, smells nice...
I waited almost an hour before I was able to get in the chair even though I had an appointment. The barber rushed in cutting my hair and pushed my hairline back. I wouldn't recommend this barber....
ARIF THE TONSOR
Peace be unto you, you sucka boy stroka! It was 15-20 min wait for you, after you announced to me "how much longer do will I take" I told you 2min and put you in the chair, then I cut did a whole well groomed bald fade and beard trim service on you in 10 min tops. For everyone reading this he had severe burned scar tissue where his previous barbers if they were even licensed destroyed his hair line aka he had no mature follicles they where not reseeding but damage by scar tissue and you mad at me that why I blocked you right after the reservation and then when I was taking my money you tried to pull back on the money when it touch my hands I should've slap the fuck out of ya simp-weak looking self of a Male praise be to Allah all money ain't good money.
Always get My Son right!.....Always a positive environment!!!...
Great experience + a great cut what more could someone ask for!...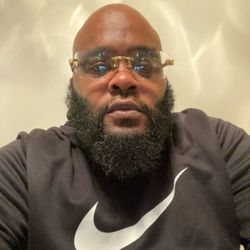 Great skill, provided a very clean look....
Best cut! All hair types! Super clean lines & fade 🙌🏾 He always takes care of my sons... and mentors them while in the chair! Much appreciated brother ❤...
Great vibes good people good cuts...
Worth the money! Leave a tip!...