Styles BY Josalyn LLC
W 159th St, 2935, Luv Style Beauty Lounge, Markham, 60428
Styles BY Josalyn LLC
W 159th St, 2935, Luv Style Beauty Lounge, Markham, 60428
---
Popular Services

Quick Weave with Leaveout

Silk Press

Natural Hair hair Shampooed and Silken via heated tools. No chemicals used!!

Senior Shampoo and Style

Applies to clients 50 yrs or older Shampoo and basic style only.

---

Traditional Sew In w/Hair Included

Traditional Sew In w/12"12"

Sew in with leaveout including my premium Brazilian Bundles

Traditional Sew in w /12"14"16

Sew in with leaveout including my premium Brazilian Bundles

Traditional Sew in w /14"16"18

Sew in with leaveout including 3 of my premium Brazilian Bundles

Traditional Sew in w/16"18"20

Sew in with leaveout including 3 of my premium Brazilian Bundles

Traditional Sew in w/18"20"22

Sew in with leaveout including 3 of my premium Brazilian Bundles

Traditional Sew in w/20"22"24

Sew in with leaveout including 3 of my premium Brazilian Bundles

Traditional Sew in w/22"24"26"

Sew in with leaveout including 3 of my premium Brazilian Bundles

Traditional Sew in w/24"26"28

Sew in with leaveout including 3 of my premium Brazilian Bundles

Traditional Sew in w/26"28"30"

Sew in with leaveout including 3 of my premium Brazilian Bundles

---

Closure Sew In w/Hair Included

Closure Sew in w 12"12 & closure

Closure Sew in w 12"14"16"& closure

Closure Sew in w 14"16"18& closure

Closure Sew in w 16"18"20" & closure

Closure Sew in w 18"20"22"& closure

Closure Sew in w 20"22"24& closure

Closure Sew in w 22"24"26"& closure

Closure Sew in w 24"26"28& closure

Closure Sew in w 26"28"30& closure

---

Wigs

Lace Closure wig Install w/ Customization & Style

Shampooing your hair as well as the unit,bleaching and plucking the knots, laying the lace, lightly curling or...

show more

Wig Maintenance

Cleaning the lace(if any) , shampooing the bundles, drying. Lightly Curled or Flat Ironed

Shampoo and Braid Down

Soothing shampoo service with 6-8 flat French braids .

Glueless wig install w/shampoo

Knots are bleached. Unit is lightly curled or flat ironed straight.This method can only be done on a closure w...

show more

Custom Made Closure Wig(Hair Not Included)

Handmade wig made just for you!

Frontal Wig Install w/Customization

Shampooing your hair as well as the unit,bleaching and plucking the knots, laying the lace, lightly curling or...

show more

U Part Wig Install

Clients hair is shampooed and braided down for a flat appearance and the perimeter of your u-part wig is sewn ...

show more

U-part Wig construction

Handmade Wig w/Horseshoe "U" parting to wear with leaveout.

Wig install with wig purchase

Shampoo and braid down, wig install

---

Sew In's (Hair Not Included)

Partial Sew In

This service is performed in one section of the head to provide fullness or length illusion .

Traditional Sew In w/Leaveout

Closure Sew in Maintenance

Antiseptic applied to the scalp for a clean finish, clean lace, lace reapplied dryer placement,hair lightly cu...

show more

Traditional Sew in Maintenance

Antiseptic applied to the scalp for a clean finish, dryer placement,hair lightly curled or flat ironed

Circle Sew in/ No leave out

Hair is sewn in a circular style ending in bangs

---

SBJ Ponytails

Half Up Half Down Quick Weave w/ Hair Included

Service includes two Bundles of my Premium Brazilian Bundles

Half Up Half Down Sew in w/ Hair Included

Service includes two Bundles of my Premium Brazilian Bundles

---

Quick Weaves

Quick Weave with Leaveout

Quick Weave with no leaveout

Track glued in a circle motion ending in a bang style

Half Up Half Down Quick Weave

Half up Half Down Quick Weave with 2 pieces

Frontal 27 pc Quick Weave

No leave out! Lace Frontal glued an inch above your hairline, quick weave installed, cut, molded, styled.

Closure 27 pc Quick Weave

No leave out! Lace Closure glued an inch above your hairline, quick weave installed, cut, molded, styled.

---

Natural Hair

Silk Press

Natural Hair hair Shampooed and Silken via heated tools. No chemicals used!!

Natural Flat Twist

Two Strand Twist flat to the scalp

---

Add On's

Reconstructive Conditioning Treatment

Edge Up

Relaxer applied to the perimeter of your hairline.

Wand Curls

Adding wand curls to your Quick Weave or Sew In

Crimps

Adding crimps to your Sew in or Quick Weave

Bundle Color

Applying color to your bundles individually is $25 per bundle /lace/frontal

Consultation

Free one on one meet and greet to briefly go over your desired style.

Closure Quick Weave take down

Squeeze In Convenience Fee

This Fee is applied to all APPROVED last minute bookings, and is non negotiable

Quick Weave Takedown w/Morning Glory

---

Set Curls

Senior Shampoo and Style

Applies to clients 50 yrs or older Shampoo and basic style only.

Rod Set

Hair is set with rods under heat until dry.

Roller Set

Hair is set with rods under heat until dry.

Pixie pin curls

Relaxer and tight pin curls on short hair

---

Chemical Enhancements

Relaxer Touch Up

Chemically Straightening new growth

Virgin Relaxer

Chemically Straightening hair from root to end.

---

iTip (Micro Links)

Micro Maintenance

Shampoo and conditioning service, proper drying procedure & bead adjustment, silk press and style.

iTip Extension (Micro Links)

Install includes Shampoo/Conditioning,Silk press, attachment of iTips and style

Micro Link Removal

The removal of each Micro Bead and iTip extension, detangling, reconstructive Shampoo and conditioning treatm...

show more

iTip Removal

Removal of iTips , Shampoo & Blow-dry only

---
Venue Health and Safety Rules
Reviews
Reviews are no joke! Booksy values authentic reviews and only verifies them if we know the reviewer has visited this business.
Josalyn never fails to provide excellent service! She's extremely nice, pleasant, helpful, informative, and great at what she does. I love coming to LuvStyle Beauty Lounge. The atmosphere is great. The shop is clean, neat, and everyone follows the pr...
Josalyn is flexible and very professional. She made a Great experience when my hair didn't make it by mail (out of our control) I looked fabulous as always!...
Josalyn was very professional and attentive. I will definitely be booking again and highly recommended her....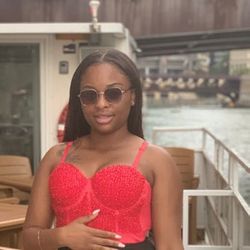 Josalyn was EXTREMELY professional. The shop was very clean and cozy . Worth every penny. Will definitely be back. My hair looks amazing...
Jos is amazing! She is vey knowledgeable and truly cares about healthy hair. Fast and efficient service in a clean salon, what more could one ask for?! Me and my hair luv Jos💋...
Josalyn never disappoints! Her Service and skills are second to none! Very welcoming, respectful and talented. Definitely a life long client....
I came about 15 minute's early to my appointment and was greeted when I walked in. I was offered a seat and shown where to put my coat and within 5 minutes, Tessa, Josalyn's assistant began the shampoo process immediately. She was very gentle in wash...
She always have my hair on point..I love her work her timing is great and you will never be disappointed...
Great work personable and fun atmosphere. Thanks josalyn....
It was a wonderful experience being there, very professional and the shampoo lady was very gentle and caring and josalyn was easy to talk to and informative with some of my concerns and questions. Thank you...
Amazing service as always and I love my hair 💖...
I absolutely love my hair!! I'd recommend Josalyn 💕 a total professional any day...
Josalyn always does a fabulous job on my hair!!! It's natural no chemicals and every time I leave I look and feel great. She keeps her time and her word....
The staff an atmosphere was good my hairstylist is wonderful. Joslyn is very professional an excellent at her craft . NEVER DISAPPOINTS !!...
EXCELLENT WORK EVERY TIME!...
I enjoy my visits everytime i go, the girls are cute and funny, it's like the girls barber shop. My stylist is very skilled and I'm looking forward to trying some different things with her. Gotta trust her and i do. Go Josalyn, love you girl....
First time getting color! I knew I was good hands! Always courteous, attentive, and punctual. Thank you so much for expertise and the great convos we have!...
Always gets me in and out and my hair is always fye 🤪...
Josalyn did an amazing job! She transformed my natural hair better than I could have imagined. I can't wait to start this hair journey with her!...
It's always a great experience coming to Josalyn! She is always professional and always take the time to educate me on the products she uses. Loving my new fall/winter color. My daughter's hair was styled beautifully as well! Thank you again! 5 stars...