Hair.Romance
Walker Mill Rd, Capitol Heights, 20743
Hair.Romance
Walker Mill Rd, Capitol Heights, 20743
---
Popular Services

𝒀𝑶𝑼𝑹 𝑪𝑯𝑶𝑰𝑪𝑬 𝑶𝑭 𝑺𝑻𝒀𝑳𝑬 ❤️‼️

$20 𝐃𝐞𝐩𝗼𝐬𝐢𝐭 • 𝐓𝐰𝗼 𝐒𝐭𝐫𝐚𝐧𝐝 𝐓𝐰𝐢𝐬𝐭 • 𝐒𝐭𝐲𝐥𝐞 𝐎𝐟 𝐘𝗼𝐮𝐫 𝐂𝐡𝗼𝐢𝐜𝐞 • 𝐂𝐮𝐫𝐥𝐬 𝐄...

show more

⭐️⭐️𝑯𝒂𝒊𝒓 𝑷𝒓𝒐𝒗𝒊𝒅𝒆𝒅 4͡ 𝑯𝒂𝒏𝒅𝒎𝒂𝒅𝒆 𝑳𝒐𝒄 𝑬𝒙𝒕𝒆𝒏𝒔𝒊𝒐𝒏𝒔👑👑

$350𝑫𝒆𝒑𝒐𝒔𝒊𝒕 𝑫𝒖𝒆 𝑨𝒔 𝑺𝒐𝒐𝒏 𝑨𝒔 𝒀𝒐𝒖 𝑭𝒊𝒏𝒊𝒔𝒉 𝑩𝒐𝒐𝒌𝒊𝒏𝒈 𝑴𝒚 𝑪𝒂𝒔𝒉𝒂𝒑𝒑 𝒊𝒔 $𝑻�...

show more

𝑳𝑶𝑪 𝑨𝑻𝑻𝑨𝑪𝑯𝑴𝑬𝑵𝑻𝑺 👑👑👑

🥊𝐘𝗼𝐮 𝐏𝐫𝗼𝐯𝐢𝐝𝐞 𝐘𝗼𝐮𝐫 𝐎𝐰𝐧 𝐋𝗼𝐜𝐬 𝐖𝐢𝐭𝐡 𝐓𝐡𝐢𝐬 𝐒𝐞𝐫𝐯𝐢𝐜𝐞 . I 𝑫𝑶 𝑵𝑶𝑻 𝑷𝑹𝑶𝑽𝑰𝑫...

show more

---

Other Services

⭐️⭐️𝑯𝒂𝒊𝒓 𝑷𝒓𝒐𝒗𝒊𝒅𝒆𝒅 4͡ 𝑯𝒂𝒏𝒅𝒎𝒂𝒅𝒆 𝑳𝒐𝒄 𝑬𝒙𝒕𝒆𝒏𝒔𝒊𝒐𝒏𝒔👑👑

$350𝑫𝒆𝒑𝒐𝒔𝒊𝒕 𝑫𝒖𝒆 𝑨𝒔 𝑺𝒐𝒐𝒏 𝑨𝒔 𝒀𝒐𝒖 𝑭𝒊𝒏𝒊𝒔𝒉 𝑩𝒐𝒐𝒌𝒊𝒏𝒈 𝑴𝒚 𝑪𝒂𝒔𝒉𝒂𝒑𝒑 𝒊𝒔 $𝑻�...

show more

🎀 𝑯𝒂𝒏𝒅𝒎𝒂𝒅𝒆 𝑳𝒐𝒄 𝑬𝒙𝒕𝒆𝒏𝒔𝒊𝒐𝒏𝒔 🎀

• [ $350 𝑫𝒆𝒑𝒐𝒔𝒊𝒕 𝑰𝒔 𝑹𝒆𝒒𝒖𝒊𝒓𝒆𝒅 ] • [ 9 ] 𝑷𝒂𝒄𝒌𝒔 𝑶𝒇 100% 𝑯𝒖𝒎𝒂𝒏 𝑯𝒂𝒊𝒓 • 𝑯𝒂𝒊�...

show more

🎀 𝑰𝒏𝒔𝒕𝒂𝒏𝒕 𝑳𝒐𝒄𝒔 𝑶𝒏 𝒀𝒐𝒖𝒓 𝑵𝒂𝒕𝒖𝒓𝒂𝒍 𝑯𝒂𝒊𝒓 🎀

$140𝑫𝒆𝒑𝒐𝒔𝒊𝒕 𝑰𝒔 𝑹𝒆𝒒𝒖𝒊𝒓𝒆𝒅 [ $𝑻𝒉𝒆𝑹𝒆𝒂𝒍𝑫𝒆𝒆𝑮𝒖𝒘𝒐𝒑 ] 𝑯𝒂𝒊𝒓 𝑴𝒖𝒔𝒕 𝑩𝒆 𝑾𝒂𝒔�...

show more

Instant Locs With Minimum Extension

$200𝑫𝒆𝒑𝒐𝒔𝒊𝒕 𝑰𝒔 𝑹𝒆𝒒𝒖𝒊𝒓𝒆𝒅! 𝑰 𝑫𝑶 𝑵𝑶𝑻 𝑷𝑹𝑶𝑽𝑰𝑫𝑬 𝑻𝑯𝑬 𝑯𝑨𝑰𝑹 𝒀𝑶𝑼 𝑴𝑼𝑺𝑻 𝑷𝑼...

show more

𝑳𝑶𝑪 𝑨𝑻𝑻𝑨𝑪𝑯𝑴𝑬𝑵𝑻𝑺 👑👑👑

🥊𝐘𝗼𝐮 𝐏𝐫𝗼𝐯𝐢𝐝𝐞 𝐘𝗼𝐮𝐫 𝐎𝐰𝐧 𝐋𝗼𝐜𝐬 𝐖𝐢𝐭𝐡 𝐓𝐡𝐢𝐬 𝐒𝐞𝐫𝐯𝐢𝐜𝐞 . I 𝑫𝑶 𝑵𝑶𝑻 𝑷𝑹𝑶𝑽𝑰𝑫...

show more

𝒀𝑶𝑼𝑹 𝑪𝑯𝑶𝑰𝑪𝑬 𝑶𝑭 𝑺𝑻𝒀𝑳𝑬 ❤️‼️

$20 𝐃𝐞𝐩𝗼𝐬𝐢𝐭 • 𝐓𝐰𝗼 𝐒𝐭𝐫𝐚𝐧𝐝 𝐓𝐰𝐢𝐬𝐭 • 𝐒𝐭𝐲𝐥𝐞 𝐎𝐟 𝐘𝗼𝐮𝐫 𝐂𝐡𝗼𝐢𝐜𝐞 • 𝐂𝐮𝐫𝐥𝐬 𝐄...

show more

Loc Extensions On Existing Locs

$350𝐃𝐞𝐩𝗼𝐬𝐢𝐭 $𝐓𝐡𝐞𝐑𝐞𝐚𝐥𝐃𝐞𝐞𝐆𝐮𝐰𝗼𝐩 7 𝐏𝐚𝐜𝐤𝐬 𝐎𝐟 100% 𝐇𝐮𝗺𝐚𝐧 𝐇𝐚𝐢𝐫 𝐅𝗼𝐮𝐧𝐝 𝐀...

show more

Retwist Only

𝑻𝒉𝒆𝒓𝒆 𝑨𝒓𝒆 𝑪𝒆𝒓𝒕𝒂𝒊𝒏 𝑫𝒂𝒚𝒔 𝑭𝒐𝒓 𝑱𝒖𝒔𝒕 𝑨 𝑹𝒆𝒕𝒘𝒊𝒔𝒕 , 𝑷𝒍𝒆𝒂𝒔𝒆 𝑺𝒉𝒐𝒐𝒕 𝑴𝒆 𝑨 ...

show more

Loc Repairs $10 A Loc

𝑫𝒐 𝑵𝒐𝒕 𝑩𝒐𝒐𝒌 𝑭𝒐𝒓 𝑶𝒏𝒆 𝑳𝒐𝒄 𝑹𝒆𝒑𝒂𝒊𝒓 𝐌𝐮𝐬t 𝐁𝐫𝐢𝐧𝐠 𝐎𝐧𝐞 𝐏𝐚𝐜𝐤 𝐎𝐟 100% 𝐇𝐮𝗺𝐚�...

show more

𝑭𝑼𝑳𝑳 𝑯𝑬𝑨𝑫 𝑹𝑬𝑷𝑨𝑰𝑹𝑺 𝑶𝑵𝑳𝒀 !!!!!

$150 𝑫𝒆𝒑𝒐𝒔𝒊𝒕 $𝑻𝒉𝒆𝑹𝒆𝒂𝒍𝑫𝒆𝒆𝑮𝒖𝒘𝒐𝒑 ! 𝒀𝒐𝒖 𝑾𝒐𝒖𝒍𝒅 𝑵𝒆𝒆𝒅 𝑨𝒃𝒐𝒖𝒕 5 𝑷𝒂𝒄𝒌𝒔 𝑶�...

show more

Frontal Sew In

✅ 𝑰 𝑫𝒐 𝑵𝒐𝒕 𝑷𝒓𝒐𝒗𝒊𝒅𝒆 𝑻𝒉𝒆 𝑯𝒂𝒊𝒓 𝑴𝒖𝒔𝒕 𝑪𝒐𝒎𝒆 𝑾𝒊𝒕𝒉 𝑭𝒓𝒆𝒔𝒉𝒍𝒚 𝑾𝒂𝒔𝒉𝒆𝒅 𝑩𝒖�...

show more

Jumbo Instant Locs

$200 𝑫𝒆𝒑𝒐𝒔𝒊𝒕 𝒀𝒐𝒖 𝑾𝒐𝒖𝒍𝒅 𝑵𝒆𝒆𝒅 8-9 𝑷𝒂𝒄𝒌𝒔 𝑶𝒇 100% 𝑯𝒖𝒎𝒂𝒏 𝑯𝒂𝒊𝒓 , 𝑫𝒆𝒑𝒆𝒏𝒅𝒊...

show more

Loc Removal

$90 𝑫𝒆𝒑𝒐𝒔𝒊𝒕 𝑳𝑶𝑪𝑺 𝑾𝑰𝑳𝑳 𝑩𝑬 𝑪𝑼𝑻 & 𝑪𝑶𝑴𝑩𝑬𝑫 𝑶𝑼𝑻 𝑷𝑳𝑬𝑨𝑺𝑬 𝑳𝑬𝑨𝑽𝑬 𝑰𝑵 𝑪𝑶𝑵𝑫�...

show more

Natural Hair Coloring

You Would Need 4 Packs Of BW2 Powder & 4 Bottles Of The Dye ( Adore Brand Is Perfect )

🔥 Full Head Reconstruction 🔥

• Loc Re-Attachments • Repairs • Handmade Locs Made If Needed • More 𝓣𝓱𝓪𝓷 35 Locs Will Result In Ex...

show more

Instant Locs ( 5-7 ) Years Old

Hair Must Be Washed & Blowdried ( ! ) ( $80 Deposit Fee $TheRealDeeGuwop ) ! Retwist & Styling Is Included 💚

🌸🌺🌻Kids Instant Locs 👑 Minimum Hair Added 🥊

$150 𝑫𝒆𝒑𝒐𝒔𝒊𝒕 !! 𝑰 𝑫𝒐 𝑵𝒐𝒕 𝑷𝒓𝒐𝒗𝒊𝒅𝒆 𝑻𝒉𝒆 𝑯𝒂𝒊𝒓 , 𝒀𝒐𝒖 𝑾𝒐𝒖𝒍𝒅 𝑵𝒆𝒆𝒅 5 𝑷𝒂𝒄𝒌𝒔...

show more

🌺🌻🧮 Kids Handmade Loc Extensions 🌼🏀🥊

• $250 𝑫𝒆𝒑𝒐𝒔𝒊𝒕 •$𝐓𝐡𝐞𝐑𝐞𝐚𝐥𝐃𝐞𝐞𝐆𝐮𝐰𝗼𝐩 • 𝑺𝒕𝒚𝒍𝒊𝒏𝒈 𝑰𝒔 𝑰𝒏𝒄𝒍𝒖𝒅𝒆𝒅 • 𝑯𝒂𝒊𝒓 𝑾𝒊�...

show more

WICK LOCS 🔥🔥🔥🔥

$400 Deposit !! AN ALLDAY PROCESS ! LOCS WILL BE THICKENED AND COMBINED FORMING THE WICK METHOD USING A CROCHE...

show more

Loc Detox

Retwist & Styling Is Included After Detox 👑

Same Day Handmade Locs Extensions

LOCS WILL BE PROVIDED ‼️ I WILL NOT RUSH ‼️ FULL PAYMENT OF $600 UPFRONT ‼️ 16 Inches For Handmade Loc Extens...

show more

Custom Loc Extensions ❤️🧡🖤💜 Color Crazy ‼️‼️

• 𝑯𝒂𝒊𝒓 𝑾𝒊𝒍𝒍 𝑩𝒆 𝑷𝒓𝒐𝒗𝒊𝒅𝒆𝒅 • $400 𝑫𝒆𝒑𝒐𝒔𝒊𝒕 • 𝑪𝒐𝒍𝒐𝒓 𝑶𝒇 𝒀𝒐𝒖𝒓 𝑪𝒉𝒐𝒊𝒄𝒆 & 𝑪�...

show more

𝑪𝒐𝒎𝒃𝒊𝒏𝒊𝒏𝒈 𝑳𝒐𝒄𝒔

$100 𝑫𝒆𝒑𝒐𝒔𝒊𝒕 ! 𝑷𝒍𝒆𝒂𝒔𝒆 𝑺𝒆𝒏𝒅 𝒎𝒆 𝑷𝒊𝒄𝒕𝒖𝒓𝒆𝒔 𝑻𝒐 𝑫𝒆𝒕𝒆𝒓𝒎𝒊𝒏𝒆 𝑰𝒇 𝑼 𝑾𝒐𝒖𝒍𝒅 ...

show more

---

Faux Locs ✨✨

Goddess Locs [ Any Length ✨ ] !

---

ForTheLoveOfKIDS🔥✅💁🏾‍♀️🥵

Freestyle Cornrows Ponytails

Hair Will Be Provided ✅ Wash & Blow Dry If Needed ✅ Cuban Twist Marley Hair ✨

---
Venue Health and Safety Rules
Reviews
Reviews are no joke! Booksy values authentic reviews and only verifies them if we know the reviewer has visited this business.
Time and dedication is unreal ❤️💜...
Always wonder services I love her work and her energy is great...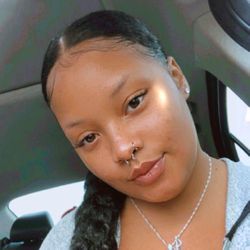 She was very quick and friendly. Finished my hair in no time and it looks great!...
I love my hair. She is very professionally. I have already recommended family and friends to go to Hair Romance and you should too....
Perfect!!!! Will be going to her again!!! My hair is full and feels very secure and looks natural!!! Definitely the best in The DMV...
Service was great in the beginning, she was responsive, answered all of my questions in detail. Appointment was confirmed the night before via scheduling app and dm with stylist. Arrived at appointment location at 110pm for a 130pm. Was provided no a...
Hair.Romance
Thank You ‼️
I love my hair! This girl knows what she's doing! She's worth every dime!!...
Love my hair her business is well worth the money of course I will be back thanks...
Hair. Romance does no wrong I love my hair definitely got a lot of compliments on it thank you 😊 🙌🏾🙌🏾 definitely talented...
I'm 9 months pregnant I paid for my hairstyle in full so 330 only for the day of she not only did not answer at all she left me outside in the freezing cold. She still hasn't responded to my text messages or phone calls that I'm sure she saw. I just ...
She did a fantastic job and didn't take long! Definitely going back....
I love my hair. The process didn't take as long as I thought it would. She started at 1130 am and finished at 530pm. She didn't rush and she took her time. I definitely will be going back....
The service was quick, neat, reasonable and exactly what I wanted. She has gained a new client!...
Loc repair, Maintenance and Style. Hair turn out great! THANK YOU! It's the parts for me!! ❤️...
My experience was great. The owner did an awesome job combining my locs !!!...
My experience was not the best. After booking with the "loctician". The day of my appointment, 30 minutes prior, she cancelled due to her being in the process of continuing another customers hair and not being able to begin our appointment on time. S...