Rico Precise
The luxury suite salon 14-12a Clintonville st, Whitestone, Whitestone 11357
Rico Precise
The luxury suite salon 14-12a Clintonville st, Whitestone, Whitestone 11357
---
Popular Services

Line up w/ beard

Shape-up   -Includes steaming facial towel for 5 m...

more

Caesar tape-up w/beard

•Sculpted to fit clients desired length & textu...

more

Shampoo, Cut & Style plus beard

•Sculpted to fit clients desired length & textu...

more

---

Haircut & Beard Packages

Shampoo, Cut & Style plus beard

•Sculpted to fit clients desired length & textu...

more

Men's single-process color

•Includes a single process color levels 1-4 ⠀⠀⠀⠀⠀ ...

more

Mid-fade Pompadour W/ beard

•Sculpted to fit clients desired length & textu...

more

Fade w/concept design

Very trendy! -includes semi-permanent airbrush enh...

more

Light fade w/ scissor trim & beard

•Sculpted to fit clients desired length & textu...

more

Dark Caesar w/ beard

•Haircut followed by a purifying and cleansing...

more

Dark fade with scissor trim and beard

•Sculpted to fit clients desired length & textu...

more

Comb over fade with scissor trim and beard

•Sculpted to fit clients desired length & textu...

more

Kids haircut with small concept design

-Included my own freestyle design or concept desig...

more

Hydrotherapy bald treatment w/ beard wash

-Head shave with a soothing Aloe Vera gel plus st...

more

Mid-skin fade w/ beard

•Sculpted to fit clients desired length & textu...

more

Tapered fade w/ scissor trim and beard

•Sculpted to fit clients desired length & textu...

more

Burst fade w/ beard

•Sculpted to fit clients desired length & textu...

more

Drop fade w/ beard

•Sculpted to fit clients desired length & textu...

more

Burst fade w/ curly top & Beard

Trendy urban fade using the twist sponge to enhanc...

more

Comb over fade w/ surgical part

•Sculpted to fit clients desired length & textu...

more

Fauxhawk w/ beard

•Sculpted to fit clients desired length & textu...

more

Flat-top fade w/ beard

•Sculpted to fit clients desired length & textu...

more

Caesar skin fade w/ beard

•Haircut followed by a purifying and cleansing...

more

Caesar tape-up w/beard

•Sculpted to fit clients desired length & textu...

more

---

Before or after hours luxury packages

Before or after hours service with amenities

Forgot to book on time? No worries, this service i...

more

Sunday & Monday VIP service

Sundays or Mondays between the hours of 9am- 5pm. ...

more

---

Unisex dry bar services

Silkening oil treatment (wavy or straight hair)

•Includes shampoo, cut and style •Includes beard ...

more

Men's wash & style

Includes a shampoo & conditioner, blow dry and ha...

more

Women's wash & style

A good blowout is the art of drying hair effortle...

more

Women's haircut

Women's hairstyle, pixie, Bob cut or long layers ⠀...

more

---

Natural hair textured hairstyles

Comb coil twists

To loc or not to loc? This service turns your nat...

more

Curly Perm

The curly perm is an easy and efficient way to add...

more

---

Women's hair services/treatments

Women's trim (long hair)

Straight cut or layered face frame cut Includes bl...

more

Japanese permanent straightening system

Get it super-straight, create a little wave, or ju...

more

Root only permanent color

works to cover gray roots or regrown roots usually...

more

Brazilian keratin treatment (medium hair length)

𝐋𝐚 – 𝐁𝐫𝐚𝐬𝐢𝐥𝐢𝐚𝐧𝐚 𝐊𝐞𝐫𝐚𝐭𝐢𝐧 𝐓𝐫𝐞...

more

Brazilian keratin treatment (short-medium hair)

𝐋𝐚 – 𝐁𝐫𝐚𝐬𝐢𝐥𝐢𝐚𝐧𝐚 𝐊𝐞𝐫𝐚𝐭𝐢𝐧 𝐓𝐫𝐞...

more

---

Teeth whitening services

Full service haircut + teeth whitening session

• Sculpted to fit clients desired length & text...

more

30 mins teeth whitening service

Teeth that have been stained or darkened by food, ...

more

45 mins teeth whitening (advanced)

GET THE GLISTENING SMILE YOU'VE ALWAYS WANTED! Tee...

more

---

Men's Haircut Packages

Shampoo, Cut & Style

•Haircut followed by a purifying and cleansing sha...

more

Bald fade

Very trendy urban style ⠀ ⠀⠀⠀⠀⠀ •Haircut followed ...

more

Dark Caesar- wave length

•Haircut followed by a purifying and cleansing sha...

more

Burst fade

Very trendy urban style ⠀ ⠀⠀⠀⠀⠀ •Haircut followed ...

more

Haircut with shears 💇🏻‍♂️

• Sculpted to fit clients desired length & texture...

more

"Just a tape-up" No beard

Taper cut around the sides and back •Haircut foll...

more

Hair restoration blend

Ideal for men with male pattern baldness and want ...

more

Drop fade/contour fade

-Sculpted to fit clients desired look and texture ...

more

Hi-top fade

Very trendy urban style ⠀ ⠀⠀⠀⠀⠀ •Haircut followed ...

more

Beard or goat-tee trim only

-Includes steaming facial towel for 5 mins♨️ -Soot...

more

Line up w/ beard

Shape-up   -Includes steaming facial towel for 5 m...

more

Haircut or hairstyle

Classic men's scissor cut •Haircut followed by a...

more

Mid-fade Pompadour

Classic men's scissor cut -Haircut followed by a ...

more

Double process color

•Full service color+ vibrant color [permanent hair...

more

---

Facial/skin detox

Cooling Cucumber Detox Facial

• Deeply hydrates & reduces signs of fatigue • Po...

more

Derma-planing Facial

Dermaplaning is a method of exfoliation that consi...

more

Full service haircut/ beard and express facial

• Sculpted to fit clients desired length & texture...

more

Arabica Dead Sea salt scrub facial

A natural and decadent way to firm and exfoliate y...

more

Charcoal peel-off mask

Cleanse and purify your skin *Steam towel *Charcoa...

more

---

Waxing

Eyebrow waxing

Using organic wax beads to promote the perfect eye...

more

Facial waxing

Using organic wax beads to eliminate ear and nose ...

more

---

Enhancements

Just for men beard color enhancement only

Have a lot of grey in your beard? This is the ser...

more

---

Eyebrows

Precise eyebrow tinting

Using organic plant based dye to achieve a picture...

more

---

Shampoo service

Shampoo & conditioner

• Purifying and cleansing shampoo and conditioner ...

more

---
Venue Health and Safety Rules
Reviews
Reviews are no joke! Booksy values authentic reviews and only verifies them if we know the reviewer has visited this business.
Amazing cuts and a Amazing personality thank you for all that you do...
Crispy is all I can say....
Amazing barber. Rico takes his time and puts 100% into his craft. Don't believe me? Check him out for yourself I guarantee that you won't be disappointed....
Dope cut, great atmosphere, Rico is a boss!!! 💯💯💯💯💯✂️✂️🙌...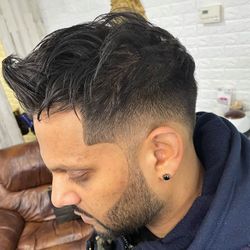 Got to my appt a little early Rico took me in and got to work. A+ service to the max. Haircut conversation shape up beard enhancement hot shaving cream washed my hair Styled my hair and use some products on my face for my breakouts. Thank you for...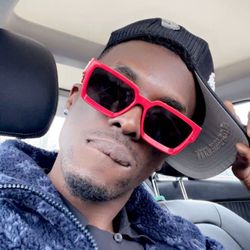 Good service...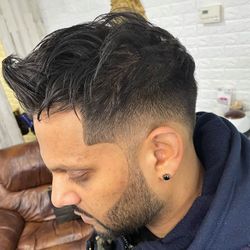 Thank you for the cut Rico Great atmosphere great service...
Rico Precise
Thanks a lot my brother!
Consistency is 🔑and that's what Rico is all about always on point!...
Best barber I've had. Great cut every time!...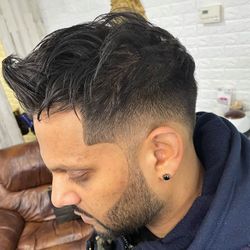 Amazing service Very knowledgeable and takes his time to ask questions and answer to any of your concerns Never rushing as well. Gives great pointers on how to maintain the style you desire...
Great experience literally best Barber I have even been too def worth it...
Great service best barber hands down...
Clean, professional, highly talented...