Hair Glamour
310 17th st, Oakland, 94612
Hair Glamour
310 17th st, Oakland, 94612
---
Popular Services

SHAMPOO CONDITIONING BLOW DRY STYLE

---

Other Services

PLEASE CLICK "DETAIL" BEFORE APPOINTMENT

---

Repairing Conditioning Services

---

Keratins/Blow-Outs/Relaxers

---
Reviews
Reviews are no joke! Booksy values authentic reviews and only verifies them if we know the reviewer has visited this business.
Awesome! Tiffany was personable and professional. Made my first haircut in 14 months a memorable experience, just what I wanted....
Excellent service and 5 star results!!...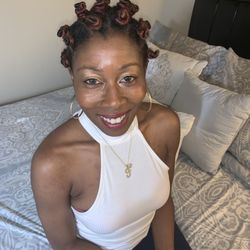 All praise goes to Tiffany!!! She's personable and she knows her stuff. The professionalism is something you don't expect anymore in the beauty shop. She's on time and her knowledge on hair speaks volumes. I knew exactly what was being done to my hai...
Hair Glamour
I'm so glad I could correct your color and condition of your hair with Bond building and temporary keratin! I can't wait to complete the full service to make your hair complete to its full potential! You have beautiful hair and I'm upset that anytime else who didn't understand it made you feel differently! We started with color correction and will love on it and get it to the tamed mane that you deserve! Much love.. Thank you🥰
Tiffany did an excellent job on my hair and really made me feel at home in her chair. Her salon was properly set up with COVID precautions so I felt reassured she was following county guidelines. Most importantly, I left feeling and looking good and ...
Hair Glamour
OMG! The last three weeks back to work have been so up in the air! I'm so glad to meet the universe's grounding and gratitude through you and others like you! I believe COVID is a renewal source of gratitude and I'm glad that you were bought to me during this grounding.. 🙏🏽
I booked an appointment from 3:15-6:45pm for a Lace Wig Customization and Install. On my way to the appointment I was told that it was only a wig customization even though i specifically booked an appointment that stated it was a customization AND in...
Hair Glamour
As you can see .. most of my reviews on here are consistent. It's like a sore thumb and Way I'm going to explain to situation is that our conversation was very strange and I asked her to go to someone else; due to the fact that very overly aggressive to me over speaking on me and I knew this was trouble. My client ... Long time client who was in my care while our conversation went on will elaborate what she had to experience listening to Eleonor's behaviors. Stay tuned.. All money ain't good money. I can't expend my energy to negativity while I'm on a client who is paying even before our appointment time she was blowing up my phone. After we settled everything.. and agreed to a better time she was still texting, another red flag. How would you feel as a paying customer I'm doing hair replacement on.. constantly stopping to answer the outing? Smh. If you agreed to another time please show up and stop over texting... I stopped enough and answered her. No more I have my limits.. God bless her soul.
great first time experience. Will definitely be back....
Hair Glamour
🥰 awww can't wait to see you again!
Thank you Tiff for always making my hair beautiful! My hair is so pretty...
Hair Glamour
You're the bomb! You continue supporting me through thick and thin! And a great model! Much luv! #covidcompliance 😘
Tiffany is the best!! ♥️ clean and has all the good products 😊...
Hair Glamour
Omg 🥰 thank you sweet heart. You are one of such a good and positive spirit and ray of love! Thanks for bringing me gifts 😘
I just got my third keratin treatment with Tiffany, and my hair has changed dramatically since I have started seeing her 9 months ago. She does an amazing job every time....
Hair Glamour
I'm here for it and more superstar! ✨
Tiffany is very good at Her job! I Love my hair!...
Tiffany is not only a GREAT stylist but she's a great person. Very kind and considerate of her clients. She works with you to obtain the best style possible to fit your features and your lifestyle. I value her honesty and willingness to answer and re...
Hair Glamour
Awwww! Thank you love! I'm always here for you...🥰😍
My experience with Tiffany was outstanding!! Always consistent quality and treatment of my hair!! 5 stars!!!!...
Hair Glamour
Thank you! We always have the best time! Can't wait to see you again..
Tiffany was very kind, professional, knowledgeable, and made my appointment really fun! I love my haircut and color, and can't wait to visit again!...
I was very impressed with Tiffany... I called to make an appointment because I was not sure how to use the online appointment system and Tiffany very patiently went through the system with me and Showed me how to schedule my appointment. On the day o...
Tiffany is a miracle worker! Always 5 star service!!🥰...
I have been a client of Tiffany for almost six years. When I started my hair was in terrible shape. I was getting ready for one of my daughter's weddings and was desperate to get my hair together. Tiffany was great at stopping the breakage and was ab...
Thank You Tiffany. I was very despondent when I came to your shop. I felt that there was no hope gor my hair, nut no, Tiffany to the rescue!. My hair had locked and very matted snd impossible to comb; I thought Tiffany would have to shave my head, bu...
Tiffany is a TRUE professional! She is well versed in keeping your hair healthy and styled beautifully! Shes very sweet, down to earth and honest and truly believes in the best for you and your hair!...
Amazing as always. My hair always feels healthier and has a great amount of body and volume when I leave Tiffany. Never a bad hair day with your magic!!...