Luxe Lengths
2520 Professional rd ste D, Suite D (top floor, left), Richmond, 23235
Luxe Lengths
2520 Professional rd ste D, Suite D (top floor, left), Richmond, 23235
---
Popular Services

Shampoo and style (extensions)

Includes hair shampoo, condition and style (flatir...

more

Virtual Consultation (tues-thurs only)

All hair extension services, color and relaxers r...

more

Blow out/Silk Press(natural and relaxed hair)

Natural hair clients shampoo, condition, flat iron...

more

---

Consultation

Virtual Consultation (tues-thurs only)

All hair extension services, color and relaxers r...

more

---

Installations

Traditional sew in (existing sew in clients only)

Install with some or no hair left out. Up to 3 bu...

more

3 Part/half up half down/flip over

Your natural hair needs to be at least 4 inches fo...

more

Braidless Sew-In ***Deposit and Cons. Required***

Micro links are attached to your hair and the weft...

more

Strand by Strand/ I-tip *Deposit & consultation *

***Deposit Required and Consultation*** Attach ind...

more

Tape- In Extensions**Deposit and Cons. required***

Tape in extensions are extremely flat and undetect...

more

Invisible Microlink weft-*Deposit & Consultation*

**Deposit and Consultation Required*** Extensions ...

more

Brazilian Knots *Deposit Required & Consultation*

Strand by strand application of hair with elastic ...

more

Fusion ***Deposit Required and consultation***

Keratin link fusion strand by strand extensions- t...

more

Custom Clip - Ins *Deposit & Consultation Required

Create a full set of custom clip ins based on clie...

more

Clip ins Install

install clip in extensions - includes shampoo, con...

more

Virgin Hair

Please advise what lengths for a price quote. Ad...

more

---

Styling Options

Shampoo

Cleansing of hair and/or extensions with shampoo d...

more

Barrel Curl Or /flat iron

Please come with clean dry clean hair with no prod...

more

Shampoo and style (extensions)

Includes hair shampoo, condition and style (flatir...

more

Blow out/Silk Press(natural and relaxed hair)

Natural hair clients shampoo, condition, flat iron...

more

---

Maintenance

Deluxe Removal

Removal of extensions and foundation braids, deep ...

more

Relaxer (Virgin)

virgin relaxer application including olaplaex bond...

more

Sew-IN Removal

Removal of extensions and foundation braids- inclu...

more

Braidless / Invisible Microlink Weft removal

remove microlinks from hair, detangle, shampoo, co...

more

Lace closure Adjustment

Reposition your lace closure so that it lays flat....

more

Brazilian Knots/ Strand by Strand Removal

Removing brazilian knots, detangle, shampoo, condi...

more

Tape in /Fusion Removal

Include tape in removal , residue removal, wash. c...

more

Itip Adjustment

I-tip extensions must be adjusted back to the orig...

more

Invisible Microlink weft readjustment/ Braidless

Maintenance performed every 4 weeks. Microlinks a...

more

Recondition Extensions

Shampoo , deep condition and treat extensions. Rem...

more

Relaxer (touch-up)

Relaxer includes olaplex bond builder which protec...

more

Relaxer ( leave out)

Relaxer only on leave out, nape, or perimeter inc...

more

Wig Shampoo & Style

Wash and Condition wig and style per your choice *

more

---

Treatments

Keratin Treatment

This straightening conditioning treatment gets hai...

more

Waterfall Collagen Treatment

Scalp Detox Scrub

scalp detox scrub helps to remove impurities, bui...

more

Tea Tree Clarifying Scalp Treatment

Tea tree scalp treatment helps break the buildup d...

more

Deep Condition/ Protein treatment

customized deep conditioning based on your needs (...

more

Growth treatment

topical growth treatment applied to clean scalp af...

more

Keratin treatment (leave out)

keratin smoothing straightening treatment temporar...

more

Olaplex bond building treatment

Olaplex treatment added to your chemical service o...

more

Olaplex Revitalize

Olaplex 1 and 2 treatment - option to purchase ola...

more

E'TAE Carmel treatment blow out

deep reconstructing treatment using E'tae carmel t...

more

---

Glam Extras

House Call/911 service

Hair appts on holidays, after hours, Sunday and Mo...

more

---

Color

Virgin Hair Bundles Color

Price per bundle Custom Color or Highlights, Ombre...

more

Rinse/Glaze /semi-permanent/tone

temporary or semipermanent color/tone

more

Single Process Color

Color service with olaplex that does not require p...

more

---

Fees

Long/thick hair additional charge

Additional fee for long or thick hair for keratin ...

more

Additional Bundle installed

25$ per additional bundle over 3 installed

more

Late Fee

Arriving to your appointment more than 7 min late.

more

---

Classes

Brazilian knots 1-on-1 training

1 on 1 class teaching the Brazilian knots method. ...

more

I-tip strand by strand 1-on-1 training

1 on 1 training for I-tip strand by strand. We wi...

more

Invisible microlink weft ) 1-on-1 training

1 on 1 class teaching the invisible microlink weft...

more

Clip Ins on Sewing Machine training

Hands on class to create custom clip ins for clien...

more

Braidless sew in class 1-on-1 training

Learn how to install a braidless sew-in using micr...

more

---

Plasma Fibroblast Treatment

---
Venue Health and Safety Rules
Reviews
Reviews are no joke! Booksy values authentic reviews and only verifies them if we know the reviewer has visited this business.
Tia is very professional. Her place is very peaceful and a pleasant environment to be in. She always make me look fabulous when I leave her establishment....
'Tia is the best. There's no waiting, she's professional and most of all she takes her time in styling your hair just right. Staci...
I enjoyed the entire experience at Luxe Lengths. I love love love my hair. I will definitely be back. Thank you Tia❤️...
Hands from God. She is all about helping me achieve mh hair goals and doing so in a healthy manner. Tia keeps it 100% professional and focused solely on the client in her chair....
Love my hair you're the best!!...
Another exceptional experience with Tia at Lux Lengths. I am so excited about the progress my natural hair continues to make. Tia is definitely a gem and I always look forward to my next appointment....
Luxe Lengths
Thank you so much! Yes your progress is amazing! Let's keep going!!
If I could leave a no stars I would. I initially had a consult a with Tia back in September. My hair has been this length for the past year as I had it treated and cut before my stylist retired. So when I say get my hair healthier I wanted it to grow...
The best experience in all of my years of getting my hair done. She is very professional and a expert at her craft. She took the time to inform me of all my options while making my hair issues a priority. I always look forward to my two week appointm...
Luxe Lengths
Awwh thank you so much it is my pleasure and goal to provide you with the best service!
Tia always does an amazing job! Very professional and welcoming!...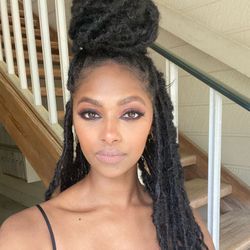 I have been a customer of Tia's for about 5 years now. As a lupus surivor, I can say from experience that she can nurse your hair back to health! I'm so excited for the hair growth I've experienced through consistently visiting Luxe Lengths. Go to he...
Luxe Lengths
Awwh my Colby! 💜 beautiful in every phase!
I cannot express the amazing results I was given! I'm never going anywhere else to get my hair done. The price was great & Tia is great company and gives great results!!...
Luxe Lengths
So happy you were pleased! 😁
Professional, courteous, took the time to explain the options and I can't wait for the install....
Excellent, Great service as always, clean, comfortable atmosphere....
If you want excellent one-on-one services by a skilled professional. Tia will not let you down....
Very professional and relaxing experience. My hairstyle and outcome top notched! I'm returning for more!...
Luxe Lengths
Thank you Mrs Annie! I am happy you are pleased. It was truly my pleasure!
I recently moved to the Richmond area and was searching for a new stylist. I had such an amazing and relaxing experience with Tia. Tia is very detailed and patient. She took her time and gently combed through each section of my curly hair. She treate...
Tia really knows her stuff. She makes you feel comfortable no matter what state your hair is in. She has so many solutions to choose from. She is so sweet and professional....
Let me know ypur thoughts after reviewing my pictures with my natural hair. I sent them around 3:00 pm...
Love my hair!...
Luxe Lengths
So happy you are pleased dear! Thank you for trusting to create your vision!