OG Blendz
3013 FOUNTAIN VIEW, Suite 270, Houston, 77057
OG Blendz
3013 FOUNTAIN VIEW, Suite 270, Houston, 77057
---
Two Strand Twist Class

This is a 1 on 1 class that can be done in person or on zoom; Text me for more info. This course is for stylis...

show more

---

VIP

OG

This will include a shampoo, facial, and haircut.

Early Bird (5:30am - 9)

Haircut with or w/o beard.

---

Popular

Bald Head

Clipper cut only and includes a hot towel treatment and. (10am - 6pm)

Men's Haircut (10-6pm)

Includes the beard (10am - 6pm)

Beard Care

This includes a trim, a massage, and a hot towel finishing. (10am - 6pm)

---

Youth

Blendz Pack

Shampoo included with cut

Facial (4 -12)

Includes face scrub, hot towel, and moisturizer. (10am - 6pm)

---

Cornrows

OG Pack

This service caters to those who only need the top of their head done in cornrows, box braids, or two strand t...

show more

Blendz Braid Pack

This service caters to youth those who only need the top of their head done in cornrows, box braids, or two st...

show more

Cornrows

Includes shampoo and blow out (Nipsey Look). Price will be based off of hair length.

Youth Cornrows (4 - 12)

Price depends on the style and if a shampoo is required

Box Braids

Includes shampoo and blowout. (Travis Scott Look) **Price depends on size and length of hair**

---

Locs

OG Loc Pack

Wash, Retwist, Style, and Cut.... Dreadlocs Only

Blendz Loc Pack

Retwist, Style, and Edge Up...Dreadlocs Only

---

Hair Unit

OG Hair Unit

This method does require a hair unit. It will last 1-2 months with proper maintenance.

Blendz Hair Unit

This method does not require a hair unit. It will last 1-3 weeks with proper maintenance.

---

Other Services

Line Up

Includes trim or taper (10am - 5pm)

Instagram Ready

Enhacements added to the cut and beard to look IG ready.

Colored Tips

The ends of the hair will be colored.

Scalp Treatment

This includes a special scrub and shampoo to eliminate dry scalp and dandruff. This will be added on to any se...

show more

---
Reviews
Reviews are no joke! Booksy values authentic reviews and only verifies them if we know the reviewer has visited this business.
Super cool barber with talent. I was in town & glad I found him. He takes his time to ensure you get the best haircut possible....
OG Blendz
Thank you for your review! Whenever you are in town come thru and speak even if you don't need a cut. The pleasure was mine.
Very friendly and kids friendly...
OG Blendz
Thank you.... He is a cool kids that makes the job easier...See you guys next time!
Great experience. Will be back again...
OG Blendz
I'm glad you enjoyed the experience, I'll see you next time.
Dope...
OG Blendz
💯💯💯Come through anytime you are in town.
Great and professional service....
OG Blendz
Dior it has been a pleasure. I appreciate your support since day 1. I know that you will supersede me as a Barber.
Booked a last minute haircut. Great quality...
OG Blendz
I'm happy that you enjoyed your time here. Thank you for the review
This was a great experience. Definitely would recommend to anybody looking for quality barbering....
OG Blendz
🙏🏾🙏🏾🙏🏾Thank you....It's a pleasure to service and live up to the expectations of each client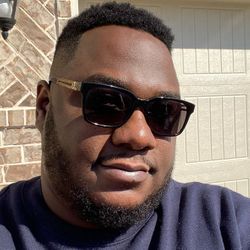 I'm pleased with the professionalism and talent OG had displayed during my appointment. Not only did he do a 10/10 on my cornrows drop fade, but he also went above and beyond to line up my beard. I can't keep my wife off of me, lmaoo. I am a new perm...
OG Blendz
😂😂😂Thank you so much for your support.... I love what I do and clients like you make it easier for me to love what I do....Tell your wife I said thanks for the challenge..... See you next time
Super chill spot and great service. Would definitely recommend him for any new clients 💯...
OG Blendz
Thanks my guy🙏🏾🙏🏾...I appreciate your support
Quality cut, easy to work with...
OG Blendz
💯💯🙏🏾🙏🏾Whenever you in the city stop by bruh....cut or no cut
He a cool dude 💯...
OG Blendz
Thank you so much
Great conversation, great cut, great experience. I look amazing so you should do yourself a favor & look this good too 💯 10/10...
OG Blendz
Thank you 🙏🏾🙏🏾 I'm glad that you were pleased with my craft. I'm just doing what I love.
Atmosphere was perfect! He was very nice and well mannered....
OG Blendz
It was nice meeting you all today. It was a pleasure cleaning the young Prince up.
Just moved to Houston! And was looking for a barber! He did a great job, 10/10 would recommend....
OG Blendz
I'm glad to know that we are locked in my friend. See you next time!
The best cut I ever had a wiz with them clippers...
OG Blendz
🙏🏾🙏🏾 It was a pleasure to get you right
Good convo good cut !...
OG Blendz
Likewise, I'm take pride in knowing you enjoyed your time in my chair.
a true professional and an all around nice dude. 10/10, a good example of good service...
OG Blendz
🙏🏾🙏🏾🙏🏾Thank you