Color Nails Orlando
11312 Pinewood Cove Lane, Orlando, 32817
Color Nails Orlando
11312 Pinewood Cove Lane, Orlando, 32817
---
Popular Services

Remove Product & New Set

Remoción de acrílico o Dip para nuevo set

more

Dip Powder Natural Nails

Set en uña natural con polvo de inmersión (esmalte...

more

Gel Pedicure

Limpieza y exfoliación de pies más gel polish

more

---

Pedicure

Regular Pedicure

Limpieza y exfoliación de pies más esmaltado regul...

more

Jelly Spa Pedicure Regular

Limpieza y exfoliación con tratamiento de gelatina...

more

Quiropedia Combinada

Antes de reservar, ponte en contacto conmigo. Este...

more

Gel Pedicure

Limpieza y exfoliación de pies más gel polish

more

Jelly Spa Pedicure Gel

Limpieza y exfoliación con tratamiento de gelatina...

more

---

Manicure

Regular Manicure

Limpieza profunda en seco utilizando drill más esm...

more

Gel Manicure

Limpieza profunda en seco utilizando drill más gel...

more

Acrylic Overlay Color/Nude

Baño acrílico en uña natural un color o nude SIN E...

more

Acrylic Overlay + Gel

Baño acrílico en uña natural más gel polish SIN EX...

more

Acrylic Overlay French

Baño acrílico en uña natural French Reversa SIN EX...

more

Acrylic Overlay Ombré

Baño acrílico en uña natural con técnica difuminad...

more

Refill same acrylic color

Mantenimiento de acrílico utilizando el mismo colo...

more

Refill change acrylic color

Mantenimiento de acrílico sin remover totalmente c...

more

Dip Powder Natural Nails

Set en uña natural con polvo de inmersión (esmalte...

more

Dip Powder Ombré Natural Nails

Set en uña natural con polvo de inmersión (esmalte...

more

Dip Powder French Natural Nails

Set en uña natural con polvo de inmersión (esmalte...

more

---

Manicure con extensión

Acrylic Fullset Tip Color/ Nude

Set acrílico con uña postiza utilizando un color. ...

more

Acrylic Fullset Esculpidas Color/Nude

Set acrílico de un solo color utilizando formas es...

more

Acrylic Fullset Tip+ Gel

Set acrílico con uña postiza más gel polish. Si ti...

more

Acrylic Fullset Esculpidas + Gel

Set acrílico más gel polish utilizando formas escu...

more

Acrylic Fullset Tip French

Set acrílico French reversa con uña postiza. Si ti...

more

Acrylic Fullset Esculpidas French

Set acrílico French reversa utilizando formas escu...

more

Acrylic Fullset Tip Ombré

Set acrílico técnica difuminado (baby boomer) con ...

more

Acrylic Fullset Esculpidas Ombré

Set acrílico con técnica difuminado (baby boomer) ...

more

Dip Powder Tip

Set con polvo de inmersión (esmalte en polvo) util...

more

Dip Powder Tip Ombré

Set con polvo de inmersión (esmalte en polvo) de t...

more

Dip Powder Tip French

Set con polvo de inmersión (esmalte en polvo) de t...

more

---

Extras

Remove Product & New Set

Remoción de acrílico o Dip para nuevo set

more

Only Remove Product

Manicure y remoción de acrílico o Dip sin aplicar ...

more

Design (nail art, rhinestones, 3D)

Diseño básico en dos uñas, precio varía según dise...

more

---
Venue Health and Safety Rules
Reviews
Reviews are no joke! Booksy values authentic reviews and only verifies them if we know the reviewer has visited this business.
She was so detailed with my nails! Loved the experience. 10/10 recommend....
Mary es muy amable, y trabaja muy lindo. Me encanto de verdad. Gracias...
Great atmosphere. She is very nice and sweet. She takes her time to do her job, no rushing. Very delicate and dedicated to every detail. My first time going there and I definitely going back. Definitely find my place!!...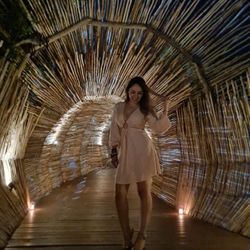 I'm very happy I found her !! I love the jelly pedi ! She did an amazing job !! Highly recommended...
She is the best in Orlando! Great service and professionalism! 10/10...
Demasiado dedicada, con muchísima paciencia super profesional. Excelente trato y atención, I just love it 💅🏻💕 gracias por todo y por tanto...
She's so professional, takes care of health, caring person and my nails looks so beautiful as a Queen nails. I definitely recommend this place...
I have never ever in my whole nail life been so satisfied! Not only by the service but by my nails!!! I am blown away and in awe every time I look down at my hands. Such a beautiful job and person! I left this appointment with out a single bad thing ...
I loved this service. Everything good and beautiful nails. 😍...
Excelente servicio. Muy limpia, organizada y pendiente a cada detalle....
Satisfecha con su trabajo. Súper recomendada!!!...
La mejor!! Siempre me deja linda y dura mucho tiempo su trabajo. ☺️...
La experiencia fue espectacular y mis uñas preciosas!!! Definitivamente mi nuevo lugar favorito 😍 awesome experience and gorgeous nails, my new favorite spot 🧡 she is the best...
Excelente servicio. Muy atenta, profesional y agradable. 100% recomendada....