HairBaks BY Isba
Ladies & Gents Salon, 158 Hall St, Brooklyn, 11205
HairBaks BY Isba
Ladies & Gents Salon, 158 Hall St, Brooklyn, 11205
---
Might just do some [Braids]

KIDS "Natural Hair" CORNROWS BRAIDS Ages 7-15

DOES INCLUDES SHAMPOO + CONDITIONER+ BLOWDRY *DISCLAIMER NYC SALES TAX IS INCLUDED IN PRICE

KIDS "Natural Hair" DESIGN CORNROWS Ages 7-15

DOES INCLUDES SHAMPOO + CONDITIONER+ BLOWDRY *DISCLAIMER NYC SALES TAX IS INCLUDED IN PRICE

"Natural Hair" Cornrows

SERVICE INCLUDES SHAMPOO + CONDITIONER+ BLOWDRY *DISCLAIMER *NYC SALES TAX IS INCLUDED IN PRICE

"Natural Hair" Design Cornrows

SERVICE INCLUDES SHAMPOO + CONDITIONER+ BLOWDRY *DISCLAIMER *NYC SALES TAX IS INCLUDED IN PRICE

"Natural Hair" French Braids

SERVICE INCLUDES SHAMPOO + CONDITIONER+ BLOWDRY *DISCLAIMER *NYC SALES TAX IS INCLUDED IN PRICE

KIDS "Natural Hair" Box Braids Ages 7-15

DOES INCLUDES SHAMPOO & CONDITIONER *DISCLAIMER NYC SALES TAX IS INCLUDED IN PRICE

"Natural Hair" Box Braids

SIZE: SMALL, MED, OR LARGE SERVICE INCLUDES SHAMPOO + CONDITIONER+ BLOWDRY *DISCLAIMER *NYC SALES TAX IS INC...

show more

KIDS Natural Hair Tribal Braids Ages 7-15

DOES INCLUDES SHAMPOO + CONDITIONER+ BLOWDRY *DISCLAIMER NYC SALES TAX IS INCLUDED IN PRICE

"Natural Hair" Tribal Braids

SERVICE INCLUDES SHAMPOO + CONDITIONER+ BLOWDRY *DISCLAIMER *NYC SALES TAX IS INCLUDED IN PRICE

FEED-IN "STITCH" (2-4) BRAIDS

SERVICE DOES NOT INCLUDE SHAMPOO *DISCLAIMER: NYC SALES TAX IS INCLUDED IN PRICE

FEED-IN "STITCH" (5-6) BRAIDS

SERVICE DOES NOT INCLUDE SHAMPOO *DISCLAIMER: *NYC SALES TAX IS INCLUDED IN PRICE

FEED-IN "STITCH" (7- 10) BRAIDS

SERVICE DOES NOT INCLUDE SHAMPOO *DISCLAIMER: *NYC SALES TAX IS INCLUDED IN PRICE

KIDS JUMBO Box Braids Ages 7-15

SERVICE DOES NOT INCLUDE SHAMPOO + CONDITIONER+ BLOWDRY *DISCLAIMER NYC SALES TAX IS INCLUDED IN PRICE

KIDS JUMBO Knotless Box Braids Ages 7-15

Knotless braids don't have the traditional knot you likely grew up with at the start of each braid. Knotless b...

show more

JUMBO BOX BRAIDS "TRADITIONAL"

SERVICE DOES NOT INCLUDE SHAMPOO *DISCLAIMER: NYC SALES TAX IS INCLUDED IN PRICE

JUMBO Knotless Box Braids

Knotless braids don't have the traditional knot you likely grew up with at the start of each braid. Knotless b...

show more

KIDS LARGE Box Braids Ages 7-15

SERVICE DOES NOT INCLUDE SHAMPOO + CONDITIONER+ BLOWDRY *DISCLAIMER NYC SALES TAX IS INCLUDED IN PRICE

KIDS LARGE Knotless Box Braids Ages 7-15

Knotless braids don't have the traditional knot you likely grew up with at the start of each braid. Knotless b...

show more

LARGE BOX BRAIDS "TRADITIONAL"

SERVICE DOES NOT INCLUDE SHAMPOO *DISCLAIMER: NYC SALES TAX IS INCLUDED IN PRICE

LARGE Knotless Box Braids

Knotless braids don't have the traditional knot you likely grew up with at the start of each braid. Knotless b...

show more

KIDS MEDIUM Box Braids Ages 7-15

SERVICE DOES NOT INCLUDE SHAMPOO + CONDITIONER+ BLOWDRY *DISCLAIMER NYC SALES TAX IS INCLUDED IN PRICE

KIDS MEDIUM Knotless Box Braids Ages 7-15

Knotless braids don't have the traditional knot you likely grew up with at the start of each braid. Knotless b...

show more

MEDIUM BOX BRAIDS "TRADITIONAL"

SERVICE DOES NOT INCLUDE SHAMPOO *DISCLAIMER: NYC SALES TAX IS INCLUDED IN PRICE

MEDIUM Knotless Box Braids

Knotless braids don't have the traditional knot you likely grew up with at the start of each braid. Knotless b...

show more

SMALL BOX BRAIDS "TRADITIONAL"

SERVICE DOES NOT INCLUDE SHAMPOO *DISCLAIMER: NYC SALES TAX IS INCLUDED IN PRICE

SMALL Knotless Box Braids

Knotless braids don't have the traditional knot you likely grew up with at the start of each braid. Knotless b...

show more

ANKLE LENGTH SMALL KNOTLESS BOX BRAIDS

Knotless braids don't have the traditional knot you likely grew up with at the start of each braid. Knotless b...

show more

---

[Loc] me Down

(FULL HEAD) COMB COIL STARTER LOCS

INCLUDES SHAMPOO + BRICK LAY LOC PARTS + FULL HEAD COMB COILS *DISCLAIMER: THIS SERVICE RANGES FROM $250-$350...

show more

FH- COMB COIL STARTER LOCS (TRIANGLE PARTS)

INCLUDES SHAMPOO + TRIANGLE LOC PARTS + FULL HEAD COMB COILS *NOT DIAMOND PARTS! *DISCLAIMER: THIS SERVICE ...

show more

FH- COMB COIL STARTER LOCS (DIAMOND PARTS)

INCLUDES SHAMPOO + DIAMOND PARTS + FULL HEAD COMB COILS *DISCLAIMER: THIS SERVICE RANGES FROM $310-$680 BASE...

show more

(FULL HEAD) CROCHET INSTANT STARTER LOCS

(NO LOC STYLE) INCLUDES SHAMPOO & CONDITION SERVICE + BRICK LAY LOC PARTS + FULL HEAD CROCHET INSTANT STARTER...

show more

FH - CROCHET INSTANT STARTER LOCS (TRIANGLE PARTS)

INCLUDES SHAMPOO & CONDITION SERVICE + TRIANGLE LOC PARTS + FULL HEAD CROCHET INSTANT STARTER LOCS *NOT DIAMO...

show more

---

[Loc] me Down Extension

6 INCH EXTENSIONS + FULL HEAD INSTALL SERVICE

INCLUDES SHAMPOO + BRICK LAY BOX PARTS + 6 INCH HUMAN HAIR LOC EXTENSIONS + FULL HEAD INSTALL SERVICE ON 2-4 I...

show more

6 INCH EXTENSIONS + PARTIAL HEAD INSTALL SERVICE

INCLUDES SHAMPOO + BRICK LAY BOX PARTS + 6 INCH HUMAN HAIR LOC EXTENSIONS + INSTALL SERVICE HIGH TOP / CROWN A...

show more

---

[Loc] me Down Maintenance

FULL HEAD COMB RETWIST (NO LOC STYLE)

SHAMPOO + FULL HEAD COMB RETWIST *IF YOU HAVE OVER 130 LOCS THERE IS AN UPCHARGE *PRICE INCLUDES NYC SALES TA...

show more

FH COMB RETWIST + TWO STRAND TWISTS

INCLUDES SHAMPOO + FULL HEAD COMB RETWIST + TWO STRAND TWIST LOC STYLE *IF YOU HAVE OVER 130 LOCS AND/OR LONG...

show more

FH COMB RETWIST + PIPE CLEANER LOC STYLE

INCLUDES SHAMPOO + FULL HEAD COMB RETWIST + PIPE CLEANER LOC STYLE *IF YOU HAVE OVER 130 LOCS AND/OR LONG LOC...

show more

FH COMB RETWIST + 1 HR LOC REPAIR PIPE CLEANER CLS

INCLUDES SHAMPOO + FULL HEAD COMB RETWIST + 1 HOUR OF LOC REPAIR + PIPE CLEANER LOC STYLE *IF YOU HAVE OVER 1...

show more

FH COMB RETWIST+ 1-HOUR OF LOC COMBINATION

INCLUDES SHAMPOO + FULL HEAD COMB RETWIST + 1 HOUR OF LOC COMBINATION SERVICE DISCLAIMER: THIS SERVICE IS VER...

show more

---

Let Down those [Curls]

Wash & Go's

Shoulder Length: $65.00 Bra Length: $85.00 Waist Length: $99.00

Flexi Rod Set

Kids: $55.00 Shoulder Length: $65.00 Bra Length: $85.00 Waist Length: $99.00

Rod Set

Kids: $55.00 Shoulder Length: $65.00 Bra Length: $85.00 Waist Length: $99.00

Straw Set

Kids: $55.00 Shoulder Length: $85.00 Bra Length: $95.00 Waist Length: $110.00

2 Strand Twist

Kids: $55.00 Shoulder Length: $65.00 Bra Length: $85.00

---

Let's me get thing's [straight]

KIDS Silk press AGE 7-15

A silk press is a hairstyling technique that uses a blow-dryer and flat iron to straighten your hair without a...

show more

SilkPress "SHOULDER LENGTH"

A silk press is a hairstyling technique that uses a blow-dryer and flat iron to straighten your hair without a...

show more

SilkPress "BRA LENGTH"

A silk press is a hairstyling technique that uses a blow-dryer and flat iron to straighten your hair without a...

show more

SilkPress "WAIST LENGTH"

A silk press is a hairstyling technique that uses a blow-dryer and flat iron to straighten your hair without a...

show more

KIDS Wash & Set AGE 7-15

Wash and set, sometimes known as a shampoo and set, is a combination of hair care processes The shampoo and se...

show more

Wash & Set "SHOULDER LENGTH"

Wash and set, sometimes known as a shampoo and set, is a combination of hair care processes The shampoo and se...

show more

Wash & Set "BRA LENGTH"

Wash and set, sometimes known as a shampoo and set, is a combination of hair care processes The shampoo and se...

show more

Wash & Set "WAIST LENGTH"

Wash and set, sometimes known as a shampoo and set, is a combination of hair care processes The shampoo and se...

show more

Silk Blow Out "SHOULDER LENGTH"

In its simplest form, a blowout is the art of drying hair after a wash to achieve a smooth and sleek look, sty...

show more

Silk Blow Out "BRA LENGTH"

In its simplest form, a blowout is the art of drying hair after a wash to achieve a smooth and sleek look, sty...

show more

Silk Blow Out "WAIST LENGTH"

In its simplest form, a blowout is the art of drying hair after a wash to achieve a smooth and sleek look, sty...

show more

Relaxer SHOULDER LEGHT

A relaxer is a type of cream generally used by people with tight curls or very curly hair which makes hair eas...

show more

Relaxer BRA LENGTH

A relaxer is a type of cream generally used by people with tight curls or very curly hair which makes hair eas...

show more

Touch-Up (Relaxer)

A relaxer is a type of cream generally used by people with tight curls or very curly hair which makes hair eas...

show more

Rapunnzel Braid Ponytail

SERVICE INCLUDES SHAMPOO + CONDITIONER+ BLOWDRY & STYLE *DISCLAIMER *NYC SALES TAX IS INCLUDED IN PRICE

---

It Ain't Nothing [Cut] that hair Off

Trim Cut

All cut services include a wash & style service from Let Down those [Curls] or Let's me get thing's [straight]...

show more

Layer Cut

All cut services include a wash & style service from Let Down those [Curls] or Let's me get thing's [straight]...

show more

Tapper Cut

All cut services include a wash & style service from Let Down those [Curls] or Let's me get thing's [straight]...

show more

---
Venue Health and Safety Rules
Reviews
Reviews are no joke! Booksy values authentic reviews and only verifies them if we know the reviewer has visited this business.
Isba is super nice and did a ready great job. I will definitely visit her again....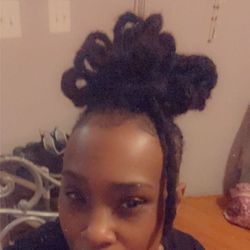 I had a great experience, she has a great personality and I loved my service. The vibe was a 1000....
Very knowledgeable, great & relaxing experience. Will be back soon...
Amazing work! Thank you so much for the attention to detail...
HairBaks BY Isba
Thank you! I'm glad you enjoy your service