Mike Blendz Barbershop Salon
1608 Ownby Lane, Richmond, VA, 23220
Mike Blendz Barbershop Salon
1608 Ownby Lane, Richmond, VA, 23220
---
Popular Services

Master Barber Men's Cut

Hair cut, razor line, product, groomed, (beard is not included)

Men's Cut

Hair cut, razor line, product, groomed, (beard is not included)

Beard Line up

razor line, shavers under neck

---

Packages

Preferred Cuts

Haircut , razor line, hot towel, hot lather on (back of) neck, face massage, product, groomed (BEARD NOT INCL...

show more

Platinum Cut

Haircut, razor line, product, groomed, hot towel, face massage,hot lather on neck, shampoo, product, groomed....

show more

Beard (preferred)

Beard wash, Beard Trim, Razor line, Hot towel, Color enhancement using Begin, Suavecito products used

Beard (Full Groom)

Beard wash, Beard Trim, Razor line, Hot towel, Straightened, Neck Shave, Standard Color begin, Suavecito produ...

show more

Ultimate Wax Package

Wax nose, ears, upper cheek (above beard), and neck (under beard)

---

Hair Services

Master Barber Men's Cut

Hair cut, razor line, product, groomed, (beard is not included)

Men's Cut

Hair cut, razor line, product, groomed, (beard is not included)

Neck taper

Line up back of neck and taper bottom of hair line on neck

Back of neck shave hot lather

Kids Cut

(Age requirements are between 3 and 13 yrs old) even cut, product, groomed .

Designer Parts

Any parts cut in head up to 4 lines are considered designer- anything more is a design

Designs

Charged per half hour with minimum of half hour

Brow Shape

eye brow trim, razor shape, pre shave oil, toner creme

---

Beard Services

Beard Line up

razor line, shavers under neck

Beard trim

10.00 when added to haircut service ,beard trim, razor line, shavers on neck, product

---

Shaving Services

Quick Shave

Trim with clippers and shave with electric shavers

Hot Towel Shave

Full 8 step hot towel shave

Full Head Shave

Hot towel, razor shave entire head using pre shave oil, suavecito shaving cream and toner

---

Men's Hair Replacement

Hair Line (frontal hair pc)

Fro unit (direct to scalp)

Dread Unit (Synthetic/Human hair blend)

Dread Unit (human hair)

75 Human hair dreads will be provided Any additional dreads to be installed will be billed at a rate of 250.0...

show more

New toupee Lace or PU install

Install new hair pc- this includes washing and cutting entire head—. Unit must be purchased- prices run 150.0...

show more

Pre-made Toupee re install

Remove and reinstall lace or PU unit

---

Color Services

Standard Color Head (begin)

Standard Color Combo (begin head and beard)

color enhancement using begin on hair and/or beard

Platinum Beard Color

Permanent ION color— 100% gray coverage —

Full lift

Please note length of hair

Permanent ION Color (head)

(Any hair 2" or under 55.00) 20.00 up charge 2-6", 6-12" and 12"-18"

---

Skin and Nail Services

Standard Manicure

Shape, cuticle trim, light massage, polish

Black Mask Pore Cleanse

Black head cleansing peel mask cleanser, hot towel, toner

Facial

3 hot towel full 6 step facial

Platinum Facial

6 step facial ended with a charcoal mask and skin toner

Wax (nose)

warm wax nose hairs, apply pre wax and after wax product

Wax (ears)

warm wax ear hairs, apply pre wax and after wax product

---

Natural hair

Starter locs (short)

Hair 6" or shorter are considered short starter locs

---

Extensions and weaves

Interlock Extensions

Interlock up to 50 extensions- any additional are charged 100.00 per 10 extensions—Client must provide hair

---

Braids

Large Box braids / Knotless Braids

Medium Box/Knotless Braids

Small Box braids / small Knotless Braids

---
Reviews
Reviews are no joke! Booksy values authentic reviews and only verifies them if we know the reviewer has visited this business.
My new place to attend too for now and on. Somewhere I can trust with my hair and done a amaze job!...
Great job. Excellent customer service. Thanks!...
Deeja always does a great job! She is able to figure out what I want when I don't even know....
I look goodt!! Thanks Mr. Blendz!!...
Deeja did 2 good of a retwist, thanks! 🤯...
Brother Mike is a cool Brother, he was patient he took his time he did awesome job!!!, I'm so Happy with the work he did!!!! Yessssssssss 😊...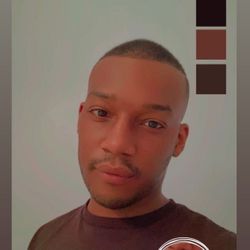 Mike is the best barber in Richmond. I've lived in DC for years and I would even go up to get haircuts but now that I'm in Richmond. Mike was professional and funny. I enjoyed the common banter of a barbershop. It also made me feel better that it was...
Great cuts and a very chill environment...
Good dude. Comfortable atmosphere. Definitely a quality cut....
Deeja was great. Patient, attention to detail and understanding of what we are looking for, for our 5 year olds haircut. Will be back. Thank you...
Nice place but my hair cut wasn't good. Had to walk my barber though some uneven spots, and you can't even see that I was lined up. In his defense he was an inexperienced barber....never will do that again!...
Mike has been my sons (2) barber since they were younger going on 7 yrs now. Mike stays current with new, innovative ways of barbering, While remaining focused on the client experience. Mike Blendz is the best in the capital city....
Bad haircut, won't be returning. I asked for a light Fade for my son and he left looking the same way he walked in, he just gave him a lineup pretty much. Sorry to have to leave a bad review because the barber was nice and the place was clean, but I ...
Mike Blendz Barbershop Salon
You were with my apprentice on Saturday. You came in with your son to get his cut. I'm very confused why you didn't tell him to go closer to the skin.. Garland showed you the cut and you said it looked good and paid him .. If you would like you can bring him in to get his cut closer ...
Good cut and Good Vibes!...
This was my first time here. Deeja did a excellent job. I will be back! Thanks again!🙂...
Great people at a great shop!! 👍👍...
Great job and excellent service. Will return...
Mike blendz is an awesome place with great barbers that do phenomenal cuts, and beard line ups...
Mike Blendz Barbershop Salon